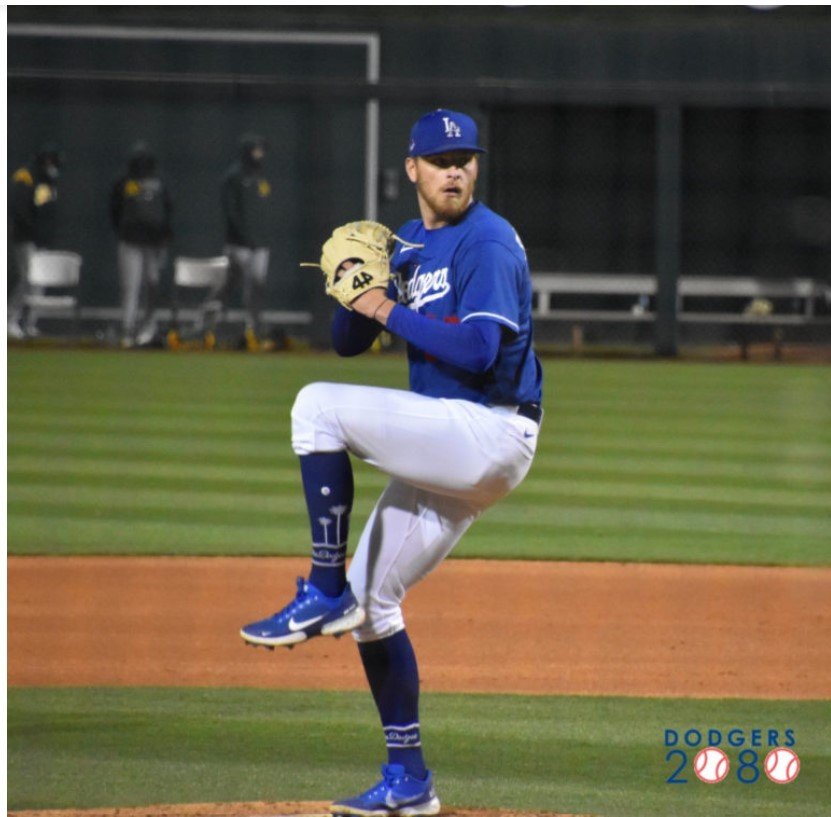 It would be so easy to come here and be negative on the latest debacle from the Dodgers.  But I am going to start this one with something that I have been waiting on since 2021.  The Dodgers newest bullpen member, Nick Robertson.  Nick is a 6'6" 265 pound RHRP from Virginia.  He was a 7th round draft pick (221 overall) in the 2019 draft out of James Madison University.  He has been a reliever since college.
His first batter in his MLB debut was Elly De La Cruz who had previously hit a 458 foot HR, 114.8 MPH, in the 1st inning.  He crushed a triple in the 3rd.  In the 5th, Robertson struck out De La Cruz on three called strikes.  Nick pitched 2.0 perfect innings with 3 Ks.  It was a grand debut.  Outings will not always go this well, but on this night, he was the best LAD pitcher of the night, and I do not think it was close.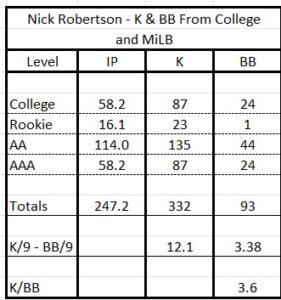 Now to the yucky stuff.  I am sorry, but the Dodgers just cannot keep throwing Noah Syndergaard out there.  For this make or break game, he broke.  3.0 IP, 6 runs, 7 hits including two triples and two HRs.  I am a fan, nothing more.  I have no idea what the Dodgers are thinking of.  I doubt very seriously that AF and the owners are going to let the balance of Noah's contract be a factor.  Maybe AF/Doc decide to see what he can do in the pen before they make the ultimate decision.  That decision has been made for many pitchers in the past, with success.
Bobby Miller is not leaving the rotation, and if Grove pitches anywhere like he did against NYY, then he should be #5 when Urías returns.  If not Syndergaard, Matt Andriese could be the long man out of the pen.  I would also like to see what Gavin Stone could do in relief.  Concentrate on his two best pitches, fastball and change.  Tommy Kahnle is making millions, and all he effectively throws is a change 77% of the time, with fastball at 23%.  Stone can re-engage as a starter in the winter to build back up in ST.
Syndergaard is by far the easiest pitcher in MLB to steal a base from.  He allowed 4 more SB in 4 tries.  With Kevin Newman on 1st, the TV box for runner location had him on 2nd two pitches before he actually stole the base.  Good anticipation by the TV illustrator knowing what happens when any runner reaches 1st off Syndergaard.
David Bell kept Brandon Williamson in after 3 rough innings, and he was rewarded.  With runners on 2nd and 3rd with one out in the 3rd, Williamson got the next two batters.  Over the next 6.0 innings, Williamson and the Reds relievers retired 18 of the next 19 batters.  Only a 6th inning Jonny DeLuca walk kept it from being a perfect 6.0 innings.
Prior to Wednesday's game, for the previous 17 games the bullpen had an ERA of 6.46 and gave up 14 relief home runs.
The Dodgers have now blown a 5-run lead and a 4-run lead in back to back walk off wins for Cincinnati.  The Dodgers are now 2.0 games behind Arizona, the Giants are only 3.5 games behind the Dodgers, and San Diego is 6.0 games behind.
More on Elly De La Cruz. He now has the fastest home to third time on a triple in MLB this year.
It has been a bad two nights for AA pitchers.
Tuesday night.
Nick Frasso – 2.0 IP, 3 hits, 2 runs (earned), 2 BB, 4 K
Kyle Hurt – 3.0 IP, 3 hits, 4 runs (3 earned), 2 BB, 2 K
Wednesday night.
Nick Nastrini – 4.1 IP, 4 hits, 5 runs (4 earned), 4 BB, 4 K, 2 HR
Ben Casparius – 2.2 IP, 3 hits, 2 runs (earned), 0 BB, 2 K, 1 HR
Braydon Fisher – 1.0 IP, 4 hits, 7 runs (6 earned), 2 BB, 1 K, 3 HR
I have been an advocate for Matt McLain for over a year.  Now it is going to be next to impossible to get him out of Cincinnati. Not that there was much of a chance to begin with.  1st round picks for a rebuilding team are not getting traded.   But never fear.  The Dodgers have their own McLain.  Sean McLain, a #5 draft pick last year out of Arizona State.  And yes, he is the brother of Matt.  He is one of the 27 SS on the Dodgers ACL roster.
Yesterday I commented on how poorly Carlos Torres was behind the plate.  Look at his latest scorecard.
20 incorrect call for an 89.8%  accuracy scorecard.  That is pathetic.
Baseball America has updated their Top 100 prospects after several graduations.  Of the Top 21 pre-season Top 100, six have graduated:
Gunnar Henderson #1 – Orioles SS
Corbin Carroll #2 – DBacks OF
Gabriel Moreno #12 – DBacks catcher
Anthony Volpe #14 – NYY SS
Kodai Senga #16 – NYM Pitcher
Ezequiel Tovar #17 – Colorado SS
As I stated yesterday, the eight Dodgers in the Top 100:
Bobby Miller #10
Diego Cartaya #21
Michael Busch #51
Ryan Pepiot #52
Gavin Stone #53
Dalton Rushing #60
Emmet Sheehan #65
Nick Frasso #69
Only one player passed Bobby Miller, Rangers OF Evan Carter, who moved from #26 to #9.  Miller passed 6 players up to #10.
Andrew Painter from #5 to #12 – Phillies RHP
Grayson Rodriguez from #6 to #17 – Orioles RHP
Jordan Lawler from #13 to #15 – DBacks SS
Diego Cartaya from #18 to #21 – Dodgers catcher
Daniel Espino from #19 to #82 – Guardians RHP
Gavin Williams from #20 to #11 – Guardians RHP
OTOH, Diego Cartaya did not pass any player on the list, but was passed by 9 other players.  There is still only one catcher north of Cartaya on the list, although Endy Rodriguez (Pittsburgh) and Logan O'Hoppe (LAA) are quickly rising.  23 year old O'Hoppe would have graduated if not for his torn labrum injury.  Before the injury, with 59 PA, O'Hoppe was hitting .283/.339/.547/.886.
For LAD, Miguel Vargas (#30) graduated, James Outman was never on the BA Top 100.  New on the list:
Dalton Rushing #60
Emmet Sheehan #65
Nick Frasso #69
The Dodgers in need of pitchers and OF, just signed a couple to MiLB contracts.
Long relief specialist LHP Mike Montgomery, has signed a MiLB contract with LAD.  He was a first round pick in 2008 (36th overall) by KC out of Hart High School (Santa Clarita Valley). He was a teammate of Trevor Bauer, and may have been a sophomore when Robert Von Scoyoc was a senior.  For those with a good memory might remember that Montgomery was the pitcher on the mound recording the final out of the 2016 World Series.  He was also involved in a trade by KC to Tampa Bay for another Hart High School alum, James Shields.
The Dodgers also signed LH hitting OF Kole Calhoun.  With Jonny DeLuca called up, Luke Williams with the Braves, Bradley Zimmer, Ben DeLuzio, and Michael Reed released, and Andy Pages out for the year after shoulder surgery, OKC had three OF remaining on the roster…Drew Avans, Steven Duggar, and Ryan Ward.  They needed another OF.  They chose not to promote Tulsa's José Ramos. Or Yusniel Díaz.  But that would have left Tulsa with only 3 OFs.  That sort of shows how bereft the organization is of OFs.  Calhoun started for OKC, but went 0-5.
Dodgers Sign Kole Calhoun, Mike Montgomery To Minor League Deals https://t.co/fVhLhMhgyU pic.twitter.com/fNlfy7pdE4

— MLB Trade Rumors (@mlbtraderumors) June 6, 2023
06-07-2023 MiLB Game Summary Report
OKC Dodgers 8, El Paso Chihuahuas (San Diego) 6 – 10 innings
The Dodgers outscored the Chihuahuas in 10.  Three OKC infielders continued to stay hot.
Jahmai Jones – 4-5, triple, 3 runs, 3 RBI – batting .313 with an OPS of 1.039
Yonny Hernandez – 2-5, double, 2 runs, 2 RBI – batting .302 with an OPS of .880
Devin Mann – 3-5, double – batting .297 with an OPS of .919
Mark Washington pitched a perfect 10th for the save.
Arkansas Travelers (Seattle) 15 – Tulsa Drillers 9 – 11 innings
In the top of the eleventh inning, Jonatan Clase and Logan Warmoth hit back-to-back home runs on consecutive pitches to produce three runs. Later in the eleventh, a run-scoring single and a three-run homer from Matt Scheffler capped a seven-run inning that produced a 15-9 win for the Travelers over the Drillers.
Arkansas has now won the first two games of the six-game series between the two teams and has pulled to within one game of the first-place Drillers. There are 16 games remaining in the first half of the season.
Only 14 hours after Tuesday night's 15-0 loss for Tulsa, Wednesday afternoon's game had very similar beginning with Arkansas again scoring three times in the top of the first inning. The game began with a four-pitch walk, followed by a two-run homer from Warmoth. The next batter reached on an error and eventually scored to give the Travelers a quick 3-0 lead.
Unlike the previous game, the Drillers delivered an immediate response. In the bottom of the first, leadoff batter Austin Gauthier walked, and Jorbit Vivas followed with a base hit. Vivas was picked off first base before Jose Ramos singled to put runners at first and third. After a strikeout, Yusniel Diaz came through when he doubled off the glove of Clase in deep centerfield, scoring both runners. Carson Taylor followed with a ground-rule double that tied the game at 3-3.
Pitching settled in before the Drillers took their first lead in the bottom of the fourth inning. After Taylor led off with a base hit, Eddys Leonard hit what looked to be a double-play grounder, but shortstop Warmoth threw wildly past second, giving the Drillers runners at the corners. Brandon Lewis followed with another infield grounder that did turn into a double play, but Taylor trotted home with the go-ahead run.
Arkansas promptly erased the lead with another three-run outburst in the fifth. Warmoth walked in front of a home run from Robbie Tenerowicz that accounted for the first two runs. One batter later, Isiah Gilliam belted a blast over the right field fence and on to Elgin Avenue for another homer that gave the Travs a 6-4 lead.
Just like the first inning, the Drillers had a quick response. Gauthier led off the bottom half of the fifth with his first Double-A home run. A walk to Vivas and a base hit by Ramos set up an RBI single from Imanol Vargas that tied the game. Another double-play grounder allowed Ramos to score and give Tulsa a 7-6 lead.
The scoring continued when Scheffler led off the Travelers' seventh inning with a single to center. He stole second base and scored on Warmoth's double that tied the game again at 7-7.
Both teams scored the placed runner in the tenth inning to set up the seven-run outburst from the Travelers in the eleventh.
An infield single from Vivas in the bottom of the eleventh scored a consolation run for the Drillers.
At the beginning of the series, the Drillers pitching staff led Minor League Baseball with a 2.80 ERA. After Wednesday's game, the team ERA is at 3.17.
Entering this series, the Drillers had given up 71 runs this season in 27 home games. They have given up 30, or nearly half that total, in just two games against the Travelers. Entering Wednesday night's game, Arkansas is tied with Midland for the most offensive runs in the Texas League.
Vivas led Tulsa offensively with three hits, including a double, while Ramos, Diaz and Taylor finished with two each, with Taylor getting a double. Diaz also drove home three runs.  Austin Gauthier hit his first AA HR.
Great Lakes Loons 10 – Lake County Captains (Cleveland) 1
Great Lakes jumped on the board for three in the bottom of the second. A five-pitch walk by Griffin Lockwood-Powell began the inning. Damon Keith then hit an RBI double. Keith moved to third on a wild pitch and was plated on a sacrifice fly from Frank Rodriguez.
Next-up, Luis Diaz, tripled scoring Chris Alleyne who reached on a base on balls. Three of the 12 RBI for Diaz in 2023 have come off of triples.
Justin Wrobleski, with the run-support completed five innings for the fourth time in his 11th start. The left-hander had just four batters reach base. The Dodgers No. 30 prospect struck out three Captains.
Lake County's Aaron Davenport worked around two walks spinning a scoreless third and fourth. The Captains bullpen faltered with the Loons tacking on seven runs in their final three innings of offense.
Frank Rodriguez doubled home Damon Keith in the bottom of the sixth. In the seventh, Great Lakes struck for four runs on four hits. Keith and Chris Alleyne added a RBI single. A Rodriguez double down the right-field line assisted Alleyne across the plate.
Yeiner Fernandez and Chris Newell both walked with one-out in the eighth, Damon Keith cleared the bases with a two-run double, capping the Captains chances and a four-RBI day.
Four Loons relievers pitched the final four innings. Michael Hobbs, adjusted after a leadoff single in the sixth, gaining two strikeouts with a Alex Freeland highlight play ending the inning. Christian Suarez struck out the side in the seventh and Jack Dreyer needed just eight pitches to close the eighth.
Aldry Acosta entered in the ninth. After allowing the first two batters to reach and a Christian Cairo RBI double, the right-hander struck out the next two to end the day. Great Lakes pitching punched out 11 Captains.
Damon Keith – 3-4, 3 runs, 4 RBI, double
Frank Rodriguez – 2-2, 3 RBI, 2 doubles
Luis Yanel Diaz – triple
Modesto Nuts (Seattle) 2 – Rancho Cucamonga Quakes 1
A well-pitched game by both teams was decided by an error, as Curtis Washington's ground ball to first baseman Jorge Puerta was mishandled, sending Rancho to their season-worst fourth straight loss.
Rancho broke a scoreless tie in the eighth, as Juan Alonso reached on an error to open the inning against Modesto starter Shaddon Peavyhouse. Peavyhouse, who threw 102 pitches, was left in the game with two outs to face Thayron Liranzo, who doubled home Alonso, giving the Quakes a 1-0 lead.
That lead lasted until the last of the ninth, as Madison Jeffrey came out of the bullpen and struggled. Modesto's Gabe Moncada opened the inning with a hit, then moved to second on a wild pitch. Freuddy Batista then walked and the two base-runners moved up on a passed ball by catcher Jesus Galiz. Jeffrey recovered to strike out Tatem Levins, but fired another wild pitch, scoring Moncada to tie the game at 1-1. Jeffrey (0-2) then walked back-to-back hitters to load the bases. Washington ended it with a grounder to Puerta that was mishandled, as Batista scored to give Modesto their second straight win to open the series.
Gabe Emmett started and worked deeper than any Rancho starter this year, as he allowed just two hits over 5.2 scoreless innings.
Modesto reliever Darren Bowen (1-0) retired all four hitters he faced to notch the win.
Thayron Liranzo – 2-3, 1 RBI, 2 doubles