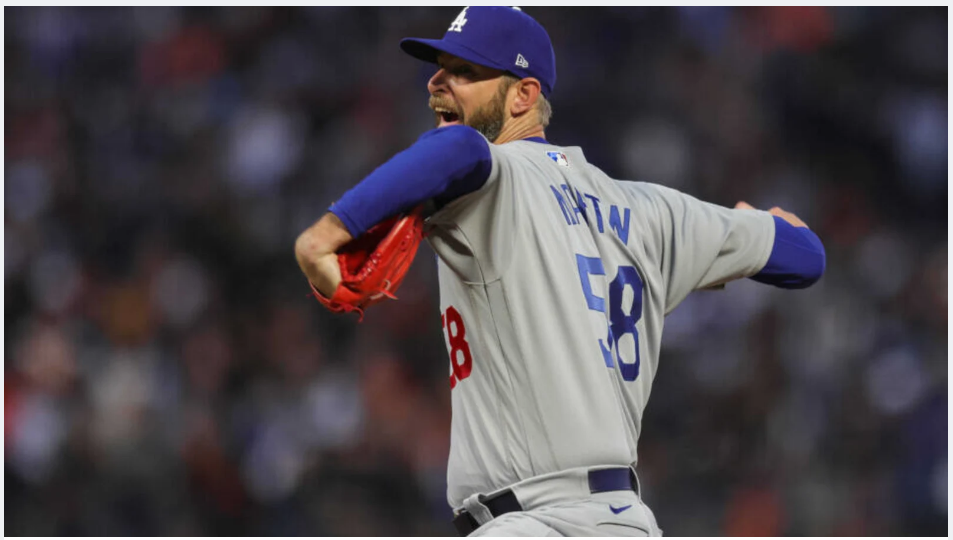 First of all, I just want to say how encouraging it was that the Dodgers were able to get a win in what really was a throw away game.  They lost their Ace who was originally scheduled to pitch on Monday night, and the batter that was tearing the Marlins a new one was set down on a scheduled day off.  The Dodgers need Mookie with fresh legs for the post season, and with a 19.5 game lead over the Padres and 7.5 games (now 8.0) over NYM, this seemed like a good idea.  Freddie Friedman and Trea Turner were not playing on the outfield artificial turf, so their legs were not an issue.
The Dodgers took 3 of 4 in Miami, and the only game they lost, they got beat by maybe the best pitcher in MLB this season, Sandy Alcantara.  They were also in a position to win with better defense.
Michael Grove assumed the starting job and pitched admirably.  He got through 4.2 innings on 66 pitches, and he came out because Doc preferred the lefty David Price to face the LH hitting JJ Bleday.  Bleday proceeded to double and Garrett Cooper walked to load the bases, but got the hot hitting Jacob Stallings to hit into a 6-4 forceout.
After a leadoff double, Caleb Ferguson battled and stranded the runner at third with one out.  Evan Phillips, Phil Bickford, and Craig Kimbrel in the 9th were excellent.  But asking Kimbrel to go back out in the 10th was a head scratcher.  After loading the bases on a pair of walks and one out, Doc called on Chris Martin.  C-Mart struck out Garrett Cooper on 3 pitches, and got Jacob Stallings to pop out to Freddie in foul territory for his first save of 2022.  I am guessing he might get a few more chances.
On a day that Will Smith committed to play for Team USA in next year's WBC, he got the 2-run big fly (19) to give the Dodgers the lead and a chance at a victory.  Overall this was a good team win.  Magic number down to 15 (IN AUGUST).
Now they travel to New York and take on the NYM in what many expect is a preview of the NLCS.  The Dodgers and Mets have the best records in MLB, with the Dodgers having an 8 game lead over NYM with 34 to play.  You can never say that is enough, but it sure feels safe.
The pitching matchups beginning Tuesday will be:
The Dodgers are #1 in MLB in:
BA at .263 – (NYM #7 at .257)
OBP at .338 – (NYM #3 at .329)
SLG at .453 – (NYM #11 at .407)
OPS at .792 – (NYM #7 at .736)
The Dodgers lead the Mets in hits, SB, doubles, triples, and HR.
LAD also has better numbers in hitting WRISP and WRISP w/2 outs.  The Dodgers are best in MLB in OPS in both categories.
The Dodgers also have better numbers in the pitching department
Overall ERA – Dodgers #1 (2.84), Mets #5 (3.53)
Overall WHIP – Dodgers #1 (1.05); Mets #5 (1.19)
Overall BAA – Dodgers #1 (.210); Mets #9 (.236)
Starter ERA – Dodgers #1 (2.67); Mets #5 (3.51)
Starter WHIP – Dodgers #1 (1.04); Mets #6 (1.16)
Starter BAA – Dodgers #1 (.210); Mets #10 (.237)
Relievers ERA – Dodgers #3 (3.11); Mets #10 (3.63)
Relievers WHIP – Dodgers #1 (1.07); Mets #16 (1.24)
Relievers BAA – Dodgers #3 (.210); Mets #10 (.233)
The Dodgers do not have to face Max Scherzer on this trip, But they will in the playoffs.  And while the numbers seem to favor the Dodgers in a 162 game season, those numbers do not automatically reflect how they will play in the playoffs.  Scherzer and deGrom will be extremely formidable and in a short series that will carry weight.
That is not to dismiss the strengths in the LAD starters.  Julio Urias, Tyler Anderson, Dustin May, Clayton Kershaw will also be very formidable.  If Tony Gonsolin is not as hurt as is now being reported, then he could be the difference maker.  Badger made the comment that he will believe it when he sees it if Gonsolin only misses 2 starts.  I understand the skepticism.  If the injury is truly a forearm strain, I do not care how early you catch it, there are going to be procedures that will necessarily end his season.  The Dodgers will not take a chance with pitching Gonsolin if his UCL will snap.  Two weeks rest is not going to "fix" a forearm strain.  That is my non-medical degree hypothesizing.
The other option is it really was not a forearm strain, and the Catman needed a break.
I would like to see Dustin May start against NYM.  It will give the decision makers a better idea as to how he will fare against better competition than Miami.  He did not back down against Sandy Alcantara, and I do not expect him to back down against any NYM pitcher.
Bring on the Mets.