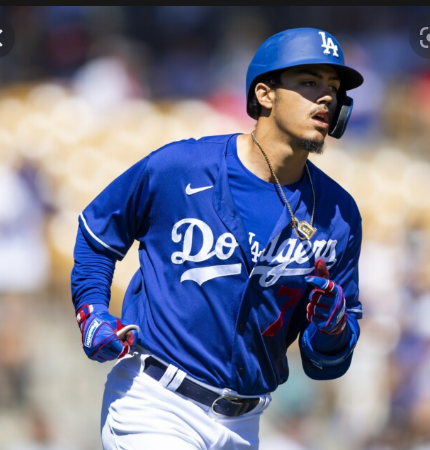 Left Field is wide open, and yet it really may not be.  There is no established LF returning to LAD.  Last year, CT3 was the primary LF, but he started less than half the games in LF.  Ten different players started for LAD in LF:
Chris Taylor – 71
Joey Gallo – 28
Gavin Lux – 24
Trayce Thompson – 23
Jake Lamb – 5
Miguel Vargas – 4
Kevin Pillar – 3
James Outman – 2
Zach McKinstry -1
Eddy Alvarez – 1
When your regular 2B started the third most games in LF, that sort of indicates that LF was not a position of strength in 2022. It got more stable once Thompson and Gallo joined the team.  But not enough to consider it stable.
Joey Gallo, Jake Lamb, Kevin Pillar, and Eddy Alvarez are FA and do not figure to be back with the Dodgers, although Pillar could be…maybe(?).  McKinstry is with Chicago Cubs.  Lux is not going back to LF.
Internal Choices – The internal choices appear to be CT3, Trayce Thompson, Miguel Vargas, and James Outman.
CT3 
2022 – .221/.304/.373/.677 – K rate 35.2%, BB rate 9.7%, 10 HRs, 0.5 bWAR, 1.9 fWAR, 86 OPS+, LF DRS -4, LF OAA -1.  Least amount of HRs in a full season in his career.
I do believe that the plan for CT3 is to go back to being the Swiss Army knife, super utility player.  $15MM/year for 3 years is probably a stiff price for this type of player, until you need him to fill one of 6 spots on the diamond, putting up plus defensive numbers. But this is where he excels.  He is going to strike out a lot, and he is going to get hot and carry the team.  That is who CT3 is.  You know what you get, the good and the bad, and his good has been more than enough in the past.  I think last year was an anomaly and I think he deserves another shot in the role he best fits.
CT3 is generally a good playoff hitter. In 243 Playoff PA – .250/.354/.462/.815 –– 10 HRs and 25 RBIs.  I think he was hurt in the 2022 NLDS.  Did the Dodgers just think they could get by the Padres and wanted to get CT3 ABs and get him ready for NLCS?  We will never know.
Trayce Thompson
2022 – .268/.364/.5374/.901 (as a LAD) – 13 HRs – K rate 36%, BB rate 12.6%, 13 HRs, 1.9 bWAR, 2.5 fWAR, 135 OPS+, LF DRS 0, LF OAA +1
What Trayce did when he first returned to LAD was tremendous.  He cooled off considerably at the end.  But his overall 2022 numbers prove he belongs.  For me, Trayce Thompson is the ideal #4 OF, RH bat off the bench.  I think too many judge the bench by what they do in the post season.  In 2021, the Dodgers bench was horrible, but Atlanta's was great.  Who expected Eddie Rosario and Jorge Soler to get hot in the NLCS and WS.  I do not remember one person say that the Dodgers should trade for Rosario, Duvall, and Soler at the deadline.  After the post season?  Yeah, there were a lot.
It is hard to come off the bench, and Trayce does have a long swing.  So he is going to need to play some to get comfortable, but he really is a bench player, and every team needs those.  He is certainly capable of getting hot, and maybe that will be in the playoffs in 2023.  If anyone knows of a better #4 OF, RH bat off the bench, say now, not after the 2023 WS.
How does a good defensive OF with 239 PA and a .901 OPS not be considered as part of the Dodgers roster for 2023.
James Outman – I think Outman is better suited to be the CF.  If he is not the regular CF, I think he goes back to AAA to get regular ABs.  With Outman in CF, Andy Pages in RF, and Jason Martin in LF, OKC could be stacked in the OF.  They will not need to shop the waiver wires for 5 OF to start in OKC.  Ryan Ward and Drew Avans will be a very good support for that group.
I will include Outman's MiLB stats when I review CF options.
Miguel Vargas 
MiLB Stats – .304/.404/.511/.915 – K rate 14.6%, BB rate 13.7%, 17 HRs, 4 Triples, 32 Doubles, 82 RBIs (53 XBH)
Vargas figures to be the favorite to be LF or 3B in the 2023 LAD lineup.  He has played most of his professional career on the dirt, so a move to the grass could be somewhat troublesome for a player who is not gifted with a lot of defensive skills.  You can hide a poor defensive player in LF.  But most of those players were huge power hitters…Greg Luzinski, George Foster, Kyle Schwarber, Jose Canseco (okay he played mostly in RF but his defense was atrocious in RF and LF), and Nick Castellanos (okay he plays RF because Schwarber is already in LF).
Last season, Vargas was getting mentored in the OF by Mookie Betts.  Vargas is a good athlete, but as we saw with Lux, being a good athlete does not mean that you can take a player who has played his entire life in dirt and move him to LF.  Cody Bellinger played a lot of OF in MiLB.  Mookie played 299 games in MiLB, and 46 of them were in the OF.  The difference here is that both Belli and Mookie were and are exceptional defensive players wherever they play.  Vargas is not.
I am not looking for Vargas to show off a Mookie or Belli arm in LF, but I do hope he takes better routes and angles to the ball than he showed in 2022.  I am guessing that Miggy does not go back to Cuba in the offseason (but I do not know).  I would hope that he would stick at Camelback or Dodger Stadium for extra training.  He has a chance to be a difference maker with the bat as long as he can play adequate defense.  Alec Bom and Nick Castellanos are arguably the two worst defensive players in MLB and both have made multiple outstanding defensive plays in the WS.  Vargas is athletic enough to do the same.
Finally, obviously I have no way of knowing what the Dodgers plans are for Vargas.  I would hope that they would sit down with him and have a heart to heart as to where he is most comfortable…3B or LF.  Let him play where he is most comfortable and let his bat play.  That is what Vargas does best.
Free Agents
Left Fielders
Albert Almora (29)
Andrew Benintendi (28)
Michael Brantley (36)
Kole Calhoun (35) – $5.5MM club option
Aledmys Diaz (32)
Corey Dickerson (34)
Adam Duvall (34)
Ben Gamel (31)
Robbie Grossman (33)
Trey Mancini (31)
Andrew McCutchen (36)
Joc Pederson (31)
David Peralta (35)
Tommy Pham (35) – $12MM mutual option with a $1.5MM buyout
Chad Pinder (31)
A.J. Pollock (35) – $13MM player option with a $5MM buyout
Jurickson Profar (30) – $7.5MM player option with a $1MM buyout
A.J. Pollock has indicated that he is going to exercise the player option, so that is one less option.  Of the above, I would think that AF would kick the tires on:
Andrew Benintendi would be my first choice.  He is LHH, and can play all 3 OF positions, although he is best suited for LF.  He is a former overall #1 ranked MiLB player by both MLB Pipeline and Baseball America.
For 2022, with KC and NYY, he batted .304/.373/.399/.772.  K rate 14.8%, BB rate 10.0%, 5 HRs, 3.2 bWAR, 2.8 fWAR, 120 OPS+, LF DRS +2, LF OAA +0
Benny substituted power for bat to ball skills in 2022.  He is LHH, and would be good as a platoon, but he is going to get a multi-year deal as an everyday player.  So I do not see Benny as an option.
Michael Brantley – I am including him for STB.  But IMO, his LF days are behind him.  He is more of a DH now than a LF.  He is also coming off shoulder surgery.
For 2022 – .288/.370/.416/.785 – In 277 PA – 30 K and 31 BB, 1.3 bWAR, 1.2 fWAR, 125 OPS+
Michael Brantley would be an exceptional platoon LF with Vargas, if the Dodgers were considering platooning Miguel.  I do not think they will, but if they could get 250+ PA, he would be excellent.  But I think he ends back in Houston where he is very happy.
Joc Pederson – I am including him for Bums.
For 2022 he batted, in 433 PA, .274/.353/.521/.874 – 23 HR and 70 RBIs.  100 K (23.1%), 1.3 bWAR, 2.1 fWAR, 144 OPS+
Joc is a platoon LF at this point in his career.  His power potential would indicate that he needs 400+ PA to take advantage of his offense.  I just do not think that the Dodgers are going to take away that many PA from Vargas.
Jurickson Profar?  If he decides to opt out, he should be able to exceed his guarantee.  He is a switch hitter, but if Vargas is the LF, Profar is not going to get enough ABs.
Potential Trade Candidates
There is only 1 LF with a .800+ OPS, and that was Kyle Schwarber.  He is owed $60MM over the next 3 years.   With a 2.2 fWAR in 2022 when he won the NL HR title at 46, he does not project to earn his salary over the next three years.
The only LF trade candidate that AF would consider IMO, would be Ian Happ.  He will be 28 (baseball age) in 2023, and has 1 year control.  He is a switch hitter.  He can play 2B and CF I need be.
For 2022 – In 641 PA, .271/.342/.440/.781, 17 HR, 72 RBI, 149 K (23.2%) and 58 BB (9.1%). 4.3 bWAR, 3.5 fWAR, 119 OPS+.
Other LF trade candidates (not likely):
Christian Yelich – Throw in with Corbin Burnes? LAD take on the salary.  Milwaukee would be much better off without Yelich's contract.  What the heck, if people are looking for a return of the 2019 Cody Bellinger, why not the return of the 2018/2019 Yelich?  Okay I am dreaming.
Jesse Winker
Alex Verdugo
Austin Hays
Lane Thomas
RF trade candidates to move to LF (also not likely):
Teoscar Hernández (Toronto) RH Bat – .267/.316/.491/.807, 25 HRs and 77 RBIs, 28.4% K rate, and 6.4% BB rate, 2.7 bWAR, 2.4 fWAR, 127 OPS+
Hernández has one year control.  Projected 2023 arbitration salary is $14.1 MM.  His 2022 production would earn that salary.  He is a career OPS of .819.
Taylor Ward (LAA) RH Bat – .281/.360/.473/.833, 23 HRs and 65 RBI, 21.3% K Rate and 10.6% BB Rate, 3.8 bWAR, 3.8 fWAR, 135 OPS+.
Ward is a Super 2 arbitration player in his first year of arbitration.  He is projected to earn $2.9MM in arbitration.  The Angels have 4 years of control.
This is hugely unlikely, but Ward is one player that the Dodgers could lose Vargas in LF for.  LAA is not trading Ward, so this does not need to be a consideration for any LAD fan, but I had to include him.
Hunter Renfroe (Milwaukee) RH Bat – .255/.315/.492/.807, 29 HRs and 72 RBIs, 23.2% K Rate and 7.5% BB Rate, 2.7 bWAR, 2.5 fWAR, 126 OPS+
Renfroe has one year of control remaining.  He is in his final year of arbitration and is projected by MLBTR to be non-tendered.  His projected arbitration salary is $11.2MM.
If Vargas goes to 3B, then I think that Andrew Benintendi makes perfect sense for the regular LF.  I also think that a trade for Teoscar Hernández could work for one year until Andy Pages could be ready.
This is not something that is going to get harvested until JT's situation is determined and Edwin Ríos' situation is also resolved.  If JT is not re-signed and Ríos is included in a trade package (a real possibility), then 3B will be Vargas' to lose.  If JT is re-signed and Ríos is not traded, then LF is Vargas' to lose.
Prediction – LF to Miguel Vargas