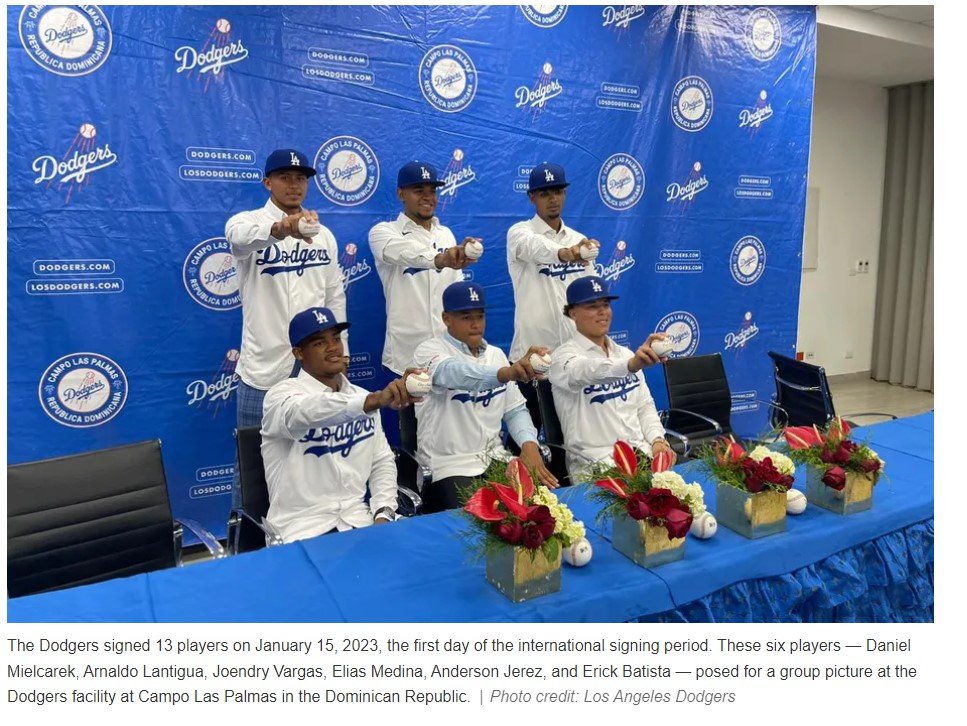 As a follow up, the first day of the International Free Agent Signing period resulted in 13 reported signings.  Also as a follow up to saxfan's comment yesterday on the plight of Dominican vs Venezuelan prospects, the Dodgers stayed true en masse.  I think that the LAD international scouting team focuses solely in two countries: Venezuela and Dominican Republic.
The Dodgers have reportedly signed 13 international prospects: 6 from the Dominican Republic and 7 from Venezuela. They concentrated on the Dominican early with 3 top picks and 6 of their top 7, and filled in with Venezuela prospects.
Per Jesse Sanchez (mlb.com) and/or Ben Badler (Baseball America), the signing bonuses of the top three prospects are as follows:
Joendry Vargas – Dominican Republic – SS – $2,080,000
Arnaldo Lantigua – Dominican Republic – OF – $700,000
Daniel Mielcarek – Dominican Republic – SS – $400,000
That constitutes $3,180,000 of the $4,144,000 allotted bonus pool.  They lost $1.0MM of international bonus money when they signed Freddie Freeman last year.  I am okay with that.
The Dodgers have $964,000 for their remaining class.  Per Ben Badler and Baseball America, the remaining prospects signed:
Jesus Tillero, RHP, Venezuela
Elias Medina, SS, Dominican Republic
Anderson Jerez, RHP, Dominican Republic
Erick Batista, RHP, Dominican Republic
Eduardo Quintero, C, Venezuela
Samuel Sánchez, RHP, Venezuela
Luis Carias, RHP, Venezuela
Harold González, SS, Venezuela
Javier Herrera, SS, Venezuela
Robinson Ventura, RHP, Venezuela (not to be confused with 3B Robin Ventura)
That is 6 RHP, 5 shortstops, 1 outfielder, and the proverbial 1 Venezuelan catcher, Eduardo Quintero.  I believe in their LLC Operating Agreement, the Dodgers have to sign at least one catcher from Venezuela every year.  Too bad it wasn't Ethan Salas for 2023.  Salas signed for more than $1.5MM than the entire LAD bonus pool.  Will anyone be surprised when Salas becomes the everyday catcher at 20, while Diego Cartaya is projected to be the DH in 2026 (per Baseball America)?
Even LF/RF are sparce.  Andy Pages is dropping and José Ramos was not protected and not picked up.  He can punish fastballs, but gets screwed into the ground from his swings on breaking balls.  Both are still young, but not developing as projected.  Pages stalled at Tulsa and Ramos stalled at Great Lakes.  Of course there is still time for both, and both showed some growth in the AFL, principally Pages.  Pages should start at AAA while Ramos should start at AA.
I will be interested to watch the development of the three LAD Dominican shortstops signed vs the two Padres Dominican shortstops signed: Luis De Leon and Willian Santana, especially since they have $225K remaining to sign their other 11 (thus far) international free agents, after Salas.
We will learn more about the prospect bonuses signed for as the days move forward.
Badger's comment reminded me to review my RHP numbers.  As an update on my 77 RHP prospects, I decided to see just how close I was.  In reviewing FanGraphs' Roster Resource and the two DSL rosters from 2022, the Dodger MiLB RHP prospects totaled 88 before the just completed IFA signing.  Thus, before any more waiver wire additions, the Dodgers are actually at 94 RHP prospects (27 LHP).  So I really was not exaggerating, but rather understating the number.
I know…you can never have enough pitching.  But maybe you can have more than you need when you do not have a SS, a CF, a 3B in the pipeline.  But boy are they stacked with utility players.  Not to mention their DH prospects.
In other news…MLB Pipeline is updating their prospect lists.  The first list to be updated is RHP as revealed by Sam Dykstra.  The Dodgers have two on the top 10 RHP list…Bobby Miller (#6) and Gavin Stone (#10).  Stone has made a mercurial rise up the prospect rankings.  There is no doubt in my mind that both will be making starts for LAD this year.  Will they establish themselves as starters???
Cleveland (Daniel Espino #4 and Gavin Williams #7) and Philadelphia (Andrew Painter #1 and Mick Abel #9) also had two on the list.  The other four top ten:
Baltimore – Grayson Rodriguez #2
Miami – Eury Perez #3
Tampa Bay – Taj Bradley #5
Houston – Hunter Brown #8