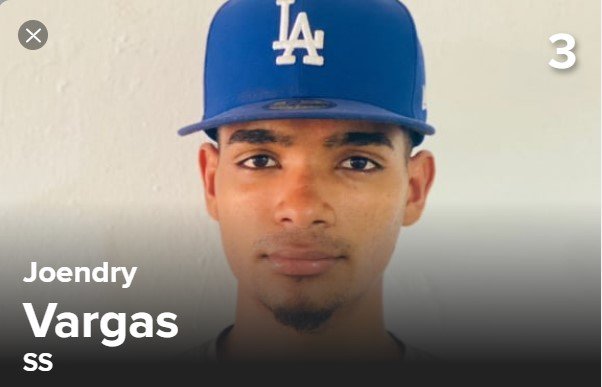 The 2023 International Free Agency (IFA) signing period begins today.  Most of the players that will sign today have been committed for 2-3-4 years, and nobody knows just how successful the signings will be.  Only one IFA signed in the AF era has made tit to MLB with the Dodgers, Miguel Vargas.  This year, Miguel looks to become a regular in 2023 and break the spell.  Andy Pages and Diego Cartaya should not be far behind.  After that, we will need to wait and see.
Of the 30 top prospects per 2022 MLB Pipeline, 12 are IFA.
Prospects Live Top 30 for 2023 – 14 IFA,
Baseball Prospectus Top 23 for 2023 – 9 IFA,
FanGraphs Top 51 for 2023 – 24 IFA,
Baseball America Top 10 for 2023 – 3 IFA.
Of the current 40 man roster, 7 are home grown IFA, while three others originally came from different organizations.
The 2022 class is well represented on top prospects (FanGraphs and Prospects Live).  Josue De Paula seems to be the consensus 2022 IFA to follow (until he isn't).  Other 2022 IFA to watch include:
Oswaldo Osorio (3B)
Mairoshendrick Martinus (3B)
Samuel Munoz (1B)
Accimias Morales (RHP)
For 2023, the consensus top IFA is a 16 year old catcher from Venezuela, Ethan Salas. San Diego is expected to sign Salas.  He is considered the best catching prospect in several years.  He is also the brother of 19 year old SS Jose Salas, Miami's #5 prospect.
MLB Pipeline generated their top 50 IFA list based on FV, while Baseball America created their top 40 list based on the amount the prospects are anticipated to sign for.
Not that it matters at this time, but Chicago Cubs, Minnesota Twins, Houston Astros, Milwaukee Brewers, Detroit Tigers, New York Mets, and Washington Nationals are expected to sign three of the top prospects.
The Dodgers?  They are expected to sign 17 year old top Dominican SS, Joendry Vargas. Vargas is ranked as the overall #3 IFA prospect.  Below is the MLB Pipeline Scouting Report:
Joendry Vargas – SS
Scouting grades: Hit: 55 | Power: 50 | Run: 50 | Arm: 60 | Field: 55 | Overall: 55

Vargas is literally one of the tallest international prospects in the class, and his five-tool potential might be even bigger.

At 6-foot-3, the long and lean teen will face questions about his ability to stay at shortstop, but he already shows a quick first step, good hands and plus instincts for the positio30n. He'll stay in the middle of the infield for as long as he can, but his plus arm potential will serve him well if he transitions to third base in the future.

At the plate, he shows an advanced approach with the ability to hit for average. One of the top hitters in the class, he hits line drives to all fields and shows home run potential with a mechanically sound swing. Vargas expected to show more raw power and rack up extra-base hits as he fills out his frame. Overall, there is lots of offensive upside, which is particularly valuable at such a premium position. He's also been praised for his makeup and work ethic.
Baseball America's Scouting Report:
Yoandry Vargas
Vargas is a tall, lean, athletic shortstop who moves well going to his left or right. A slightly above-average runner, Vargas has good actions, soft hands and a strong arm for the position, with some scouts considering him one of the top defensive shortstops in the class. A former switch-hitter now hitting righthanded only, Vargas drives the ball with impact too, with a chance to grow into above-average raw power. There is some swing and miss to his game, so it's a power-over-hit shape to his offensive profile, but if everything clicks he has a chance to develop into a power-hitting shortstop.
A second IFA prospect that the Dodgers are projected to sign is Dominican CF Arnaldo Lantigua.  Lantigua is the #23 ranked IFA prospect  by MLB Pipeline.  Below is his MLB Pipeline Scouting Report:
Arnaldo Lantigua – OF (CF)
Scouting grades: Hit: 55 | Power: 55 | Run: 50 | Arm: 50 | Field: 50 | Overall: 55

The power-hitting outfielder from the Dominican Republic is big and strong now, and more strength could be on the way.

Latingua's ability to make consistent contact and hit for power stood out for most scouts, as he clocked exit velos over 100 mph in batting practice and games. If he continues to develop at a normal pace, he could turn into a middle-of-the order type of bat in the future because of his offensive prowess. But like most prospects his age, Lantigua can be overly aggressive in the batter's box and needs to be more patient at the plate. He's working on strike zone recognition and fine-tuning his approach.

Overall, he has a chance to stay in center field because of his speed and arm strength, but he also profiles as a right fielder for those same reasons. He's a decent defender, but it is his hitting potential that has him in the spotlight.
One IFA not affiliated with any projected team is a RHP from Korea.
Jun-Seok Shim – RHP
Scouting grades: Fastball: 60 | Curveball: 60 | Slider: 50 | Changeup: 50 | Control: 50 | Overall: 55

The scouts that have seen Shim pitch make a case that he is the best arm in this year's international class.

What's not to like?

He throws a fastball that tops out at 100 mph and consistently sits in the 94-96 range. He features a true 12-6 curveball and shows good command of all of his pitches. What's more, the big and strong-bodied Shim has been praised for his clean arm action and his athleticism.

It's also worth noting that his slider and changeup are also emerging and could eventually develop into plus pitches in the future. He's been compared to a young Chan Ho Park since his early teens because of his poise, makeup and fastball.

Kim is currently eligible to sign with a Major League team but will likely wait until the start of the next international signing period in January to sign.
Of course there will be multiple IFA signed by LAD, and we will learn more about them in the near future.