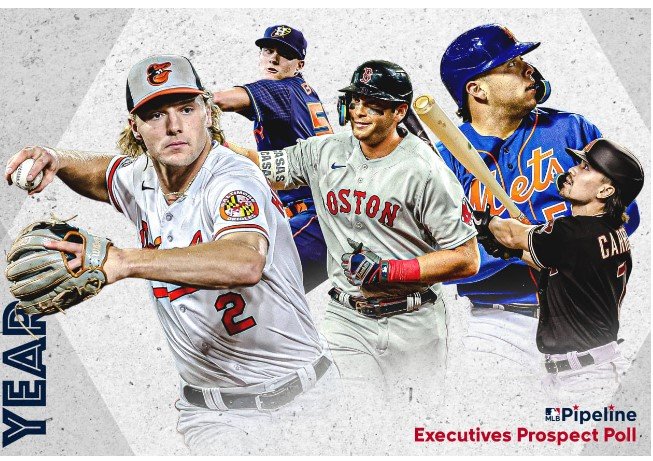 Jonathan Mayo is one of the two primary architects of the prospect analysis arm of MLB.com, along with Jim Callas, known as MLB Pipeline.  Sam Dykstra has now joined the duo so that prospect coverage is even better.
This week Mayo has penned a week-long series on various polls taken on the subject of prospect talent coming to MLB.  MLB.com asked front-office officials — from general managers to farm directors, from scouting directors to analytics specialists, on subjects ranging from:
Part 1: Rookies of the Year
Part 2: Prospects
Part 3: Tools
Part 4: Farm Systems
Each of the above sections had their own sub-categories, with the exception of Rookie of the Year (ROY).  Most of the responses did not surprise me except for Farm Systems, which I will explain a bit later.
https://www.mlb.com/news/2023-rookie-of-the-year-mlb-front-office-selections?t=mlb-pipeline-coverage
Rookie of the Year
Let's first look at what constitutes an MLB rookie for such consideration.  The definition of an MLB Rookie:
A player shall be considered a rookie unless he has exceeded any of the following thresholds in a previous season (or seasons):
130 at-bats or 50 innings pitched in the Major Leagues.
45 total days on an active Major League roster during the Championship Season (excluding time on the Injured List).
Not surprising to me, the panel of experts have overwhelmingly tabbed Arizona DBack CF, Corbin Carroll, to be the 2023 NL ROY.  Carroll is a legit 5-tool player.  He was on the ML roster for 38 days (from August 29 thru October 5), and he was limited to 104 ABs.  Thus his rookie status is in tact entering 2023.  For 2022, he did not disappoint.  His batting line was – .260/.330/.500/.830.  He played  an outstanding defensive LF in 2022, and this year he will be the everyday CF, now that Daulton Varsho has moved to Toronto.
Carroll received 66% of the vote.  The only other NL rookie to receive more than 3% of the vote was NYM Catcher Francisco Álvarez who registered 9%.  There were ten rookies to get votes, and the Dodgers were well represented, with Bobby Miller (#6) and Miguel Vargas (#9). Bobby Miller was the top vote getter amongst rookie pitchers, edging out LHSP Jared Shuster, Atlanta.
If either Bobby Miller or Miguel Vargas should win the coveted ROY award, it would not come as a surprise.  The Dodgers have lapped the field in this category with 18 past winners.  The next closest are NYY and Boston/Atlanta Braves with 9.  Cody Bellinger was the last Dodger to receive the award in 2017.  The Braves have won 2 of the last 5 (Ronald Acuña Jr. and Michael Harris II), and have another on the radar this year.
Of the other rookies, I am most interested in following Colorado SS Ezequial Tovar.  I do not think that Jordan Walker, St. Louis OF, will get enough service time or ABs to be considered this year, unless the Cardinals move one of their OF.  Brewers OF, Sal Frelick, and Reds SS Elly De La Cruz should also get strong consideration.
For the AL, also not a surprise, Baltimore SS, Gunnar Henderson garnered 73% of the vote.  Only 4 other AL rookies received votes:  Houston RHSP Hunter Brown (9%), Boston 1B Triston Casas (9%), NYY SS Anthony Volpe (6%), and Texas 3B Josh Jung (3%).
PROSPECTS
The second set of polls were to identify the best prospects in several sub-categories.  The first section was:
 Gunnar Henderson (Baltimore SS) and Corbin Carroll (Arizona CF) were the top vote getters in this category, with Henderson receiving the overwhelming majority of votes (41%).  Eleven prospects received votes, but not one LAD prospect received a single vote.  There were two 2022 draft picks that made the list:  Baltimore's SS Jackson Holliday (son of Matt Holliday), and Pittsburgh SS/2B Termarr Johnson.  Holliday was 1st overall draft pick in 2022 draft, and Johnson was 4th overall.
This category was dominated by RHP, and three in particular.
Andrew Painter (Philadelphia – 34%)
Grayson Rodriguez (Baltimore – 26%)
Eury Pérez (Miami – 23%)
Perez is a 6'8" 220 pound RHSP who as a 19 year old started 17 games in AA, and figures to be the next big pitcher in the Marlins stable.  He could get his MLB debut this summer as a 20 year old.
The Dodgers' Bobby Miller registered the 4th most votes (6%).
The lone LHSP, was SFG's Kyle Harrison.  Harrison could also make his MLB debut this summer with San Francisco.  He has a chance to tandem with Logan Webb to form a dynamic one-two punch at the top of the SFG rotation.
At the top of the list is the prospect I have long coveted and have written about…Chicago Cubs CF, Pete Crow-Armstrong (14%).  Crow-Armstrong was a first round draft pick by NYM (2020) but was traded to Chicago in the Javy Baez trade (2021).  Chicago has a keeper.  I expect Pete to join Chicago's AA affiliate out of ST, with a very outside chance of debuting at MLB this year.  If Belli continues to struggle at the plate, I can see Jed Hoyer wanting to see if their future CF will be ready in 2024 as Corbin Carroll did last year with Arizona.
Next top vote getter (11%) was another 1st round pick in 2022 (2nd overall), and yet another top Arizona CF prospect, Druw Jones.  Jones is the son of potential future HOF, Andruw Jones.
19 prospects received votes in this category, and true to their continuing refrain from run prevention considerations, the Dodgers do not have a single prospect in this category.  13 of the 19 vote getters were SS, and Jacob Amaya was not one of them.  So when I say that Amaya is a good defensive SS, but maybe not elite, MLB executives seem to agree.  This is a problem when you do not make any meaningful comparisons to other players, and hold on to the hype that Amaya was the best defensive player on a team that seemingly does not promote run prevention as a significant consideration.  Either that, or they have no ability to develop that skill.
This category characterizes instinct, being in the right position to make the play.  NYY SS Anthony Volpe was the top vote getter in this section with 26%.  Arizona CF Corbin Carroll (23%), Twins SS Brooks Lee (10%), Baltimore SS Jackson Holliday (6%), and Boston SS Marcelo Mayer (6%) rounded out the top 5.
The Dodgers were represented here with catcher Diego Cartaya who received the 6th most votes (less than 3%).  This has long been a trait that has set Cartaya above other LAD prospects.  If he continues to work on his skills (both offensive and defensive), he will progress quickly in the organization.
WHICH PITCHING PROSPECT IS THE BEST FUTURE CLOSER
The first three in this category have been top pitching prospects, but did not receive any votes for top pitching prospect in this year's poll.  All three have dominating raw power but "have some combination of size concerns, health issues or command problems."
Daniel Espino – Cleveland (21%)
Max Meyer – Miami (15%)
DL Hall – Baltimore (12%)
The 4th on the list, also with 12% of the vote is LAD RHP, Bobby Miller.  There has never been a concern with his "stuff" as we will get to later, but there has always been command concerns.  If he can harness his command, the relief risk will dissipate.  Hunter Brown and Eury Pérez were the other two top pitching prospects that have relief risk.
There were 26 vote getters in this category, and 15 were in MLB Pipeline's top 100, so how underrated can they be.  The Dodgers had one such player, Gavin Stone.  Stone was also the only pitcher named in this category.
WHO IS THE BEST AMATEUR PROSPECT YOU HAVE EVER SEEN
It certainly did not come to anyone's surprise that the two most heralded amateur players were Bryce Harper and Orioles catcher Adley Rutschman.  Their amateur exploits were legendary and highly reported.  There were two Dodgers on this list…Clayton Kershaw and Corey Seager. While I understand why, I am still bitter he is no longer a Dodger.  Current LAD pitching coach, Mark Prior is also on this list.  He was certainly an unhittable All American pitcher at USC.
TOOLS
Once again, Corbin Carroll (29%) and Gunnar Henderson (23%) dominated another category.  The next two best hit tool belongs to Brewers OF, Sal Frelick (9%) and Brewers OF prospect Jackson Chourio (6%).  While the Dodgers did not have a single player get a vote for best hitting prospect, Miguel Vargas did get vote(s) in this sub-category.  He was 12th out of 13 vote getters.
WHICH PROSPECT HAS THE MOST USABLE POWER
"Usable Power" is the belief that a player will consistently tap into his raw pop to put up numbers in the big leagues.  St. Louis Cardinals OF, Jordan Walker, was the overwhelming vote getter here with 43% of the vote.  The second top vote went to NYM catcher, Francisco Álvarez (11%).  13 players received votes, but did not include a LAD.  I might have thought that Andy Pages could have received some acclaim here.  Four SS prospects received votes, indicating that power from the SS is now considered a skill to consider.
Elly De La Cruz – Cincinnati
Gunnar Henderson – Baltimore
Marco Luciano – San Francisco
Anthony Volpe – NYY
WHICH PROSPECT HAS THE MOST SPEED
There were 18 prospects receiving votes here, with Arizona CF Corbin Carroll once again at the top of the list with 29% of the vote.  The vote totals drop off quickly with Red Sox OF David Hamilton coming in second with 9%.There were no Dodgers who received votes in this category, including James Outman.  Neither did top LAD speedster, Jake Vogel.
Once again, this category was dominated by RHP.  Bobby Miller checked in at #3 with 9% of the vote.  Cleveland RHP, Daniel Espino, has the top rated fastball (33%), with Miami RHP Eury Pérez #2 and 15% of the vote.  Other fastballs receiving 9% of the vote belong to Mason Miller (A's), and Grayson Rodriguez (Orioles).  The Giants' Kyle Harrison was the sole LHP to receive votes.
WHICH PROSPECT HAS THE BEST SECONDARY PITCH
Baltimore's RHP, Grayson Rodriguez is considered to have the best secondary pitch with his changeup (17% of the vote).  The next three top secondary pitches are sliders, and each received 11% of the vote, including the Dodgers Bobby Miller.  Joining Miller with the top sliders are Houston's Hunter Brown, and Miami's Max Meyer.
The Dodgers were well represented here with two more top secondary pitches, both sliders.  Carlos Duran (10th) and Nick Frasso (12th) were LAD vote getters.  The Dodgers were the only team with three pitchers in this category.  Baltimore and Miami had two each…Grayson Rodriguez (CH), DL Hall (SL) and Max Meyer (SL) Eury Pérez (CH) respectively.
Phillies RHP, Andrew is considered to have the best curve).  LAA's Chase Silseth is considered to have the best split finger.  Overall, 10 sliders, 3 changeups, 2 curves, and 1 split finger received votes.
WHICH PROSPECT HAS THE BEST PITCHABILITY
What is pitchability?  Per the report, "Pitchability is most often equated with command, but it also encompasses an overall feel for pitching, how to set up hitters, what stuff to use when, and what stuff not to use if it's not working that day."
 Or maybe, who is the best pitcher vs thrower.  Command over "stuff".  Phillies RHP, Andrew Painter, was the top vote getter here with 29%.  Baltimore's RHP Grayson Rodriguez (19%) and St. Louis' RHP Gordon Graceffo (10%) were the next top vote getters.  What portends to be scary is that as good as his "stuff" is at his age, Miami's Eury Pérez is #4 in pitchability.  No Dodger pitcher received a vote here.  While LAD pitchers have good arms, they take longer to get to the big leagues.  Command is the last skill to master.  Tony Gonsolin, Dustin May, Ryan Pepiot, and Bobby Miller are the latest LAD examples of command not quite at the elite level…YET.  That is something that Mark Prior excels at, so the tutelage will come, but maybe not until they reach MLB.
FARM SYSTEMS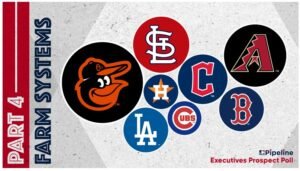 There is no question that the Dodgers Farm System and development team are widely respected by their peers.  During the AF era, I have often found fault with how the Dodgers prospects have been lauded even though they have not developed a single All Star position player during the AF era, and only two pitchers: Walker Buehler (twice) and Tony Gonsolin (once). There was no denying how well thought of the Dodgers organization is, and my mind was open to perhaps thinking a bit different.
First let's take a look at the categories being ranked.
Baltimore – 50%
Dodgers – 21%
Cardinals – 9%
Arizona – 6%
WHICH TEAM USES THE DRAFT THE BEST
Dodgers – 37%
Baltimore – 20%
Louis – 14%
Atlanta and Cincinnati – 6%
WHICH TEAM PLAYS THE INTERNATIONAL MARKET BETTER THAN ANY OTHER
Dodgers and Houston – 21%
NYY – 18%
Cleveland, Washington, San Diego, and Cincinnati – 6%
WHICH TEAM HAS THE MOST UNDERRATED FARM SYSTEM
Louis – 14%
Houston and Cubs – 11%
Cincinnati – 9%
LAA, Milwaukee, Baltimore, and NYY – 6%
Even the Dodgers got votes here, which seems odd, since no team has had more acclaim as a top farm system than the Dodgers over the years.
WHICH TEAM HORDES PROSPECTS THE MOST
Cleveland – 32%
Tampa Bay – 15%
Louis – 12%
Colorado – 9%
Arizona, Baltimore, and NYY – 6%
No, the Dodgers and their 77 RHP did not get a vote.
WHICH TEAM BEST DEVELOPS PITCHERS
Cleveland – 46%
Dodgers – 11%
Houston, Miami, and Tampa Bay – 9%
NYY – 6%
I cannot find any fault with this category at all.  Cleveland far and away puts pitchers in and it becomes clear, that those teams develop pitching.
WHICH TEAM DEVELOPS THE BEST HITTERS
Dodgers – 43%
Houston – 11%
Atlanta, St. Louis, Chicago Cubs, Baltimore, Tampa Bay, Colorado – 6%
WHO IS THE BEST AT DEVELOPING SLEEPER PROSPECTS
Dodgers – 23%
Houston – 20%
Louis – 17%
Cleveland – 11%
Atlanta, Seattle, Tampa Bay, Kansas City, Minnesota – 6%
This Farm System section was both a surprise and not a surprise for me.  At first blush the rankings in this category did not necessarily relate to the top prospects and top tools categories.  The Dodgers put one position player in all of the categories above…Miguel Vargas, number 11 of 12 best hitting tools.  Although he did not receive a vote for top hitting prospect.
How can an organization who only has one position player prospect garnering votes in these polls, and only two other regulars on the projected 26 man who are playing with the ML team, be the best at developing hitters.  Neither Gavin Lux or Will Smith have won a SS or received any MVP votes, so it is not like they are elite hitters.  Yet the Dodgers are overwhelmingly rated #1 at developing hitters.  How can this be?
At a second glance, I looked at where the Dodgers draft and how many players they eventually put in MLB.  Admittedly, I get caught up in the lack of elite ALL-STAR level players coming from a farm system and get disappointed.  But the depth they provide is outstanding.  In the AF era, Edwin Rios, Zach McKinstry, DJ Peters, Zach Reks, Luke Raley, Kyle Garlick, Cody Thomas, Willie Calhoun, Brendan Davis, Yusniel Diaz, Oneil Cruz, Connor Wong, Rylan Bannon, all with ML experience.  I am sure I am missing some.  And then those that are on the cusp of ML ball…James Outman, Miguel Vargas, Michael Busch, and Jacob Amaya, with Outman and Vargas already with some ML experience in 2022.
I was also puzzled about the International Free Agents (IFA) being so rewarded.  The Dodgers have two players projected to be on the 26 man roster who are IFA: Miguel Vargas (AF) and Julio Urías (pre AF).  However, they do have five others on the 40 man.  RHRP Victor Gonzalez (pre AF) does have ML experience, and should make the 26 man at some point this year.  Diego Cartaya, Andy Pages, Eddys Leonard, and Jorbit Vivas are the others on the 40-man.
12 of the LAD top 30 prospects are IFA.  This is after a disastrous 2015 International Signing Period.  Will Vargas, Pages, Cartaya, Leonard, Vivas, Ramos, Duran Henriquez, Fernandez show how well the Dodgers eventually develop these IFA?  There is potential there, and that is what the MLB execs were looking at.
So while the Dodgers may not have that elite prospect that will remind us of Julio Rodriguez, Adley Rutschman, Corbin Carroll, or Gunnar Henderson, they do have more than a handful that project to be ML players, providing depth not only to the Dodgers but also to other ML teams.  That is really what a Farm System is supposed to do, and I need to change my thought process in this regard.
At some point, I am going to undertake a significant research project to see how each of the MLB teams drafts have turned out to actually see where they rank with LAD.  Is it perception or reality?  The numbers will tell us reality, but for now perception gives the Dodgers a leg up on the other organizations.