The Dodgers have a new shortstop.  Or do they?  Miguel Rojas is a proven MLB defensive SS with a career slash line of .260/.314/.358/.672, and a career OPS+ of 85.  His strikeout percentage was 12% last year, with a 12.6% career strikeout percentage.  There is no denying that Rojas is not a major offensive threat, but he will put the ball in play, and he will save runs.
Rojas is back with LAD for his second stint.  He was signed by the Dodgers to a MiLB contract in November 2012.  He joined the LAD roster in 2014, but did not show at that time that he would be anything more than a AAAA player than have a 9 year career.  In one of AF's first transactions (December 2014), Rojas was traded with 2B Dee Gordon, RHP Dan Haren, and cash to Miami Marlins, for LHP Andrew Heaney, RHP Chris Hatcher, 2B Kiké Hernandez and C Austin Barnes.  Heaney was then traded to LAA for Howie Kendrick.
Is the plan to put Rojas at SS and leave Gavin Lux at 2B?  Or do the Dodgers really need yet another utility player?  Could this be a pre-cursor to a CT3 trade?  Speculation will be rampant, as there are those who are pooh-poohing this trade.  I am an avid Jake Amaya fan, but I have no issues with this trade.
Rojas has been a defensive whiz since he first played at the ML level with the Dodgers in 2014.  So much so that I can still remember his back hand stab and throw from behind third base on June 18, 2014, to keep Clayton Kershaw's no hitter intact.  I did not see it with my eyes, but I sure saw it from my mind's eyes from the voice of Vin Scully.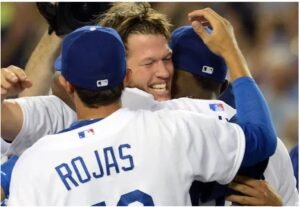 I published a post several days ago about how important run prevention was to me.  The Dodgers could not possibly go into the season with Muncy, Lux, Vargas (2nd /SS/3B) as the primary infield, could they?.  With Mookie Betts, Freddie Freeman, Will Smith, JDM, Max Muncy, Gavin Lux, and potentially Miguel Vargas, can they make up for the weak bat of Rojas, as long as he puts up GG level defense?
Many were looking for the Dodgers to sign José Iglesias, and admittedly I was in favor early on in the off season.  His career slash line is .279/.319/.382/.701.  Not a great difference than the career stats of Rojas.  But there was no way that Iglesias was the equal to Rojas defensively.  While Iglesias is a better offensive threat,  would Iglesias' bat be that much of a difference?  The team needs defense more than offense.  They should have the offense to score a lot of runs this year.  I guarantee you that with the restructured infield, the pitchers are happier today than they were yesterday.
Okay, that is only part of the picture.  The Dodgers needed to trade Jake Amaya to get Rojas.  While there are those who believe that Amaya can do anything that Rojas can do, I am not in that camp.  Amaya has never done it at the ML level what  Rojas has done for 9 years.  If players can duplicate what they do at AAA at the MLB level, then why have a AAA.  Why are so many convinced that Amaya will put up Rojas numbers?  Maybe he will.  Probably not.  The Dodgers might as well just call up last year's AAA team.  Jake Lamb, Kevin Pillar, and Eddy Alvarez all put up much better numbers in OKC, but could not do so with the ML club, and Lamb and Pillar were proven ML players.  Jake Lamb was even less productive in Seattle than he was with LAD.
Dodger player personnel execs are obviously not convinced that Amaya can be a ML regular, or at least not at the level of Rojas.  If they did believe that, they would never have made the trade.  Chances are the Dodgers would have been more comfortable with Michael Busch in the lineup than Amaya.  Busch is a much better offensive threat, but he will undoubtedly start the season at OKC.  The Dodgers are planning on at least two rookies as position players on the roster, and at least one rookie pitcher.  They did not have a single rookie exceed rookie status in 2022.  Three rookies planning on being significant players at the ML level, is not something the Dodgers have been comfortable with.  They were never going to rely on Amaya to be that ML SS.
There is not a single publication that believes that Amaya is anything more than a utility infielder, and only as a defensive replacement.  Are they always correct?  No, but they generally have a better understanding of what makes for a ML regular than the average fan.
IMO, Amaya will be a good utility infielder at the ML level, and should have a productive ML career. But not in 2023.  Rojas' ML experience and GG level glove, gives the Dodgers a better team in 2023 than Amaya's promise.
Amaya is not even projected to be the regular SS for Miami.  Right now, Joey Wendle is the first SS on the Marlins depth chart.  Amaya is probably ticketed to Jacksonville, the International League AAA affiliate of Miami.
I will follow Amaya's career, and hope he will become a productive ML player.  But for 2023, I will be more comfortable with Miguel Rojas.