Two 1st place teams Gavin Stone's 2nd MLB start did not start out as something to build on.  A leadoff double to Ronald Acuña Jr., a one-out RBI single for Sean Murphy, a walk to Austin Riley and a three-run HR by Eddie Rosario.  He got out of the first allowing a single to Orlando Arcia and then settled down to face the minimum over the next three innings.
He was at 70 pitches, so he wasn't spent, but he was facing the lineup for the third time with Acuña, Matt Olson, and Sean Murphy.  I think it was the nerves and not a tired arm that created back to back 4-pitch walks.  After the 2nd BB, Acuña noticed Stone rubbing up a ball, but more importantly Max Muncy in the hole between SS and 3rd with his back to him, took off to steal 90 feet.
The Dodgers started to claw back in the 2nd inning thanks to JD Martinez's solo HR (7).  They got back into the game in the 4th.  Freddie Freeman led off with a double.  Moved to 3rd on a long fly to right and scored on a ground out to 1B.  Freeman beat the throw from Olson to catcher.  With 2 outs JDM got his second hit of the night and came all the way home on a David Peralta triple.
LAD took the lead in the 5th.  Rojas got his 2nd hit of the night, and Mookie walked.  Freddie, who has owned Charlie Morton (9-17, 2 doubles, 2 HRs, and 4 RBIs), hit a 1-2 curve into the RF stands for a 3-run HR and a 6-4 lead.  Now Freddie is 10-18, 2 doubles, three HRs and 7 RBI against Morton.
FREDDIE FREEMAN WELCOME BACK TO ATLANTA

— Blake Harris (@BlakeHHarris) May 23, 2023
With Stone fighting himself, Doc made the right call and called in Evan Phillips. Highest leverage reliever in the highest leverage situation the Dodgers were likely to face. The first batter Phillips faced, Sean Murphy,  hit an 0-2 pitch in the hole to SS Miguel Rojas and Miggy got the force.  If Acuña was on 2nd, Rojas would have had him at 3rd.  Instead, Rojas had to go to 2nd for the force.  Riley followed with a 1-out double.  Then the pivotal play of the game.  Eddie Rosario hit a sinking line drive to CF that James Outman dove to make the catch.  But for some reason, Murphy was almost half way down the line and had no chance to get back, tag, and score.  Ozzie Albies grounded out to end the inning.  It was not Phillips' best game, but I am sure that he was rushed and probably did not get his full bullpen session.
The Dodgers scored solo runs in the 6th and 7th, both with 2 outs.  In the 6th, with 2 outs, Rojas doubles into the LF corner and scores on Mookie's single.  JDM got his 4th hit and 2nd HR of the night, and the Dodgers were out to a 8-5 lead.
In the bottom of the 7th, Doc called on Yency Almonte to face the top of the order.  Even Orel mentioned that fans at home are probably yelling at their TVs…"What is he doing"?
All he did was to get two pop up outs and to strike out Matt Olson.  In the 8th, Doc sent out Phil Bickford.  He struck out Austin Riley.  Jammed Eddie Rosario who fought it off for a single,  and then struck out Ozzie Albies.  The puzzled look on Bickford's face was priceless when Doc came out to get him.  He struck out 2 and threw a good pitch that Rosario fought off for a single.  He looks at Doc in total shock.  Brusdar Graterol gave up a run-scoring double to Marcell Ozuna, and then got Arcia on a 6-3 ground out.
Graterol retired the side in order in the bottom of the 9th for a 4-out save.
There was a very uneasy moment in the bottom of the 4th when Marcell Ozuna had a long follow through on his swing and hit Will Smith in the head…hard.  Smith was pissed.  It was not the first time Ozuna had done this to Smith, and to many other catchers.  Smith said he knew it was not on purpose, but he has to make an adjustment.  He can't keep hitting catchers in the head with a follow through.  This was especially critical because Smith recently came off the concussion IL.  My son texted me after that play and said that is how he got two concussions.  He understood why Smith was really upset.
He came out his next AB and barked at Smith again.  Smith did not back down, and the umpire had to come in between and ease the tensions.  Apparently Ozuna did not apologize.  He obviously does not believe he did anything wrong.  As Smith and Doc said after the game, it is up to Ozuna to make the adjustment.  At some point Ozuna is going to get drilled.  Braves fans cannot stand Ozuna, so they would not be too upset.
After his 34 pitch 1st inning, Stone was pretty impressive.  He threw 36 pitches over the next three innings.  Pitching for a win, it just looked like he was fighting himself in the 5th, and trying to do too much.  He needed to hear Prior's message again.  You are good enough to get here, and you are good enough to stay here.  In the 2nd – 4th innings, his changeup was much better than the change he gave to Rosario.  They just need to keep throwing him out there until his confidence is there.
Both team's pitching staffs are overworked.  The Dodgers needed the win, so they brought in Evan Phillips in a crucial high leverage spot rather than Tyler Cyr or Tayler Scott.  Came back with another high leverage pitcher with Ferguson.  I was surprised to see Yency Almonte come out in the 7th to face the top of the order.
Gavin Stone – 79 pitches (43 strikes)
Evan Phillips – 15 pitches (11 strikes)
Caleb Ferguson – 9 pitches (7 strikes)
Yency Almonte – 13 pitches (8 strikes)
Phil Bickford – 18 pitches (11 strikes)
Brusdar Graterol – 17 pitches (10 pitches)
One thing we know about Doc, love him or hate him, he sticks with his players.  Name another manager who would have brought Yency Almonte in to face the top of the order of the best offense in the NL?  He, and more importantly the Dodgers, benefitted.
Last year, Tuesday's starter for Atlanta, Spencer Strider, as a rookie, started out in the bullpen.  He did not start his first game until May 30.
After the game, Doc said he (and Brian Snitker) managed the game as if it were a playoff game.  With the Atlanta fans, it sure felt like a playoff game.  Dodgers win this one.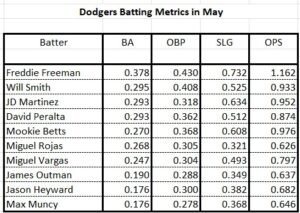 As many have said, it is not the offense…it is the pitching.  The Dodgers will lose one of their relievers tomorrow, but still should have everyone available.  It would sure be nice if Bobby Miller could go 5.0 IP on Tuesday.  I am not counting on it, but I am hoping.
As JDM said after the game, good teams find a way to win.  That is exactly what the Dodgers and Atlanta are doing with a depleted pitching staff.
Regardless, using the line that has been used waaaaay too much…