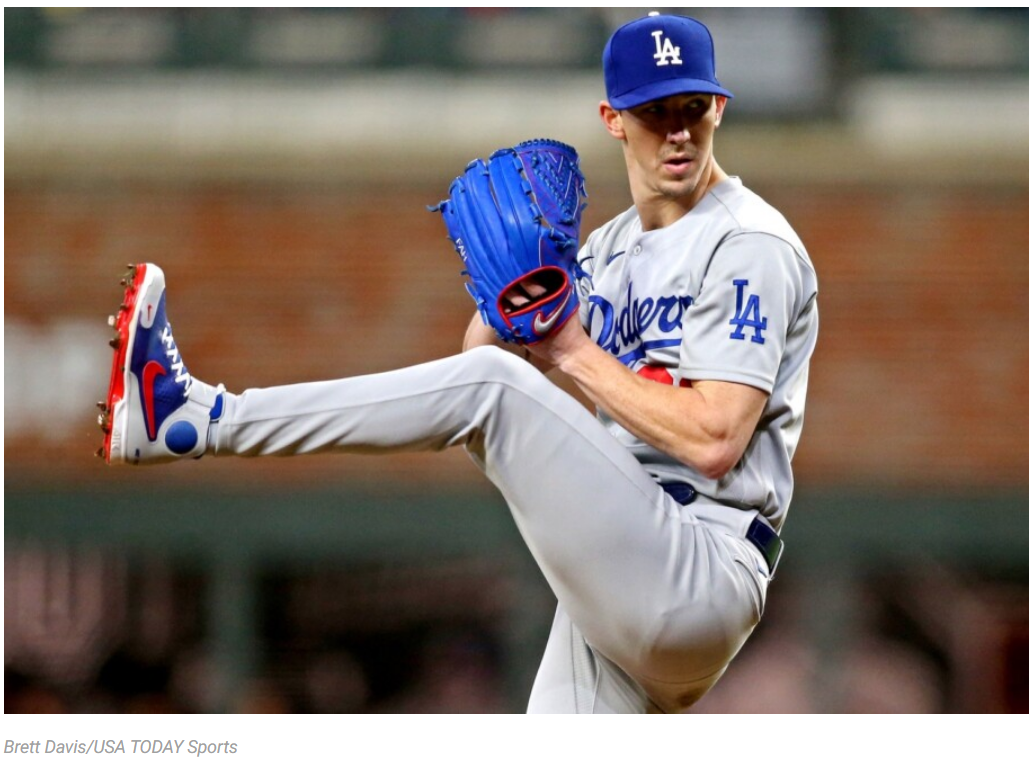 Badger made a point…"Replacing an ace is no easy thing. But it needs to be addressed."  I agree that it needs to be addressed, but I am not sure how everyone defines Ace. For me, he needs to be at the elite level for more than one year. Rick Porcello won a CY but he was never an Ace. Walker Buehler was/is an Ace. I think Julio Urías is approaching that status, but he is one year away from FA, and with Boras as his agent, there will be no extensions discussed.
They also need to be elite for an entire year and not be limited to 100 – 120 IP.  Clayton Kershaw used to be an Ace, and still is elite, but not at the Ace level because he cannot go 180+ IP.
Tony Gonsolin needs to do it more than 2022.  If he can continue thru 2023 and into 2024, he could be an Ace.  Dustin May's stuff is elite, but neither his command nor control are near the Ace level right now.  Maybe with a full winter of rehab and strengthening he will get to the top of the rotation status.
Bobby Miller?  He has not dominated at any level.  Just like May, his "stuff" may be elite, but his command is not close to being elite.
Ryan Pepiot and Gavin Stone have at least dominated at the AA and AAA level.  But most scouting evaluations still consider them huge reliever risk, although those risks seem to be diminishing.  Pepiot's change dominated at MiLB but is not fooling enough MLB hitters.  Pepiot's best game as a ML pitcher did come in relief of Michael Grove.  Maybe Pepiot is another Tommy Kahnle?
Michael Grove?  He showed that he can get ML hitters out, but he is probably more like Mitch White and Ross Stripling than Zac Gallen.
Andre Jackson?  If there were a picture in Merriam Webster's Dictionary of a long middle reliever it would be Andre Jackson.  For me, that is not a negative.  Every team needs one.  Somebody needs to fill David Price's role next year.  Jackson seems a prime candidate.
The Dodgers are loaded with 3-4-5 rotation level pitchers, but are devoid of sure thing top of the rotation pitching candidates after Julio Urias.  There are multiples knocking on the door.
For 2023, the rotation should include (ages are 2023 baseball ages – age on June 30, 2023):
LHP Julio Urías – (26) – FA 2024
RHP Tony Gonsolin – (29) – FA 2027
RHP Dustin May – (25) – FA 2026
If Clayton Kershaw wants another year, he needs to get it. Limit his innings again to 100 – 125.  While I do like Tyler Anderson for a new deal, at some point the organization has to **** or get off the pot with some of their MiLB prospects.  Are Pepiot, Grove, Stone ready for the rotation consideration in 2023?
LHP Clayton Kershaw – (35) – Current FA
LHP Tyler Anderson (33) – Current FA
RHP Ryan Pepiot (25)
RHP Michael Grove (26)
RHP Gavin Stone (24)
RHP Bobby Miller (24)
RHP Andre Jackson (27)
Once again, that is a deep group.  But elite?  I do not see an Ace in this group.  Good pitchers? Absolutely!
What FA pitchers might be considered an Ace?
Jacob deGrom (35) – I agree with STB. He will negotiate with multiple teams (probably including the Dodgers) and get as much as he can, but he will stay with NYM.
Justin Verlander (40) – He is more likely to be available for LAD, but at 40, are you comfortable with a Max Scherzer level contract?  Scherzer is 17 months younger than Verlander.
The best of the other FA SP:
Is there a pitcher in that group that you would block any of the Dodger prospect pitchers for 3-5 years?  Rodón figures to be the most sought after and probably the most expensive.  He would be a top of the rotation pitcher, but I am not sure that any of the others would be anything more than mid to back of the rotation types.  I think AF will seek out another Andrew Heaney type pitcher before signing any of those not named Carlos Rodón.  I am not convinced that AF/BG would even consider Rodón.  Although I do like Bassitt on a 2 year plus option deal.
Free agency is not the only way to acquire a Top of the Rotation pitcher.  A team can trade for one.  Of course both teams need to want to make a trade.  Almost never will a contender trade a top of the rotation pitcher pre-season.  At the deadline maybe if the contender status has been eliminated.  I have not yet had enough time to look at all of the top pitchers and their clubs to see if there are potential trades AF/BG might consider.
However, two come to mind…RHP Shane Bieber (Cleveland) and RHP Pablo Lopez (Miami).  While no trade was obviously consummated, both pitchers are considered available at the right price.
Shane Bieber (28) is arbitration eligible and considered to be in the $12MM range.  Pablo Lopez (27) is also arbitration eligible.  Both have two years of arbitration and will become FA after the 2024 season.
Both pitchers would require some top prospect pitching (and others) in return.  Both Bieber and Lopez could slot in nicely behind Urías.
Of course the best way to acquire a future Ace is to draft one or sign one from the International Free Agent Market.  But teams drafting every year where the Dodgers do, are not primed to draft top of the rotation pitchers.  Maybe one will drop to them like Walker Buehler did.
I figure the trade is the best choice for the Dodgers.  They have an abundance of players who are "Major League Ready".  The Dodgers cannot utilize all of them, so it seems logical and practical to package some to go get the elite players.
MiLB Game Summary
Salt Lake Bees (LAA) 2 vs OKC Dodgers 3
The Dodgers jumped out to a 3-1 lead after 4, and then held on for their 3rd consecutive victory over the Bees to end their season.  They finished the season 84-66, and 1.5 games behind El Paso Chihuahuas.  Unfortunately OKC was 2-4 last week against El Paso to get eliminated.
Jon Duplantier started for OKC and went 4.0 innings allowing a HR for the sole run he did allow.  He gave up 2 hits and 4 walks to go with 8 Ks.  4 relievers followed with Beau Burrows replacing Duplantier and throwing 2.0 perfect innings with 3 Ks to get the win.  Mark Washington pitched 1.0 inning and got pushed around a bit allowing 3 hits and 1 run.  Aaron Ochsenbein and Nick Robertson pitched the final 2.0 perfect innings, with Robertson getting his 2nd OKC save.
The big offense was supplied by James Outman who went 3-4 with a double (14).  Omar Estévez finished the season strong going 5-12 with a HR over the last 4 games.  Michael Busch had one hit, but it was his 21st Big Fly for OKC, 32 overall for the season.