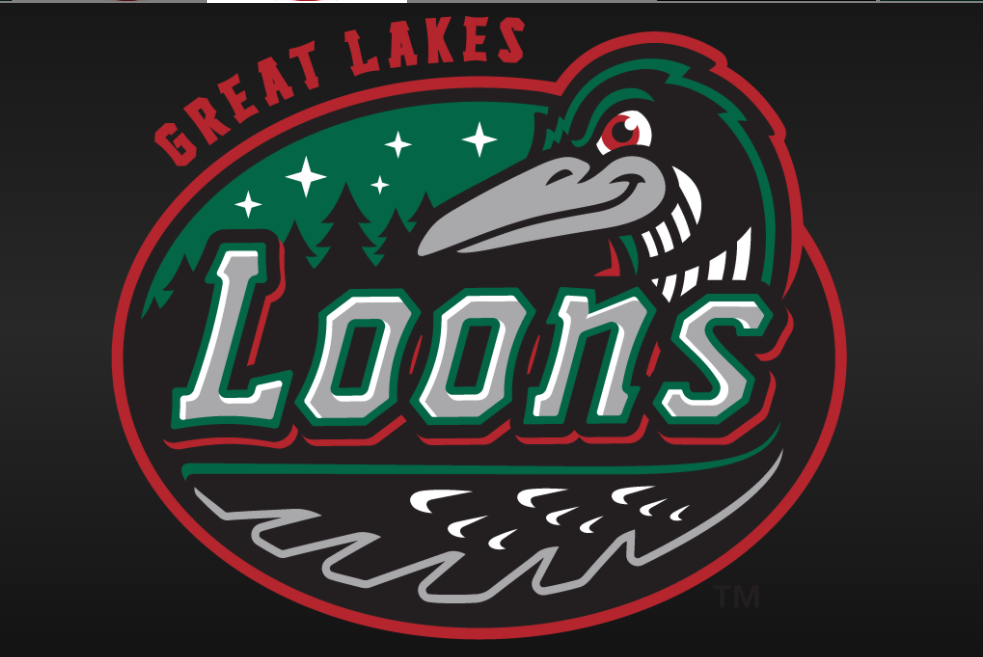 Lake County Captains (Cleveland) 6 vs Great Lakes Loons 5
The Great Lakes Loons' season has come to an unceremonious end in their home park with a 6-5 loss to the Captains.  With Kendall Williams pitching, the Captains jumped out to a 3-0 lead after 4 batters on a 3-run HR.  It was a lead they would never relinquish.
Great Lakes got 1 back in the 3rd.  With 2 outs, Austin Gauthier singled and Eddys Leonard drew a walk.  Dalton Rushing continued with the excellent start to his professional career with a run scoring single.  It was his 3rd playoff RBI.
The Captains picked up 2 more in the 4th.  Williams allowed a single and walk and the Loons went to the usually reliable Ben Harris.  With 2 runners on and 1 out, Harris allowed a 2-run scoring double, and a 5-1 Lake County lead.
The Loons made a game of it in the 4th.  With one out Damon Keith drew a base on balls.  Keith moved to 2nd on a wild pitch and to 3rd on a single by José Ramos.  Both runners scored ahead of Imanol Vargas and his 3-run HR.
Harris gave up a 2 out double and run scoring single for the 6th run in the 6th.
In the bottom of the 6th, Keith was HBP and moved up to 3rd on a pickoff attempt throwing error.  Keith scored on a Ramos ground out to move within 1 run.  However the 6-5 score at the end of 6 would turn out to be the final score.  The Loons did get a runner in scoring position with one out in the 7th, but left him stranded.  They went out in order in the 8th and 9th, and their season came to an abrupt end.
Williams went 3.1 IP allowing 5 runs on 5 hits, 1 walk, and 1 strike out.  Harris followed with an unusual 2.1 IP allowing 1 run of his own and allowed 2 Williams inherited runners to score.  He allowed 4 hits but recorded 4 Ks.
Ryan Sublette and Jeff Belge pitched 3.1 combined scoreless innings.  Sublette (2.1 IP) gave up 3 hits, but also registered 3 Ks.  Belge struck out the side on 14 pitches.
The Loons had the overall 2nd best record in the Midwest League by mere percentage points.  The Loons were 76-55 on the season, behind Lake County's 76-53.
OKC Dodgers 12 vs Albuquerque Isotopes (Colorado) 9
The Dodgers remained a game behind the El Paso Chihuahuas (SD) with the win.  OKC went into the bottom of the 8th with a 12-4 lead and held on for a 12-9 victory.  OKC put the slug on the 'Topes with 4 HRs.  10 runs scored on those 4 HRs.
Jon Duplantier started and completed 6.0 innings.  He gave up 4 runs on 7 hits and 2 walks.  The former top DBack prospect (#1 for 2018 and 2019) and top 100 prospect got 8 Ks.  Unfortunately, Duplantier gave up 2 HRs for 3 runs of the 4 runs.
Keone Kela pitched a scoreless innings.  Marshall Kasowski allowed a grand slam in the 8th.  Aaron Ochsenbein allowed a run in the 9th before Carson Fulmer came in to shut it down for his 11th save.
OKC scored 12 runs on 12 hits.
Edwin Rios – 3-5, HR(7), 3 runs, 3 RBIs
James Outman – 2-4
Jake Amaya – 3-4, HR (7), 2 runs, 3 RBIs
Devin Mann – HR (3)
Ryan Noda – HR (22)
Springfield Cardinals 7 vs Tulsa Drillers 5
The Drillers continued their 2nd half slide blowing a 5-4 lead in the 8th and losing it in 10.  Nick Nastrini started and completed 4.2 IP before being pulled.  He made a mistake in the 2nd.  With one out, he allowed a 3-run HR and a 3-0 lead.
The Drillers picked up 2 in the 2nd.  Brandon Lewis doubled and moved to 3rd on a single by Abiatal Avelino.  Lewis scored on a Kenneth Betancourt single and Avelino moved to 3rd where he scored on a ground out.
In the 4th, with a runner on 1st, Nick got two outs, but then issued a base on balls and a 2 out run scoring single.
The Drillers took the lead in the 7th on a 2 out 3-run HR by Brandon Lewis.  It was Brandon's 24th HR of the season.
The Cardinals scored the tying run in the 8th.   Gus Varland issued a walk, and after a fielding error and 3 stolen bases, with runners on 2nd and 3rd, Jordan Leasure was summoned to put out the fire.  He intentionally walked the first batter he faced, and then unintentionally walked the next batter to force in the tying run.
With Guillermo Zuniga on the bump in the 10th, the Cardinals scored a pair of runs, and shut down the Drillers in the bottom of the 10th for the win.
Leonel Valera – 2-6
Brandon Lewis – 2-5, 2 runs, 3 RBIs, double (19) and HR (24)
Abiatal Avelino – 2-4, double (10)
Kenneth Betancourt – 3-5