On Maury Wills night, the team tied for the ML league (with 8), and with only 1 CS, the Dodgers did not attempt a stolen base.  Although Gavin Lux did take off on multiple pitches that were fouled off.
But this was a pitcher's duel through 5.0 innings.  Julio Urias was trying to start another controversy as he took a no-hitter into the 5th.  Tyler Stephenson hit a rocket that ate up Max Muncy for the first hit of the game for the Reds.  After 5.0 innings and 65 pitches, Julio was done for the night.
On the other side was the young phenom from Notre Dame High School in Sherman Oaks, Hunter Greene, was on the hill for the Reds. He won his 1st game against the 2021 WS champs, Atlanta Braves.  And now he is facing his hometown team with 51,000+ fans in his hometown stadium.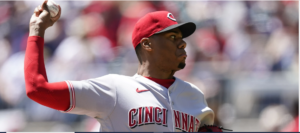 For two innings, he was not troubled by LAD hitters.  Although the suspense on Trea Turner's 26 game consecutive hitting streak was over on a first inning infield single.  The streak is now 27. TT was erased by a JT double play.
Cody Bellinger singled off Greene in the third.  That hit was followed by Gavin Lux who just missed on a long (but routine) fly into right. Belli also got the 2nd hit off Greene in the 5th.
Evan Phillips relieved Julio in the 6th, and after his 3rd straight hitless relief appearance, he is making noise that he does not want to be released (he has no options).    At this point, I am no longer on the fence with Phillips.  He has earned a chance to continue with the team. Although RH, he looks to be this year's Alex Vesia and 2020's Victor Gonzalez.
In the Dodgers half of the 6th, Austin Barnes led off with a single into RF.  The 2021 NL Batting Champion, Trea Turner,  then turned on a 98.9 MPH 4-seamer and parked it into the LF stands and a 2-0 lead.
But Greene was not going to go away with his tail tucked between his legs.  He then proceeded to strike out Freddie Freeman, but was able to reach first on a passed ball by Tyler Stephenson.  Justin Turner popped out, and he would be Greene's last batter to face.  Greene threw 80 pitches (50 strikes)
Buck Farmer relieved Hunter with one out and Freeman at 1st.  Farmer got Muncy on strikes, but Edwin Rios singled on a line drive into RF.  After a WP, Chris Taylor hit a line drive into RF that scored Freddie Freeman easily, but if Aristidis Aquino had come up with the ball cleanly, he may have had a play at the plate on Rios.  However, he did not come up with the ball cleanly and Rios scored easily making the score 4-0.
David Price relieved Phillips in the 7th and retired the side in order including striking out Tommy Pham and Joey Votto to end the inning.
With Daniel Duarte relieving Buck Farmer in the 7th, Gavin Lux drew a walk.  With Austin Barnes up, Lux broke for second on several pitches that were fouled off.  Barnes eventually fouled out to catcher Stephenson.  With Lux running again. TT stroked a line drive into CF for his 3rd hit on the night.  Lux moved on to third.  We learned that Freddie Freeman had not had an RBI as a LAD.  That changed as he hit a long drive to CF that Lux was able to tag and walk home and a 5-0 lead.
Mitch White came in to relieve in the 8th and after allowing a lead off single to Tyler Stephenson, he struck out the side.  But the 9th was a different story for Mitch.  He walked the number 9 batter and gave up a single to Kyle Farmer.  After a WP, the Reds had runners on 2nd and 3rd.  Tyler Naquin hit a ground ball to Max Muncy who recorded the out at first, but Fraley scored.  The next batter hit a ground ball up the middle for his first hit of the year, and Farmer scored the second run, and with Joey Votto coming up, the game got very interesting.
Enter Daniel Hudson.  Votto hit a pitch way up in the stands, but it was ruled foul, and was upheld with instant replay.  It looked foul.  Hudson eventually struck out Votto for the second out, and arguably the Reds best hitter, Tyler Stephenson, coming up.  Stephenson grounded out to Max Muncy for the third out.
Evan Phillips got the win, and Daniel Hudson got his first save in 2022.
I am very much looking to the years ahead watching Hunter Greene pitch.  He is going to be special.  For me, he initially reminds me of James Rodney Richard.