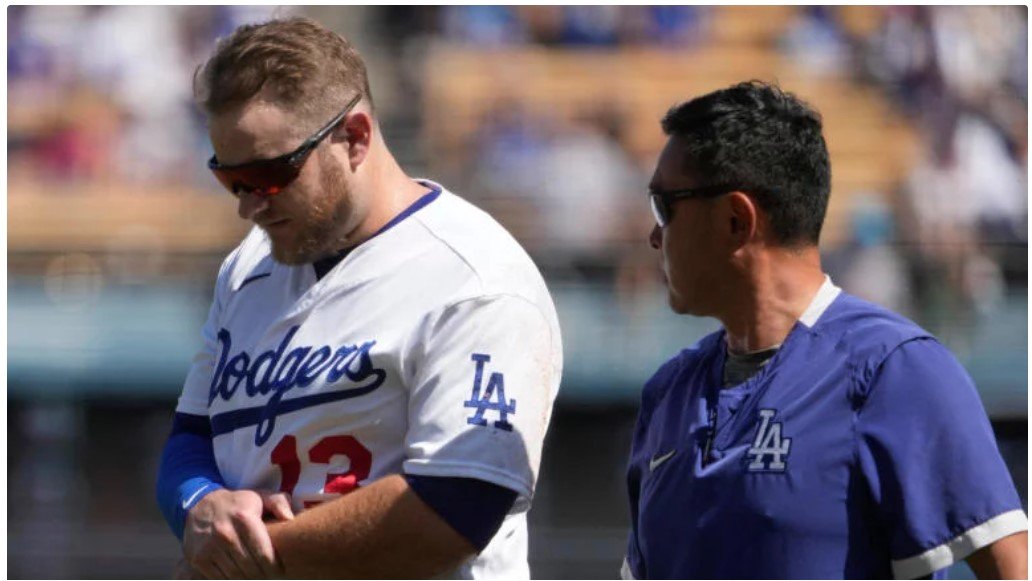 Editorial preface – I wrote this before Saturday night's game.  But no matter how well he hits on Saturday night, the premise is the same.
Cody Bellinger won the 2017 ROY and then went on to win the NL MVP in 2019.  There were cries for a Belli extension.  He was the power hitting superstar CF the Dodgers were looking for.  Belli and Corey Seager were going to be the foundation of a long term Dodger dynasty.
The pandemic hit in 2020.  Neither Max nor Belli had good seasons. Seager seemed to be fully healed from his UCL TJ surgery, posting a good season that he carried over to the playoffs and winning the NLCS and WS MVP.   But no conclusions can be made about a 60 game regular season.  Be glad the Dodgers got through the tournament with a WS victory.
Belli hurt his shoulder with a celebratory Kike' Hernandez after a Belli HR in the NLCS Game 7.
Max seemed to bounce back in 2021, while Belli seemed to bottom out.
Max – .249/.368/.527/.895 – 36 HR
Belli – .165/.240/.302/.542 – 10 HR
Belli never seemed to heal up from the shoulder surgery, and the hairline fracture in his left leg.  The questions started to get a little louder.  Is it the injury or his approach that has hurt Belli's offensive prowess?  Most were willing to let 2021 be a dead year for Belli, and hope for a 2022 resurgence.
OTOH, 2020 seemed to be an aberration for Muncy.  He was back to 36 HRs and a .895 OPS in 2021.  He wound up 10th in the NL MVP voting.  Unfortunately, during the last game of the 2021 regular season, Max tore the UCL in his left elbow after a collision at first base with Jace Peterson of the Milwaukee Brewers. The Dodgers were going into the playoffs without their best power hitter.
The Dodgers limped through the 2021 playoffs.  But the hopes of a rejuvenated Cody Bellinger were off the chart. There were a lot of discussions as to what changed for Cody. Many thought he changed his approach to shorten up his swing. Regardless as to the reason, in 12 games and 39 PA, Belli put up some impressive metrics –  .353/.436/.471/.907, 1 HR and 7 RBI. Fans were hoping that the "new" Cody would carry over in 2022.
Cody never did get back to that 2021 playoffs form.  For the 2022 season, Belli batted .210/.265/.389/.654 with 19 HRs, and 78 OPS+.  He was heading into his final arbitration season, but the Dodgers did not believe that Cody could justify a $18MM to $20MM contract for 2023.  It was hard to see a Dodger favorite ignominiously swept away.
In the meantime, Max was due to be back for ST and the regular season opener.  Max did not have a good ST.  I am not a fan of putting too much credence in ST numbers, and was hoping for a full season of Max Muncy.
However those meager batting metrics from ST seemed to bleed over into the regular season.  Through July, Max was batting .161/.310/.303/.613 – 9 HR, 32 RBI (83 games).  He seemed to find a new "back step" approach to hitting.  For August thru the end of the season, Max improved his metrics to .247/.358/.500/.858 – 12 HR, 37 RBI (53 games).  For the season, Max batted .196/.329/.384/.713 – 21 HRs.
With Belli now in Chicago, the Dodgers need Max and his .850+ OPS for 2023.  He had a very nice ST, but that has yet to translate into success for the regular season.  In his 7 games played thus far during the season,  Max has 3 hits in 26 AB/32 PA, with 1 HR and 1 RBI, and a MLB leading 13 Ks – 0-8 WRISP with 6 K.
Will Max turn it around and have a 2021 type season, or will he continue to flounder as Cody did?
I know there are a lot of LAD fans calling for Max to be benched.  But who in line to play for LAD can come in and due what Max is capable of.  Yonny Hernandez is the OKC 3B. He is more of a utility player, not in the mold of a power hitting corner infielder.  Chris Taylor?  Miguel Rojas?  There is nobody in the Dodger organization who has the capability to hit .850 OPS who can play 3B.  You do not give up on a player after 7 games, but you also do not keep hitting your head against the wall by continuing to bat him 4.
Other observations:
I am just so tired of this umpiring crew.  It used to be, all the batters wanted was for the umpire to be consistent.  If the umpire wanted to expand the zone, fine, pick a side and stay with it.  But this crew is missing up, down, and both sides of the plate.  Saturday's plate umpire, Doug Eddings is considered one of the very worst umpires in the game.  Game 1 HPU De Jesus was 86% accurate, and Marquez was 85%.
The Dodgers are not going to win a lot of games without their starting pitching dominating, and going deep into the games.  Their bullpen is sketchy, and they do not manufacture runs. Alex Vesia gives up another run, and Brusdar Graterol gives up 2.  Jackson gives up 3 on 5 straight 2 out hits.
Don't tell me that stolen bases are meaningless.  Corbin Carroll is a weapon. So are Jake McCarthy and Alek Thomas.  They make routine ground balls close…make that very close.  Plus, Carroll has 2 HRs which is more than Max.
The DBacks certainly do not fear the Dodgers.  They are now tied with the Dodgers with a 5-4 record, and are 4-3 head to head.
Update – Max Muncy went 1-5 with 2 Ks.  His single in the 1st scored the first run of the game.
MiLB SUMMARY – 04-08-2023
Las Vegas Aviators (Oakland) 9 – OKC Dodgers 1
On Saturday, OKC signed William Cuevas as a starter for OKC.  He started Saturday, and gave up a HR to the first batter he faced.  He then allowed a double and 3 walks to score a 2nd run.
In the 2nd, after a HBP, Tyler Soderstrom slugged a 2-run HR.  He allowed 2 singles but no runs in the third, and his game with OKC was over.
In the 4th with Marshall Kasowski on the hill, two walks, three SB including a double steal, put runners at 2nd and 3rd.  One run came across on a sac fly.  Cody Thomas then hit a 2-run HR (3), giving Inland Empire a 7-0 lead.
Bradley Zimmer hit his first HR for OKC in the 5th, but that was all the scoring offense OKC could muster for the game.
With Tyler Cyr pitching in the 7th, a walk and single and throwing error put runners on 2nd and 3rd.  They both scored on a 2-out single for a 9-1 lead.
Wander Suero pitched a scoreless 9th, but did allow a walk.
OKC's 6 game winning streak has come to an end in what was a very forgettable game.
Tulsa Drillers 5 vs San Antonio Missions (San Diego) 2
The much anticipated seasonal debut of River Ryan was very much worth the hype.  He pitched 4.0 scoreless innings allowing 1 hit, 0 walks, and 2 2 Ks.  He retired 12 of the 13 batters he faced.  He threw 46 pitches, 31 for strikes.
After being shut out in Friday, and not scoring in the first 4 innings, the Drillers finally broke through for 5 in the 5th.  José Ramos drew a walk.  Yusniel Diaz followed with a single, and Jonny DeLuca was HBP to load the bases.  Jorbit Vivas hit a 2-run double.  Andy Pages followed with a 2-run scoring single/  Pages moved to second on a F-7, and stole third.  Imanol Vargas singled home Pages, and a 5-0 lead.
In Kyle Hurt's 2nd inning, he allowed a walk.  A WP, fielding error, and infield single produced an unearned run.  In his 2.0 IP, Hurt allowed 1 hit, 1 unearned run, 1 BB, and 3 K.
John Rooney pitched a scoreless 7th, with 1 hit and 1 K.
Carlo Reyes started the 8th.  He was touched up for a run on 1 hit, and WP, and 1 K.  Jordan Leasure finished up the 8th and pitched a perfect 9th.  He had 4 Ks in his 1.2 IP.
Lansing Lugnuts (Oakland) 4 – Great Lakes Loons 1
The Loons opened the scoring in the first.  Austin Gauthier drew a 1 out walk, and was WP to 2nd.  Alex Freeland singled to score Gauthier for the Loons sole run of the game.
RHP Ben Casparius started and finished 3.0 IP.  He allowed 1 run on 4 hits, 2 walks, and 5 strikeouts.   Lansing scored the tying run in the 2nd on a two out single, BB, and run scoring single.
With the score knotted at 1 each, Antonio Knowles relieved Casparius.  He allowed a hit and 1 BB in his 2.0 IP.
Aldry Acosta entered in the 6th and was roughed up for 3 runs (2 earned) on 3 hits.  There were three Loons errors in the inning.
The Loons last hit was with 1 out in the 5th.  The Loons had 4 singles in the game.  No Loon had more than 1 hit.
Jack Dreyer pitched two scoreless/hitless innings, with 2 walks and 3 Ks.  Mitchell Tyranski pitched a perfect 9th inning with 2 Ks.
Inland Empire 66ers (LAA) 5 – Rancho Cucamonga Quakes 4
The Quakes broke out on top with 2 in the 1st.  Jose Izarra was HBP and Juan Alonso singled him to 2nd.  With one out, Thayron Liranzo grounded out and both runners moved up.  Kyle Nevin who looked so overwhelmed in MLB ST games singled home both runners with 2 outs.
Jerming Rosario was cruising through the first three hitless innings with 5 Ks.  In the 4th, with a runner on 2nd due to an error and 2 outs, there was a double and single to score two unearned runs.
Juan Morillo worked around a walk and single in a scoreless 6th.
With Christian Romero on the bump to start the 7th, he allowed a HR to the first batter he faced, giving the 66ers a 3-2 lead.
The Quakes got it back in their half the 7th with a Rayne Doncon double and a Dayton Dooney single.
Jonathan Edwards entered in the 9th for the save.  He proceeded to walk three and hit a batter for the tying run.  Gabe Emmett came in relief with the bases loaded, and struck out the one batter he faced.
But Emmett could not keep the 66ers off the board in the 10th.  With a runner on 2nd to begin the inning, a pair of ground ball outs got the run across.
The Quakes loaded the bases with nobody out in the 10th, but the next three batters struck out to end the game.
Jerming Rosario was signed the same year as Diego Cartaya and Alex De Jesus.  It is taking him a bit longer, but he had a very good season debut.