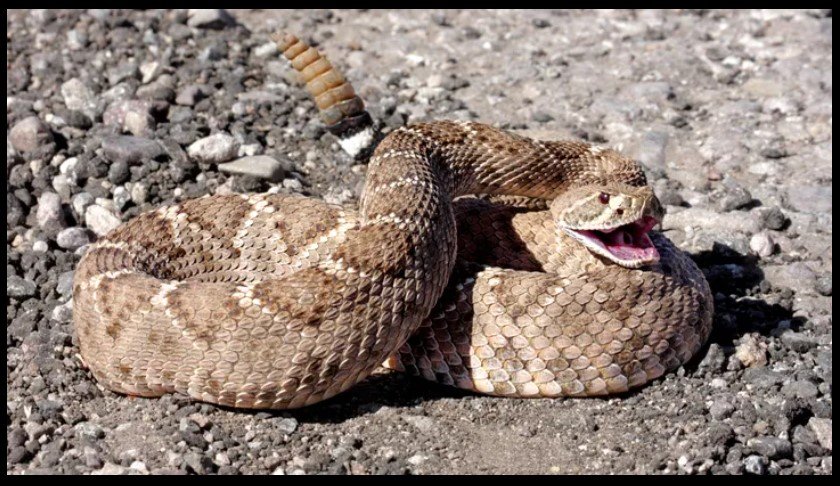 Right now, at this point of the season, I would have to say that Arizona is a better baseball team than are the LA Dodgers. After Dustin May dominated the Snakes on Thursday, the DBacks had their will against LAD pitching.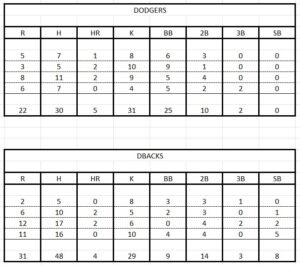 The Dodgers bested the DBacks in the 3-outcome approach categories: HR, K, BB.  While Arizona outscored, outhit, more doubles, more triples, and they were 8-0 in SB/CS vs LAD at 0/0.  The Dodgers are the worst team in MLB with stolen bases.  They are tied with the Twins with the least number of SB (1), but the Dodgers have been caught 3 times, while the Twins only twice.
On Sunday, the DBacks put on a hitting clinic. They found a way to put the bat on the ball and hit it where it was pitched. How many inside out singles did they get. How many oppo doubles.
They ran wild on the Dodger pitchers.  Neither Barnes nor Smith had a chance.  There will be other teams that will exploit this LAD weakness.  Late in the game, with the Dodgers current bullpen, it is going to be easier to score with a runner in scoring position.
Clayton Kershaw generally pitches poorly at Chase Stadium, so it was not unexpected that he allowed 4 runs in 6 innings.  But the shellacking that Noah Syndergaard and Michael Grove took was disturbing.  Syndergaard had one good outing, and now one very poor outing.  I am not going to call this a bust signing because of his game against the DBacks.  Grove?  That is back to back poor outings.
Thor is scheduled to pitch against the Cubs at Dodger Stadium next Friday.  Grove's next scheduled start will be against the Cubs on Saturday.  Gonsolin is still not scheduled to return to the rotation until early May.  Ryan Pepiot is still not throwing.
Maybe Grove will take his next scheduled start, or maybe he will not.  But the only other potential pitcher to take Grove's spot would be Gavin Stone.  Stone is scheduled for Tuesday???
There were bright spots from this dreary weekend.  Freddie was outstanding this weekend.  And JDM broke out the barrels this weekend.
Freddie – 8-17, 2 doubles, 1 BB, 1 K
JDM – 6-15, 4 doubles, 1 triple, 1 BB, 4 K
When I asked Badger if JDM was getting enough barrels, his response was:
Yep. He's hitting over his weight now, so, that's a good thing. Numbers rise and fall quickly this early in the year. And, he hasn't faced particularly good pitching yet, so, long way to go.
Of course Badger is correct.  It is only 10 games, and numbers seem to fluctuate up to about 100 ABs.  But this past weekend, JDM faced the same pitchers the other Dodgers did.  How did they do.
Mookie – 3-16, 2 doubles, 2 BB, 3 K
Smith – 2-9, 1 double, 3 BB, 1 K
Muncy – 1-13, 5 BB, 5 K
Outman – 4-13, 2 HR, 3BB, 4 K
Vargas – 1-9, 2 BB, 3 K
CT3 – 2-10, 1 HR, 2 BB, 4 K
Peralta – 1-7, 1 double, 0 BB, 3 K
Barnes – 0-6, 0 BB, 1 K
Thompson – 1-4, 3 BB, 1 K
Heyward – 1-4, 1 HR, 2 BB, 1 K
Rojas – 0-3, 1 BB, 0 K
That is 16-94 for the other 11 LAD batters or a .170 BA, with 23 BB and 26 K.  If you exclude Outman from the list, the other ten would be 12-81 or a .148 BA, 20 BB and 22 K.
So if JDM was not hitting against particularly good pitching, and he hit what he did, what does that say for the other 10 or 11 batters identified above.
This was a lost weekend.    We will have to wait and see if it was an aberration or a prelude of what is to come.  I think what we may have learned is that the team is not as deep as we may have been led to believe.
Also maybe Arizona is better than many originally thought.  They built their team around speed and defense.  And you can try and convince me that SB are not important, but it is going to have to be very convincing.  The Dodgers have no team speed, and their defense is suspect.  So if their pitching is off, as it was this past weekend, the Dodgers could be on the wrong end of a box score for a lot of games.
However, not all is lost.  I recall a 4 game series in 2016 at home against Miami, and they lost all four games.  At the end of April, LAD was 12-13, and they ended up winning 91 games.  In 2017 the Dodgers were 14-12 (104 wins). In 2018 they were 12-16 (92 wins).  They were 20-12 in 2019, 16-11 in 2021, and 13-7 in 2022.
So a 5-5 start is not the end of the world.  Does this team raise questions?  Sure.  But they still have 152 games to play.  I still believe the team needs to wait until after the NYY series in June before they can determine if they are contenders or pretenders.
MiLB Summary – 04-09-2023
OKC Dodgers 6 – Las Vegas Aviators (Oakland) 5
OKC spotted the Aviators 5 runs and came all the way back with a 10 inning win.  The Dodgers won 5 of the 6 games in Las Vegas, and are now 7-2 on the young season.
Dylan Covey one of the several AAAA starters on OKC, walked the first two batters he faced, got the next two batters out, and after getting the count to 1-2, Cody Thomas slugged his 4th HR of the season.
A single, stolen base, and single got the Aviators their 4th run.  Dermis Garcia hit a 1-out HR in the 3rd, for a 5-0 lead after 3.
OKC got back in the game in the 4th.  Devin Mann led off with a walk and moved to third on a Jahmai Jones double.  Michael Reed was HBP to load the bases.  After a K, Michael Busch hit a bases clearing double.  Luke Williams continued his hot bat with a run scoring single.
With two outs in the 4th and a runner on base, Victor Gonzalez came in to relieve Covey and got the final out of the inning.
Hunter Feduccia hit his 2nd HR of the season to tie the score.
V-Gon retired the side in order in the 6th.
5 OKC relievers pitched 1.0 innings of hitless and scoreless innings.
Brayan Hudson – 1.0 IP, 1 BB, 2 K
Tayler Scott – 1.0 IP
Justin Hagenman – 1.0 IP, 2 BB
Nick Robertson – 1.0 IP, 2 K
Wander Suero – 1.0 IP, 1 K
Robertson with the win and Suero got the save.
Michael Busch went 3-4 with a double, walk, and 3 RBIs
Hunter Feduccia went 2-4 with a HR
Luke Williams went 1-3 with his team leading 10th RBI
Why is Ben DeLuzio with the AAA team and Andy Pages in AA.  DeLuzio is 0-12 with 7 Ks.
Lansing Lugnuts (Oakland) 4 – Great Lakes Loons 2
For 8.0 innings, the Lugnuts pitchers held the Loons to no runs on 2 hits.  The Loons put together 3 hits and a walk to score 2 in the 9th.
With Justin Wrobleski on the bump, Lansing scored 2 runs in the 1st inning.  After a leadoff walk, Jack Winkler doubled him home, and then scored on a Max Muncy single.  Those would be the only two runs Wrobleski would allow.  He allowed 3 hits, with 1 BB, and 5 K.
Orlando Ortiz-Mayr relieved Wrobleski in the 5th.  He surrendered a single in the 5th but no runs.  In the 6th, Muncy led off with a walk and scored on a Daniel Susac double.  Susac stole 3rd and scored on a sac fly.  For his 2.0 IP, Ortiz-Mayr allowed the 2 runs on 2 hits, 2 BB, 3K.
Braydon Fisher, Jake Pilarski, and Julien Smith each pitched a 1.0 IP.  No baserunners and 5 K.
Taylor Young opened the inning with a double.  He was erased by a Damon Keith 14-3 DP.  Dalton Rushing walked for the 3rd time, and scored Griffin Lockwood-Powell double.  Lockwood-Powell scored on an Austin Gauthier double.  That is as close as they would get.  That pair of doubles were the first XBH the Loons had on the weekend.
Griffin Lockwood-Powell – 2-4 with a double
Dalton Rushing – 3 walks
For the 3-game series, the offense scored 5 runs on 13 hits.  The pitchers allowed 12 runs on 19 hits.