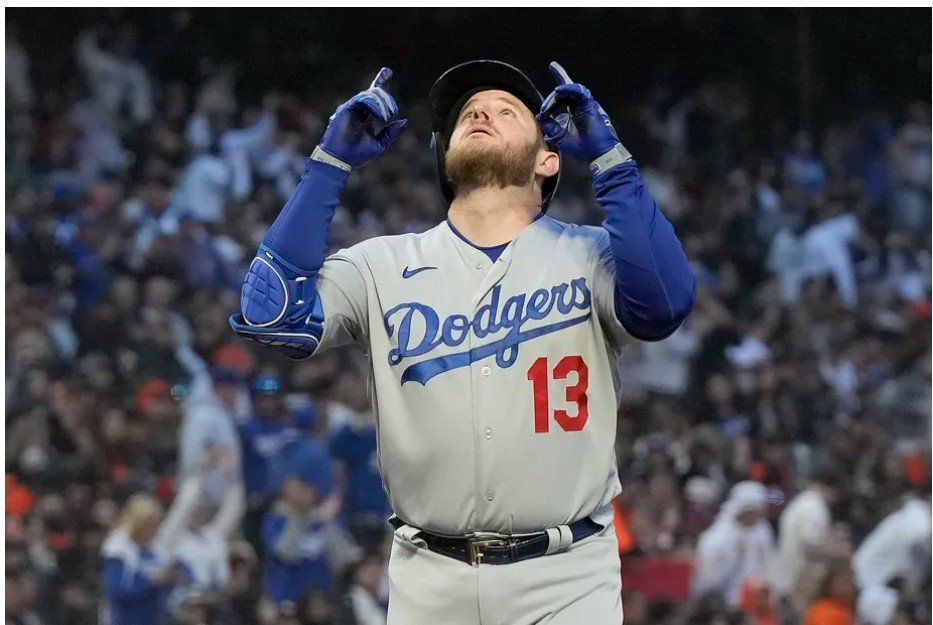 I had to endure the Kruk and Kuip show as San Francisco games are blacked out on MLB.TV in the Sacramento area.  To be honest, both Duane Kuiper and Mike Krukow are very fair to the Dodgers.  I just have a hard time listening to Giant announcers.
If Max Muncy could face San Francisco 162 games a year, he would be a first ballot HOF candidate.  I commented yesterday:  Max back at #4, but maybe tonight's the night. against Logan Webb.   Sure enough, after walking in the 1st, he hit a 3-run HR in the 3rd.  Coming into the game against Logan Webb, Max was 6-20 with 2 HRs  He is now 8-22 with 3 HRs against Webb.
Visit to Oracle Park could be just what Max Muncy needed.pic.twitter.com/MeD57ciMj4

— Dodger Blue (@DodgerBlue1958) April 11, 2023
But he was not done.  In the 7th, James Outman led off with a BB, and after Miguel Vargas flew out, Outman stole his 2nd base of the year.  CT3 hit a shot down at third, David Villar gobbled it up and got CT3 at 1B.  But then the dam broke.  Mookie singled to score Outman, Freddie singled, and Will Smith got an infield single to load the bases.  On the first pitch Max saw from Sean Hjelle, he crushed an opposite field grand slam HR.  Just like Badger commented, numbers can change dramatically this early in the season.  Max is now amongst the NL leaders in HRs and RBIs.
This is more like it!

Max Muncy, have yourself a night!!! pic.twitter.com/ajEY69xgks

— Blake Harris (@BlakeHHarris) April 11, 2023
Coming into the game against the Giants, Max was batting .263/.376/.589/.965 with 21 HRs.  With the 2 on this night, Max has now hit more HRs (23) against SF than any other team.  He has 22 HRs against Colorado.  At Oracle, Max was hitting .277/.407/.529/.936.
I have not been kind to Max during the regular season, but I do not believe I have been unfair.  I have no idea if this one game turns everything around for Max, but he has two more against the Giants before they head for home to face the Cubs.  He LOVES to hit against the Giants.
The Dodgers top 4 hitters hit Webb as they were expected to.
Mookie – 2-3, HR, against Webb – 3-5 on the night.
Freddie – 1-3 against Webb, 2-4 on the night.
Smith – 0-3 against Webb, 1-4 on the night.
Muncy – 2-2, HR, BB, against Webb, 3-3 on the night, 2 HRs, 7 RBIs.
Outman – 1-2 against Webb, 1-3 with a BB on the night.
Now from the pitching side.  Julio Urías was a grinder on this night.  He encountered multiple 3 ball counts, and surrendered multiple 3-2 foul balls.  But he was masterful when he needed to be.  He allowed 1 run on a Wilmer Flores HR.  He was touched for 4 hits, 2 BB, and 8 strikeouts.  He threw 96 pitches/62 for strikes.
After the first time through the order, the Giants refused to chase the high fastball (at least the good hitters), and sat on the breaking ball.  Flores hit a changeup for his HR.  Urías is now 3-0 with three quality starts, and a 1.50 ERA.
Julio Urías, 94mph Paint. 🖌️🎨 pic.twitter.com/kO8GEd5QRe

— Rob Friedman (@PitchingNinja) April 11, 2023
I do not know if Alex Vesia would have been summoned if the score were not 9-1, but it was, and Vesia did come in.  He gave up three singles to the first three batters he faced.  Will Smith went out to speak with Vesia and he promptly struck out Bryce Johnson and Thairo Estrada before Yency Almonte was brought in to face Wilmer Flores. Flores hit it hard, but right at Mookie in RF.
Almonte got the first two outs in the 8th before he hit David Villar on the knee.  Andre Jackson relieved Almonte and struck out Brandon Crawford.
Jackson stayed on in the 9th and retired the side in order, striking out 2, including Bryce Johnson to end the game.
Julio Urias has made three starts this season for the Dodgers:

3/30: 6 IP, 4 H, 2 ER, 0 BB, 6 K
4/4: 6 IP, 5 H, 0 ER, 0 BB, 6 K
4/10: 6 IP, 4 H, 1 ER, 0 BB, 8 K

He's been incredibly consistent for the Dodgers so far, acting as the true ace of this staff.

— Noah Camras (@noahcamras) April 11, 2023
This was a fantastic bounce back game for the Dodgers.
For Tuesday, Dustin May takes the hill to battle LHSP Alex Wood.
Max Muncy on playing in San Francisco:

"I don't like this place. It's cold and windy all the time. I do hit well here. I don't understand why, but I'm not going to complain about it."

I think he dropped this 👑 pic.twitter.com/WxB15BFpsx

— Blake Harris (@BlakeHHarris) April 11, 2023