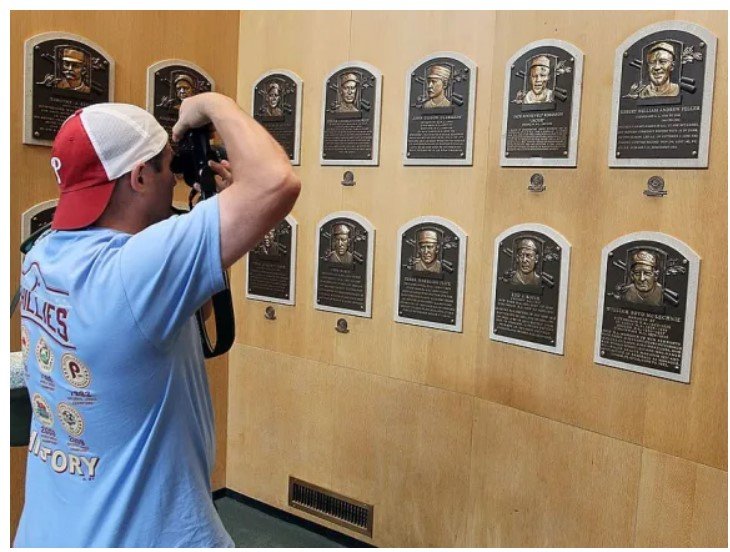 I have always considered a player's election to the hall as the ultimate reward for a great career. But lately it has seemed to me that the merely very good are going in.
That is simply my opinion. Now that being said, Rolen was a legitimate candidate. He got in because the voters in the BBWAA are more in tune with sabermetrics and combine fielding and hitting stats.
As the older writers fade from the scene, the younger ones tend to be more stat driven than the old guys were. But there were numbers that meant almost certain HOF enshrinement. 300 wins, 400 homers, the number of awards a player might garner over his career.
Some players, like Dale Murphy, fell just short of those numbers and have not been elected even by the Veterans committee. Fred McGriff made it this year, but in my mind, Fred should have been in long ago. My reason? The man has exactly the same number of homers as Hall of Famer, Lou Gehrig. Of course it took Fred longer, and he was not the icon Gehrig was. But I always felt he was deserving.
Another thing that has skewed the election process some is the PED mess. Only one player who was accused of using, but never proven, has been elected to the Hall. Mike Piazza. Guys like McGwire, Palmeiro, and Sosa have not even come close to election. Palmeiro is a member of the 500 HR club.
Palmeiro had never hit more than 37 HR's through his age 29 season, then he went on a nine year tear that never saw him hit less than 38. McGwire likewise is a 500 HR club member. He fell just 17 short of 600. Sosa is the only player in MLB history to hit 60 or more 3 times. Over a four year stretch, 98-01, he hit 243 homers. In case you're wondering, that is 60 a year.
But they were all caught up in the PED era. Barry Bonds' last time on the ballot this year saw him fall short again. He did garner 66% of the vote. My guess is that as the years pass, people will tend to mellow and he will be elected by the Veterans committee.
Roger Clemens, I am not so sure about. He has 7 Cy Young awards. No one else comes close. The problem is 4 of those came after the age of 34. Pitchers usually do not get better as they age. They always lose something.
But back to the main theme. There are several players in the Hall right now whose numbers seem to fall short. Bill Mazeroski was a defensive whiz for his time. He was a mediocre hitter and his one claim to fame was blasting a walk-off World Series winning homer against the Yankees in 1960.
Ozzie Smith is another who got in mainly because of his glove. His bat improved after he was traded to the Cardinals. With the Padres he was great glove no bat.
Harold Baines is another. He was mainly a DH the last several years of his career. I even remember the hubbub when Jim Rice was elected. Most felt his numbers were not good enough to be enshrined.
As far as former Dodgers are concerned, I try to detach myself from the fact that they are my team and see exactly where a player merits election, or in many cases, where he falls short.
I have seen many fans who believe that Steve Garvey, Maury Wills, Fernando Valenzuela and Orel Hershiser belong in the hall.
Of those four, I think two have a legitimate shot down the road. Wills changed the game. Before Maury, speed had become an afterthought. He brought the stolen base back in a big way. And he earned an MVP award doing it. His last showing with the Veterans committee fell short. But I think in a few years he might garner enough support for election.
Fernando is having his uniform number retired this year. They are finally making official what has been unofficial since he retired. He will become the second, non-Hall of Fame player to be so honored by the Dodgers. Jim Gilliam is the other. Gilliam spent his entire baseball career with the Dodgers as a player and a coach. He was loved and respected by everyone in the organization.
Fernando pitched for five other teams besides the Dodgers in his career. His numbers, while good, are nowhere near Hall worthy. He did win a Cy Young and a ROY award. But he only won 20 games one time. But I do think he will eventually be elected for his impact on the game. He  brought the Hispanic fans together and they have remained loyal to the Dodgers and have become a huge part of fan culture.
All you need to do to understand that is look at the city connect uniforms the Dodgers wear occasionally sporting the Los Doyers logo. He also could go in via the same route as Jaime Jarrin as a Spanish language broadcaster. He is already part of the Legends of Dodger Baseball family.
One of the players who will be inducted into that group this season is Orel Hershiser. Hershiser had two outstanding seasons in LA. The rest of his career in LA he was either just above .500, or just below it. It all culminated when he had a season to remember in 1988. Cy Young Award, 59 consecutive scoreless innings, an MLB record, MVP in the 88 World Series.
But if you check the numbers, he falls short. 204 career wins, but only one 20 win season. You can say the same about Don Sutton, who had only one 20 win season, but he won over 300 games. He went in because of longevity and the 300 wins was the standard at the time.
Hershiser never led the league in any of the major stats like strikeouts or ERA. Orel was simply a very good pitcher, and for one shining moment, he was magical.
Garvey is a much easier call for me to not make the Hall. Garvey was a first baseman who did not reach gaudy power numbers. He did win an MVP award in 1974.
He also still holds the NL record for consecutive games played. But Garv hit more than 30 homers once. He never led the league in any of the major hitting stats. Over his career he is only a 38 WAR player. And todays' electors are looking at that stat more and more. Garvey also fell short this year in the veterans vote.
I really do not believe he will ever garner enough support for election. I do think the Hall is still relevant, I think election is still quite an honor. But the parameters the players are judged on have changed drastically. Kershaw is going to go over 200 career wins this season. He has already passed Koufax, and he is 12 wins shy of matching Drysdale's 209.
I do not think he will beat Sutton's team mark of 233. But according to almost any pundit or analyst you listen to, Kersh is a lock for the Hall. Koufax got in on the strength of 6 outstanding seasons. Kershaw has been consistent in his career and at times, outstanding. He has the same number of Cy Youngs that Sandy has. And he is probably the best pitcher of his generation.
That is one of the criteria I go by. That is why I was always miffed that it took so long for Gil Hodges to be elected. Hodges was far and away the best and most productive first baseman of the 50's. He and Snider hit the most home runs in the 50's. He should have been elected by the writers. But at least he is in there now with his teammates.
There are some locks coming up on the ballot in the next few years. Ichiro and Beltre should both be elected next year. Todd Helton, who came really close this year, might lose a little support with those two on the ballot, but then again, all three of them could go in next year.
Albert Pujols is another lock and most likely first ballot choice when he becomes eligible in five years. I just hope I am around long enough to see that. Albert is one of the all-time good guys.