It is not how you start, but how you finish that counts. Old saying, some truth there. But to the fans, a start like this one is very disheartening. Hard to generate excitement when your team struggles out of the gate.
The good news is that the team they are expected to battle for the division title is playing worse than they are. On the other hand, the Diamondbacks are playing like a very hungry bunch of kids.
It is early. 17 games in, the Dodgers look nothing like a defending Western Division Champion. They look like a ship with no rudder sailing in circles. One day, no offense and great pitching, the next no pitching and great offense.
And you need look no further than the bottom of the lineup. When I say the bottom, I mean Taylor, Heyward, Peralta, Barnes, Vargas and Rojas. None of them have seemed to get their legs under themselves yet.
JD has been in a funk for about a week. He is hitting the ball hard, but not to places where he gets hits. Muncy has woken up from his nap and is crushing the ball when he does make contact.
I credit Vargas's slow start to the fact that he had that broken finger in spring and then he got hit in the hand again. He seems just a little off and maybe trying to pull the ball too much.
But the conundrum to me has been the pitching staff. Monday night the Mets roughed up May for five runs, and after not giving up more than 3 hits in any of his prior games, they lit him up for eight on the night.
He did not walk a hitter, but he only struck out one. The Mets were not chasing his borderline pitches. Even more puzzling is the  work of Alex Vesia. Vesia was one of Robert's best options out of the pen last season. He does not look like the same guy this season. As Jeff earlier opined, he needs to go to AAA to figure things out.
They need Smith back in the lineup, badly. Taylor hitting fourth? Please, no more of that. Miller has looked very good out of the pen and seems to be regaining his mojo. Wynns had a nice game, but he will be gone once Smith returns and Smith is going to travel with the team when they leave for Chicago on Wednesday night.
The Dodgers need to beat teams like the Mets. It won't get any easier to do so. Megill who is 3-0 faces Kershaw, and Scherzer faces Thor. Gonsolin is getting close to returning.
But what they need right now is offensive consistency. Something they lacked even last season when they steamrolled the league. Taylor is battling some side soreness and might be on the IL by the weekend. Most likely replacement is Williams.
MiLB Summary Report – Tuesday April 18, 2024
by Jeff Dominique
Albuquerque Isotopes 13 – OKC Dodgers 10
Well how about this pitcher's duel?  31 hits combined.  OKC's Matt Andriese was just manhandled in this one.  He was given a 4-0 lead in the 1st but gave it all back in the home half of the first.  Then the scripts were switched.  Tied 4-4, Andriese gave up 4 more in the 2nd, and OKC roared back with 4 of their own in the 3rd to tie it up 8-8.
But Albuquerque did not stop there.  1 run in the third, 2 in the 4th, and 1 more in the 5th, and the Isotopes were up 12-8.
In the 4th, Andriese got the first two hitters on Ks.  He then issued a walk, a 2 run HR, and HBP, and Matt was done.  In his 3.2 IP, Andriese allowed 11 runs (10 earned), on 11 hits, 2 BB, 5 K, and 4 HR.  He allowed a game leadoff HR, a grand slam, a solo HR, and a 2-Run HR.  After his 4th start, Andriese's ERA is up to 9.35.  It is a little off-putting when you consider he could be taking a spot from Landon Knack (See Tulsa below).
Hunter Feduccia continued his hot start this season with a 2-run HR in the 7th to creep back into the game.  The Isotopes got an unearned run in the 8th for the final score.
Feduccia had a 5-5 night with a 2-run HR, and a double, with 5 RBIs.  That is not a typo.  Diego Cartaya and Dalton Rushing are two top ten prospects, and Feduccia is an afterthought, but Hunter is proving that he deserves a shot.
Steven Duggar – 2-5, 2 R, 1 RBI
Ryan Ward – 2-5, 2 R, 2 RBI, 1 double (3)
Devin Mann – 2-4, 1 RBI
Michael Busch – 1-3, 2 BB, 1 HR (2), 1 RBI
Wichita Wind Surge (Twins) 4 – Tulsa Drillers 2
The Drillers jumped out to a 2-0 after the 1st, but that was their scoring on the night.  Jonny DeLuca led off the home half of the first with a single.  Jorbit Vivas followed with a double (6), and Andy Pages brought home the 1st run with a sac fly.  Later in the inning, Diego Cartaya singled home Vivas and a 2-0 lead.
That lead held up largely due to the outstanding pitching from Landon Knack.  He was masterful for 5.0 scoreless IP.  He surrendered 1 hit and 2 walks, to go with 4 K.  He threw 63 pitches (40 strikes), but was pulled nonetheless.
Ben Harris pitched a scoreless 6th, but gave up a 2-run HR in the 7th to tie the score.  Jordan Leasure followed Harris and gave up 2 solo HRs to the loss.
The Drillers had 6 singles and a Vivas double, and that was the offense.
The big takeaway from this game was Landon Knack.  He now has 3 starts on the year.  He has 13.0 IP, with a 0.69 ERA and a 0.77 WHIP.  Would the LAD organization be better if Knack was promoted to AAA for Matt Andriese?
Great Lakes Loons 6 – South Bend Cubs 3
The Loons came back from a 2-0 deficit with 3 runs in the 7th and 3 in the 8th.  Adolfo Ramirez was the starting pitcher for the Loons and he held the Cubs hitless for 3.2 IP.  After a pair of 2-0ut free passes, Ramirez was lifted for Benony Robles who got the final out in the 4th.  For the game, Ramirez had 6 BB to go with 4 K.
Mitchell Tyranski entered in the 5th and got out of the inning with only a walk allowed.  But in the 6th, he gave up a double and walk to open the inning.  He got the next batter on a K, but gave way to Julian Smith.  Smith immediately gave up a WP to move the runners to 2nd and 3rd with 1 out.  Smith then allowed a 2-run double before retiring the side.
The Loons took the lead in the 7th.  Jake Vogel led off with a triple.  Austin Gauthier and
Alex Freeland both drew walks to load the bases for Dalton Rushing.  Rushing hit a bases clearing double (4) and a 3-2 lead.
In the 8th, Yunior Garcia hit a one out HR.  Taylor Young and Jake Vogel followed with singles.  That was followed by three BB to Austin Gauthier, Kyle Freeland, and Dalton Rushing to score two final runs.
Christian Suarez and Jake Pilarski pitched the 8th and 9th.  Pilarski allowed an unearned run in the 9th for the final score.
Yunior Garcia – 2-4, 1 R, 1 RBI, 1 HR (2)
Jake Vogel – 2-4, 2 R, 1 RBI, 1 triple (1)
Dalton Rushing – 1-1, 4 BB, 1 double (4)
Rancho Cucamonga Quakes 7 – Fresno Grizzlies (Rockies) 6
RC got out to a 2-0 lead after Nick Biddison walked to lead off the 2nd, and Jesus Galiz hit his first HR of the season.
19 year old Payton Martin pitched 3.0 scoreless innings, surrendering 3 hits. He did not allow a BB, and did get 1 K.  Martin threw 36 pitches (24 strikes) in his 3.0 IP.  Jared Karros followed Martin.  He gave up an unearned run in the 4th, and then surrendered a 2-run HR in the 6th.  In his 3.0 IP, he did allow the 3 runs on 3 hits and 1 BB to go with his 5 Ks.  Karros now has 12 Ks in his 6.2 IP.  He is off to a good professional start.
José Bautista followed Karros.  He gave up a double and 4 singles and 2 runs.  The Quakes entered their half of the 7th down 5-2.  RC got off the ground in the 7th.  Juan Alonso and Jorge Puerta drew walks to open the inning.  Dayton Dooney singled to plate Alonso.  A WP moved 2 runners into scoring position.  Jose Izarra got the 2nd run of the inning across with a sac fly, and moved Dooney to third.  Dooney then scored on another WP to tie the score 5-5.
The Quakes scored a run in the 8th to take the lead.  Kyle Nevin singled and was balked to 2nd.  Nick Biddison singled Nevin to 3rd, and Galiz drew a BB to load the bases.  Jorge Puerta got a sac fly to give the Quakes a 6-5 lead.
Livan Reinoso relieved Bautista in the 8th and retired the side in order with 2 Ks.  In the 9th he got some REALLY BAD UMPIRING.  With one out, he walked Kody Huff (or did he?).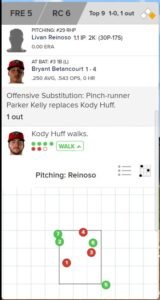 Balls 2, 6, and 7, were clearly strikes.  I have no idea what the umpire saw on pitch 6.  The pinch runner for Huff came around to score on a strike 3 passed ball and an error on the throw by catcher Jesus Galiz.
In the bottom of the 9th, Rayne Doncon walked to start the inning.  Chris Newell followed with a double (2) to put runners on 2nd and 3rd.  As he has done all season, Kyle Nevin came through with a walk off single.
Kyle Nevin – 4-5, 1 R, 1 RBI, 1 Double (5)
Jesus Galiz – 1-3, 1 R, 2 RBI, 1 HR (1)
Dayton Dooney – 2-3, 1 BB, 1 R, 1 RBI
In 48 PA/42 AB, Kyle Nevin is batting a sizzling .524/.583/.690/1.273, 5 doubles, 1 triple, 6 BB, 9 K, 1 SB, 1 CS.  He is looking for a quick promotion to Great Lakes.