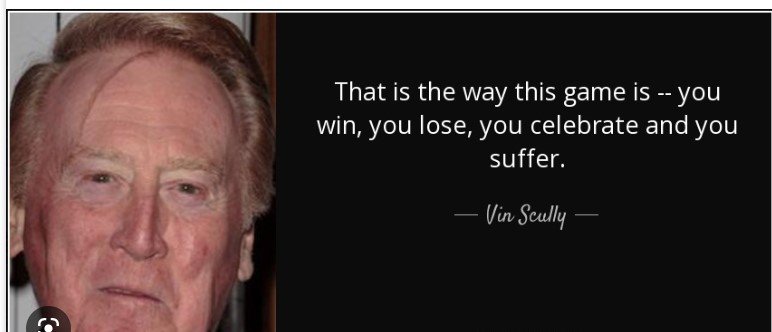 I do not like losing, but I am not sure how this team can turn it around.  They may be able to, but there really is not a lot of positivity associated with this team.  Noah Syndergaard made one bad pitch, and he gets the loss, because the Dodgers offense was MIA again.  The Dodgers had the bases loaded with one out in the 1st inning against Max Scherzer but could not score.
Scherzer retired the next six in order before he was ejected for "sticky substance".  This umpiring crew is just flat out bad.  Scherzer said that rosin and sweat was making the sticky stuff, but apparently the umpires knew better. Judging by Bellino's strike zone massive inconsistencies, I would not trust him to be able to discern the source of the sticky substance.
The Dodgers broke through in the 4th against Jimmy Yacabonis, Scherzer's replacement after his ejection.  A Jason Heyward double, Miguel Vargas single, and a David Peralta sac fly.  Both hits were oppos.
Brandon Nimmo who is seemingly an MVP when playing the LAD slugged a two-out, two-run HR to take the lead, and as it turns out, for good.
The Dodgers continued to swing away and make outs, while the Dodgers bullpen imploded.  Alex Vesia is getting the Pedro Baez treatment…just keep sending him out, no matter how he has been pitching.  He loaded the bases again and needed help from Yency Almonte, who got Mark Canha grounding out leaving the bases loaded.
But then Almonte surrendered a double and single to put runners on the corners with nobody out, and Justin Bruihl was summoned.  He got Jeff McNeil to pop out, but gave up a sac fly for a NYM 3-1 lead.
In the bottom of the 8th, Freddie drew a BB, and moved to 2nd on a WP.  JD Martinez who has been very good WRISP doubled home Freddie. JDM is now #2 in XBH with 13, behind Toronto's Matt Chapman at 14. Max was IBB, but J-Hey and Vargas both popped out to end the threat.
Shelby Miller was touched for two in the 9th, and the Mets had a 3-run lead.  Almost an impossible mountain to crest for the anemic LAD offense.  The Dodgers continued to hit solo HRs as David Peralta hit a long HR in the 9th for his first HR as a Dodger.  But that was all they would get as James Outman was rung up on a pitch that was called a ball with Miller pitching.
The Dodgers fall to 9-10 and head into Chicago to face the Cubs in a 4 game series.
1-run games: 1-3
2-run games: 0-2
3-run games: 2-1
4-run games: 0-1
5 or more run games: 6-3
Unless the Dodgers score a bundle, their chances of winning are not very good.  They are 3-7 in non-blowout games.
I know run differential is a significant metric for some.  The Dodgers outscored the Mets and were 1-2 in the series.  The Dodgers are a sub .500 team and have a run differential of +19.  That is a 26 run difference from the DBacks and their -7.  Their +19 is good for 7th in MLB.  The Dodgers and the Astros are the only sub .500 team with a positive run differential.  That portends that they score a bundle when they win, and they do not score very many in their losses.  In their 10 losses, they have scored 3 or fewer runs in 7 of them.
Other metrics:
Runs – 99, tied for 3rd in MLB
HRs – 33, #2 in MLB
Of those 92 runs, 54 have scored as a direct result of a HR.  45 were scored from other than a HR.
BB – 92, tied for 1st in MLB
Hits – 143, #22 in MLB
Games Late and Close – 54 AB – .130/.266/.204/.470
AB – 22nd in MLB
BA – 30th in MLB
OBP – 23rd in MLB
SLG – 29th in MLB
OPS – 28th in MLB
The Dodgers are not very good at getting runners on in late and close games, and when they do, they cannot get them home.  They have one come from behind win.
Miguel Vargas has often been referred to as a hitting machine.  His bat to ball skills were/are considered excellent.  But a couple years back, a decision was made to get more pull side power.  Gee, I wonder who made that recommendation.  It has been reported that after speaking with his father, he wants to go back to his previous manner of hitting, realizing that as he gets more strength, those pull side HRs will come, but that he is giving up too many opposite field hits/doubles.  He apparently is also getting advice from JDM.  It is also reported that JDM is at his best when he hits the ball into right center.  He likes going the opposite way.  Miggy got a hit on Wednesday by going with the pitch into RF.
We are seeing other teams stay on a pitch and try to hit more on a line to where the pitch is made.  Pete Alonso is an elite power hitter, but he delivered three singles, two on pitches very low…one on the line and one well below it.  Don't look now, but Jeff McNeil is hitting the ball all over the field.  Pitch up and away, he hits into LF.  He pulls a double on a pitch middle in.  He hits a double to CF (left center) on a pitch middle away.
Not every Dodger should be a measured in power.  Not every Dodger should be told to turn it loose like Miggy Rojas was.
For me, it is not the losses, but it is the way they lose.  They do not seem to be able to create runs.  It appears that they are satisfied by waiting on pitch mistakes for HRs or walking if they have to.  With the rule changes, the game has changed, and the Dodgers management did not respond.
They lost two of the fastest base stealers in MLB in Trea Turner and Cody Bellinger and replaced them with David Peralta, Jason Heyward, and JDM.  They do have James Outman, and he has 2 of the 3 SB for LAD, and one CS.  Speedster Austin Barnes has the third SB.  Mookie Betts has attempted 1 SB. Freddie and David Peralta also attempted 1 SB and none of those were successful.  Why hasn't Mookie run more?  Why has Miguel Vargas not run at all.    Freddie had 13 SB last year (16 attempts), but has made only 1 attempt thus far.  There have been multiple times that LAD has had runners on 1st and 3rd, and they did not attempt to run.
First let me say that I like Noah Syndergaard, and I am glad LAD signed him.  But with the rule changes, Noah Syndergaard was not a good addition due to his inability to hold runners on.  He is the SP version of Kenley Jansen.  No MLB team has had more SB against than the Dodgers.
Noah Syndergaard – 6 (#1)
Michael Grove – 4 (t #3)
Caleb Ferguson – 3 (t #13)
Julio Urías – 3 (t #13)
The Dodgers have been without Mookie for the last two games, and Smith for the last 6.  But how can you put many sustained multiple run situations with batting averages as follows:
Smith – .333
Freddie – .311
Outman – .281
JDM – .274
Mookie – .266
Muncy – .237
Thompson – .233
Heyward – .200
Vargas – .191
Peralta – .184
CT3 – .125
Wynns – .125
Rojas – .125
Barnes – .045
Williams – .000
Hernandez – .000
That is more players hitting below the Mendoza line (8) than north of it (7), and right on it.
Teams do not fear pitching around LAD hitters late in the game.  If they walk, no big deal.  They will not run.  And then it becomes station to station and that means putting hits together, which the metrics say they do not do.
This does not mean that numbers cannot change. It does not mean the Dodgers cannot turn it around.  Regardless of the batting averages reported above, once Mookie and Smith are back in the lineup, they can be good.
I liked the idea of putting Outman in the leadoff.  He held his own; 3-10. With Mookie and Smith, Outman should be in the 7-9 spot in the lineup.  They need a bat at the bottom of the order.
It is only 19 games. There is 142 games to be played. It is a marathon, not a sprint.  All of that is true.  But it is the way they are losing.  These are not hard luck losses.  I think that a change in strategy needs to be made.  If they want to look for pitcher mistakes and hit HRs, they will get similar results to the 2022 NLDS.  If they are happy to draw walks instead of hitting pitches where they are made, they will not get RBIs. In the playoffs, they will run into pitchers who do not make those mistakes.
The other problems, IMO, are the bullpen and organizational roster structure.  But those are for another post.
MiLB Summary Report
OKC Dodgers 15 – Albuquerque Isotopes (Colorado) 13
Ryan Ward – 4-5, double (4), 4 RBI
Hunter Feduccia – 3-5, HR (6), 4 RBI
Patrick Mazeika – 3-5, double (1)
Drew Avans – 2-5, 2 BB, HR (3), 4 R, 3 RBI
Devin Mann – 2-5, 2 doubles (8), 3 R
Michael Busch – 2-4, 2 BB
Not a lot of good pitching to write about.  These games happen.
Tulsa Drillers 4 – Wichita Wind Surge (Twins) 0
Nick Frasso, Tanner Dodson, and John Rooney threw a combined 4 hit shutout.  Imanol Vargas hit a 2-run HR in the 8th.  Jorbit Vivas and Andy Pages stayed hot.
South Bend Cubs 4 – Great Lake Loons 3
Rancho Cucamonga Quakes 2 – Fresno Grizzlies (Colorado) 0
Maddux Bruns, Chris Campos, and Jeisson Cabrera combined on a 6-hit shutout.