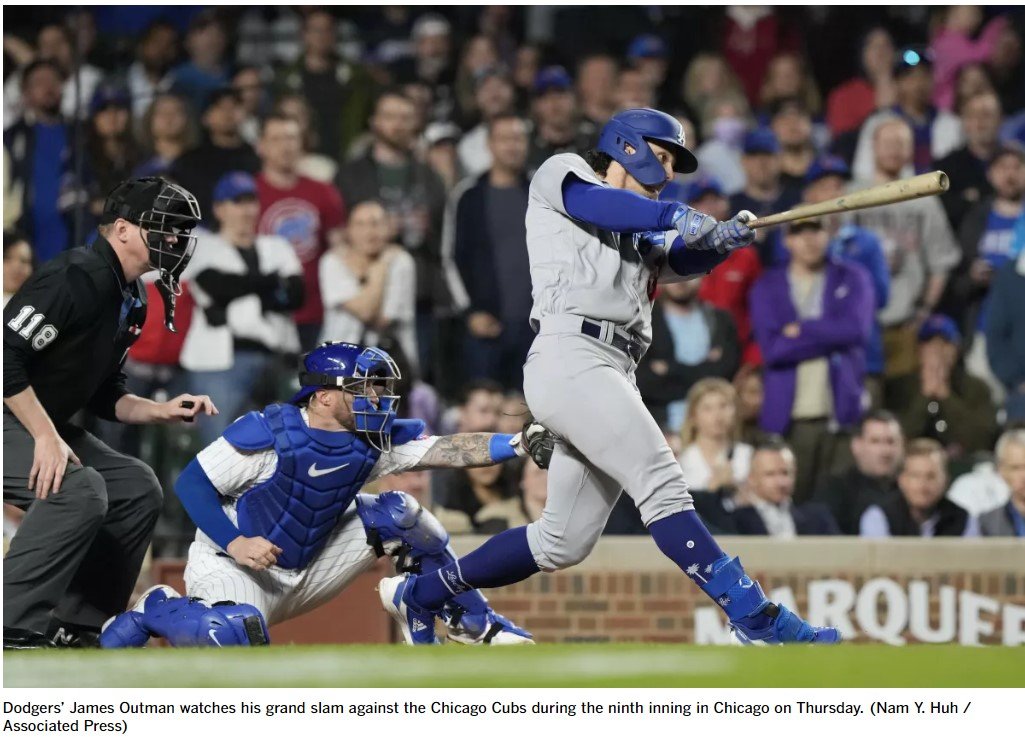 What a game.  What a KID.  James Outman just carries himself so cool, calm, and professional as a rookie.  It wasn't just the grand slam in the 9th.  For me it was also taking the third pitch cutter that stayed up.  How many try and turn on that pitch. He later gets a 3-2, 91 MPH cutter, that was middle low that he puts the barrel on and it leaves the yard in a hurry.
JAMES OUTMAN IS THAT GUY. pic.twitter.com/CIBt6ZmY7m

— Los Angeles Dodgers (@Dodgers) April 21, 2023
I just do not think James is going to go into long sustained slumps.  He is going to strike out a lot, but his bat is so short and quick and seems to have the innate ability to get the barrel to the ball.  He does not seem to overswing or get too down on anything negative.  The emotion he showed on the granny was great to see.  He seems so stoic most of the time.
If you have James Outman as your 'Rookie of the Year' favorite, you know ball pic.twitter.com/MsNh2nXiNz

— Blake Harris (@BlakeHHarris) April 21, 2023
While it may seem that James was a one-man show, he wasn't.  Max Muncy got the Dodgers on the board in the 2nd with a HR of his own.  This was his 8th of the year, and temporarily tied him for MLB lead in HRs, until Pete Alonso went yard about an hour later.
Another very encouraging sign on the night was Miguel Vargas,  Both his double and single were excellent ABs where Miguel did not try to do too much.  Short compact swings and getting the barrel to the balls.  As he was reported to say, he knows that he will get his HRs, but he needs to get hits.  He is now 3 for his last 8 with a double.
David Peralta also had a pair of hits, and both Vargas and Peralta are now hitting north of .200.  I know some out there will say that Peralta should not have tried to go for the double, but I loved it.  Replays certainly seem to show that had the Dodgers challenged the play, Peralta would have been ruled safe.  Regardless, Peralta forced Chicago to make a play, and they did (or did they?).  Keep pushing the envelope.
Luke Williams, Freddie, and Max actually stole bases.  The Dodgers doubled their 2023 SB total in this one game.  They actually stole 2nd twice with runners on the corners.  They did not win because they ran.  But what was encouraging (at least for me) was that they were trying to be aggressive.
Michael Grove started for the Dodgers, and while he was not as sharp as his last outing vs the Cubs, he was grinding.  In the 4th after a double by Trey Mancini putting runners on 2nd and 3rd with nobody out, Michael Grove visited first by Mark Prior, and they by the trainer, and then by Doc, who lifted Grove due to injury.  We later learned that Grove had suffered a groin injury.  As I am writing this, there is no word on the severity of the injury, but groin pulls smell like IL.  Tony Gonsolin was supposed to get a 2nd rehab start, but he may not be able to take that.  The Dodgers do have an off day before Grove would be scheduled to pitch.  So they could bypass that start and let Tony have that 2nd rehab start.  We will see.  But with how Gavin Stone has pitched thus far, he may not be the one called upon.  And yet, he still could be.  I believe he is scheduled to pitch Saturday.  If he does, there is no way he will get called up.  If he does not pitch on Saturday, there is more of a likelihood that he could get the call.
As Grove exited with a 2-1 lead, but with runners on 2nd and 3rd and nobody out, Phil Bickford was summoned to face the Cubbies.  He got Barnhart to K on a great slider.  Nico Hoerner then hit a hard ground ball single to RF.  The first run scored easily, but James Outman threw a perfect strike to the plate to nail Trey Mancini at the plate.  This was Outman's 4th OF assist this year (2 from LF, 1 from CF, and now one from RF).  Only Nick Castellanos has more (5).
After a two out walk to Dansby Swanson, Bickford got Ian Happ to ground out 4-3.
That Nico Hoerner one-out single in the 4th was the last Cubs hit.  Bickford retired the side in order in the 5th, with David Peralta making an outstanding catch off a Patrick Wisdom line drive.
Justin Bruihl relieved Bickford in the 6th and retired the side in order, making Mancini and Tucker Barnhart looking foolish both chasing strike 3 on sub 80 MPH sliders with a ton of movement.
Yency Almonte came in to relieve in the 7th and retired the side for 10 straight Cub batters down.  He came back in to start the 8th and immediately walked Seiya Suzuki,  Caleb Ferguson came in to relieve a very disgruntled Almonte.  I am not sure what the attitude was for, but it is clear that Almonte is not the same pitcher he was in 2022.
Ferguson trying to come inside hit Cody Bellinger to put runners on 1st and 2nd and nobody out.  At the time, the score was still knotted at 2-2. The very hot Patrick Wisdom came to the plate and found Mookie Betts playing SS for the 1st time in his MLB career.  He hit a bouncer to Mookie who beat Belli to 2nd and made a jump throw to Freddie for a 6-3 DP.
Mookie Betts turning a double play at shortstop, lol pic.twitter.com/D2ZF0aC3UL

— Blake Harris (@BlakeHHarris) April 21, 2023
Ferguson then got Nick Madrigal to line out to Outman in RF for the final out.
In the 9th, Peralta fought off a good pitch and hit it over the 2B head for a single.  Miguel Vargas followed with a single of his own.  Mookie hit a long fly to CF and Peralta was able to get to 3B.  With runners on the corner and 1 out, Jason Heyward had a fantastic AB to work a 9 pitch BB to load the bases for some James Outman 9th inning magic.  On a 3-2 pitch he hit a line drive Grand Slam HR and a 6-2 lead.
Brusdar Graterol had another outstanding relief outing.  In his last five appearances, Graterol has 4.2 IP.  He has given up 1 hit and 1 BB.  But more impressively, he has 8 Ks in those 5 games.  He is hitting spots with both his fastball and slider.  He looks very much like a potential closer.
So the Dodgers ran more, had outstanding relief pitching, and were extraordinary in late and close situation.  For at least this one game, the Dodgers did look like contenders.
Julio Urías v Drew Smyly in Friday's morning game (PT).
It is only 20 games, but Outman is showing that he is a true 5-tool player.
James Outman's updated stats this season for the Dodgers:

.290/.397/.645
5 HR
15 RBI
1 2B
3 3B
12 R
10 BB
2 SB

His OPS is 1.042. He also has 4 outfield assists.

Outman is beyond special. He should be an everyday player in the Dodgers lineup, and could runaway with the NL ROTY.

— Noah Camras (@noahcamras) April 21, 2023
James Outman tonight:

-Two go-ahead home runs, the 2nd a grand slam.
-Outfield assist to hold the Cubs to 2 runs.
-6th multi-hit game of the season.
-New career high in RBI with 5.

"He's him"pic.twitter.com/w11c6WpcQV

— Dodgers Tailgate (@DodgersTailgate) April 21, 2023
MiLB Summary Report
OKC Dodgers 8 – Albuquerque Isotopes (Colorado) 6
Tony Gonsolin made his first rehab start.  He retired the side in order in the 1st and 3rd.  However, in the 2nd he walked the leadoff hitter, and after a strikeout, he surrendered a 2-run HR.  After a lead off BB in the 4th, Gonsolin's night was complete.  Overall he pitched 3.0 innings, 2 R, 1 H (HR), 2 BB, 7 K.  Justin Hagenman relived the Catman, loaded the bases before he got the final out of the inning without surrendering a run.
OKC got the game going on a positive note.  Drew Avans drew a leadoff BB.  Michael Busch doubled (6), DeLuzio HBP, Hunter Feduccia bases clearing double (2).  First four batters and a 3-0 lead.
In the 5th, with OKC still up 3-2, Drew Avans doubled and eventually came around to score on a Ben DeLuzio sac fly.
In the 6th, OKC scored 2 on a Devin Mann 1-out single and a Michael Reed HR (2). Jahmai Jones followed with a solo HR (4). OKC increased their lead in the 7th when DeLuzio drew a BB, stole 2nd, and came home on Hunter Feduccia 2nd double (3) of the game.
Albuquerque answered with a HR in the home half of the 7th.
In the 9th with William Cuevas on the mound to start his 5th inning on the mound, he surrendered a single and a pair of BB to open the inning before getting the 1st out of the inning on a K.  Adam Kolarek came in to try and get the Isotopes out.  He gave up a run scoring single, but the bases remained loaded.  Adam induced a game ending DP for the save (1).
Bryson Brigman was just called up from Tulsa – 2-3 with a BB
Hunter Feduccia – 2-5, 2 doubles (3), 4 RBIs
Michael Reed – HR (2), 2 RBI
Jahmai Jones – HR (4), 1 RBI
Feduccia for the season – .432/.577/.838/1.415 – Feduccia is 1st in the PCL in BA, OBP, SLG, and OPS.  He is #3 in RBI (21).  Fantastic start to the season.
Tulsa Drillers 3 – Wichita Wind Surge (Minnesota) 0
Nick Nastrini made his 2023 season debut, and pitched okay.  He had 3.0 IP, allowing 1 H, 3BB, and 4K.
On the offensive side, Jonny DeLuca led off the 1st inning with a HR (2).  In the 2nd, Diego Cartaya doubled (2) and scored on a José Ramos single giving the Drillers a 2-0 lead.
Kyle Hurt relieved Nastrini in the 4th.  He finished off 2.0 scoreless innings allowing 1 hit and 2 BB.  He registered 5 Ks.
Carson Taylor led off the 5th with a single, moved to second on a fielding error, and scored on a Jorbit Vivas double (7) for a 3-0 lead.
Trevor Bettencourt entered in the 6th and pitched 2.0 perfect innings.  Braydon Fisher made his AA debut.   He allowed a single in the 8th but nothing else.  Fisher got two quick outs in the 9th and after getting to a 3-2 count, he gave up a single.  That single was followed by another single, and the Wind Surge had runners on the corner.  Fisher got one of my favorites, Brooks Lee, to fly out to Andy Pages for the Drillers win, and Fisher's first AA save.
The Drillers had 7 hits, with Jorbit Vivas getting 2.  Vivas, Diego Cartaya, and Brandon Lewis each had doubles, while DeLuca had the only HR in the game.
But this was the seasonal debut for Nick Nastrini and the AA debut for Braydon Fisher in a 4-pitcher combined shutout.  Tulsa pitchers struck out 12 to go with 5 walks and 5 hits.
Great Lakes Loons 5 – South Bend Cubs 2
Ben Casparius was making his 1st start since his last outing of 6.0 hitless innings, giving him the Midwest League Pitcher of the Week Award.  This game was not as dominant, but it was a very good game.  He allowed a game lead off HR and another solo HR with 2 outs in the 5th.
But after he left the game after 5.0 IP, the Loons had a 3-2 lead.  In the 4th inning, the Loons put together a three run inning.  Taylor Young led off the 4th with a triple (1).  After 2 outs, Jake Vogel, Damon Keith, and Dalton Rushing each walked to force in a run.  Yeiner Fernandez then hit a 2-run single and a 3-1 lead.
Dalton Rushing hit a 2-out HR in the 6th and a 4-2 lead.  It was his first Great Lakes HR.
In the 8th, Damon Keith doubled, moved to 2nd on a 6-3 ground out, and scored on a Fernandez sac fly.
After Casparius exited after 5.0 IP, four Loons relievers closed out the game with an inning each of scoreless pitching.  Michael Hobbs, Reinaldo De Paula, Aldry Acosta, and Jake Pilarski finishing up for his 3rd save.
The Loons had 11 hits, led by catcher Yeiner Fernandez.
Fernandez – 3-3, 3 RBI, double (2), sac fly, BB
Dalton Rushing – 2-4, BB, 1 R, 2RBI, HR (1)
Taylor Young – 2-4, 1 R, triple (1)
Ismael Alcantara – 2-3, BB
Fresno Grizzlies (Colorado) 6 vs Rancho Cucamonga Quakes 1
Peter Heubeck had his 2nd consecutive bad outing.  In this game he last 2.  In his 2.2 IP, Peter gave up 4 runs on 4 hits and 2 walks.  He gave up two 1st inning solo HRs.  A single, BB, WP, ground out and single scored two more in the 2nd.
The Quakes got one back in the 7th with a Jorge Puerta single, a ground out moving him to 2B, and a run scoring Jose Izarra single.
After some nifty relief pitching by Kelvin Ramirez and Christian Romero for 4.1 scoreless innings, David Tiburcio entered in the 8th.  He pitched a scoreless 8th. But was touched up by a walk and 2-run HR in the 9th.
Lucas Wepf relieved Tiburcio and struck out the two batters he faced.
Jose Izarra – 2-4, 1 RBI, 1 double (4)
Kyle Nevin – 2-4, 1 double (6)