Friday's game was an embarrassment.  The good thing is that it is only one game.  But does the team have the wherewithal to be able to turn it around and go on a sustained win streak?
Michael Grove was placed on the 15 Day IL with a right groin strain, and Ryan Pepiot was moved to the 60 Day IL.  Why?  To make room for Jake Reed?  Okay, okay. I know that when Evan Phillips comes back from his paternity leave, somebody has to be optioned.  So who will it be?  Reed or Andre Jackson?  How about both, and bring up Victor González.
After Thursday night's dramatic win, this was supposed to be the turning point in the season.  The Dodgers have not won consecutive games since April 3-5.  At that time, the Dodgers were 5-2 and in the desert taking on the Snakes.  They went 1-3 in Arizona, 2-1 in SF, were 1-2 at home against Cubs, 1-2 at home against NYM, and are now 1-1 on the road against the Cubs.  Right now at 10-11, this is not a team that gives one confidence that they can string together wins.
I would like to be wrong, but they do not have enough bat to ball players in the lineup, not enough starting pitching, and nowhere near a championship bullpen.
Is Will Smith that big of a difference maker?  Maybe yes, probably no.
Who is now going to be the 5th starter?  Who is now going to be in the bullpen?  What is wrong with the Dodgers offense, except of course their ability to hit HRs in bundles in blowout wins?
No, spending money does not guarantee a Championship caliber team.  But I am comfortable in saying that I do believe that all 4 teams with greater payroll than the Dodgers will have better records than LAD.  What does that mean?  Not a thing, as it could be that as many as 4-5 teams with payrolls less than MLB Average ($160MM) could also have better records, with three teams less than $100MM payroll could as well (Tampa Bay, Cleveland, and Baltimore).
Money is not the great equalizer, but I do like the approach of the Padres Peter Seidler who does not have the financial leverage that the Dodgers have, and has no problems with spending so as to win.  I also applaud Arizona ownership allowing the team to jettison the nearly final 2 years of Madison Bumgarner's contract.  Of course the Padres are going to need to win to keep it up.  That is not true for NYM or NYY.  They can outspend anyone, and probably will.  NYM has no intention of slowing down the spending, and NYY has to keep up.
I also agree that the Dodgers were handcuffed not knowing what the ultimate outcome of Trevor Bauer would be.  Ownership should have slipped that MISTAKE into their back pocket and say let's proceed without him, and not worry about the financial ramifications.  If winning is the ultimate goal, then they should have been willing to absorb Bauer's contract no matter the size.
There does not appear to be any one team to run away and hide in the NL.  But the Dodgers are tied with San Diego for 8th in NL and 16th in MLB.  As Houston Mitchell so eloquently put it…"so this is what mediocrity looks like".
Let's look at some of the trends that need to be reversed if the Dodgers are going to make that run.
They lead all MLB in strikeouts.  They are on pace for 1,551 Ks for the season.  Teams that strike out that much do not generally make the playoffs.  Since 2018, there have been 16 teams that have 1,500 or more strikeouts in a season. Only two teams had records north of .500…Milwaukee 1,563 (2019 – 89-73), Tampa Bay 1,542 (2021 – 100-62).  Both teams made the playoffs.
This is a team that overwhelmingly relies on the HR.  They have now scored 105 runs, and 61 are a direct result of the HR (58.10%).
In games the Dodgers have scored 8 or more runs, their record is 5-1.
In games the Dodgers have score 4 or less runs, their record is 1-8.
In games the Dodgers have scored 5-6 runs, their record is 4-2.
A pitching staff that was supposed to be as elite as the Dodgers, should be better than 1-8 when they score 4 or fewer.
They have one come from behind win, and won walk off win.  Their late and close results are not championship caliber.
BA – .172 (26th in MLB)
OBP – .312 (17th in MLB)
SLG – .281 (26th in MLB)
OPS – .593 (19th in MLB).
Thus a team that relies heavily on HRs to win, is 26th in SLG in late and close games.  That does not connote confidence in the Dodgers ability to win those games.  Thus the 2-8 record in those games.  So if they hit a lot of grand slams and 3-run HRs they will win those games.  What are the chances?
Starting pitching was supposed to be a strength and with plenty of depth.  The only LAD SP with a sub 3.00 ERA is Clayton Kershaw.  And that depth has all but dissipated.
Tony Gonsolin – Injured and still needs one more rehab start before being activated.
Ryan Pepiot – On the 60 day IL with a left oblique strain.
Michael Grove – On the 15 day IL with a right groin strain.
Andre Jackson – Into the bullpen as long relief

5 G, 11.1 IP, 7.94 ERA, 1.68 WHIP, .333 BAA, 2 BB, 10 K, 5 HR

Bobby Miller – Still on the sidelines with a shoulder injury. At extended ST.
Gavin Stone – Having a tough start to the year in AAA.

4 GS, 15.0 IP, 7.20 ERA, 1.47 WHIP, .237 BAA, 8 BB, 12 K
So now who?  The health of multiple existing SP is tenuous.  Not a lot of options.
Is there something physically wrong with Julio Urías?  He has had previous significant shoulder surgery, and the velo on his fastball has dropped ominously.  Average 4-seamer MPH:
2019 – 95.1 MPH
2020 – 94.2 MPH
2021 – 94.1 MPH
2022 – 93.1 MPH
2023 – 92.7 MPH
Is he beginning to mimic the slide of Fernando?  Probably not, but why the significant and steady loss of velo?
Here are the starting pitchers metrics.  Does anyone feel confident that this rotation can contend for a playoff victory?  They are going to need to improve rather significantly.  Fortunately there are 141 games to get their s*** in order.  As indicated above, they need Tony Gonsolin now, and they all have to stay healthy a looooong time.
Here are the relief pitchers metrics.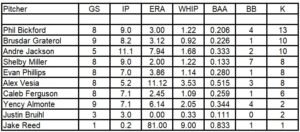 What is Alex Vesia and his 11.12 ERA, 3.53 WHIP, and .515 BAA still on the 26 man?  Why is Yency Almonte and his 6.14 ERA, 2.05 WHIP, .344 BAA still on the 26 man?
Why is Jake Reed still on the 26 man?
The answer is that there is not a lot of help at OKC…starting or relieving.
Starters:
Dylan Covey – 3 GS, 13.0 IP, 6.23 ERA, 1.69 WHIP
Gavin Stone – 4 GS, 15.0 IP, 7.20 ERA, 1.47 WHIP
William Cuevas – 2 GS, 12.1 IP, 7.30 ERA, 1.54 WHIP
Robbie Erlin – 4 GS, 18.0 IP, 8.00 ERA, 1.83 WHIP
Matt Andriese – 4 GS, 17.1 IP, 9.35 ERA, 2.19 WHIP
Which one of those do you want on the LAD starting rotation?
Only relievers under 4.00 ERA:
Adam Kolarek – 7 G, 7.1 IP, 1.23 ERA, 1.09 WHIP
Tayler Scott – 7G, 7.1 IP, 1.23 ERA, 1.64 WHIP
Victor González – 6 G, 7.0 IP, 1.29 ERA, 1.14 WHIP
Wander Suero – 7 G, 7.2 IP, 2.35 ERA, 1.04 WHIP
Bryan Hudson – 7 G, 8.2 IP, 3.12 ERA, 1.50 WHIP
Justin Hagenman – 6 G, 9.2 IP, 3.86 ERA, 1.18 WHIP
A lot of hope and pray.
Outside of Will Smith, Freddie Freeman, Mookie Betts, James Outman, Max Muncy, and JDM:
CT3 – .119/.191/.405/.596
Jason Heyward – .194/.297/.516/.813
Miguel Rojas – .125/.200/.156/.356
Miguel Vargas – .204/.371/.296/.667
Austin Barnes – .040/.111/.040/.151
Luke Williams – .100/.100/.100/.200
Austin Wynns – .125/.222/.250/.472
David Peralta – .238/.267/.333/.600
Trayce Thompson – .189/.302/.514/.816
Trayce is 7-37 with 4 HRs.  If we eliminate his April 1st 3-HR game, he is 4-33, and a slash line of .121/.256/.212/.469.
The two reserve catchers are 2-35.  Nobody is a bigger advocate for Austin Barnes than I am.  But the Dodgers need offense, and while there is no way he can duplicate what he is doing in AAA, Hunter Feduccia deserves a chance at the MLB level.  Why did the Dodgers sign Austin Wynns?  I do not give a rip about "starting his clock" or "wasting an option".  Hunter Feduccia is 26 (Baseball age), so it is doubtful he will be anything more than a backup catcher.  AF has no problem "wasting 2 options" on Jorbit Vivas and Eddys Leonard, but worried about Hunter Feduccia.
The Dodgers have used 4 SS in the first 21 games.  One of the most important positions on the field, and you have 4 in 21 games?  Excluding Mookie, the other three SS (Miguel Rojas, CT3, and Luke Williams) are a combined 10 for 84.
Last year in AAA, OKC had:
Jason Martin – .285/.374/.564/.938
Jake Lamb – .290/.395/.537/.932
Eddy Alvarez – .322/.439/.554/.933
Kevin Pillar – .315/.398/.604/1.002
Stefan Romero – .265/.353/.431/.784
None of the above were able to make an impact at the MLB level, or even deemed a worthy candidate for a long term solution on the 26 man.
This year's selection of AAAA players:
Ben DeLuzio – .159/.283/.205/.488
Steven Duggar – .238/.314/.429/.743
Jahmai Jones – .236/.311/.509/.820
Bradley Zimmer – .207/.281/.310/.591
It looks like this year's group does not match up at all with last years.  I would not be comfortable bringing up any of those guys.  What is even more curious is that Andy Pages is being blocked by DeLuzio, Duggar, and Zimmer.  Why?
If anyone believes that AF/BG were confident that James Outman was going to be a legit starting CF/LF/RF consideration, then why Jason Heyward, David Peralta, Steven Duggar, and Bradley Zimmer – all LHH OF.  Before the season, AF was reported saying that he expected Outman make an impact at some point during the season.  He was almost always thought of as a 4th OF.  Jason Heyward was told he would make the roster before ST, and Trayce Thompson was told he would be the starting CF before the WBC.  Outman did not receive any of those considerations.
So how long can the Dodgers go with Luke Williams at SS?
How long can the Dodgers go with CT3 and Trayce Thompson in lineup.
How many more injuries will Miguel Rojas incur.
David Peralta should only hit RHP.
Why do the Dodgers continue to struggle against LHP?
Can the Dodgers stay relevant until the trade deadline?
Why can't Michael Busch get a shot at MLB? Is he simply trade fodder?
When is Bobby Miller going to pitch?
When will Gavin Stone turn it around this year to be considered for a MLB job?
When will the Dodgers promote Andy Pages?
Finally, I continue to hear the hype that the Dodgers hitting gurus can improve hitters.
Cody Bellinger was a lost cause after 2019. He effectively gets released and is signed by the Cubs.  This year Belli is hitting .301/.381/.562/.943.  He has 5 HR, 9 XBH, 14 RBI.
Joey Gallo was considered a lost cause. The Dodgers acquired him to be an asset for the playoffs.  He did not get an AB in the playoffs.  This year, Gallo is hitting .296/.406/.889/1.295.  He has 5 HR, 6 XBH, and 11 RBI.
JDM is considered a top protégé of RVS. But so is CT3.  See above for CT3 in 2023.
Can the Dodgers get the Boston Mookie?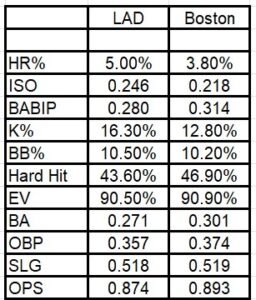 Yes, as you would expect with the RVS strategy, his HR% and related ISO are up.  His K% is significantly up.  There is not a lot of improvement in his LAD years from his Boston years.  His Boston years were ages 21-26, while LAD years were ages 27-30.
There are a lot of holes in the LAD roster, and not much help available from below.  But there is time to turn it all around, and hopefully Dustin May can begin a winning streak on Saturday.
All I am doing is asking questions.  You can become an ostrich and hide your head in the sand, or you can be honest and recognize that the current LAD roster needs help.  A 2.0 GB Arizona is not insurmountable, but Arizona does not look like they are going away any time soon.  Ask San Diego.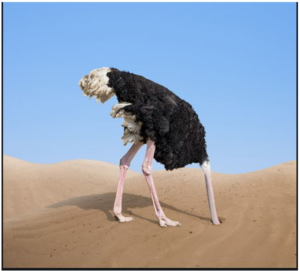 MiLB Scores and Box Scores
3 of the 4 affiliates lost on Friday
Albuquerque Isotopes (Colorado) 4 – OKC Dodgers 3
Tulsa Drillers 6 – Wichita Wind Surge (Minnesota) 5
South Bend Cubs 7 vs Great Lakes Loons 3
Fresno Grizzlies 6 – Rancho Cucamonga Quakes 5