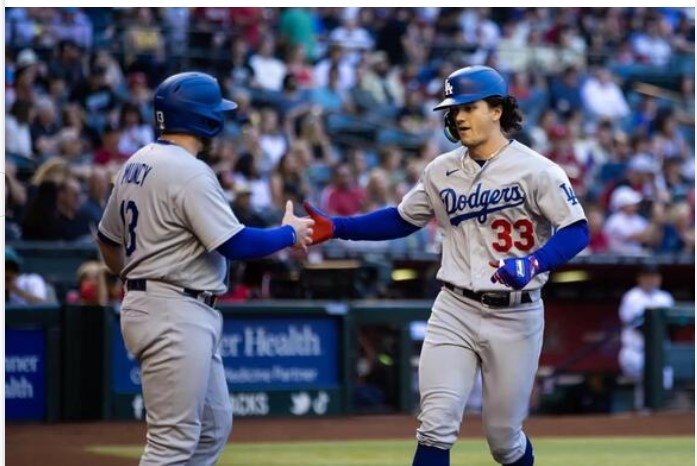 First off, I have been hard on Alex Vesia this season, so when he does well, I have to give him credit.  Not only did he have to face the Cubs batters, but he had to battle the umpire as well.  Check out Ball 3 and Ball 4 below.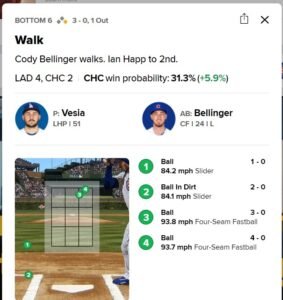 However, after a double steal, he got out of the inning without allowing anything, getting Patrick Wisdom to pop out and striking out the ultra bat to ball hitter, Nick Madrigal.  Madrigal was striking out at a rate of 2.7% before the game.  This was Alex's best game of the year.  Alex has been a vital and integral part of the bullpen for the past two seasons, so hopefully this game gets him back on track.  Good for Alex!!!
Dustin May had a good bounce back game.  5.1 IP and after a 27 pitch 1st inning he settled down.  The key to the first inning was the three pitch strikeout of Cody Bellinger.  The second run was set up by the HBP and an Eric Hosmer drive to right center that James Outman almost made an improbable catch.
Dustin was wild with 3 BB and an HBP which added to his pitch count.  But his 6 strikeouts was a season high. For a pitcher with as much movement on his pitches that he has, he does not get a lot of chase.  His K rate is in the 11th percentile.  His whiff rate is in the 5th percentile.  And his chase rate is in the 47th percentile.  6 strikeouts in 5.1 IP was good to see.  After 96 pitches, and a runner on 1st, Dustin gave way to LHRP Vesia to face LHH Cody Bellinger who he walked (according o the umpire).  He got Wisdom and Madrigal to end the threat.
Yency Almonte still has work to do.  He gave up a 2-run bomb to Nico Hoerner in th4e 7th.  His ERA is now up to 7.56 with a whip of 2.16.  This was Yency's 10th game of the season (8.1 IP).
Caleb Ferguson entered into the 8th, and he is getting better and better on the bump.  He did allow the one hit in what was a 6-4 game at the time.  But he did not give up a run.  The Patrick Wisdom AB was one of the best I have seen all season.
While strike 3 may have been border line, strikes 1 and 2 had such late break that fooled Wisdom into chases.  Great effort by Caleb.
Shelby Miller pitched another solid inning in relief to close it out.  He retired the side in order with 2 Ks.  15 pitches/10 strikes.
After a disastrous bullpen in Friday's game, the bullpen was much better in this one (save the Almonte 2-run HR).
The James and Max show is getting very entertaining.  James goes yard, and Max has to follow.  Then Max hits a 2 run shot, and James had to match that.  In the three games, the Dodgers have scored 15 runs.  There have been 14 RBIs, and James (9) and Max (4) have accounted for 13 of the 14 RBIs.  Besides the HRs, James had a run scoring single.  On the day, Outman went 4-5, 2 HRs, and 4 RBIs.
Since Muncy's horrendous start, he has been extraordinary.  In the last 11 games:
45 PA
34 AB
13 H
9 HR
17 RBI
11 BB
11 K
40 TB
.382/.533/.1176/1.710
That is as an impressive 11 game run that I can remember. Although I am sure he will, he does not give the impression that he will struggle for a sustained period of time.
OTOH, James has remained fairly consistent throughout the season.  He has failed to reach 1B only twice all season.  He has only had one time where he went two consecutive games without a hit, and that time, it was only 1 AB in the second game.  He has not gone back to back games without a hit since April 2 (0-1 with a BB).
For the season:
Max Muncy – .254/.419/.701/1.120 – 10 HR, 19 RBI, 10 XBH
James Outman – .314/.407/.714/1.121 – 7 HR, 19 RBI, 11 XBH
Max is tied for the MLB lead in HRs. James is 4th in NL and tied for 4th in MLB .
Max and James are tied for 7th in MLB and tied for 3rd in the NL in RBIs.
James in tied for 8th in the NL and tied for 11th in MLB in XBH.
That is a dynamic duo.  Today, batting 3rd and 6th was perfect.  For the record, fellow rookie Miguel Vargas got the only other RBI for Saturday and the Cubs' series.
His seven home runs in March/April are the most in Dodgers history by a rookie. His seven homers are also the most in a month by a rookie since Will Smith hit eight back in August of 2019. If he keeps this up, he'll be breaking that number.
Here's where he ranks among ALL rookies across baseball.
7 Home Runs (1st)
19 RBI (1st)
14 R (1st)
.314 AVG (1st)
.407 OBP (1st)
.714 SLG (1st)
121 OPS (1st)
50 total bases (1st)
Not bad for a kid that was never supposed to make the 26 man out of ST.  Outman will strike out a lot, but his short compact swing with barrel to ball is going to minimize long slumps.
If the Dodgers can get Smith back, and Mookie and Freddie heat up, this could be a fun lineup.  But the bottom of the order is still going to be problematic.  CT3 and Austin Barnes were a combined 0-7 with 4 K.  Combined on the season, they are 6-74 for a dismal BA of .081.  How can Freddie get RBIs with that at the bottom.  Last year, Gavin Lux was in the 9 hole a lot, and gave Freddie a lot of RBI opportunities.  Jason Heyward also went 0-4, but three of his outs were graded as hard hit (95 + MPH).
There was a change to the bullpen on Saturday.  Victor González was recalled and Jake Reed was Designated for Assignment.  This has been a common occurrence for Jake the last couple of years (8 times in last 22 months).  We will see if anyone claims him, and if not, whether he will select FA rather than go back to OKC.  The Dodgers now have a spot open on their 40 man.
Saturday was a good bounce back game.  Can they now get that elusive 2-game win streak?  They will be facing the NL ERA leader in Marcus Stroman (0.75).  Clayton Kershaw gets the call for the Dodgers, and his 2.52 ERA is good for 8th.
Chicago has the #1 NL ERA leader (Stroman), and #4 (Justin Steele).  Atlanta has 2 in the top 10: Bryce Elder #2 and Spencer Strider #7.  And Arizona has #9 (Merrill Kelly) and #10 (Zac Gallen).
One of the curious player personnel decisions has been to keep Michael Busch at AAA instead of promoting him to MLB.  Unfortunately for Busch, he does not have a clear path to the LAD roster.  There is little question in my mind that Busch can hit ML pitching, there is the question as to where he will play.
04-22-2023 MiLB Summary Report
One of the key areas of improvement from Busch this season has been his strikeout and walk rates. Over the years, Busch has struck out at a fairly high rate, averaging a 26 strikeout percentage since 2021. That number has dropped significantly in 2023, as he's striking out only 19.8% of the time.  He is also walking at an unbelievable18.75% rate.
It you want his numbers to look even better, here's what he's been doing since April 6 (Prior to Saturday's game):
.386 AVG / .526 OBP / 1.163 OPS
183 wRC+
21.1 BB% / 15.8 K%
OKC Dodgers 3 – Albuquerque Isotopes (Colorado) 2
OKC scored a pair of 2-out runs in the 1st inning.  With 2 outs, Steven Duggar doubled.  Hunter Feduccia drew a BB.  Ryan Ward and Yonny Hernandez both hit run-scoring singles for a 2-0 lead.  Last year that would have been more than enough for Gavin Stone.  But this year is a little different.
But on this game, Gavin Stone was outstanding.  He retired the first five before giving up a double but no run.  In the 4th, the Isotopes led off with a single and walk.  Stone buckled down and retired the next three batters.
In the 5th, Stone got the first two batters, but he walked Brenton Doyle.  Justin Hagenman was summoned to get the final out.  Hagenman came back out for the 6th.  The leadoff batter singled, and Michael Toglia tripled him home, and scored on a sac fly, and a 2-2 tie.
In the top of the 7th, again with 2 outs, Bradley Zimmer singled and scored on a Devin Mann double (10).
OKC got excellent relief in the 7th thru the 9th. Tayler Scott and Nick Robertson retired the side in the 7th and 8th.  In the 9th holding on to a tenuous 1-run lead, Wander Suero gave up a 1-out single before retiring the final 2 batters.
Justin Hagenman got the win, but no longer is in the sub 4.00 ERA group.  Nick Robertson's horrendous last relief appearance, he is now getting back down closer to the sub 4.00 ERA group (4.22).
Devin Mann was the only OKC Dodger with 2 hits, one being a double, with an RBI.
Wichita Wind Surge (Minnesota) 4 – Tulsa Drillers 3
Jonny DeLuca led off the bottom of the first with a HR.  This was his 3rd consecutive game  with a home lead off HR.  He now has 4 HR on the year.
Emmet Sheehan gave up a game tying HR of his own in the 2nd inning.   Sheehan completed 4.0 innings allowing 2 additional singles and 1 BB.  He struck out 8 batters in those 4.0 IP.
In the 3rd inning, Jorbit Vivas hit his 2nd HR of the season, and Tulsa was back out in front.
Ben Harris came in to relieve Sheehan in the 5th, and retired the side in order.  But in the 6th, the first two batters singled.  After a failed sac bunt pop out for the 1st out, Harris issued a BB to load the bases.  Harris almost got out of the jam with a K, but Brandon Lewis booted a ground ball for an error to score the tying run.  John Rooney relieved Harris and after a strike three wild pitch for another run, he did get the final out.
In the bottom of the 6th, José Ramos hit a one out HR (2) to tie the score.
Rooney allowed a single in the 7th but no runs.
The 8th had a lot of traffic for both teams, but no runs.
With Tanner Dodson on the bump for his 2nd inning in the 9th, he gave up a tie breaking HR to Jake Rucker in the 9th.  Jorbit Vivas drew a 1-out BB in the 9th, but could not get to the plate.
The Drillers scored their three runs on three solo HRs; Jonny DeLuca, Jorbit Vivas, and José Ramos.
Vivas and Ramos had two hits, with Vivas getting his 10th double to go with the HR.
For the year, Vivas is now batting a cool .386/.470/.702/1.172.
South Bend Cubs 4 – Great Lakes Loons 2
In the 4th, in a 0-0 tie, Chris Alleyne hit a double, stole 3B, and scored on a sac fly from Griffin Lockwood-Powell.
For 4 innings, Yon Castro faced the minimum number of batters.  He did allow a 3rd inning single that was erased by a DP.  But in the 5th, Castro allowed a lead off double, a walk, and a single for the tying score.  After two ground out, the Cubs had runners on 2nd and 3rd.  He then gave up a two run single.  Antonio Knowles relieved Castro and struck out Jacob Wetzel to end the inning.
Knowles pitched a perfect 6th with his 2nd K.  Julian Smith also pitched a perfect inning (7th).  Aldry Acosta allowed a walk in the 8th, but nothing else.
In the 9th, Mitchell Tyranski walked the first two batters, and one scored on a Jake Vogel fielding error.
In the bottom of the 9th, Dalton Rushing did what many Dodger players and MiLB players do…hit a solo HR.
Rancho Cucamonga Quakes 7 – Fresno Grizzlies (Colorado) 3
Luis Valdez just off the IL started and pitched two scoreless innings, allowing a single, BB, and 3 K.
The Quakes scored 6 runs in the 3rd for a 6-0 lead, and remarkedly without a HR.  Jose Peraz led off with a double (1) and then singles by Joel Izarra and Rayne Doncon, Kyle Nevin BB, Jesus Galiz single, Nick Biddison single, Frank Rodriguez BB, and Peraz singling home two for his 2nd hit of the inning.
With Darlin Pinales on the hill, Fresno put together a BB, WP, and single for a Grizzlies run.  Pinales was wild as he allowed 4 BB with the 1 single and 2 K in his 3.0 IP.
Kelvin Bautista was touched up for a pair of unearned runs in 6th to cut the lead in half.  He did surrender 2 hits, a BB, with 2 K in his 1.0 IP.
Livan Reinoso pitched a pair of scoreless innings with 4 Ks.
In the RC 8th, Frank Rodriguez doubled and scored on a Rayne Doncon single.
Lucas Wepf struck out the side in the 9th to close out the win for the Quakes.
Rayne Doncon – 3-5, 2 RBIs
Jesus Galiz – 3-4, 2 RBIs
Jeral Peraz – 2-3, 2 RBIs