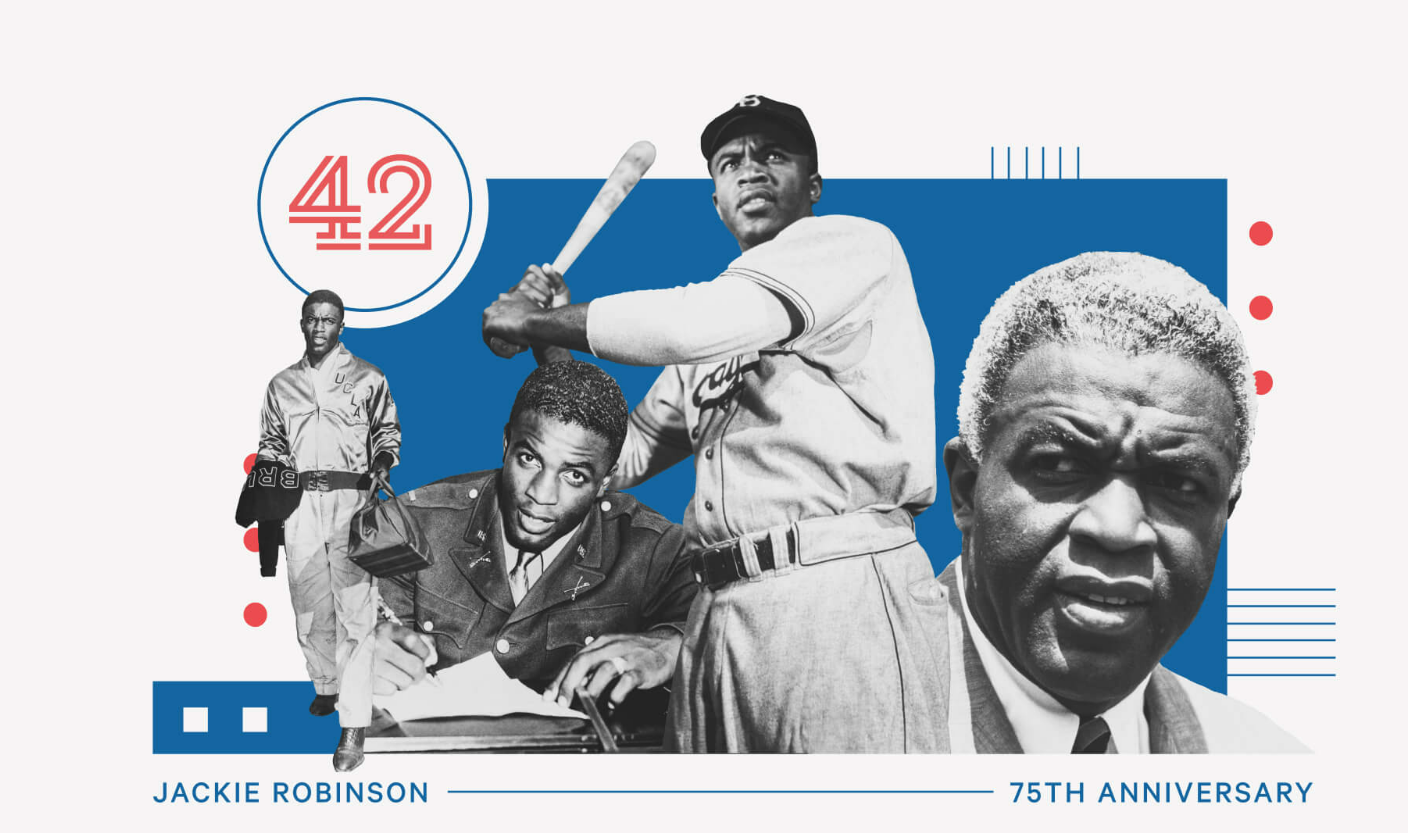 April 15, 1947, Ebbets Field, Brooklyn, NY.  On this day, 75 years ago, the color barrier in Major League Baseball was broken when Jackie Robinson started at 1B for the Brooklyn Dodgers against the Boston Braves.  For the record, Jackie did not get a hit in the game, but he did walk and score a run.  The Dodgers did beat the Braves 5-3.  Below is a game summary of that historic game.
MLB has been honoring Jackie Robinson since 2004.  And on this date, all playing personnel and non-playing field personnel have been wearing #42 in honor of Jackie since 2009, and will do sot again this year.
https://www.mlb.com/news/jackie-robinson-day-2022-commemoration
I have been reading non-stop today on Jackie.  There are a multitude of outstanding biographies on Jackie, and today, we can search anywhere on the internet to find salient stories. about the man himself.  I am not a historian, nor a biographer, so I will leave that up to the experts who have that ability.  But I will say that there are a couple of excellent articles in The Athletic, that I will not post because it is a paid site.  If you ever wanted to try a free trial, might I suggest you try today and check out:
'Meaningful celebration has to come with reflection': Jackie Robinson's son on the legacy for the next generation by Fabian Ardaya, and, 
75 facts about Jackie Robinson, 75 years after he integrated Major League Baseball by Rhiannon Walker.
In addition, ESPN has accumulated Tweets from around the country on this day.
But for now, I am going to concentrate the rest of this post for the game between the Los Angeles Dodgers and the Cincinnati Reds.
Tony Gonsolin, got the honor to start for the Dodgers, while soon to be 27 year old RHSP  Vladimir Gutierrez started for the Reds.
The big inning offense was MIA to start the game. The Dodgers scored single runs in the 2nd, 4th and 5th, thanks largely to Gavin Lux.  But he had help.  In the 2nd, Max Muncy banged a double into RF.  Justin Turner followed with a walk, and both runners moved up after a Will Smith fly out to CF.  Chris Taylor singled to score Muncy, but JT was tossed out at the plate.
In the third, Gavin Lux led off with a single.  After Mookie Betts popped out, Lux stole 2nd and went to 3rd on a Freddie Freeman ground out.  Lux scored easily on a Trea Turner triple into right center, but Trea was stranded at third.  In the 5th, Gavin Lux led off again, and this time tripled.  Mookie was HBP and stole 2nd, and Freddie Freeman walked to load the bases.  Reds starting pitcher was relieved by Jeff Hoffman.  Hoffman immediately struck out T. Turner and got Muncy on a short fly to LF.  It looked like the Dodgers were going to waste a bases loaded with no outs.  But Hoffman walked JT to score Lux for the LAD third run.
In the meantime, Tony Gonsolin was battling.  In 4.0 scoreless IP, Gonsolin allowed 2 hits, 3 BB, and 2 Ks.  He threw 74 pitches in those 4.0 innings (45 strikes).  Tyler Anderson relieved the Catman in the 5th, and Anderson got through the 5th unscathed but surrendered a run in the 6th on a HBP, and a pair of 2 out singles.
Tyler Anderson pitched 4.0 innings, allowing the one run.  Those 2 hits in the 6th were the only hits he gave up.  He did not walk anyone and struck out 4 Reds.  He threw an efficient 55 pitches/37 strikes in his 4.0 IP.
There was no magic in the 8th on this day.   Doc summoned Craig Kimbrel to close it out, and Kimbrel recorded his second save as he retired the side in order.  The Dodgers beat the Red 3-1.  Tyler Anderson got the win, and Kimbrel the save.
For the last couple of years, Gavin Lux has been soundly criticized for both his offense and defense.  One individual was so convinced that Lux was not an infielder that he continued to state that Lux had the "yips".  That was based on his forgettable 2020.  Lux reported to summer camp late (COVID??? – No verification).  Then later in the summer, in the aftermath of the August 2020 police shooting of Jacob Blake, his home town of Kenosha, WI, was under siege with civil unrest. Here was a 22 year old "kid" seeing his home town, where his family still resides, under fire.  In 2021, he was moved from 2B to SS once Corey Seager went on the IL.  After Seager returned, Trea Turner was acquired, and Lux had no position.  He went down to OKC to learn 3B and then OF.  It was certainly an adventure.  No more adventurous than Joc Pederson trying to learn 1B at the MLB level.
Gavin is the former #2 MiLB prospect (behind Wander Franco), and the 2019 MiLB Player of the Year. He did not forget how to play the game.  I predicted that Gavin's 24 year old season would be a breakthrough season for him.  I am not about to claim I am right because the season is way too young.  But what we can discern is that he is much more focused, disciplined, and confident at the plate and in the field.  And BTW, no he does not have the yips.  He appears to be just as confident defensively.  I cannot remember a poor throw.
I would be very remiss if I did not at least discuss the most important person in Jackie's life…his wife Rachel.  After Jackie's passing in 1972, Rachel Robinson created the Jackie Robinson Development Corporation, founded to build and manage housing for people of moderate and low incomes.  A year later, she formed the Jackie Robinson Foundation, which provides college scholarships and leadership training, and headed the Foundation's Board of Directors until stepping down in 1996.
The Foundation has provided support for over 1,000 minority students and has maintained a 97% graduation rate among its scholars.
Robinson was inducted into the Baseball Reliquary's Shrine of the Eternals in 2014. In 2017, she received the Buck O'Neil Lifetime Achievement Award from the Baseball Hall of Fame. With this award, Rachel and Jackie Robinson became the first married couple to reside alongside each other in Major league Baseball's Hall of Fame.  Upon winning the award, Rachel said:
"I am honored that the Hall of Fame has invited me to receive the Buck O'Neil Lifetime Achievement Award," Robinson said. "Buck O'Neil was such a champion of baseball – and the Hall of Fame does an extraordinary job of recognizing individuals who have committed their lives to this great game.

"I commend Jane Forbes Clark and Jeff Idelson for their leadership and extend my gratitude to the Board of Directors for recognizing me in this way."
At the young age of 99, Rachel was at Dodger Stadium today to accept a gift from the Players Alliance.
Rachel Robinson on Jackie's debut.