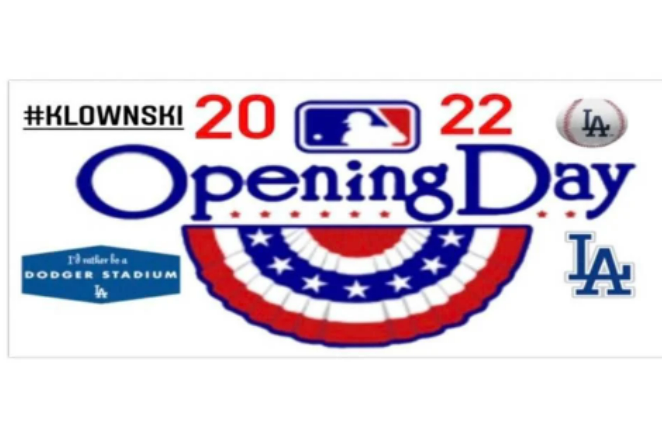 It was Opening Day at Dodger Stadium with all the Pomp and Circumstances.  Here is a picture of Mookie Betts entering the stadium.
LA on My Back!!! Opening Day #LFG #AlwaysLA pic.twitter.com/NEhoMJAhsi

— Mookie Betts (@mookiebetts) April 14, 2022
HOF Spanish Broadcaster for the Los Angeles Dodgers for the last 64 years, Jaime Jarrin, threw out the first ball.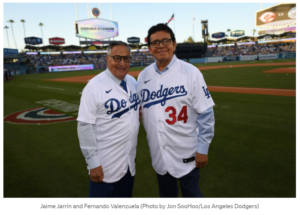 Seven former Dodgers were honored as representing the six decades of the LA Dodgers.
1960's – Wes Parker
1970's – Rick Monday
1980's – Fernando Valenzuela
1990's – Adrian Beltre
2000's – Eric Gagne and Nomar Garciaparra
2010's – Adrian Gonzalez
But this was also a coming out party for Freddie Freeman.  He hit the first pitch he saw as a Dodger into CF for a single, the first of five singles in the first, scoring 3 runs.  Freddie's single was followed by singles from Trea Turner, Max Muncy, Justin Turner, and Will Smith.  Chris Taylor hit into a DP to end the inning.  But for all practical purposes, it sure looked like the route was on.
Walker Buehler did not have his best stuff, but he was very good through 5.2.  He gave up a walk to Tyler Stephenson with 2 outs in the 6th, and after 93 pitches it seemed like a natural move for Doc to come get him.  But coming up was Aristidis Aquino, and Walker made him look silly with his slider for his first two ABs.  The count went to 2-2 and most were thinking "here comes the slider".  NOPE!  Walker tried to go up top with a fastball, and Aquino, a good fastball hitter, did not miss it.  The 2-run HR sent Walker to the clubhouse with a 3-2 and still in a position to get the win.
David Price relieved Walker and got Mike Moustakas on a 4-3 ground out.
After the productive 1st inning, the Dodgers were only able to muster a pair of singles off Reds reliever Reiver Sanmartin through six.
Earlier in the game, 2021 ROY Jonathan India strained his hamstring on an infield single.  He would be replaced by Brandon Drury.  In the 7th, on a 3-1 pitch, Drury hit a game tying HR off Price.
The Dodgers got two on in the bottom of the 7th after a Chris Taylor single and walk to Belli.  But Gavin Lux and Mookie struck out to end the threat.
Blake Treinen came into to face the heart of the Reds order in the 8th.  This is going to be his high leverage role.  He retired the Reds in order showcasing that unhittable slider.
In a repeat of the 8th inning festivities the Dodgers enjoyed in Minnesota, the Dodgers had another big 8th in their home opener.  Freddie Freeman led off the 8th with a ground rule double into the left center stands.  The crowd gave a rousing homecoming welcoming cheer for Freddie.  He got a little emotional and tipped his cap to the crowd.  Freddie is home and Dodger fans cannot be happier.
Freddie Freeman showered with "Freddie! Freddie!" chants in his Dodger Stadium debut

He's home pic.twitter.com/XEKNnSLlmE

— Blake Harris (@BlakeHHarris) April 15, 2022
After the pitching change, Trea Turner singled home Freddie for the 4-3 lead.  Justin Turner walked and Max struck out for the 1st out of the inning.  Will Smith then hit a towering fly ball into CF, hitting of the top of the wall, and heading back into the field of play, but instead it hit the back of Jake Fraley's glove and was deflected over the fence for a 3-run HR and a 7-3 lead.
Will Smith's homer was actually only a homer cause Jake Fraley deflected it out. pic.twitter.com/QxnqYdgkGe

— Chad Moriyama (@ChadMoriyama) April 15, 2022
The Dodgers were not done.  With Ryan Hendrix coming in to relief, he allowed back-to-back singles by CT3 and Belli with CT3 hustling to 3rd.  Belli stole 2nd.  Taylor came home on a Hendrix Wild Pitch, with Belli going to 3rd.  Gavin Lux walked.  Mookie followed with his second hit and Cody came home with the 6th run of the inning and a 9-3 lead.
The plan was for Craig Kimbrel to get some work in, but with a 9-3 lead, Doc brought in Evan Phillips who proceeded to retire the Reds in order.
The Dodgers generated 14 hits, with Mookie, Freddie, TT, Will Smith, CT3, and Belli each getting 2 hits.  12 singles, a double, and a HR.  With the win, the Dodgers moved to 4-2 and are now tied for 1st place with SF and Colorado in the NL West.
The team is proving that they have an explosive offense, but why does it have to be all in one or two innings, with a lackluster offense for the rest of the game.  Well it is working except for a couple of games in Colorado, so why complain?  Because we need something complain about.
Freddie Freeman Talks After the Game
Friday is Jackie Robinson Day celebrated throughout MLB.  The starting pitchers for the Reds vs LAD are Vladimir Gutierrez vs Tony Gonsolin.