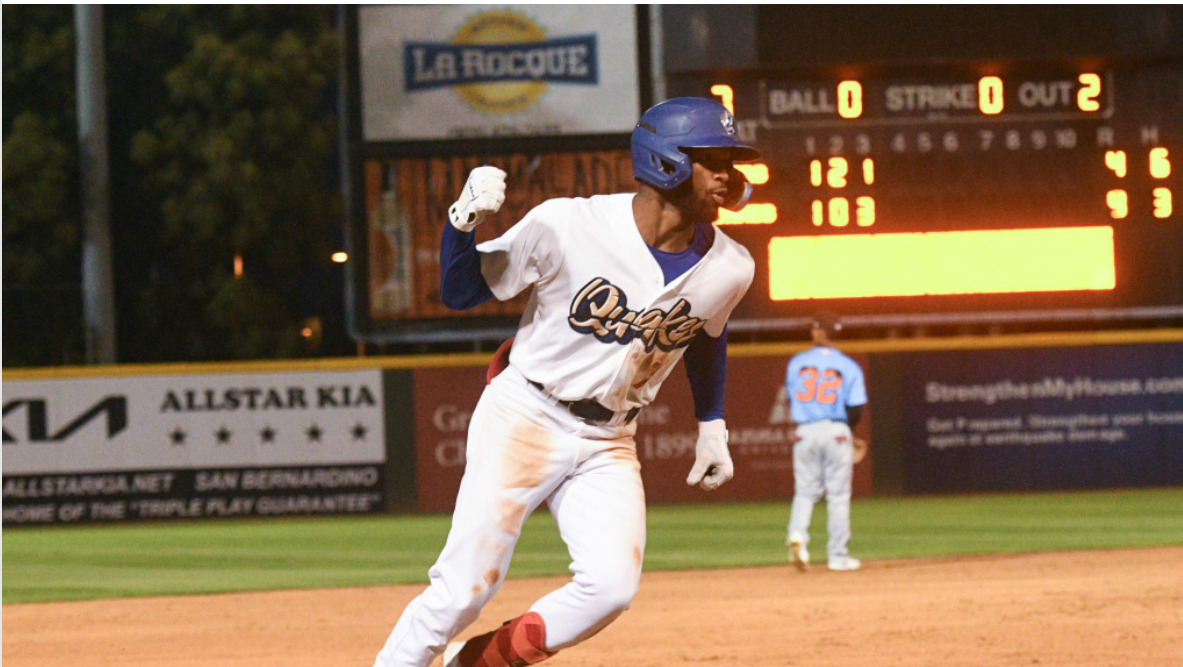 Great Lakes Loons – Peoria Chiefs
The Loons game with the Chiefs at Dozer Park in Peoria was postponed due to inclement weather. The game has been rescheduled as part of a double header on Friday. The regularly scheduled game for Thursday is on tap with left-hander Kyle Hurt making his first appearance of the season on the mound for the Loons.
OKC Dodgers 3 – El Paso Chihuahuas (Padres) 4
The Dodgers made a run for the finish line with two runs in the top of the ninth inning but came up one run short.
Dodgers pitchers didn't pitch badly but not quite good enough to win. Right-hander Andre Jackson started and over 3.2 innings gave up but one run on two hits, two walks and three strikeouts. He was followed by right-hander Jose Adames who gave up two earned runs in 1.1 innings. Righty Phil Bickford, still working to right himself, recorded two outs and one run on a home run to Amarillo left fielder Brent Rooker.
The player of the game, for me, was right-hander Marshall Kasowski who struck out three in his 1.2 innings and recorded zeros in all other columns. He stranded three inherited runners who had been left there by fellow right-hander Shane Green.
At the plate the Dodgers scored one run in the third after a Drew Avans triple and Kevin Pillar sacrifice fly. They did threaten in the top of the ninth stringing together four singles plating two runs but fell just short leaving two men on base.
Zack McKinstry had two hits as did Kevin Pillar while Jason Martin had three.
Of note, old friend Trayce Thompson homered to drive in one of the Sod Poodles runs.
Amarillo Sod Poodles (Arizona) 11 – Tulsa Drillers 13
The Drillers got involved in a slugfest with the Sod Poodles doing all of their scoring in the first five innings.
Justin Yurchak, who is heating up, Brandon Lewis and Carson Taylor all drove in a run in the top of the first inning. In the bottom of the second inning, James Outman drove in a run with a sacrifice fly while Andy Pages doubled home another run.
Heading into the top of the fourth inning starter Michael Grove had been breezing along almost unscathed.  Then things unraveled, not all of his own doing. Four Sod Poodle runs scored charged to Grove, although only one earned. Two errors contributed to the inning in which Grove gave up a double and a triple. His outing was much better than the box score suggests.
Melvin Jimenez replaced Grave and recorded only one out while giving up three earned runs.
Trailing 7-5 in the bottom of the fourth inning, the Michael Busch show began as he hit a two-run home run to left field.
Amarillo added one more run in the top of the fifth inning off  left-handle Alec Gamboa and three in the sixth off right-hander Jose Martinez. That would finish the Sod Poodles scoring for the day.
But, back to the Michael Busch show. In the bottom of the fifth inning he got into the grand slam action with a shot over the right field wall. As some icing on the cake, both Justin Yurchak and Carson Taylor doubled home a run following Busch's home run.
GRAND SLAM!! Michael Busch is ON IT tonight!

Drillers ⬆️ 11-8 in the 5th pic.twitter.com/BgjQfLWEMy

— Tulsa Drillers (@TulsaDrillers) April 14, 2022
Unheralded Mark Washington earned a save with two scoreless innings on one hit, a walk and a strikeout while inducing three groundouts.
Inland Empire 66er (Angels) 6 – Rancho Cucamonga Quakes 7
Nineteen-year-old Jerming Rosario started for the Quakes going 2.2 innings. He gave up six hits and four runs, two earned, while walking two and striking out two.
Rosario was relieved by 24-year-old right-hander Orlando Ortiz-Mayr who was making his professional debut. He stranded two inherited runners and over 3.1 innings had all zeros except for eight strikeouts. Right-handed Ortiz-Mayr was signed as an undrafted free agent by the Dodgers in August of 2021. The Puerto Rico native had previously played two years with the Kansas City Kansas Community College and then two with the Troy Trojans.  He should quickly move to Great Lakes.
The Quakes trailed 4-1 going into the bottom of the third inning. Then lightning struck again. That is, another grand slam home run. This time it was first-baseman Luis Yanel Diaz (Pictured Above) who followed catcher Diego Cartaya's from the previous night.
The Quakes took a 6-4 lead in the bottom of the fourth inning on Yeiner Fernandez's double.
Left-handed Christian Suarez followed Ortiz-Mayr to the mound and was charged with two runs in the seventh inning while recording only two outs.
Right-hander Martin Santana finished out the game allowing only one hit in 2.1 innings. Unfortunately that one hit had allowed an inherited runner to score.
Santana did secure the win as outfielder Jake Vogel drove home the winning run with a single in the bottom of the eighth inning.