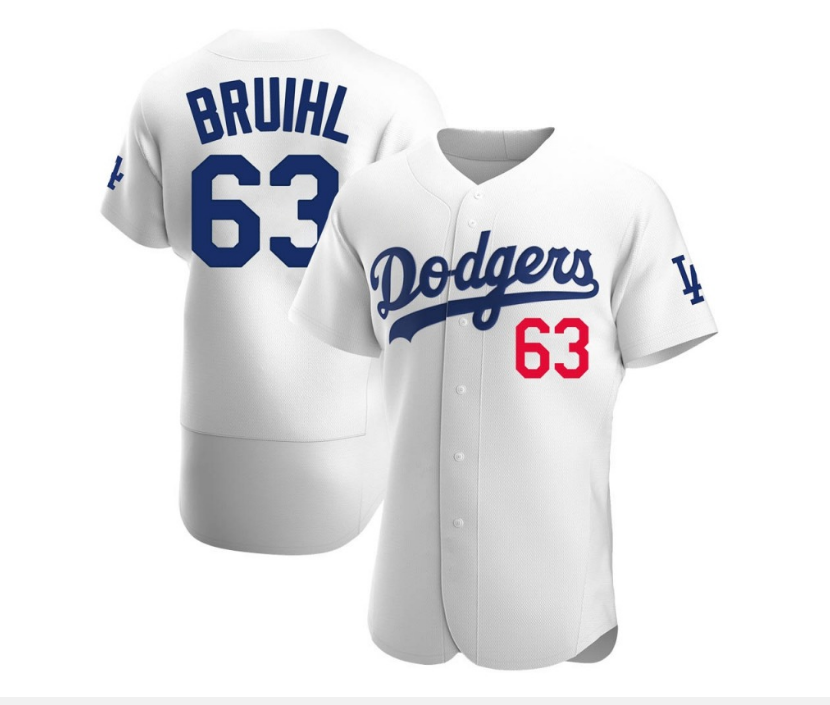 Left-hander Justin Bruihl was signed as an undrafted free agent by the Dodgers on July 15, 2017.  Born in Petaluma, California, Bruihl attended Casa Grande High school in his home town where he hit .302 as a senior. On the mound in seven appearances with the Gauchos he did not allow an earned run in 17.1 innings.
Following graduation from high school, he checked out California State University, Northridge and the University of California before deciding on California Polytechnic State University in San Luis Obispo. At Cal Poly Bruihl posted a 4.88 ERA in 31.1 innings pitched while striking out 27 and walking 10. His season with the Broncos might not have been enough to catch the eyes of MLB scouts but his summer league play may well have done just that for a Dodger scout.
With the Walla Walla Sweets of the West Coast Summer League in 12 appearances over 15 innings he produced pretty much a clean slate. He gave up no earned runs, struck out 21 and issued only two walks while posting a 0.67 WHIP.
Bruihl, who turned 20 that June, was assigned to the Arizona League Dodgers on July 19, 2017 However, his real odyssey started just over three years ago in March, 2014.
As a junior in high school the unthinkable happened to Justin Bruihl. What started out as a twinge in his left arm soon became a full-fledged pain with accompanying weakness and he quickly went under the knife for TJ surgery and the reconstruction of the ulnar collateral ligament in his pitching arm. Fifteen months of rehab followed the surgery.
One can only imagine the surprise and disappointment for the young pitcher who in his own mind was invincible. That would not be unusual as no doubt most young players also feel they are invincible and perhaps do not tend to their body's needs as well as they should.
Bruihl admits that, "I did feel invincible." and that he did not take care of his arm as he could have and should have but that has definitely changed.

"I should have taken better care of my arm," Bruihl said. "Then I was pitching 10-11 months a year. I wasn't big on icing my arm. I am very cautious right now."
So what has happened with Bruihl since then, five years ago. As an undrafted free agent he most likely was not expected to make it to MLB and especially with the Dodgers. Yet there he was on Sunday tossing a scoreless inning in Colorado.
Now 24, along the way the 6'2"/215 lb. left-hander has made the usual stops.
During the 2018 season, he future did not look very bright as he posted an unsightly 8.24 ERA with the rookie level Ogden Raptors.
Something happened on the way to the ball park in 2019. Over 41.2 innings in 25 combined appearances with the Loons and Quakes he posted a 1.30 ERA and a 0.89 WHIP while striking out 51 and walking nine.
Following the lost 2020 season Bruihl split the 2021 season between the Tulsa Drillers and the Oklahoma City Dodgers. Overall he appeared in 26 games over 37.2 innings pitched posting a combined 2.63 ERA and a 1.04 WHIP. He struck out 50 and walked 10.
At this point he was still an invisible man certainly not on anyone's radar.
Then it happened. On August 8 during the 2021 season he debuted with the Dodgers tossing 1.2 scoreless and hitless innings against the Angels. He would go on to make 20 more appearances with the Dodgers during the 2021 season pitching 18.2 innings. His ERA was a very respectable 2.89 and hit WHIP even more respectable at 1.07. Perhaps what caused Justin Bruihl to continue to be invisible is that his strikeout rate dropped. He struck out 11 while walking seven but allowing only 13 hits.
He came more visible when placed on the 2021 NLCS roster against the Atlanta Braves. Over three appearances he pitched two innings giving up no runs and one hit while striking out five and walking none.
It is easy to forget that Bruihl started the 2021 season in Tulsa (AA) and finished it in the NLCS. He claims he was not all that surprised.
"I wouldn't say I didn't expect it, because this was my goal to start the year," Bruihl said. "I wanted to make it to the big leagues this year. A little bit surprising, but at the same time I felt like I was ready for it."
As posters  on various sites prior to the current season were postulating as to whom  would make the 2022 Dodger active roster, Justin Bruihl was often missing or at least a question mark.
Bruihl will never be a closer, but he has done the near impossible. That is, as an undrafted free agent out of Cal Poly he has fashioned a MLB career for himself.
He does have  a bit of a sense of humor. Last August 10th he teased a walk out of Enyel De Los Santos in the Dodgers 5-0 win over the Phillies. It was and will be his only MLB plate appearance.
On February 10, 2022 he posted this on Twitter:
 "With the DH being implemented in the national league, I just want it to be known that I have the highest OBP in MLB history thanks to the one walk I had this year."