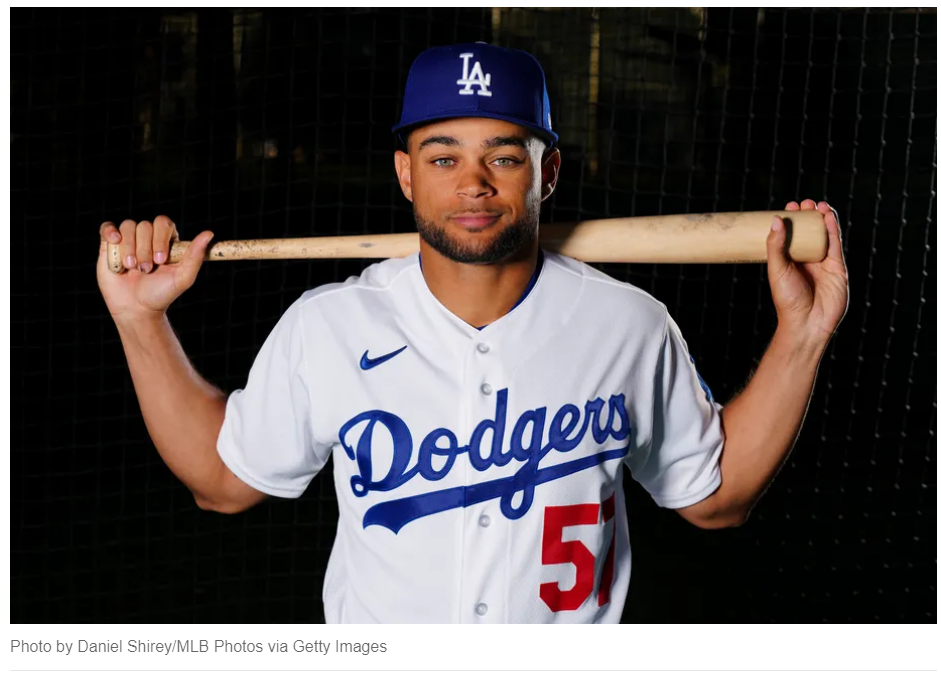 I expect Jason Martin is at or near the top of my list as the Dodgers 2022 Player of the Year. Where he is on my list is of little consequence as that honor has already gone to top prospect catcher Diego Cartaya. Perhaps a MiLB Player of the Year does not come from the AAA level unless the player is seen as a top prospect.
My selection of Martin would be because of his dominance in the AAA Pacific Coast League and because of the number of games he has played.
Having struck out looking on that one, I have two questions.
First, who was your choice for Dodgers MiLB Player of the Year?
Secondly, could Jason Martin be the next Max Muncy, CT3 or Justin Turner?
Martin, like JT, is a California boy who was born in Corona and attended Orange Lutheran High School in Orange which is just 32 miles from Los Angeles. Like Muncy he bats left but not with the power at the MLB, at least not yet.
He was drafted out of high school by the Houston Astros in the 8th round of the 2013 First-Year Player Draft. He worked his way through the Houston minor league system and in 2016-17 hit 41 home runs and drove in 141 runs over 874 at-bats at the Class A and AA levels.
His prospect status continued to grow but on January 13, 2018 he was traded to the Pittsburgh Pirates along with RHP Joe Musgrove and RHP Michael Feliz in the deal that brought Gerrit Cole to the Astros.
It may have been one of the first trades in MLB history, or perhaps the only, that involved two players from the same high school being swapped for one another. Both Martin and Cole  claim Orange Lutheran High School as their Alma Mater. Cole graduated the year before Martin arrived at Orange Lutheran.
The trade, greeted with some enthusiasm on his part, appeared to put the brakes on Martin's career. His 2018 and 2109 minor league seasons in the Pirates organization were not so much regression but more so not the progression the organization had hoped for. However, his AAA season in 2019 with Indianapolis of the International League, in which he posted a triple slash of .259/.312/.419 along with eight home runs and 50 runs batted in, did earn him a late season call up by the Pirates.
With the Pirates, over 20 games, he did hit .250 but posted a slugging percentage of .306 along with no home runs and two runs batted in.
His 2020 season with the Pirates consisted of nine at bats in which he had no hits and at the end of the season he chose to be a free agent. On December 14, 2020  he was signed by the Texas Rangers.
His 2021 season turned out to be a bit of a shuttle season for him. He began the season with Round Rock of the Triple-A West and immediately hit his stride. He owned  a .302/.413/.755/1.167 slash line with seven home runs and 16 RBI over 15 games. His seven homers at the time ranked as second-most in the Triple-A West League. That prompted a call up to the Rangers.
At that time, Rangers manager, Chris Woodward, had this to say about Jason Martin.
"I've been following along and keeping up with him," Woodward said. "He has been phenomenal. Not just numbers-wise. Just overall, what we saw in spring training. His attitude. This guy is exactly the kind of competitor that we look for. In the batter's box, he's a savage. This guy does not take anything for granted."
He appeared in 58 games for the Texas Rangers this past season, batting .208/.248/.354 with three doubles, six home runs and 17 RBI over 154 plate appearances.
Martin saw time at all three outfield positions but received most of his opportunities in left field.
During the 2021 season he was optioned down to Round Rock four times and on the season he played only 39 games with Round Rock and the aforementioned 58 with the Rangers.
When he was out righted to Round Rock in October Martin again chose free agency and was signed by the Dodgers on November 24th.
Martin turned 26 on September 5, 2021 and has played in only 85 MLB games in which he has slashed .206/.260/.328. How could he be the next Max Muncy, CT3 or Justin Turner?
Perhaps one hindrance may be he has played solely in the outfield and does not have the defensive flexibility that the Dodgers treasure and one could question the need for an additional outfielder.
On November 22, 2021, the Dodgers traded LF Billy McKinney and OF Zach Reks to the Texas Rangers for cash. That transaction was no doubt prompted to clear space on the 40-man roster in preparation for the MiLB Rule-5 Draft. Two days later Jason Martin was signed to  a minor league contract by the Dodgers but the Dodgers have not placed him on that roster.
So what did the Dodgers see in the 5'9"/185 lb. Martin that convinced them to sign him to a minor league deal? Perhaps it started back on June 12th at Dodger Stadium. Martin drove in three runs in a 12-1 blowout by the Rangers and had two hits in three at bats. One was an RBI single and the other a two-run home run to right center field in the top of the 9th inning. It was his first MLB home run albeit against Dodger utility player Andy Burns.
However, far be it from me to question the sagacity of Andrew Friedman. His record on that one pretty much stands on it own in Tampa Bay and Los Angeles. However, I do have to wonder what he saw in Jason Martin. Was it his athleticism, the way he played the game, how he related to his teammates and respected others on the field, a gut feeling, or did he have some inside information, perhaps from Texas manager and former Dodger coach Chris Woodward?
Maybe it went back to the time he played with the Pirates. He apparently tried to adapt to their swing philosophy and the more he tried to make changes, the more his swing eroded. It was a costly learning moment for him and perhaps one he still has not totally solved. Perhaps it is Friedman's belief that the coaching staff can heal the hitting wound that was opened up. Martin has tried to do just that.
"It was a lesson for me to not try to do everything everybody's telling you to do," Martin said. "At the end of the day you have to be confident and comfortable with what you're doing. And if you're trying something that doesn't really work out for you, it's got to come to a point where you have to have a filter and go back to what you know is best. It can be like a rabbit hole. You start searching instead of being really convicted."
Back to Max Muncy, CT3 and Justin Turner. What do they have in common with a 26-year-old Jason Martin. Well, for one thing they were all 25 at one point in their baseball lives.
Chris Taylor as a 25-year-old had 58 at bats with the Dodgers and posted a triple slash of .207/.258/.362 He broke out with the Dodgers the next season slashing .288/.354/.496 with 21 home runs and 77 runs batted in.
Max Muncy as a 25-year-old with Oakland slashed .186/.308/.257 with 113 at bats. He played all of the next year with the Oklahoma City Dodgers and broke out with the Dodgers in 2018 at age-27 with 35 home runs and 79 runs batted in.
Justin Turner as a 25-year-old had eight at bats with the  New York Mets.  His story is a bit different. For the next three years he played with the Mets with relatively good results but limited in the number of games he played reaching 100 games only once. He broke out with the Dodgers in 2014 at age-29 slashing .340/.404/.493 over 109 games.
To refresh, Jason Martin at age-25 with Texas in 2021 slashed .208/.248/.354 in 144 at bats.
Could Jason Martin be the next Max Muncy, CT3 or Justin Turner?  To be fair, Turner was signed in 2014 before Andrew Friedman was hired by the Dodgers but developed on his watch. However, could the Dodgers once more catch lightening in a bottle with Jason Martin? Considering how Friedman has done so with relief pitchers, as well as with Taylor and Muncy, it is possible he might have done so again. Let's not forget Trayce Thompson.
Martin's statistical season certainly matches – over matches – the final MiLB season by any of the three in their last MiLB season before making it to MLB.
His season thus far in the Pacific Coast League has simply been one of dominance and perhaps one of surprise to AF and staff.
In 113 games he has hit .286/.377/.579 with an OPS of .956. He has hit 30 home runs and driven in 102. That is just a small part of his 2022 story.  The rest of his story is the comparative one within the Pacific Coast League.
At Bats 416 fifth
Home runs 30 first
RBI 102 first
Runs 92 second
SLG .579 third
OPS .956 third
Hits 119 fourth
Walks 62 fifth
Extra Base Hits 57 first
Total Bases 235 first
His 123 strikeouts stood second in the league behind teammate Ryan Noda's 138 and above Michael Busch's 113 and Drew Avans' 106.
A look at his 30 HRs.
I expect that Martin cannot be another Muncy or Turner or Taylor, at least not in Dodger Blue. They may have too many of a kind for the outfield and he is not on the 40-man roster. I expect he will choose free agency again after the season with little reason for him to sign with the Dodgers.
Here is a Dodger Poke interview with Justin Martin early in the 2022 season.