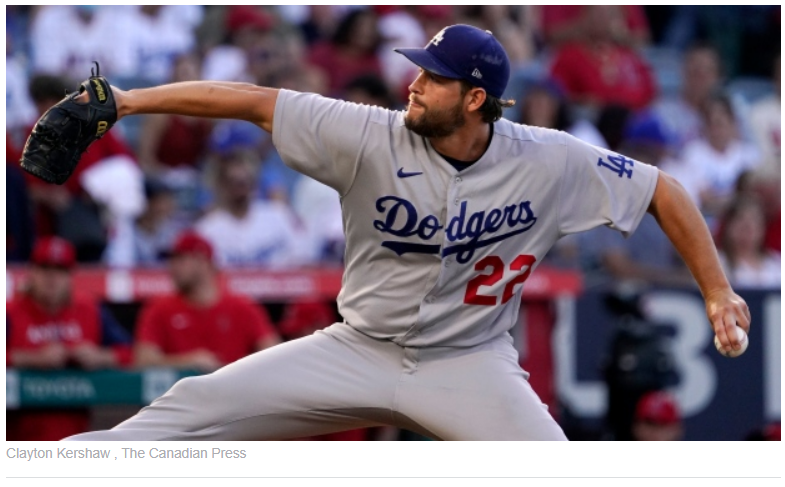 Clayton Kershaw pronounced himself ready and did not need a rehab start. The Dodgers are so far out in front, really what difference does it make if Kershaw pitches against the Mets or Round Rock Express? Actually, NYM may have been a preferred rehab start as he was 10-0 with a 2.19 ERA in 98.1 IP coming into the game.
After the 1st inning, this was vintage Kershaw. With three walks in the 1st inning, his control was certainly rusty as to be expected.  Would he be better prepared for the playoffs had he pitched with OKC?  I don't think so.  And I acknowledge that had Trea Turner been positioned differently, the first inning would have ended on a Francisco Lindor DP.
Kershaw seemed to work out the rust in the second inning.  He retires the side in order in the 2nd through the 5th, with 6 K's.  After he walked in the one run, Kersh retired 13 in a row.
I see no problem whatsoever that Kersh was removed after 5.0 IP.  Even if the bullpen imploded and the Mets jumped all over them, this was a game to get Kershaw back and to get him ready for October.  A win would be preferred, but getting Kershaw back was more important.   He had 74 pitches, and seemed to get stronger as the game went on.
Chris Martin threw a great pitch to Starling Marte, and he hit it on the end of the bat that Gavin Lux casually fielded and Marte beat the throw.  That brings up a concern about the defense.  It is not just the errors, but the missed opportunities.
Lux not charging a ground ball.
Trea Turner did not appear to be positioned properly in the 1st. Maybe he was per the position sheets, but I got the impression that even Nomar thought he was too much in the hole.  Yes, I am guessing, but before shifts, I remember where SS played when in DP position.
Muncy not putting the glove on Lindor's steal of third. I could very well be wrong, but it sure looked like the throw beat him, and Muncy had time to get the glove down to Lindor's hand.
Lux and Betts miscommunication on a pop up into right field.
Chris Taylor's failure to give cutoff a chance, and Caleb Ferguson failing to back up the overthrow.
Chris Martin should not have given up a run in that inning had Lux charged Marte's ball.  Neither should have Caleb Ferguson in his inning had their not been the miscommunication.
Yet another question.  Do the Dodgers OF play more shallow than do the Mets OF?  It sure seemed that Brandon Nimmo gets to the balls where Lindor hit his.  I do not believe he is faster or has more range than do Trayce Thompson or Cody Bellinger.  It is just a silly observation.  Means nothing.
If it were not for defensive lapses, the Dodgers shut out the Mets.  I would have a lot of confidence facing NYM in the NLCS.
As an aside, not knowing the status of LAD pitching for 2023, I would not mind at all to see Chris Bassitt pitching for LAD next year.  He is a FA.  He was laboring in the 6th, but got out of trouble.  103 pitches.  His game was very similar to Tyler Anderson's.  He got hit a bit, but was able to navigate through traffic.
OTOH, while Edwin Díaz who is also a FA after this year, is in another universe this year as a closer, I see no reason for any LAD fan to think that Díaz will be wearing LAD blue next year.  There is speculation, that Díaz will be the first reliever to receive $100MM contract.  Let Steve Cohen pony up those dollars.  Can NYM afford Jacob deGrom and Díaz?  Of course they can, but will they?  It has been reported deGrom wants $50MM/year.
Yesterday Bluto indicated that he would take the field against the Dodgers to win the championship, and Badger agreed.  That is certainly a safe choice, but I am not going to Vegas to place a bet, so I choose to go out on a limb and say the Dodgers will win the WS with or without Tony Gonsolin.  They are that deep.
I have no problem playing any team in MLB with that rotation.  Of course having Gonsolin would be preferrable, but not knowing what the MRI will show, we will just have to wait until a specific report is made.
MiLB Summary
Round Rock Express (Texas) 2 vs OKC Dodgers 0 – 7 innings due to wet grounds
Dodgers outhit Express 7-2, but could not score. Bobby Miller walked a batter in the 2nd, and then allowed a 2-out 2-run HR.  He then proceeded to retire the next 13 players in a row.
Bobby Miller – 6.0 IP, 2 runs, 2 hits, 1 BB, 14 Ks, 100 pitches (69 strikes). 14 strikeouts in 6.0 innings.
James Outman – 2-3
NW Arkansas Travelers (KC) and Tulsa Drillers Game Postponed due to rain
Lake County Captains (Cleveland) 8 vs Great Lakes Loons 5
Jorbit Vivas – 2-4 with a double (19)
Kekai Rios – 2-4 with a double (8)
Ismael Alcantara – double (10)
Diego Cartaya – 1-3, 2 walks, 2 RBIs
Adolfo Ramirez – 5.0 IP, 1 run, 1 hit, 0 walks, 7 strikeouts
Ben Harris – 1.1 IP, 0 runs, 1 hit, 2 walks, 3 strikeouts
Rancho Cucamonga Quakes 1 vs Inland Empire 66ers (LAA) 9
Quakes had 8 hits, all singles
Chris Alleyne – 2-4
Jacob Meador – 1.0 IP, 0 runs, 0 hits, 1 walk, 1 strikeout