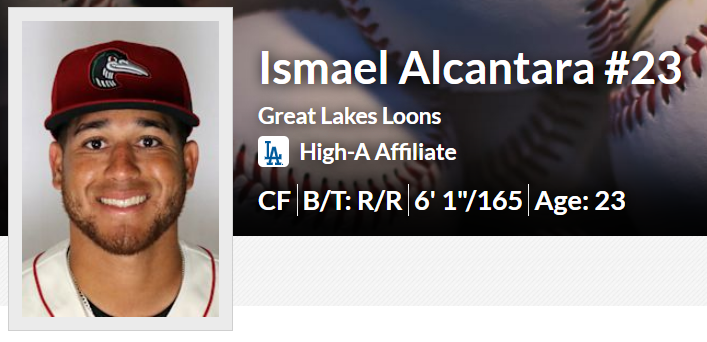 MiLB Players of the Week – August 22 thru August 28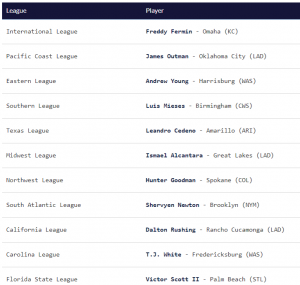 Great Lakes Loons outfielder Ismael Alcantara earned Player of the Week honors in the Midwest  League for the week of August 22-28. He did not have a James Outman kind of week but it was pretty good.
There is almost nothing written about Ismael Alcantara except for post-game columns in which he has contributed offensively.
Alcantara, who is from Santo Domingo in the Dominican Republic, was signed as an international free agent by the Dodgers on June 2, 2017.
He had a good start at age-18 with the Dominican Summer League Dodgers in 2017 playing in 64 games in which he posted a triple slash of .267/.372/.734.
The following year he came stateside and played 36 games with the Arizona League Dodgers in which he most likely had very little fun while hitting .168, which is about his current listed weight.
However, in his second shot with the AZL Dodgers in 2019, he found a new groove slashing .301/.406/.404 over 46 games. In an additional nine games with the Ogden Raptors he hit .360.
It is difficult to imagine how the missed 2020 season has impacted and even impeded the progress of young minor league players. It appeared Alcantara might have weathered the storm.
During the 2021 with the Rancho Cucamonga Quakes over 61 games his stat line was .307/.377/.590 with an OPS of .967. He showed some power with 12 home runs and drove in 34. The right-handed batter in 150 at bats hit .307 against right-handed pitching and .309 in 55 at bats against left-handed pitching.
The storms might have resurfaced for the now 23-year-old during the current campaign with the Loons. In 80 games he flirted with the Mendoza Line. Who knows what happens with an athletic center fielder who previously had hit well.
In any event, in August Alcantara was assigned to the Tulsa Drillers for 10 games. Again he did not have James Outman numbers but they did outstrip his Loons numbers. He hit .235/.395/.559 with an OPS of .954. He homered three times and drove in five.
Upon his return to the Loons he went on a tear. In five games he hit .357/.471/1.214 with an OPS of 1.685 along with three home runs and six runs batted in. His stats easily earned him the Player of the Week Award.
https://www.milb.com/player/ismael-alcantara-672882
Ismael Alcantara hit his 3rd homer with Great Lakes, and his 6th of the season overall, the ball traveled 432'

In the first game of the Loons' doubleheader, he went 2/2 with the homer, a triple, two walks, and three RBI pic.twitter.com/ZGNggj8TUZ

— Josh Thomas (@jokeylocomotive) August 26, 2022
Not to minimize the exploits of two additional LAD prospects being named Player of the Week, but they should at least be acknowledged.  Dalton Rushing (California League) and James Outman (PCL) were also named.  James Outman was highlighted earlier in the week, and Dalton Rushing is quickly becoming a fan favorite, and most follow his achievements routinely.
For those who may not follow him, since Dalton Rushing was the LAD 1st round selection out of Louisville (okay technically 2nd round), he was promoted from ACL after 2 games to full season A California League with Rancho Cucamonga.  With Rancho, Dalton has played 20 games and accumulated the following stats:
72 AB, 20 Runs, 33 hits, 9 doubles, 6 HRs, 22 RBIs, 14 BB and 15 K, batting .458/.565/.833/1.398
Yet another Marty Lamb signed prospect seems to have found a home with LAD.  It looks like Diego Cartaya  might be pushed a little.  A little competition is never a bad thing.
AlwaysCompete
Over the last month, no player has generated more buzz in the California League than @RCQuakes Dalton Rushing.

We sat down with him earlier this month https://t.co/rlrkHzBdyO

— Baseball America (@BaseballAmerica) August 31, 2022
 MiLB Summary 
OKC Dodgers 6 vs Round Rock Express (Texas) 7
Gavin Stone started and completed 3.1 scoreless innings.  He allowed 2 hits, issued 3 BB, and recorded 7K.  He has yet to allow an earned run in AAA.
Gavin Stone turned in another scoreless outing in what I am sure is a period of the year where he has an innings countdown of some sort. He went 3.1 innings, struck out 7, and gave up no runs. His ERA on the year is 1.50, his avg. against is .225 and his WHIP is 1.18. #dodgers pic.twitter.com/K8ZAlYzUFa

— Dodgers Daily (@dodger_daily) September 1, 2022
Beau Burrows relieved Stone and got an inning ending DP.  But he allowed 5 runs in the 5th before Hansel Robles finished the 5th inning.
Danny Duffy struck out all 3 batters he faced in the 6th.
Danny Duffy struck out the side in his perfect rehab inning with OKC pic.twitter.com/jdaq2RMGan

— Josh Thomas (@jokeylocomotive) September 1, 2022
Justin Hagenman followed Duffy and pitched a scoreless 7th.  He walked a batter in the 8th and after one out, Carson Fulmer relieved Hagenman to try to keep the lead.  Unfortunately he gave up a run tying double, and then a go ahead run scoring single.   Fulmer suffered a blown save and the loss.
Jacob Amaya 2 run HR (5) after Hunter Feduccia double
Jason Martin 3 run HR (30) after Edwin Rios single and James Outman BB.
Drew Avans and Jason Martin each had 2 hits.
NW Arkansas Travelers (KC) 6 vs Tulsa Drillers 5
The Drillers fought back from deficits of 3-1 and 5-2, to tie the game at 5 in top half of the 7th.  Travelers scored eventual winning run in 9th.
Nick Frasso started second AA game.  Pitched first two innings without a run, and got first two outs in the third.  With 2 outs, Frasso issued a walk, allowed a single, and a 3-run HR.  He was relieved by Jose Adames who got out of the inning.
Adames (2.0) IP, and Jake Cantleberry (1.1) pitched scoreless innings.
Cole Percival (1.0), 2 singles, DP, intentional walk, 2 run double.
Jordan Leasure pitched a scoreless 8th.
Guillermo Zuniga  allowed a HR in top of 9th.
In the 2nd inning, Buddy Reed walked and moved to third on a double (9) by Carson Taylor.  Abiatal Avelino singled to score Reed, while Taylor was thrown out at the plate.
In the 6th, Andy Pages doubled (23) and scored on a Justin Yurchak single.
In the 7th, the Drillers scored 3.  The big blow was a 2-run HR by Abiatal Avelino.  The third was an unearned run when Leonel Valera walked, stole second, stole third, and scored on the throwing error.
Carson Taylor and Abiatal Avelino each had a pair of hits.
Lake County Captains (Cleveland) 2 vs Great Lakes Loons 0
Jeff Belge opener – 1.0 IP, 1 run, 1 hit, 1 BB, 4 Ks
Carlos Duran – 5.0 IP, 1 run, 4 hits, 2 BB, 6K
Two relievers finished 3.0 IP without being scored on. Combined 2 hits, 1 BB, and 3 Ks
Jorbit Vivas singled in the first inning, and that was the only hit.  There were 3 walks and 1 reached on an error.  They were the only baserunners after the first inning.
Rancho Cucamonga Quakes 16  vs. Inland Empire 66ers (LAA) 14 – 10 Innings
19 year old Luis Valdez started the season in the DSL where he started 3 games and pitched 10.0 scoreless innings.  He had a 4 Ks and 0 BBs.  He was assigned to the LAD ACL on July 2.  He pitched in 8 games (5 GS) and 28.1 IP.  He had a 2.86 ERA and had a K/BB ratio of 37 to 1.  For the DSL and ACL, Valdez pitched 38.1 innings and struck out 43 and waked 1.  That is undoubtedly what got him promoted to RC.
On 8/31, Valdez made his RC debut but did not enjoy the same success.  It is not that bad when a young pitcher gets pushed to where he is uncomfortable.  In 2.0 innings, Valdez allowed 4 runs on 5 hits.  But still 0 walks to go with 2 Ks.
In the 3rd, Jimmy Lewis relieved Valdez and issued a walk, single, 2 run triple, and a 1-out runs scoring ground out.
Kelvin Bautista allowed two more runs in the 4th.  Heisell Baro got the final out in the 4t  before allowing a run in the 5th.
Carlos De Los Santos struck out 4 in 1.1 IP.
Madison Jeffrey allowed 2 runs on 3 walks and a double in his 0.2 innings.
Yamil Castillo relieved Jeffrey and got the final out.  He allowed a game tying 2-run HR in the 9th.
Jonathan Edwards pitched a scoreless 10th for the save with 3 strikeouts.
16 runs on 19 hits.
Nick Biddison was the hitting star – 5-6 with 4 RBIs, 2 doubles, triple
Jake Vogel hitting star #2 – 4-6 with 4 RBIs, 2 doubles – Go ahead single in the 10th.
Yeiner Fernandez – 2-5
Griffin Lockwood-Powell – 2-4 with a 2-run HR (7) with 3 RBIs
Rayne Doncon – 2-4