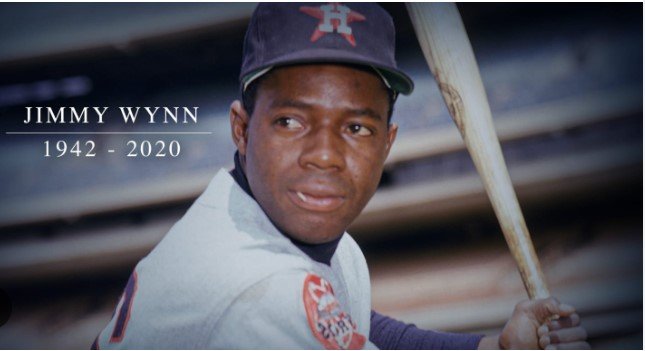 James Sherman Wynn was born in Cincinnati, Ohio on March 12th, 1942. His father was Joseph Wynn and his mom was Maude. His dad, as Jimmy describes it, was a garbage man. "They came up with a nicer title, sanitation worker, but I still say he was a garbage man. No shame in that." Wynn said.
His mom was a stay at home mom raising her seven children in a tight traditional religious home. Jim was the oldest. As her children grew more independent, she took work outside of the home.
His father had played semi-pro ball in Cincinnati and he coached Jim informally and in little league. Small and compact even then, he would surprise people with his strength.
His dad would throw to him for hours and when he got tired he would take him to a place near the airport where they had pitching machines. Because of that he developed the timing and strong hands needed to hit homers. " My dad made me the kind of hitter I am", he later said.
He grew up a couple of blocks from Crosley Field where the Reds played. He remembered watching some of the Reds players walking past his house on their way to the field.
He attended Robert A Taft High School where he played basketball, football, baseball and ran cross-country. Several of his fellow teammates went on to careers in pro sports including Walter Johnson, who played defensive tackle in the NFL for 13 years.
The Reds tried to sign Wynn right after he graduated from high school, but his mother insisted he go to college. He went to Central State University, located in Wilberforce, about an hour away. He spent less than two years there, finding time to play baseball and basketball. He then signed with the Reds just before his 20th birthday in 1962.
He spent the 1962 season at Tampa in the Class-D Florida State League. He hit .290 with 14 homers while playing all 120 of his team's games. He also drew 113 walks. Wynn's ability to get on base was an underappreciated skill in the 1960's. It would prove valuable to his teams over the years.
Wynn also told of the vicious racism he faced in Florida. But he credited his managers, Johnny Vandermeer and Hershell Freeman with their humane treatment of their black players. One of his teammates was 19-year old Lee May, who went on to have a successful career and they remained friends.
The rules at the time allowed a first year player to be drafted by another team if they were not on the 40 man roster. Accordingly, Wynn was drafted by the Houston Colt-45's in November of 1962.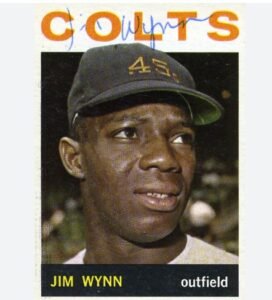 It came as a shock to the young player who had just completed his first season, a successful one at that. But he also saw the advantages, Houston had just finished their first season and there would be less competition for big league jobs than there would be with the Reds.
He started 1963 at AA San Antonio where he hit .288 with 16 homers and 11 triples. By July he was in the major leagues. He was playing both third base and shortstop at AA.
He made his major league debut on July 10th at Pittsburgh at shortstop. He managed a hit off of Bob Friend in a 2-0 win. He got his first homer off of Don Rowe of the Mets on the 14th. He got his second off of Don Drysdale in Houston on the 2nd of August. He played nearly every day after his recall and hit .244 with 4 homers.
On September 27th he was a part of history as the Colts fielded an all rookie lineup. Joe Morgan, Rusty Staub, Sonny Jackson and Jerry Grote were part of that lineup. More important to Wynn, on July 23rd, manager Harry Craft started Wynn in centerfield, a position of great need and one Wynn would make his own.
September 27, 1963: Houston Colt . 45s start a lineup of all rookies
Sonny Jackson, SS (19)
Joe Morgan, 2B (20)
Jimmy Wynn, CF (21)
Rusty Staub, 1B (19)
Aaron Pointer, RF (21)
Brock Davis, LF (19)
Glenn Vaughan, 3B (19)
Jerry Grote, C (20)
In 1964, Wynn fell into a slump and was sent down to AAA. He hit well there but only hit .224 in 67 big league games. But his time in the minors was done. In 1965 the big news in Houston was the opening of the Astrodome and the rechristening of the franchise as the Astros.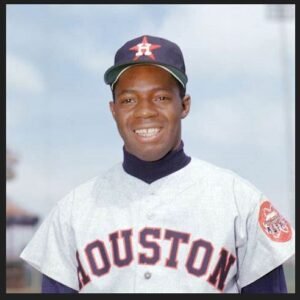 Wynn had a good year playing in 157 games with a .275 average and 22 homers. He hit better on the road than he did at the cavernous Astrodome, .305 with 15 homers, and just .247 and 7 at home. Naturally the 24 year-old was compared to another center fielder who also wore #24, Willie Mays.
Houston had two other breakthrough stars in 65, Morgan and Staub, but little else. They spent the first few years just trying to stay above water. They started well in 66, but a poor second half dropped them to 8th place. Jimmy played well for four months until a terrible injury sidelined him. On August 1st, he crashed into the wall at Connie Mack Stadium in Philly and broke his left wrist and elbow. Dick Allen, who hit the ball, got a game winning inside the park homer on the play.
Over the next several years with the Astros he had some defining moments. In 1967 he finished 2nd in the NL in homers to Henry Aaron with 37. 22 of those hit on the road, and although he hit only .247, his .331 OBP was well above league average.
He became the first player to hit 3 homers in a game at the Astrodome on June 15th. He also played in his first All-Star game. He  also hit some prodigious homers. One over the flagpole in center field at Forbes Field in Pittsburgh and another over the left field stands and off the Budweiser sign at Busch in St. Louis.
68 was the year of the pitcher and his power numbers dropped to 26 homers. He was the only Astro with more than 6. He also led the league in homers on the road with 17. He was moved to left for a while when the Astros decided to use Ron Davis, considered a superior defender out there. Wynn was never a great outfielder and sometimes he was considered to be nonchalant out there. He was benched by Hatton a couple of times for that.
The Cards fired Hatton in June and he was replaced by Harry" The Hat" Walker, who was the hitting coach at the time. They immediately clashed as to hitting styles. Walker had won a batting title as a Cardinal and kept trying to get Jimmy to choke up and go the other way. Wynn resisted and kept doing it his way.
He was not alone, Joe Morgan, another small statured player, did not take to Walker's suggestion that he hit more balls on the ground and use his speed. They both rebelled against the manager, and the animosity between the three was not hidden.
Both would later say in their memoirs that Walker was a racist. Wynn continued to do it his way and the homers kept coming. He got married in 1964, but the union was not a happy one. He and his wife, Ruth, had two children, Kimberly and Jimmy Jr. He later admitted he was not a very good husband. On December 21st, 1970, they got into an argument that quickly got out of hand. On their sixth anniversary, it escalated enough to where Jim grabbed an unloaded shotgun, Ruth then stabbed him in the stomach.
He downplayed the injury, but it was severe enough where he had to undergo stomach surgery. The couple divorced soon afterwards. But Jimmy missed his children and that and his off-field troubles led to a very bad year for him in 1970. He hit .203 with only 7 home runs.
Along with that his relationship with his manager was at an all-time low. He was totally ignoring his manager now. It reached a boiling point in a game in July against the Mets. Nolan Ryan had already loaded the bases on walks. The count quickly went to 3-0 with Jim at the plate. Given the take sign, he ignored it an popped out. After the game, Walker called him in the office and told him he was being fined. They argued in the clubhouse.
After the season, many thought they would trade Wynn or fire Walker. Instead, they traded Joe Morgan and kept Walker and Wynn. Explanation was Morgan was a bad influence on Wynn. Maybe one of the worst trades the Astros ever made. Morgan would go on to be a centerpiece on those Big Red Machine teams of the 70's.
The Astros improved a lot in 72, and Wynn had a resurgent season. Walker was fired in August and replaced by Leo Durocher. Durocher moved Wynn to the leadoff spot. Wynn, who thought of himself as an RBI guy, bristled at the move. He had another down season in 73.
In the winter of 1973, The Astros finally decided enough was enough. They sent Wynn to the Dodgers for Claude Osteen and a minor leaguer. Wynn's new manager, Walter Alston, said " Wynn can swing at the ball any damn way he pleases just so long as he hits it from time to time, and he has complete freedom on the bases."
His new hitting coach was Dixie Walker, Harry's brother. Dixie told him he knew about his issues with his brother, but not to worry about him. Jimmy appreciated that and the two became friends and even golfed together. Wynn became instantly popular in Los Angeles. The fans in left field quickly turned into Cannon Country.
1974 was magical for both Wynn and the Dodgers. He set an LA Dodger season record for homers with 32. He made the All-Star team and was voted Comeback Player of the Year. An injury late in the season hampered his post season performance. He did manage a 9th inning homer off of Rollie Fingers in game one of the World Series.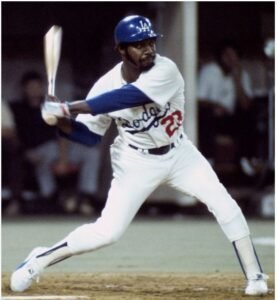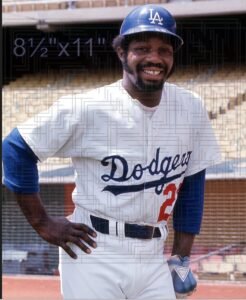 As good as 74 was, 75 was a huge disappointment to both Wynn and the Dodgers. He started off as hot as they come, played in the All-Star game and got a homer off of Vida Blue, but he slumped badly in the second half, and the Dodgers finished well behind the Champion Reds.
Sensing this slump was something different, the Dodgers made a big trade with the Braves sending Wynn, Royster, Paciorek, and Lee Lacy for Dusty Baker and Ed Goodson. Wynn, in his only season in Atlanta, hit only .207. He was then sold to the Yankees. He got no better there, was released and signed with the Brewers. He got into 36 games in Milwaukee, hit .197 with no homers and was released.
His career in the majors was over at age 35. His second marriage had ended in divorce just as his tenure with the Dodgers ended. He got a job with a beverage company in LA after he retired doing mostly personal appearances.
In 1980 both of his parents passed away. They were still living in Cincinnati. That deepened his feelings of loss from not being able to stay in touch with his children. He moved back to Houston, and over time he reconnected with both of his kids. This was also possible because their mother had passed early due to cancer.
After working as a bartender in a social club, Jimmy got a job in the Astro's community relations department. He would do that in one capacity or another over the next 25 years. He also got involved in the Major League Players Alumni Association.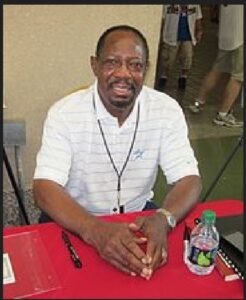 He was voted into the Texas Baseball Hall of Fame in 1992. Ten years later they would start giving out the Toy Cannon Award for exceptional community service.
Wynn had met a woman named Marie at a nightclub in 1992. They had hit it off and began dating. In 2000, they were on a trip to Hawaii with the Alumni Association when they were coaxed into an essentially spur-of -the -moment wedding. After acquiring the license with a impressive group of best men, Gaylord Perry, Mudcat Grant, Tommy Davis, Steve Carlton and Ferguson Jenkins, with Grant's wife serving as the maid of honor, they were married in Hawaiian shirts and shorts.
In 2005, the Astro's retired his #24 jersey. He felt it was like getting elected to the Hall of Fame. In his only year on the ballot, he received exactly 0 votes. In 2011 the Astros opened the Jimmy Wynn Training Center in Houston. A baseball facility for urban youth. He also worked for the Astros post-game shows on TV.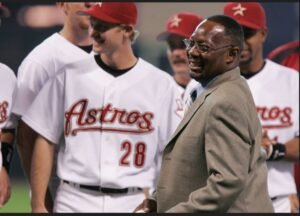 His path was never smooth nor easy. But his memoirs were filled with self-awareness for his mistakes, forgiveness, and appreciation for everyone who had ever helped him. After 11 occasionally rocky years as a young man in Houston, the team and the city embraced their "Toy Cannon." Jimmy passed away in Houston on March 26, 2020. He was 78 years old. He is buried in Houston.
He was only a Dodger for two seasons. But he is forever engraved in Dodger history. The Toy Cannon, Jimmy Wynn, # 23 in your scorecards.