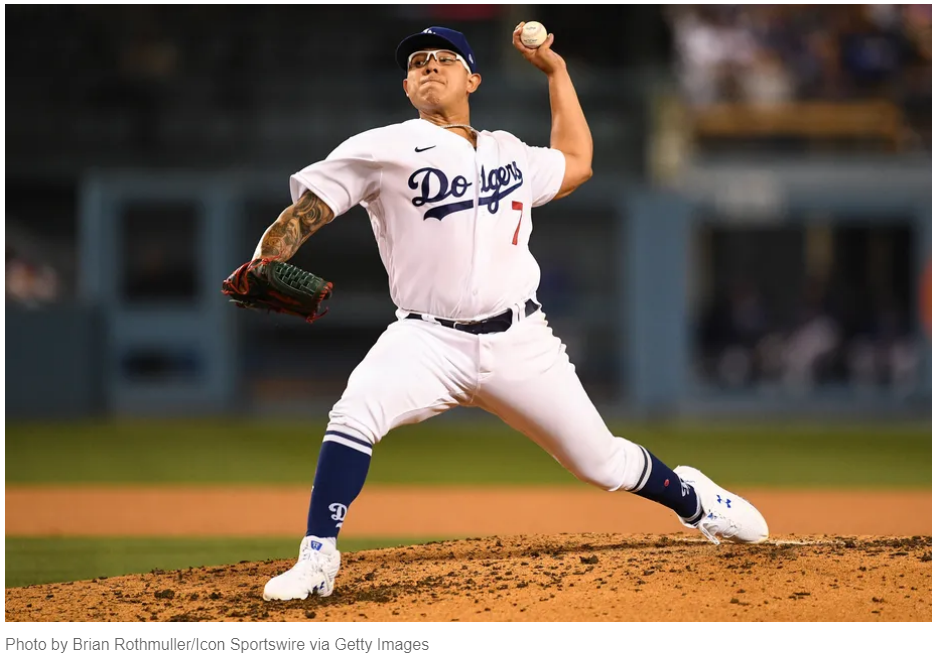 I am through with the medical tests, and I should learn the outcome in the next 2 weeks.  The Doctors say that there does not appear to be anything for me to worry about, so I will not.  Now back to Baseball.
Yu Darvish, Blake Snell, Josh Hader, and Drew Pomerantz are all free agents after this year.  And with Manny Machado probably opting out, that is $93.7MM in real contract and $84.1MM AAV  They may try to re-sign Hader.  I think they are better off letting Machado walk, moving Tatis Jr. back to SS and Bogaerts to 3B.  There will be some arbitration increases, predominantly for Juan Soto, but nothing too difficult to navigate except for Soto.
Most believe that the Pads will go all out for Ohtani.  But I do not believe they will stop there.  I believe they will do a SIGNIFICANT OVERPAY for Julio Urías.  San Diego is not shy about overpaying (See Bogaerts and Judge/Trea Turner offers).  Nothing would make that crazy ass fan base more rabid than to steal away Urías from the Dodgers.
I believe there is a real threat of Julio Urías pitching opening day for San Diego in 2024.
Something tells me that the Dodgers were embarrassed last year.  Embarrassed or pissed, makes no difference.  I think this year they will be playing with extra incentive.  I think they will be playing with a chip on their shoulder.  There have been more player Dodger Stadium workouts this year than in any year I can remember.
Gavin Lux putting on 15 pounds of muscle and still working on his speed and range…every day.  Will the reward be a solid All Star level play at SS?  That is why they play the games.
Miguel Vargas has seemingly been working out at Dodger Stadium at 2B all winter.  Getting Chris Woodward to work with Vargas at 2B is a huge plus.  Will Vargas turn into a passable or better than passable defensive 2B.  I believe in his bat projections.  Miggy should be one of three top NL ROY potentials, with Corbin Carroll and Kodai Senga.  Kodai Senga with 11 years in NPB?  Remember, Hideo Nomo won ROY in 1995 after five years in NPB.
Max Muncy phasing out his revised 2022 swing to get back to the more comfortable pre-injury swing.  Having a full Winter to get in baseball playing shape, something he could not do last Winter.  Phasing out his "fix it swing" from last year:
"I'm trying to phase it out," Muncy said. "Now that I've had a full offseason getting stronger and getting healthy, the past couple weeks that I've been starting my swing I'm doing no step back. I'm trying to make sure that I'm very cognizant of what my body is doing. I'm checking the film on it and trying to make sure I'm working downhill. It's something that I don't like the extra movement in the timing aspect of it, so I would like to not have to do it. But I know it's there if I need it."
Muncy believes that his Winter workouts, and being healthy, will make for a representative year of the All Star Max Muncy.  He had this to offer in an interview with Doug McKain:
"I really feel like one of the most important parts of being a player is the offseason. I feel like that's where you make your most gains, and you're able to get the most endurance for the season. And the two worst years I've had, last year obviously coming off the injury, but I wasn't able to work out at all in the offseason. And then in 20, I had a really good offseason, and then we had the Covid thing, and so then it was like, well here's three months where you're doing a workout in the backyard, which didn't really amount to anything. So my two worst years have come off years where I haven't really been able to get my offseason workouts in, so I feel like that's one of the most integral parts of being a player, is getting after it in the offseason."
I look for Max Muncy to have one of his 30 HR and .850+ OPS seasons, and I look for the Dodgers to pick up his 2024 option.  He wants to retire as a Dodger.  Then again so did JT.
Matt Olson, Ronald Acuna Jr., Austin Riley, Ozzie Albies, Michael Harris II, Sean Murphy, and Spencer Strider.  What do they have in common?  I mean other than being members of the Atlanta Braves.   They have all signed long term deals before their free agency platform seasons. Most were pre-arbitration deals that went through multiple free agency years, while two they acquired via trade with Oakland were in their arbitration years.
This is the new contract strategy of Alex Anthopoulos.
Matt Olson – $168MM for 8 years, with a $20MM club option (2030)
Ronald Acuña Jr. – $100MM for 8 years with two $17MM club options (2027 and 2028).
Austin Riley – $212MM for 10 years with a $20MM club option (2033)
Ozzie Albies – $35MM for 7 years with two $7MM club options (2026 and 2027)
Michael Harris II – $72MM for 8 years with two club options: $15MM (2031) and $20MM (2032)
Sean Murphy – $73MM for 6 years, with a $15MM club option (2029)
Spencer Strider – $75MM for 6 years with a $22MM club option (2029)
Missing from that list is Max Fried who has two arbitration years remaining.  He has submitted a $15MM 2023 salary vs Atlanta's $13.5MM.
Atlanta has never exceeded the CBT threshold.  They are projected to surpass it this year if Fried wins his arbitration.  They have never made any comment indicating that they will not surpass the threshold.  So I would not expect Fried to be moved for salary saving purposes.  They are still a favored NL pennant contender, so Fried will be needed.
What does this have anything to do with the Dodgers?  Will Smith is a perfect extension candidate, and there are multiple comps for the both the Dodgers and Smith's agent to ponder.
The Athletic just did an outstanding article on what a Will Smith's extension would look like.  Very few catchers have gotten off to a better start to their career than has Will.  fWAR totals in pre-arbitration years:
Buster Posey – 15.8
Russell Martin – 15.8
Brian McCann – 14.9
Will Smith – 14.8
Sean Murphy – 13.4
Yasmani Grandal – 12.8
Joe Maurer – 10.4
Willson Contreras – 8.3
Salvador Perez – 7.1
The most recent and probably most pertinent comp would be Sean Murphy.  Murphy and Smith were both in their year 1 arbitration in 2023.  Murphy got a 6 year extension for a guaranteed $73MM and a club option for a 7th year at $15MM with no buyout.
The Athletic projects that a fair market extension would be 6 years for $84MM with a club option for a 7th year for $17.5MM and a $2MM buyout.  That would be $86MM guaranteed or $13MM more than Murphy. Based on Smith's better fWAR, $13MM is a fair increase over Murphy.  For those of you who have a subscription to The Athletic, I heartily recommend the article.
That is $14.333 AAV for a projected Smith extension.  Willson Contreras just signed a 5 year deal for a guaranteed $87.5MM or $17.5MM AAV.  Will Smith want to wait until his FA to try and outdo Contreras, or could Smith be convinced that $86MM guarantee is a sweet enough deal.  Are the Dodgers open to a fair market extension for one of their prized "kids"?  Is 6 years too much?