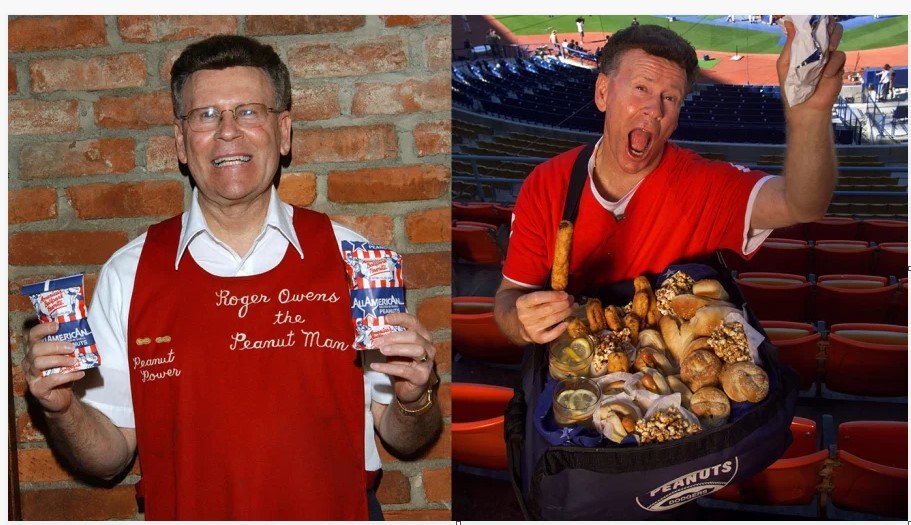 Roger Owens did not set out to become perhaps the most famous stadium vendor ever. He did it out of necessity. Owen was born in 1943 in Glendale, California to Ross and Mary Owens.
Ross was a part-time truck driver and ordained Baptist minister. Mary worked as a registered nurse. Roger was one of 9 children the Owens would have. His family lived in abject poverty. Then his mother had a mental breakdown. She would spend 7 years in a state mental facility.
Ross, feeling he would not be able to feed and take care of the family, placed them in foster care. The five girls went to a loving foster ranch for girls in Alpine, California. Roger and his younger brother, Phillip, endured two abusive foster homes before landing in the care of a sheriff.
Roger's youngest brother was born while his mother was in the mental hospital, and taken away from her for three years. After three years, 13-year old Roger convinced his father to get the family back together. His mother would not rejoin the family until 1960, when she would have her ninth child at age 45.
Roger worked at a drugstore, newsstand and a grocery store before at age 15, he got a vendor's job at the LA Coliseum which had just become the home of the Dodgers who had moved from Brooklyn.
He started out selling soda, then ice cream and then peanuts in the space of one year. That kind of progression usually took up to 20 years to achieve. When the Dodgers moved to Dodger Stadium, the young vendor went with them. That is when the legend that is "The Peanut Man" really began.
During a game there in 62, an impatient fan was yelling for his peanuts. His route to the fan was blocked by some other fans, so Owens threw the bag behind his back to the fan. The only ones applauding his creativity that day were the fans in his section. Over the next 10 years with hard work and practice, he would perfect his behind the back, between the legs, two bags at a time to two different people. He would deliver all of these with uncanny accuracy as many as 30 rows away.
By 1973, local news got a hold of the story and he was on his way to 30 years of appearances on talk shows, game shows, the Tonight Show as well as newspaper stories, some TV roles and a small role in a major motion picture.
Rogers' uncle is the famous songwriter, Jack Owens, "The Cruising Crooner," who starred on radio shows in the 30's and 40's. He wrote million selling songs such as "The Hukilau Song" for Don Ho. He also wrote "How Long" for Bing Crosby. He also had a 50's TV show, "The Jack Owens Show." He also had his own music publishing business on Hollywood Blvd's walk of fame.
Rogers' dad, Rev Ross Owens, was shot in a holdup that made headlines in November of 1968. The bullet was stopped by a large wad of Gospel tracks stuffed in the minister's front coat pocket. The LA Times and Paul Harvey's KABC radio show covered the miraculous story.
The following year in June, Roger was involved in a near fatal jeep accident while finishing up his summer training in the Army National Guard. This happened in the Mojave Desert. Life saving brain surgery performed by President Johnson's personal neurosurgeon, Dr. Schorn, is what Roger had to endure.
In addition, he was in a coma for three days, and lost his sense of smell ever since. And this happened 7 years before his first Tonight Show appearance. The doctors were amazed by his progress and he went on to become the most celebrated peanut vendor of all time.
He to this day works in the same section of Dodger Stadium that he always has, the second level from behind home plate to the bullpen down the left field line.
In July of 2022, the Dodgers told him he could no longer toss the peanuts to fans. No explanation was given. He would simply hand the peanuts to fans and apologize.
Roger has worked over 5000 events in his more than sixty years as a vendor. He has worked events in Tokyo, and in Dallas, where he has worked Cowboy games benefitting Dallas youth charities.
His personal record is 2400 hundred bags set in 1976 in Dallas working a Cowboys game. His 3-day all-time record is 6,000 bags in a 3-day SEC tournament at LSU in 1988.
He has become associated with the best the Dodgers have to offer along with Vin Scully. Class human beings. He is as recognizable as a Dodger Dog, very approachable and has a lot of personal charm. Fans love the guy.
He has 4 tonight show appearances. He has thrown out the first ball twice, 1976 and to welcome the fans back in 1995, after the strike. Both games were the only night games to open the season, and he did it in both. He also threw out the first pitch from the loge level to the catcher in 1976. The record for the longest first pitch in history.
His tonight show appearance with Johnny Carson launched his career. Carson tried his hand at trick tossing and it was so hilarious it ended up on Carson's comedy classics. Think Ed Ames and his hilarious tomahawk toss.
He has worked Clipper home games at the Sports Arena, USC, UCLA and Ram home games in the coliseum, hockey games and boxing matches. He was quoted:
"Dodger Stadium is my home, I live and breathe this place. I guess I was just born to be an entertainer, and Dodger Stadium is my stage." 
Owens will turn 80 this year. He still loves what he does, and I believe fans will see him at the ballpark when it opens up in April. I have not read that the Dodgers have changed the policy they instituted last season so he can once again toss his wares. But it is a shame that we may no longer get to enjoy his patented throws.
On a personal note, I can relate in many ways to Owens. He got out of the foster system in Los Angeles just as I was entering it. The first four years I was in foster care I spent at a home for kids in Highland Park.
Hathaway had about 30 kids from 5-13. You could not be there after your 14th birthday. I arrived a couple of days after my tenth, and was moved to a regular family foster home prior to my 14th birthday.
Hathaway was not that bad. We lived in what they called cottages. We had counselors, went on road trips to a lot of places, mainly the beach and movies. But we got free tickets to Dodger games. One of the house parent's as we called them was from Connecticut, a huge Dodger fan. He had photos of Dodger players from when he used to travel to spring training in Vero for a week or two. He had them all the way back to the early 40's. He was also old enough to have seen Ruth, Gehrig, and all of the greats come through New York.
We had two Dodgers move into a new housing development behind the home. Larry and Norm Sherry. When the home opened it's brand new rec center, where our ballfield had been, Norm, Larry and Tommy Davis came. Quite a thrill for me.
I know how abusive the foster care system can be. I believe a lot of fault lies with the haphazard screening of potential parents. A lot of warning signs are missed. Some kids come out of this like Roger did. Others, well let's just say they do not.
I was one of those who got past the abuse and once on my own, I found myself. But it took a lot of years to get over the anger inside. I am at peace with it all now. Just like Owens is. But I can never forget that so-called responsible people allowed that to happen. The two things that saved me were my love of the Dodgers and baseball, and my music.