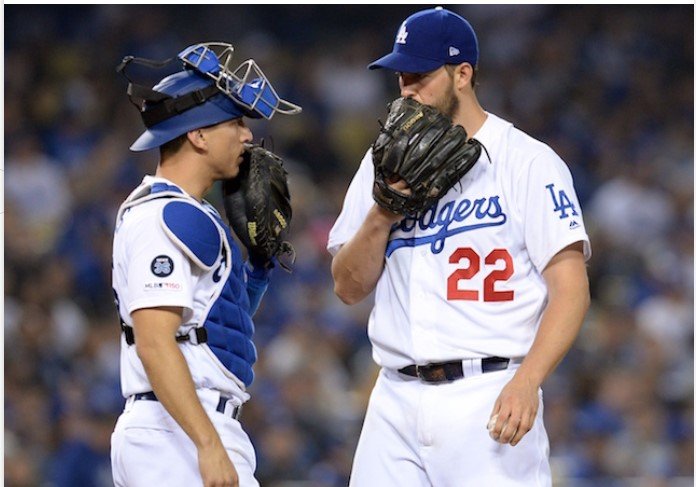 Clayton Kershaw was absolutely brilliant on Manny Mota Legends of Dodgers Baseball night.  Two LHSP matched up against each other.  Jordan Montgomery should never be compared to Clayton Kershaw, but it is the Dodgers inability to hit LHP that favored St. Louis.  Especially as well as St. Louis hits LHP.
St, Louis against LHP:
BA – #1 – .321
OBP – #1 – .385
SLG – #2 – .538
OPS – #2 – .923
Los Angeles against LHP:
BA – #29 – .165
OBP – #28 – .275
SLG – #27 – .354
OPS – #2 – .618
While the Dodgers did not exactly beat up on Jordan Montgomery, Kersh retired the first 13 batters he faced.  After a Dylan Carlson single, Kershaw retired the next 5 before Paul Goldschmidt singled into RF in the 7th.  He then got 2 pop outs and a strikeout to complete the 7th to end his evening.  He just flat out shut down the best offense against LHP in MLB.
0 IP, 0 runs, 2 hits, 0 walks, and 9 Ks – 88 pitches/68 strikes
The Dodgers got an unexpected run in the 2nd.  James Outman who 0 for his last 11, with 9 Ks.  He shortens his swing and grounds an opposite field single.  On a strike 3 to Trayce Thompson, Outman stole 2nd and moved over to third on the errant throw.  First pitch to Austin Barnes and he gets a knock into CF for the run, lead, and eventual win.
So the Dodgers got the run because the they used their legs instead of their power.  When you struggle against LHP, and you get the opportunity to make something happen…do so.  It wasn't just Outman who ran, but so did Freddie (2).  Freddie and Outman lead the Dodgers with 3 SB, and Austin Barnes is next with 2.  The Dodger bats could not bring Freddie home, but he did put himself in scoring position.  The Dodgers were 1-7 WRISP.
It is also fun to watch good defense.  James Outman made a fantastic catch running 81 feet for a diving catch in CF.  But that paled in comparison to Dylan Carlson's catch of a Mookie Betts drive.
It is always easier to be a fan and be in a position to second guess the manager.  Doc had to give the unenviable news to Kersh that his night was done.  In the dugout, Kersh looked a little perplexed with the news, but quickly understood and accepted it.  Doc made his decision, and after the game, he said he would have to live with it.  If Evan Phillips gave up the game tying or winning runs in the 8th, the 2nd guessers would have been out in force.
Phillips' slider (sweeper) had excellent movement.  Brusdar Graterol is looking very much like the closer they do not want to name. He is throwing more off-speed pitches which makes him a better pitcher than simply a thrower. The Dodgers now have 6 saves with Graterol and Phillips with 2, and Andre Jackson (3.0 IP save) and Shelby Miller with 1.
Kershaw has now started 6 games, with 5 quality starts.  His ERA has dropped to 1.89, and a miniscule WHIP of 0.76.  His career ERA is now sub 1.00.  2,613 hits and walks in 2,619 IP.
Was Jordan Montgomery dominating, or was it the anemic LAD bats against LHP?
Jordan Hicks is a weapon.
With the 1-0 shutout victory, the Dodgers have now won 2 in a row, and have won the Cardinals weekend series.  They will be sending Thor to the bump on Sunday for the sweep.  The Dodgers will be facing RHP Jake Woodford.  They will try to move 3 games above .500 for the first time since they were 5-2.
MiLB Summary Report
OKC Dodgers 5 – Sacramento River Cats (Giants) 1
 This was Bobby Miller's 2023 debut.  He struck out the first batter he faced with a 100+ fastball.  A HBP and stolen base and Matt Beaty single scored a run for Sacramento, before he struck out Gary Sanchez for the 3rd out.
This was also the first time for the challenge ABS.  Under this system, the umpire will continue to call balls and strikes, but the catcher, batter, or pitcher can challenge the call. Each team is allowed 3 challenges. If the challenged call is overturned, the team challenging will not lose a challenge.
In the 1st inning, OKC catcher, Patrick Mazeika, challenged a called ball, and upon review, the entire ball was in the zone, and it was overturned.  It also happened against OKC.  The called ball was challenged and overturned.
In a later inning, Steven Duggar thought about challenging a called strike three, but decided to let it go.  If he had challenged, the call would have been reversed and the pitch would have been a ball.  With the new system, the strike zone is not displayed on the screen.
Miller threw multiple 100+ MPH 4-seamers, but could not generate many swings and misses.  He could not land his offspeed pitches (change, slider, curve) for strikes.  He is going to need to land those to make his fastball more lethal.  This was his 1st game of 2023, so he will get more experience.
In the bottom of the 1st, Drew Avans led off with a bloop single, and Yonny Hernandez drew a BB.  Ben DeLuzio reached on E-5 to load the bases.  After a popout, Steven Duggar singled home 1 run.  Jahmai Jones then drew a bases loaded BB for the only runs they would need.
In 3.1 IP, Miller threw 55 pitches/34 strikes.  He allowed the one run on 1 H and 1 BB, with 2 Ks.
With a runner on 1B, and one out in the 4th. Adam Kolarek relieved Miller and got a 6-4-3 DP to end the inning.  Dylan Covey followed Kolarek in the 5th and pitched 4.0 shutout innings – 2 hits, 2 BB, 3 K.
Tyler Cyr finished off the Cats in the 9th.  He allowed 1 hit, and 1 BB, but got 3 Ks.
In the 5th, Ben DeLuzio was in the middle of the action again.  Yonny Fernandez doubled with 2 outs and came home on a DeLuzio single.  In the 7th, Bradley Zimmer led off with a walk.  Doubles by Devin Mann (14) and Ben DeLuzio scored the final two runs.
Ben DeLuzio was 3-4 with a double, and 3 RBIs.
Devin Mann leads PCL with his 14 doubles. #2 has 9.
Arkansas Travelers (Seattle) 1 – Tulsa Drillers 0
Knack started the game with 3 strikeouts on 15 pitches.  He ran into trouble only in the 2nd.  He allowed a single and 2 BB to load the bases, but got out of the inning.  After the 2nd, he was masterful.  In his 5.0 shutout innings, 74 pitches (51 strikes), Knack surrendered 2 hits, issued 2 walks, and struck out 11 Travelers batters.
Bryan Woo was just as brilliant for Arkansas.  He also pitched 5.0 shutout innings, allowing only a Bryson Brigman single.  He also struck out 8 Tulsa batters.
Both teams turned the game over to their bullpens.  Alec Gamboa pitched 2 scoreless innings.  Jordan Leasure enters the 8th, and coughs up a HR and a 1-0 lead.
Tulsa ended with the one hit, and lost 1-0.  But that does not diminish the effort by Landon Knack.
Great Lakes Loons 2 – Fort Wayne TinCaps (San Diego) 0 – Game 1
The Loons got a great pitching performance from their 24 year old starting pitcher, Yon Castro.  Castro was a MiLB Phase of the 2022 Rule 5  draft from NYY.  Three Loons pitchers combined on a 2-hit shutout.  None of the three pitchers issued a BB.
Castro had 5.0 IP, with 1 hit and 4K.  Antonio Knowles and Christian Suarez each pitched an inning of scoreless baseball, with Suarez being rewarded with his 1st save.
The Loons struck in the 1st inning.  Austin Gauthier singled and moved to second ont eh LF fielding error.  Gauthier scored on a Yeiner Fernandez single.
In the 3rd, Yeiner Fernandez singled and Griffin Lockwood-Powell drew a walk.  Fernandez scored on a Taylor Young single.
Austin Gauthier – 2-3, 1 BB, 1 R
Yeiner Fernandez – 2-2, 2 BB, 1 R, 1 RBI
Fort Wayne TinCaps (San Diego) 5 – Great Lakes Loons 2 – Game 2
24 year old Adolfo Ramirez started for Great Lakes and pitched 3.0 innings.  He allowed all 5 runs in his effort.
In the 1st inning, Great Lakes scored a run on a Dalton Rushing BB, and a Griffin Lockwood-Powell double(4).  In the 2nd, Taylor Young drew a walk, stole 2B, and scored on a Jake Vogel single.  The Loons had a 2-0 lead going into the home half of the 1st inning.
In the 2nd, Ramirez allowed the TinCaps' first run with a 2-out BB and double.  In the 3rd, the TinCaps scored 4..  Most were a result of a 3-run HR by Joshua Mears (3).
Mitchell Tyranski, Christian De Paula, and Benony Robles kept the TinCaps in check for the remainder of the game.
Jake Vogel 2-2, 1 BB, 1 RBI
Taylor Young – 1-1, 2 BB, 1 R
Rancho Cucamonga Quakes 7 – Inland Empire 66ers (LAA) 3
Miguel Rojas on a rehab assignment was in the Quakes lineup, and in the 1st inning hit a solo HR for a 1.0 lead.
In the 2nd inning, Chris Newell singled and scored on a Jesus Galiz double.  A WP moved Galiz to 3rd where he scored on a Cameron Decker single, and a 3-0 lead.
Payton Martin started and completed 3.0 scoreless innings.  The 19 year old 17th round draft pick in the 2022 draft was outstanding for his 4th consecutive game.  He pitched 3.0 one-hit scoreless innings. He had 1 BB and 3 K.  He has now pitched 11.2 innings with a 11.2 IP, 0.77 ERA, and 1.03 WHIP.  He has 11 K and 4 BB.
In the 4th, Cameron Decker singled and stole 2B.  He scored on a Jose Izarra double (7), and a 4-0 lead.
With Kelvin Ramirez on the hill, he allowed a BB, single and passed ball for an un earned run in the bottom of the 4th.
A pair of walks, and a Chris Newell double (3), scored one run, and Jesus Galiz singled to drive in the other 2 runners.
Ramirez pitched a second scoreless inning, and Juan Morillo pitched the 6th without a run.  Lucas Wepf allowed a pair of runs in the 8th.  Madison Jeffrey pitched a scoreless 9th to complete the Quakes 7th consecutive victory.
Chris Newell – 2-3, 2 BB, 2 R, 1 RBI, 1 double (3)
Jesus Galiz – 2-5, 1R, 3 RBI, 1 double (3)
Cameron Decker – 2-4, 1R, 1 RBI