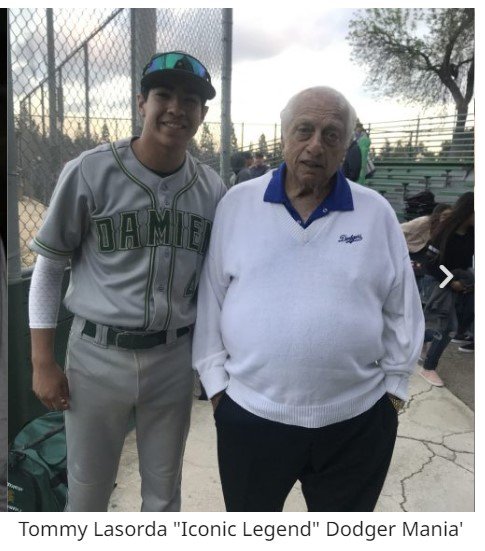 While many fans are looking at top LAD pitching prospects in AA and AAA, there are others being developed in the lower level affiliates who seem to be rising…many with very little hype.  Rancho Cucamonga has three potentially elite pitching prospects.  My favorite is Payton Martin, who I was writing about very early on before he found his way to LAD Top 30 lists. He is 19 years old, drafted in the 17th round out of high school in the 2022 draft as a 2-way player. He was a legit high school SS with a commitment to a good baseball university, East Carolina, to play SS.  He is strictly a pitcher in the LAD system.
Another is Jarred Karros.  Jarred (22 year's old) out of UCLA, was California League Pitcher of the Month for May, and also was California League Pitcher of the Week 07-02-2023.
But the focus for this post is a pitcher who I believe is just about ready to blossom, Chris Campos.  Chris was a legit SS/relief pitcher from St. Mary's.  He will be following in the footsteps of fellow Gael, Tony Gonsolin, in eschewing the field strictly for the mound.
Chris is the fourth Gael's draft pick for the Dodgers from St Mary's since 2016.
Tony Gonsolin – 2016, 9th round
Joe Vranesh – 2019, 15th round
Michael Hobbs – 2021, 10th round
Chris Campos – 2022, 7th round
Hobbs is still the St. Mary's saves leader.
Chris started his high school career at high school sports power house, Mater Dei.  Mater Dei pushes more funding into their athletic programs than many universities.  Their facilities are top notch, as are their athletes.  Mater Dei has been this way for decades as both my sons played against them in both baseball and football, and their facilities were unmatched at that time.
Chris played freshman baseball and JV as a sophomore at Mater Dei. However after speaking with the varsity head coach before his junior year, he learned he would not be starting and that he was not what D-1 programs were looking for.  He was just too small.  Where have we heard that before.  He is currently, 5'10" 170 pounds.
Instead of riding the pine at Mater Dei, he decided to enroll at Damien High School where another elite high school coach was the head baseball coach, Andy Nieto. All Chris was promised was a chance, and that is all he wanted.  Nieto had won 4 Southern Section Titles while the Coach at another Southern California power house, Bishop Amat (2007, 2008, 2011, 2014).  Nieto left Amat to become the head coach at Damien in 2015.
While at Damien, Chris batted .347 and had a head scratching 0.25 ERA on the mound.
Chris wanted to continue to be a two-way player in college, and St. Mary's gave him that opportunity.
In his three years at St. Mary's, he was primarily a SS and high leverage reliever.  In 336 PA, Campos batted .290/.347/.373/.720.  As a reliever, Campos compiled 34.2 IP with a 1.30 ERA.  He had 41 K and 15 BB.
"Christopher's will to win separates him," said Head Coach Greg Moore. "His awareness on the field is what you see from the best point guards in basketball. CC got better each semester on campus. He has an explosive arm and knows how to play the game. He's as competitive and gritty as anyone on the West Coast."
The day-two draft pick had just flown home for the draft.  He was playing summer collegiate ball for the very successful Bellingham Bells squad in the West Coast League when he got the call. During his time with the Bells, he had pitched six innings and hadn't allowed an earned run with nine strikeouts, five saves, and only one walk allowed. Continuing as a two-way player, he was 18 for 72 (.250) with three doubles and a .333 on-base percentage with as many walks as strikeouts (6).  While certainly a small sample size, those pitching numbers did not hurt his draft position.
Two-way player Christopher Campos drafted by his favorite team, the @Dodgers!

7th Round, Pick #225#GaelsRise pic.twitter.com/LqATwn1JiC

— Saint Mary's Baseball (@SMC_Baseball) July 18, 2022
Campos grew up a Los Angeles Dodgers fan and is now enjoying playing for his hometown team. This year Campos is playing in the back yard of his La Verne home.  Rancho Cucamonga is about 40 minutes from his home.  He has plenty of family who attend his games at RC.  He is also a little familiar with the Quakes stadium as he played some high school games in that stadium.
2023 is Campos' first year as a fulltime pitcher.  While his numbers are not eye-popping, he is more than holding his own in a very hitter friendly California League.
In 24 games (13 starts), Chris has compiled 61.1 IP.  He has earned a 4.84 ERA with 77 K against 29 BB.  Like most LAD pitching prospects, their innings are being monitored on a game by game basis.  Campos has yet to pitch more than 4.0 innings in any of his games.
He had perhaps his 2nd best start and game of the season on August 24 against the Lake Elsinore Storm (Padres).  He completed 4.0 IP, 0 runs, 3 hits, 0 walks, and 4 K.  Earlier in the month, he pitched 4.0 scoreless 1-hit innings against Fresno Grizzlies (Colorado).  He registered 1 BB against 6 K in that game.
Jared Karros yesterday, Chris Campos today, 2 young men that worked a lot together in the off season, have had back to back great outings. Campos had 8 Ks in 4 innings flashing a bigtime slider while giving up just 1 run & 2 hits. He struck out 6 in a row at one point! #dodgers pic.twitter.com/xol9dZYE56

— Dodgers Daily (@dodger_daily) August 19, 2023
For the month of August, Campos has started 5 games, and compiled 17.0 IP.  He has a 2.12 ERA, a 1.06 WHIP, and a .186 BAA.
Campos features a fastball, change, curve, and slider. His fastball sits 94 mph, and can hit as high as 97.  Both he and Jared Karros worked together in the off-season to develop their secondary pitches.  It seems to be paying off for both.
Campos should move to Great Lakes for the beginning of 2024.  If successful, we might get to see him at Tulsa before the end of next season.  He is not on top-30 lists right now, but very few semi-converted SS are rated highly as pitchers until they have some experience to support it.  I do not know if he will make BA or MLBPipeline LAD Pre-Season Top 30, but he will be listed with FanGraphs.  Here is what they said about him prior to the 2023 season:
A very athletic two-way player at St. Mary's, Gonsolin, er, I mean Campos, was up to 95 mph on the mound for the Gaels and has exciting looseness and capacity for movement. He was also a capable defensive shortstop with pretty decent contact skills, but he only pitched after the draft. With so few innings under his belt (Campos threw only worked 34.2 frames in college) there's lots of developmental meat on the bone here, and an exciting arm strength and athleticism foundation on which to build.
I look forward to how he has progressed in their eyes after this season.
Some of what I wrote above comes from an excellent interview Casey Porter had with Chris Campos prior to the 2023 season.  Casey does a great job with his MiLB player interviews.
And some pretty cool pictures of a young Chris Campos.  He was not a shy youngster.