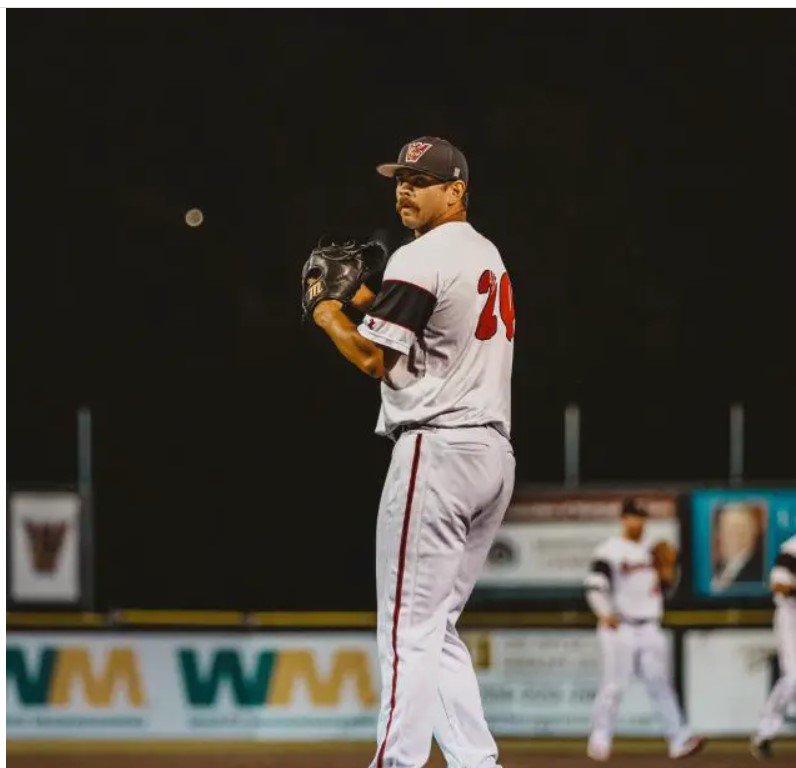 Every so often a pitcher comes out of nowhere and becomes a fan favorite.  In 2017 Shea Spitzbarth, and undrafted free agent signed by the Dodgers after his 2015 Cape Cod season, pitched in 9 games.  He gave up 2 runs in 2 games but was very good the other 7 games.  I remember fans writing that he should make the ML team out of ST.  He only had 1 game above low A at the time.
Shea did not make the roster, but did have a good season at High A and Tulsa.  He never made the LAD roster but did make the Pittsburgh team in 2021.  He pitched 5.0 ML innings in 5 games.  I was happy for Shea, as he got to live a dream…MLB.
This year there is another unheralded undrafted free agent pitcher who has caught the attention of Dodger fans. This type of column was usually handled by Harold, but I will try to do him proud.
Jake Pilarski was signed by the Dodgers to a MiLB contract on December 9, 2022.
BIRTHDATE  – 5/12/1998 (24)
Jake is a Pittsburgh, PA native who played for Fox Chapel Area High School, a Pittsburgh public school of about 1,300 students.  The O'Hara resident was a three-time all-section performer in high school, playing on a 2015 section winner as a pitcher, outfielder and designated hitter.
"Jake was part of a very special group of athletes on his Fox Chapel teams," said Michael Frank, coach of the Foxes at the time. "We saw promise in him early on because of his talent, but more importantly, because of his work ethic. From the first time I met him, he was always the hardest worker on the field, in the weight room and in the classroom. We are all so excited to see him get a chance with the Dodgers."
Following high school, Jake enrolled at a Division 3 Virginia Wesleyan where he continued to pitch and hit.  In college, Pilarski attended Virginia Wesleyan, starting in a handful of games, and came in as relief at some points. His best season in college came in 2018 when he went 11-0 with a 2.15 ERA. He played in 16 games but started 12.
At Virginia Wesleyan, Jake racked up a number of achievements.
INDIVIDUAL RECOGNITION
D3baseball.com Third Team All-America (2018)
ABCA/Rawlings First Team All-South Region (2018)
D3baseball.com First Team All-South Region (2018)
D3baseball.com Second Team All-South Region (2019)
ABCA/Rawlings Third Team All-South Region (2019)
Virginia Sports Information Director – First Team All-State (2018)
Virginia Sports Information Director – Second Team All-State (2019)
2x ODAC Championship All-Tournament Team (2019, 2018)
2x First Team All-ODAC (2019, 2018)
2x ODAC Pitcher of the Week (04/24/18, 02/26/18)
Not to be forgotten were his offensive exploits.
CAREER HIGHS
Hits: 4 (vs Emory & Henry 04/21/18)
RBI: 7 (vs Tufts 03/25/18)
Runs: 3 (vs Tufts 03/25/18)
Innings Pitched: 9.0 (4x most recently vs Roanoke 05/10/19)
Strikeouts: 11 (vs Eastern Mennonite 03/10/18)
After his four years at Virginia Wesleyan, Jake signed with D-1, The Citadel, for 2021.  He appeared in 21 games (13 starts).  Unfortunately, Jake did not get drafted after his one season at The Citadel.
However, Jake was not about to give up on his dream, and signed with the Avo, Ohio Lake Erie Crushers, an Independent Team in the Frontier League.  With the Crushers, Jake had a 3-4 record with a 5.32 ERA, 66 strikeouts, and 1.65 WHIP, allowing only five home runs and 72 hits in 66 innings pitched and 15 games (14 games started).
In 2022, Jake signed with the Washington WildThings in the same Indy Frontier League.  Leading up to the 2022 campaign he added velocity and, stylistically, became much more a power pitcher, which translated to an uptick in velocity on the radar guns once he returned from an early-season injury that caused him to miss the first few weeks this past summer.  He converted to a reliever with the WildThings making 23 appearances and logged 27.2 innings with 28 strikeouts. Of the 23 appearances, 14 were scoreless outings.
Jake trained at Tread Athletics, a pitching mechanics lab similar to Driveline, located in Pineville, NC. Jake picked up 5 MPH, and caught the attention of Dodger scout Jonah Rosenthal.
"It's pretty exciting," Pilarski said. "It's been a dream for the last four or five years of my life to get to this point. I signed up with a company called Tread Athletics out of Charlotte (N.C.). They're pitching people, they're really good at what they do and they had some good connections and got my name out there."
 He topped out at 100 MPH on December 9, and signed with the Dodgers the same day.
Tread Athletics was the first to break the news:
@JacobPilarski is heading to the @Dodgers! Congrats to Jake who also broke our top bullpen velocity at HQ last week with 101.4 MPH! 😮‍💨

PC: @TurnerGivens pic.twitter.com/YXZaZPt0zw

— Tread Athletics (@TreadHQ) December 15, 2022
Congrats to Tread Athlete @JacobPilarski for signing with the @Dodgers 🔥

All time game PR was 101 and bullpen PR was 97 before joining us and working with Performance Coach @TurnerGivens #TreadFam pic.twitter.com/or8O59G1e8

— Tread Athletics (@TreadHQ) December 15, 2022
After signing, Jake commented:
"I want to say thank you to everyone in the Wild Things organization from top to bottom," said Pilarski. "Thank you to the fans that came out and made playing in Washington a thrilling and exciting experience. I will miss playing in my backyard at nights but I'm excited for this opportunity at the next level."
 The Washington WildThings were very proud of Pilarski.
"We are very happy for Jake. He is another in a long line of players that have come to Washington and succeeded in getting an opportunity to move on to a major league organization," said manager Tom Vaeth. "We take great pride in being an organization that is known for moving players back. We know the more players we move for an opportunity the more new players will want to come here to get their shot with MLB."

Vaeth continued, "we wish Jake continued success as he takes the next step in his career with the Los Angeles Dodgers."
 The press release went without any fanfare, and Jake was a veritable unknown.  But all that ended on Monday, March 20.  Jake entered the game in the bottom of the seventh inning, and struck out the side on 15 total pitches, several of which broke the century mark.
The first victim was Rockies minor league left fielder Zac Veen, who saw two of Pilarski's five pitches to hit 100.1 and 101 respectively, but ironically struck out swinging on an 88.1 MPH cutter.
Pilarski's second victim was Rockies minor league center fielder Brenton Doyle, who whiffed on four pitches, the slowest of which was 94 MPH, with the other three coming in at a hair under 100.
Pilarski's final victim was Rockies 2022 first-round draft pick right fielder Sterlin Thompson who, after seeing four pitches that topped 98 MPH, struck out swinging on a four-seam fastball that SportsNet LA's radar listed at 101 MPH.
A cult icon pitcher was born.
Check out the velo & the depth on the cutter from Jake Pilarski. If you haven't ever heard of him, join the club, he's been in Indy ball for the last couple of years. @JacobPilarski struck out the side and his last of the inning was 101 MPH. Wow! Can't wait to see more! #dodgers pic.twitter.com/sntSvsZWJZ

— Dodgers Daily (@dodger_daily) March 21, 2023
He followed that up on March 22 to retire the one batter he faced.
No he is not going to break camp with the Dodgers, but he sure got noticed.
"He went there (Tread Athletics) and kind of gained like five or six miles an hour and cleaned up his delivery," Roberts said. "If he keeps pitching, he's gonna be on the fast track. I'm excited about him."
Doc continued:
"If he keeps pitching like this, he'll be on the fast track." -Dave Roberts on flame thrower, Jake Pilarski.pic.twitter.com/VHCLkHT466

— Dodgers Tailgate (@DodgersTailgate) March 21, 2023
After the game:
"Dodgers fans we got a lot of good arms on the come." Dave Roberts sees a bright future with pitching on @SportsNetLA. pic.twitter.com/AtFC5Neo6D

— SportsNet LA (@SportsNetLA) March 21, 2023
It has been written that hitting 101.4 is great, but if he cannot hit a target it doesn't so much good.  The LAD pitching gurus have a tall order, but if they can continue to clean him up, they will have a fantastic late inning reliever in the pen.