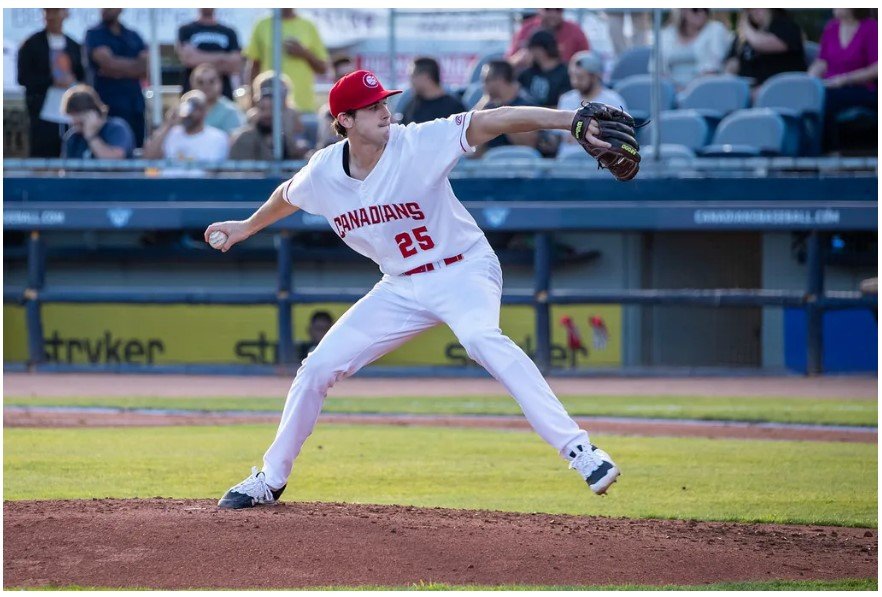 https://www.dailybreeze.com/2020/06/16/nick-frassos-hard-work-led-to-a-fourth-round-selection-by-the-toronto-blue-jays/
Mitch White started for the Toronto Blue Jays on Saturday in their game in Minnesota against the Twins. He was recently traded by the Dodgers along with 20-year-old Alex De Jesus for right-hander Nick Frasso and  20-year-old left-hander Moises Brito.
Although it is a bit of a head scratcher for Dodger fans, it is not for us to know the reason for the trade. That reason may take some time to unfold and is more of a future move than it is a move to improve the Dodgers in the here and now.
In any event, Nick Frasso has been assigned to the Great Lakes Loons and is now one more prospect for us to follow. Perhaps, in the next month, we will better understand why the 23-year-old righty who up until now has tossed only 11 innings at the A+ level was coveted by Andrew Friedman, although perhaps even now we have some clues.
Frasso was born in Torrance, California and attended high school at  Palos Verdes Peninsula  High in Rollings Hills Estates which is less than four miles from his hometown.
At Peninsula High the 6'5"/200 lb. Frasso played both basketball and baseball. He apparently excelled at both and on the court he could hit from anywhere while he claims his best dunk was his between-the-legs dunk.
Following graduation from high school Frasso headed off to Loyola Marymount University (LMU), a mere 25 miles from Dodger Stadium.
At Loyola Marymount his attention turned solely to baseball, perhaps at the urging of his high school coach, Brian Bowles, who had been  selected by the Toronto Blue Jays in the 50th round in 1994.
"I told (Frasso) four years ago that if he made a commitment in the weight room, and started playing catch year round, he'd give himself a chance to play in the big leagues," Bowles said. "Credit to him, because he put in the work."
Frasso did bring some of what he learned on the basketball court to the baseball diamond. More specifically, the competitive aspect of basketball where players are constantly going one-on-one.
"Baseball isn't as physical as basketball, but the competitive aspect was something that definitely translated," Frasso said. "The aspect of you against your defender compared to you as a pitcher against a hitter."
As a sophomore at LMU Frasso thrust himself into the national spotlight by  shutting down No. 1 ranked UCLA in the College World Series Regionals.   Frasso earned the six-out save, getting showered with chants of "L-M-U!" after each out.
"It's like he doesn't have a heartbeat," LMU head coach Jason Gill said of the sophomore. "The fans are screaming and in Nick's head, I don't know what he's singing, but it's not what everyone else is singing."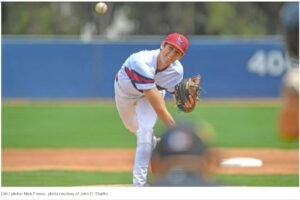 During the 2019 college season he posted a 2.22 ERA and a 0.83 WHIP over 19 appearances and 56.12 innings pitched. He made only five starts and  recorded 10 saves along with 73 strikeouts and 17 walks.
Some elbow soreness, a precursor of things to come, and the Covid-19 virus shut down his 2020 season which he expected would seriously affect his draft stock.
That didn't stop Frasso from continuing to find ways to continue throwing, or stay in shape. He worked out multiple times a week at a friend's home gym just as his high school coach expected he would. At LMU he followed his high school coach's advice and added weight as his body filled out and his fastball hit 97 mph.
"I've gained 40 pounds in my three years at LMU," Frasso said, "and it's just something that helps me gain velocity, be more durable and just be better overall. That's something I really tried to change."
His draft stock remained relatively high as he was selected by the Blue Jays in the fourth round of the 2020 First-Year Player Draft, 106th overall.
https://lmulions.com/news/2020/6/11/baseball-frasso-selected-on-day-two-of-mlb-draft-by-toronto-blue-jays.aspx
Being selected by the Blue Jays wasn't a surprise for Frasso, as the club had kept steady contact with him throughout the scouting process. He was excited to become part of the young core of players being developed by the Blue Jays.
"I know they're very good at developing players and they really help players get better and reach their full potential," Frasso said, "so I'm excited for that."
He was assigned to the Dunedin Blue Jays in the Florida State league for the 2021 season. After five innings the discomfort in his elbow could not be ignored and he was shut down for elbow surgery. Frasso's procedure wasn't quite the traditional Tommy John surgery but was a UCL repair with an internal brace coming with a slightly shorter recovery time. Nevertheless less, it meant his 2021 season would be spent as a spectator.
During the current season Frasso has worked as a  starter over 10 appearances. In 36.2 innings pitched he has posted a 0.74 ERA and a 0.71 WHIP pitching with the A level Dunedin Blue Jays of the Florida State League and the A+ Vancouver Canadians of the Northwest League. He has struck out 57 and walked 10.
He was named the Northwest League Pitcher of the Week for the week of July 4-10. He struck out eight consecutive hitters – one shy of tying the league record – and  struck out a total of ten over four hitless innings.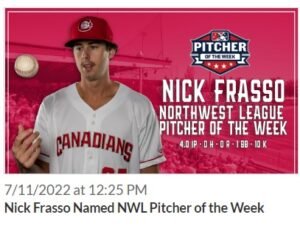 Frasso, now listed at No. 26 on the Dodgers Top 30 list, following his elbow surgery has touched 100 mph while sitting in the 95-97 mph range.
There some scouting reports around but I thought I would let Nick Frasso assess himself. He seems like a rather articulate young man. That is, to see where he feels he is currently at with his pitching repertoire.
He does have a three-pitch mix which at this point, according to Frasso, are not all developed. Nothing surprising there. He is especially fond of his fastball.
"I like my fastball a lot obviously, so I use it a good amount," said Frasso. "I think it makes my off-speed pitches better using my fastball quite often early in counts and finishing with off-speed stuff or vice versa."
The righty feels his slider tunnels pretty well off his fastball, 
"Yeah, I feel my slider tunnels pretty well," explained Frasso. "Obviously I'm still getting into the details of that and figuring out what I need to do so it can be the best it can be. But for the most part I feel it tunnels pretty well."
Frasso also likes the development of his changeup in pro ball,
"My changeup is developing well," Frasso added. "In college it was a little hit-or-miss. Some days it'd be on and others it wouldn't. Since the transition to pro ball, I've been able to get that pitch a little more consistent. I've been able to use it a little more especially in recent outings which is good."
It no doubt is expected, at this point, that he will continue in a starting role but with a good two pitch mix – fastball and slider – he may return at some point in his career to a late inning high leverage role.
Welcome to Great Lakes and Dodger Blue Nick.