MINOR LEAGUE BASEBALL ANNOUNCES JUNE PLAYERS AND PITCHERS OF THE MONTH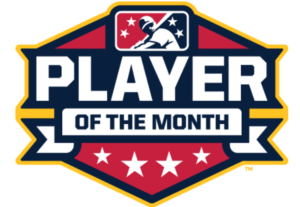 Midwest League (High-A) Pitcher of the Month
Great Lakes Loons (Dodgers) right-hander
 Kyle Hurt
went 1-1 with a 0.47 ERA in five starts as he allowed one earned run over 19.0 innings. Hurt allowed five hits and struck out 30 and held opponents to a .082 average. He left three of his five starts (two after 5.0 innings and another after 4.0 innings) with a no-hitter intact. Hurt was promoted to Double-A Tulsa on July 5. Hurt, 24, was originally selected by Miami in the fifth round of the 2020 MLB Draft out of the University of Southern California.
Kyle Hurt debuted with the Tulsa Drillers on July 6th and did not have the AA debut that he would have liked. He gave up six earned runs in three innings and walked five batters in doing so.
Let's go with the AA jitters and see what happens next time out.
Dominican Summer League (Rookie) Player of the Month
Dodgers catcher
Jorge Puerta
 batted .431/.547/.824 and led the league in average (.431), RBI (21), on-base percentage (547) and OPS (1.371). He finished second in doubles (eight) and slugging percentage (.824) and fifth in total bases (42) despite playing in 15 games. He was promoted to the Arizona Complex League Dodgers on July 1.
 Puerta
, 20, was signed by Los Angeles as an International Free Agent out of Tolu, Colombia, on July 18, 2019.
Jorge Puerta debuted with the  ACL Dodgers on July 2nd. He walked in one plate appearance and over three games has two hits in six at bats along with three walks.
It appears he is transitioning from behind the plate to first base as he has played more games as a first baseman in 2022 than he has as a catcher.
Samuel Muñoz – DSL Dodgers Mega
A case can be made that 17-year-old
Samuel Muñoz
  is the top hitter with the DSL Dodgers since 
Jorge Puerta
 has been promoted. That is, the top hitter with both the  DSL Dodgers Mega and DSL Dodgers Bautista. However, 17-year-old 
Josue De Paula
 of the DSL Dodgers Bautista might provide a bit of an argument as to whom is performing better.
Muñoz was signed by the Dodgers on  January 15, 2022 as a  free agent from Santo Domingo in the Dominican Republic.
Although MiLB has listed him as first baseman, he has played the outfield – both left field and right field – and has been used in the DH role. During his first 19 professional games he has a triple slash of .358/.458/.507 with an OPS of .965. He has only one home run but has 22 runs batted in which is the most for either DSL team.
The 6'3"/190 lb. left-handed hitter was the #7 prospect in the class according to MLB Pipeline, and #42 according to Baseball America.
MLB Pipeline
"Muñoz is a left-handed-hitting infielder with an advanced approach at the plate and tons of power projection. He already shows an above-average ability to barrel up the baseball to all fields, and the thought is the ability will translate into homers in the future as he fills out his large and developing frame. He sprays the ball to all fields with pop. Muñoz has already come a long way. The teen was first showcased as an outfielder but moved back to his original spot in the infield because of his improved athleticism and quickness. He runs the 60-yard timed run in 6.6 seconds and has the potential to be a good base runner. His high baseball IQ and makeup are also noteworthy. He shows good actions in the infield and displays solid arm strength. There's still a chance he moves to third base because of his size, but it's too early to tell. Muñoz has a left-handed swing that's short, quick and smooth. He handles the bat well with a good approach for his age and generates good power that could grow into an above-average tool once he fills out his projectable frame."
Ben Sadler wrote: "Muñoz showcased for teams as an outfielder and eventually developed into an above-average runner, but most recently he has been playing third base and is expected to start his career as an infielder,"
Jesse Sanchez wrote: "[Muñoz] already shows an above-average ability to barrel up the baseball to all fields and the thought is that ability will translate into homers as he fills out his large and developing frame."
Meet Callum Wallace from Down Under
Right-hander
Callum Wallace
 signed with the Dodgers as a minor league free agent on January 15, 2022.
He was born in Brisbane, Australia and  played  for the Windsor Royals, Queensland, Australia in 2021 where he has posted a 3-1 record and a 2.82 ERA across eight appearances.
With congratulations via Twitter by his teammates and coaches Wallace was anxious to get his professional career started in North America and seemed pleased he was pursued by the Dodgers.
The deciding factor perhaps was his relationship with
John Deeble
 who is known as "Mr. Baseball" in Australia and is an International Scout in the Dodgers system in Australia. 
Deeble
 last year signed 
Cameron Gibbens
 for the Dodgers.
"Choosing the Dodgers was an easy decision," Wallace said.
"They have had success with other Australian pitching prospects and my family and I have a lot of respect and trust with Jon Deeble.
"I really value his experience and knowledge and it's something I'll need moving forward."
Wallace is a talented multi-sport athlete having competed in athletics at St Joseph's Nudgee College where he won a silver medal in Javelin at the Australian All Schools Championships in 2019.
The 6'3"/190 lb. He debuted with the ACL Dodgers on June 24th pitching one inning with all zeros. He now has made three appearances over 3.1 innings with no hits or runs along with two walks and six strikeouts.
Another Catcher
The Dodgers have a bevy of catchers at the minor league level. They all will not make it to MLB and some will convert to others positions, especially first base and perhaps the outfield.
Nelson Quiroz
was signed as a free free agent by the Dodgers on April 1, 2019. He is a native of Navajoa, Mexico. The 5'8"/194 lb. switch hitter  has played only behind the plate since he was signed with some time as a designated hitter.
In his fourth season he is still just 20 years of age.
In 2019 he played 37 games with the DSL Dodgers (Shoemaker) and posted a triple slash of .264/.349/.320 and an OPS of .667 as a 17-year-old.
The 2020 season was lost to MiLB and Quiroz attempted to play with the  Mayos de Navojoa of the Mexican League. That too got shut down and he had only three plate appearances before the shut down.
Quiroz made his way stateside for the 2021 season and played 30 games with the AZL Dodgers. He slashed .272/.387/.391 with an OPS of .779.
He is currently on the IL and has not played since  June 29th.  He debuted with the Quakes on June 1st and had a single in his first Low-A appearance.
On the season he has played but 12 games with one game elevating his slash line to .341/.420/.659 with an OPS of 1.079.
On June 12th against the Stockton Ports he had four hit, one double and three home runs. He drove in six runs and scored four.
In his previous 71 career minor league games — 2019 in the Dominican Summer League, 2021 in the Arizona Complex League, and this year with Rancho Cucamonga — the switch-hitting catcher had one home run, although he also had 13 doubles and excellent plate discipline. In his minor league career he has walked 37 times and struck out 38 times.
What does the future hold for Nelson Quiroz? That question cannot be answered. He is a bit on the small side to be a catcher but you never know with a determined switch hitter who has an intangible quality. That is, plate discipline.
07-22-2022 MiLB Summary
Las Vegas Aviators (A's) 10 vs OKC Dodgers 3
Garrett Cleavinger and Robbie Erlin gave up 8 runs in 3.2 IP. Mark Washington, Dellin Betances, and Justin Hagenman went the next 4.1 allowing no runs and only two baserunners.  Yadier Álvarez allowed 2 unearned runs in the ninth for the final two runs.
Miguel Vargas 2-4 with a double (19)
Ryan Noda 2-4
Tulsa Drillers 3 vs Northwest Arkansas (KC) 2
John Rooney started and completed 5.0 shutout innings on 2 hits.  2 relievers allowed 2 runs,.  Gus Varland got out of the 9th allowing only one run, and stranding the tying runner on base to end the game.
Ryan Ward 3-5
Devin Mann 2-4
Chris Betts HR (2) and Jeren Kendall HR (6)
Great Lakes Loons 0 vs Lansing Lugnuts (A's) 1
In a pitcher's duel, Carlos Duran hit a batter and gave up a run-scoring double for the only run of the game.  That was the first run Duran has surrendered this year.  Emmet Sheehan followed with 4.0 shutout innings, and Ben Harris had a scoreless 9th.
The offense only generated a pair of singles by Eddys Leonard and José Ramos.
Rancho Cucamonga Quakes 2 vs Inland Empire 66ers 9
Jerming Rosario looks overmatched.  Rosario and Osvanni Gutierrez yielded 9 runs over the first 3.2 IP.  Heisell Baro and Christian Suarez pitched the final 4.1 innings allowing a pair of hits and a walk.  They registered a combined 9 K's.
The offense consisted of 3 singles: Jake Vogel, Gaige Howard, Luis Yanel Diaz.