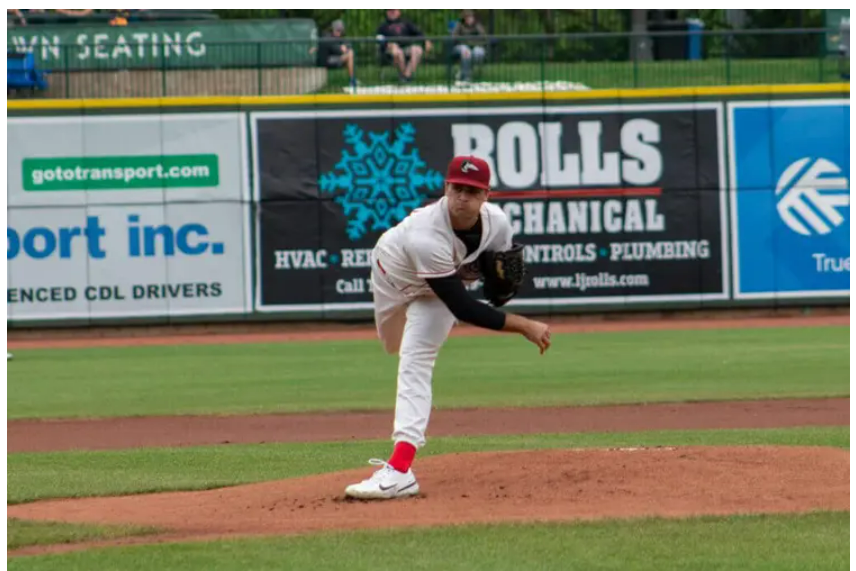 Las Vegas Aviators (A's) 4 vs OKC Dodgers 3 
Andre Jackson returned from the Development List, but his problems continued.  In 3.0 IP, he allowed 2 runs on 4 hits and a BB.  Jose Adames followed and in 0.2 IP he allowed 2 runs (1 earned), on 1 hit and 2 BB.  4 OKC pitchers finished the final 5.1 scoreless innings.
Drew Avans went 3-4 with a triple (7).  OKC had 9 hits, with 3 doubles to go with Avans triple.  Michael Busch (13), Tony Wolters (6), Eddy Alvarez (9).
Tulsa Drillers 3 vs Northwest Arkansas Naturals (KC) 6
In a AA bullpen game, only the opener Nick Robertson pitched without surrendering a run.  Staked to a 3-0 lead, Clayton Beeter pitched 0.2 innings in the second with 30 pitches.  2 runs on 1 hit and 3 walks.  Both outs recorded were strikeouts.  The next 3 pitchers allowed 4 runs on 6 hits, 3 BB, 1 HBP.
Offensively, Jonny DeLuca continued his hot start at AA with a 2-5 night.  DeLuca singled in the first, stole 2B, and scored on an Andy Pages single.  Ryan Ward followed with had a 2 run HR (18) in the first.
Great Lakes Loons 7 vs Lansing Lugnuts (A's) 3
Nick Nastrini (Pictured) showed why he appears to have quite a bit of helium in the player projection charts.  He started and pitched 6.0 scoreless innings (84 pitches – 14 per inning).  He allowed 4 hits and 1 BB to go with 7 K's.  Cole Percival and Braydon Fisher surrendered the 3 runs, before Jeff Belge entered to get the final out via the strikeout for his 4th save.
Every Loon in the starting lineup had at least one hit in a 14 hit attack.  Aldrich De Jongh hit his 5th HR and 3rd double for his two hits and 2 RBIs.  Alex De Jesus went 3-5 with 3 RBIs.  Jorbit Vivas and Kekai Rios also had 2 hits on the night.  Alex De Jesus, the 20 year old 3B now has 141 AB at High A, after 143 at Rancho.  His batting lines:
RC – .259/.398/.483/.881
GL – .305/.388/.475/.863
Alex is getting more comfortable and confidant, and looking more and more like a prospect.
Rancho Cucamonga Quakes 4 vs Inland Empire 66ers 14
The poor pitching at RC continues.  The first three pitchers, River Ryan, Reinaldo De Paula, Orlando Ortiz-Mayr, and Carlos De Los Santos, suffered a 14 run, 10 hit, and 5 BB attack in 4.0 innings.  Martin Santana and Kelvin Bautista did not allow a run in the final three innings.
Offensively, 6 different RC Quakes got hits.  One of the hits was a Julio Carrion 2-run HR (9) in the 9th.  The Quakes had a pair of doubles from Austin Gauthier (15) and Griffin Lockwood-Powell (2).