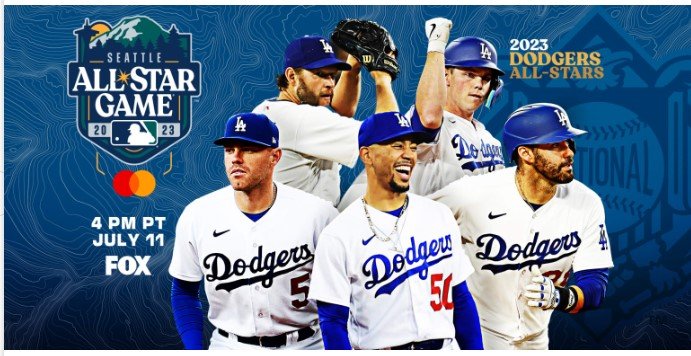 The Dodgers had a physical/mental breakdown in KC last weekend.  They came home for the next 6 games to heal, winning 3 of 4 against Pittsburgh and swamping the Angels in both games.  They now have a 10 game winning streak against LAA.  In the 6 games the Dodgers allowed an average of 4.3 runs against.  Not great.  However, in those 6 games they averaged near Badger's 8 runs, at 7.3 runs per game, and won 5 out of 6 and last 4 in a row.  That was a great way to finish off the 1st half.
IMO, this may be Doc's best year as a manager.  At the 89 game mark, every originally planned starting pitcher has been on the IL, and with the exception of Clayton Kershaw have missed more than 2 games.  And Kershaw could be 1 missed start.
Dustin May will be out the rest of the season.  And no, Walker Buehler is not coming back (he should not).
Ryan Pepiot is MIA.  He is throwing, but not close to a rehab assignment.  Mid-August?  September?
Noah Syndergaard has been a bust. Doc had to keep throwing him out there.  Right?  Now he is going out on a rehab assignment.  IMO the IL stint was more for his head than his blisters.  Does he come back a pitcher, or a thrower still looking for that 100 MPH 4-seamer?
Julio Urías is supposedly back.  But is he?  Before his IL stint, he was mostly ineffective after his first few starts, and that was not due to a hamstring issue.  He pitched well in his 2nd game back.  Is everyone convinced he is back to his 2021-2022 pitcher?   I need more than 1 game to answer that for me.
Tony Gonsolin has the 2nd most starts on the team (13) behind Kershaw.  For his last 8 starts, he has not been a good pitcher.  43.2 IP, 5.36 ERA, 4.98 FIP, 1.24 WHIP, 35 K, 17 BB.  He is 3-2, but the team is 3-5 in those games.  Obviously the bullpen did not help either.  His K/BB ratio is just about 2-1 (2.06).  That is not good.  He does not strike many out.  His K/9 is the worst of his career. I think a valid question is:  Is Gonsolin a high leverage or multi inning reliever who cannot pitch effectively the 2nd and 3rd time through the lineup?  For this team he has to start.
Rookie Starters – 4 rookies have started 23 games.  I am not counting the bulk relief of Grove in Saturday's game.  That is 27% of starts made by rookies who were not originally planned to be counted on as starters.
Four bullpen games.
And then there is Clayton Kershaw.  He went almost the entire 1st half without an IL stint.  He says he could have started if he was pushed back 1 day.  Maybe, maybe not.  But the team took that choice away and benched him through the Break.  IMO, that was the right call, but it still put more pressure on a starting staff that cannot seem to get past 5 innings.  Will Kershaw be okay for the 2nd half?  Shoulders and elbows will decide?  A lot of times, the shoulders and elbows win that decision.
Here is a chart for the starting pitchers.  No pitcher has average 6.0 innings per start, although Clayton Kershaw is only 0.0 IP away from that.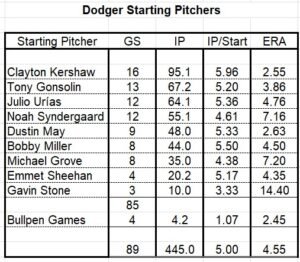 If the bullpen was loaded, this would not be a concern (say like 2022?).  But the bullpen has been a mess all year.  They have now lost their best reliever…twice.  Vesia and Almonte are not the same lockdown relievers they were last year.  Although both are showing some resurgence.  Evan Phillips has been good, but not as good as last year when he had help.  Caleb Ferguson is inconsistent.  When he is good, he is very good.  When he is bad, he is very bad.  I have never been sold on Brusdar Graterol as a high leverage reliever.  Someone who throws as hard as he does (without movement) needs a swing and miss secondary pitch.  Graterol has not developed that pitch…yet.  Shelby Miller has been effective when he pitches, mostly.  He still walks too many for high leverage relief.
Dodgers starters are averaging 5.00 inning per start.  And with a bullpen that has been suspect all year long, that is recipe for a losing record.  And yet, somehow, the team is 13 games over .500.
If the Dodgers can pick up 2 starters who can pitch innings at the deadline, two of the starters can move into the bullpen, making that a weapon as well.  Two of Sheehan, Miller, and Gonsolin could move to the bullpen.  Will they?  Probably not.
The six relievers that I would consider safe for the remainder of the season:
Evan Phillips
Caleb Ferguson
Yency Almonte
Shelby Miller
Ryan Brasier (Looking a lot like his 2018 World Series season with Boston)
Brusdar Graterol
Pick from:
Phil Bickford
Alex Vesia
Bobby Miller
Emmet Sheehan
Michael Grove
AF/BG could also go out and get a closer type reliever.  Texas only converted 16 of 32 save opportunities, and they went out and traded for Aroldis Chapman.  Relief pitching was the Rangers one true weak spot, and they improved it with a proven closer.  Yeah, they are going for it this year.
The starting lineup has been struck by injuries as well.  The team has played 89 games, and only 4 Dodgers have played in 80.  Two of the four are rookies (James Outman and Miguel Vargas).  One of the rookies (Vargas) is hitting sub-Mendoza, and the discussion around the blogosphere is to whether send him to OKC or keep him on the bench and see if the game can slow down for him.  Three of the 13 position players on the roster are rookies (including OF Jonny DeLuca), and one seldom used utility infielder in his 2nd year (Yonny Hernandez).  This lineup is counting quite a bit on Jason Heyward, David Peralta, and Miguel Rojas who were all expected to be reserves or platoon.  The offense has four All Stars that have seemingly put this offense on their collective backs and carried the team (Mookie, Freddie, Will Smith, and JDM).
Max Muncy is the enigma. .198/.331/.476/.807.  But that isn't the whole story.
Barrels per PA – 10.0 – 17th in MLB (2nd to JDM with LAD)
Barrels per BBE* – 18.0 – 13th in MLB (2nd to JDM)
Hard Hit % per swing – 17.0 – 69th in MLB (3rd on LAD – Mookie, Peralta)
Average Exit Velocity – 91.1 – 63rd in MLB (4th on LAD – JDM, Mookie, Peralta)
Max is barreling and making hard contact when he swings.  So what is the problem.  One look at his BABIP and that will tell a lot.  His BABIP is .192.  His career BABIP is .250.  So it is probable that Max is hitting into some bad luck.  If his BABIP was his approximating his career BABIP of .250, he would have 8 more non-HR hits.  If we just consider them as singles, his batting line would be .227/.349/.492/.841.  Not what Max is capable of, but certainly worthy of being in the middle of the lineup.
For those who care, BABIP is calculated as follows:  (H – HR)/(AB – K – HR + SF).  All Max needed was for 8 of those hard hit outs to fall in for singles.
He has 21 HR and 53 RBI in 72 games. That works to 47 HR and 119 RBI over a 162 game season.  I am keeping Max in the lineup hoping that those Balls In Play start to drop, especially with runners in scoring position.
The 40-man has been decimated.  The only 40 man players remaining are:  Justin Bruihl, Victor Gonzalez, Gavin Stone, Diego Cartaya, Michael Busch, Eddys Leonard, and Jorbit Vivas.  In effect, that is 3 pitchers (mostly ineffective at the MLB level this year) and Michael Busch.  There are other MiLB players who deserve consideration, but players have to be pared from the 40 man.
Some wanted to give Jahmai Jones a chance.  Who thinks that Jones is a better utility player than Yonny Hernandez?  Jahmai is a converted OF learning how to play 2B.  He cannot play SS or 3B.  Yonny can.  Neither would get many ABs, so I want the best defensive player in that role.
Devin Mann is an option.  He has proven himself at the AAA level.  Somebody needs to be traded or released from the 40 man to get this done.  Does Busch get traded and Mann take Hernandez's spot?  I can live with that.
I am against changing catchers in the middle of a season.  But there are many out there that believe that Austin Barnes has to go for the 2023 LAD team to become WS Champions.  I think that is absurd, but I understand the argument.  Barnes could make my argument much better if he were hitting .200. He's barely above .100.   Feduccia may outhit Barnes, but he cannot call a better game or have the pitcher's trust better than Barnes.
You would have to be convinced that Fiduccia's offense would make up for his game/pitcher handling skills.  Again I remind you that Barnes was a better MiLB hitter than Feduccia.  The Dodgers have 3 (4 when counting Busch) rookies who have not hit as well as many thought, and Feduccia is going to be the outlier and hit well at the MLB level?  I am not convinced that is a good idea for the middle of the season. 2024?  Why not.
And I do not want to hear about Barnes' weak arm and inability to throw out potential base stealers.  Yes, Barnes has one of the very weakest (if not the weakest) catcher's arm in MLB.  But for the most part, against LAD, the runners are stealing off the pitchers.  The pitchers have been better of late.  The Pirates are not the same running team without Ji Hwan Bae and Ke'Bryan Hayes.  Colorado and LAA are worse running teams than are the Dodgers.
The Dodgers are last in MLB in SB against.  They are averaging 1.17 SB against per game.  They are the only team in MLB that has allowed more than 100 stolen bases.  There are only two other teams with SB against at or greater than 1.00.  Part of that is on the catcher, but most of it is on the pitcher.  The same two LAD catchers had only .42 SB per game last year (6th in MLB).  Noah Syndergaard has not pitched since June 7, and he still leads MLB in SB against.  The multiple rookie pitchers with no experience controlling the running game at the MLB level also contribute to this.
Austin Wynns has thrown out 5 of 11 would be base stealers.  While the two Dodgers are a combined 6 out of 69.  One of the best catchers in MLB in this category is Connor Wong (remember him?) who has thrown out 13 of 35 would be base stealers.  Sean Murphy is 10 out of 35.  Other NL West catchers Patrick Bailey (SF) is 6 out of 19, Gary Sanchez (SD) is 5 out of 14 Elias Diaz (COL) is 13 out of 34.  While the best in MLB is Arizona's Gabriel Moreno who has thrown out 10 of 16.  Nobody runs on Moreno.
No matter how many fans may clamor for it, Austin Barnes is not going to be released to bring up Feduccia.
Where am I with Doc?  IMO Doc is doing a fine job keeping this team going.  They are at a 92-93 win clip which is where many of us thought they would be, BEFORE the injuries. Does he make mistakes?  Don't all MLB managers.  Is there any manager who could do better with this team?  Doubtful.
Would I rather have Bruce Bochy as the LAD manager in the playoffs.  YES!!  All I can do is hope that Doc pulls the correct triggers as he did in 2020.  Although he had Corey Seager and Julio Urías backing him.  Brilliance or luck, that WS switched momentum on one decision.  In Game 6, Gonsolin on the mound, down 1-0 in the 2nd inning with runners on 1st and 2nd, two out, and Randy Arozarena coming up. Doc went to Dylan Floro (in the 2nd inning!!).  Mind you that Arozarena already crushed Gonsolin with a HR in the 1st inning (his 10th in the playoffs).  Arozarena would jump on fastballs, so Doc thought he would bring in a changeup specialist, and Floro delivered with a 3 pitch K.  Tampa Bay's offense went silent after that, giving the offense time to wake up.  Thank you Austin Barnes and Mookie Betts.
Did the Dodgers overachieve in the 1st half considering the pitching issues?  Did the All Stars carry too much of the offensive load for the team?  Can they replicate that in the 2nd half?  Will the rookies improve during the 2nd half to take some of the pressure off the All Stars?  Will Max Muncy and Austin Barnes?  Can David Peralta, Jason Heyward, and Miguel Rojas continue to produce?  The Dodgers cannot stand on their laurels for the 1st half.  When they come out for the 2nd half, they have a gauntlet against 5 playoff contenders.  The start with NYM (3), Orioles (3), Texas (3) all on the road.  When they come home, they play Toronto (3) and Cincinnati (3).  Arizona will also have a difficult schedule, but SF's schedule will be less daunting.
Bring on the 2nd half, and proceed to the Playoffs and a WS Championship.
The Dodgers had @uscfb QB Caleb Williams throw out the ceremonial first pitch. And he brought his o-line with him. Fight on! ✌️ pic.twitter.com/HkphtcnKNe

— Rhett Bollinger (@RhettBollinger) July 8, 2023
FIGHT ON CALEB!!!