Disappointed but not overwrought.  The team was not supposed to be as good as it was.  Certainly nobody anticipated a 100 win season.  They lost their SS at the beginning of ST.  All 5-6 pitchers originally in the Starting Rotation went onto the IL:
Clayton Kershaw – Shoulder
Julio Urías – Hamstring
Noah Syndergaard – Blisters (Head)
Tony Gonsolin – Ankle sprain, then TJ surgery (ST)
Ryan Pepiot – Oblique (ST)
The 6th?  His moron self took over his ability to keep his hands to himself…a second time.
"It's Friedman's moronic decree that all starting pitchers go 5 and 80 and immediately hooked. We need management that values great starting pitching and that is not Friedman clearly."
As I am prone to do, I decided to look up the information (all readily available) and either confirm or disagree with such comments.
Bobby Miller – 22 starts – 9 Quality Starts (must be at least 6.0 IP)
12 of 22 starts – greater than or equal to 6.0
3 of 22 starts – greater than or equal to 7.0
20 of 22 starts – greater than or equal to 80 pitches
13 of 22 starts – greater than or equal to 90 pitches
3 of 22 starts – greater than or equal to 100 pitches
Clayton Kershaw (pre shoulder injury) – 16 starts – 11 Quality Starts
12 of 16 starts – greater than or equal to 6.0
6 of 16 starts – greater than or equal to 7.0
14 of 16 starts – greater than or equal to 80 pitches
12 of 16 starts – greater than or equal to 90 pitches
3 of 16 starts – greater than or equal to 100 pitches
Julio Urías – 21 starts – 11 Quality Starts
12 of 21 starts – greater than or equal to 6.0
4 of 21 starts – greater than or equal to 7.0
17 of 21 starts – greater than or equal to 80 pitches
10 of 21 starts – greater than or equal to 90 pitches
3 of 21 starts – greater than or equal to 100 pitches
Dustin May – 8 starts (not counting his last start of 1 inning before injury) – 4 QS
4 of 8 starts – greater than or equal to 6.0
1 of 8 starts – greater than or equal to 7.0
7 of 8 starts – greater than or equal to 80 pitches
4 of 8 starts – greater than or equal to 90 pitches
1 of 8 starts – greater than or equal to 100 pitches
Bluto started the work.  I just broke it down to SP since that was the comment made.
Team SP ERA rankings since 2015, with AF
2015: 3.24 #2 in all of MLB
2016: 3.95 #6 in all of MLB
2017: 3.39 #1 in all of MLB
2018: 3.16 #2 in all of MLB
2019: 3.11 #1 in all of MLB
2020: 3.29 #2 in all of MLB
2021: 2.93 #1 in all of MLB
2022: 2.75 #1 in all of MLB
2023 4.57 #11 in all of MLB
Team SP WHIP rankings since 2015 with AF
2015: 1.14 #2 in all of MLB
2016: 1.21 #4 in all of MLB
2017: 1.15 #1 in all of MLB
2018: 1.11 #2 in all of MLB
2019: 1.07 #2 in all of MLB
2020: 1.07 #1 in all of MLB
2021: 1.03 #1 in all of MLB
2022: 1.04 #1 in all of MLB
2023: 1.22 #7 in all of MLB
7 of the 9 seasons the Dodgers were either #1 or #2 in both ERA and WHIP.
I know Scott immediately pointed to the 2023 stats (abysmal to be sure) and drew the conclusion: We need management that values great starting pitching and that is not Friedman clearly."
We will have to agree to disagree as to whether AF values SP.  I guess he should have been 9 of 9 at #1.  That should have been easy, right?  I concluded that there was not a difference making pitcher available in FA at the beginning of the season and at the deadline.  I think Scott believes in the Samantha Stevens nose wiggle solution.
I have read that many believe that the richest and most powerful team should have used that largesse to build a better team.
Per Cots, below are the 7 teams that are projected to surpass the CBT threshold:
NYM – $376,420,466 – Did not make playoffs
NYY – $298,518,065 – Did not make playoffs
San Diego – $296,082,092 – Did not make playoffs
LAD – $267,240,162 – Lost NLDS
Philadelphia – $263,744,976 – Won NLDS
Toronto – $258,071,541 – Lost Wild Card
Atlanta – $250,526,828 – Lost NLDS
Of the top 7 payrolls, only 1 is in the Championship Series (Philadelphia), and the top three did not even make the playoffs.  Obviously there is not a cause and effect with high payrolls, but it also is clear that it promises nothing.
Over the last couple of days I have been reading multiple analysis on the plight of the 2023 season.  I have also been giving some thought to Scott's Star Trek Analogy.  IMO, AF is more like Starfleet Command while Dave Roberts is more the Kirk character.  Roster construction strategy seems to be coming from the owners boxes, directed to AF.  Read Stan Kasten's comments after the 2018 season (indicated in Houston Mitchell's comments below) and his 2023 pre-season comments on moving towards the youth movement.
Houston Mitchell:
After Game 3, Mitchell wrote:  "Seems unlikely anyone above Andrew Friedman's level will be getting mad. After all, a couple of years ago, when asked about offseason inactivity, team president Stan Kasten said, "You're inventing a narrative that I don't agree with because, like I said, I can almost tell you for sure, we're going to lead the National League in attendance again."
After the 2018 WS loss, and going into the Bryce Harper sweepstakes, Dylan Hernández wrote, "After watching the Dodgers reach the World Series in each of the last two seasons, fans aren't about to abandon their team over an uninspiring offseason. But they do want the team to do more and some of them made their voices heard Saturday."
Such concerns are likely to be downplayed by team President Stan Kasten, who dismissed concerns over the team as "anecdotal," even fictional.
"You keep making this stuff up," Kasten said.
That was how Kasten started deflecting questions about the team's alarming lack of spending this offseason.
"I'm dealing with facts," Kasten said.
Dylan Hernández's conclusion:  The facts, Kasten said, are that season-ticket sales point to the Dodgers leading baseball in attendance again. And if season tickets are selling, everything must be A-OK.  At best, Kasten and Dodgers ownership are mistaking loyalty for satisfaction. At worst, they are taking advantage of their customers' intense devotion.
After this NLDS debacle, Houston Mitchell penned:  Message received: As long as we get more than 3 million in attendance, I don't care what happens. But that kind of attitude can infect a team. And believe me, for the last three postseasons the Dodgers have played like a team that doesn't care if it wins. Do the players care? Of course. But other teams find that extra level of emotion in the postseason, emotion that can galvanize a team and make players focus a little better. The Dodgers come across like they are playing at a team picnic, and, gosh darn, we didn't beat our business rivals, but the food was good and didn't we all laugh and have fun?
I don't think Badger would disagree that this is the driving issue behind Stan Kasten.
Thomas Carannante – FanSided and Dodgers Way wrote:
It takes an entire organization — top to bottom — making the right decisions and coming through in the biggest moments to capture a World Series. 

There's no excuse for how Clayton Kershaw, Bobby Miller, Lance Lynn, Mookie Betts and Freddie Freeman performed.

 Any contending rosters needs to be near-ironclad with adequate depth and enough veterans/clutch performers to even entertain going on a deep run

 We must ask … what did the Dodgers see in Kolten Wong to give him a spot on the NLDS roster? It's no offense to the veteran, but did 20 part-time games of solid play really change the conversation after he was downright terrible with the Mariners from April-August?

 Ditching Michael Busch in favor of Wong led to the Game 2 moment when Roberts called on the lefty to deliver in a huge spot with the bases loaded and two outs in the bottom of the sixth inning. Wong grounded out and then ended the game by lining out to center in the Dodgers' loss.
My comment:  Of course, Ronald Acuña Jr. was presented with the same opportunity in the 8th inning of their fateful Game 4.  But I do agree that it takes an entire organization from top to bottom.
Carannante  followed with:
"Please tell me whyyyyyyyyyyy!! Pepiot was arguably the Dodgers' hottest pitcher heading into October. Sounds crazy, but it's kind of true. From Aug. 19 until the end of the year, Pepiot logged 42 innings and posted a 2.14 ERA and 0.76 WHIP with 38 strikeouts".
My comment:  Everyone should have known that Lynn was going to get the ball for Game 3.  Right or wrong, the team is a veteran laden team that leans to the veterans to get the job done.  Same comment for Kolten Wong over Michael Busch.  This is one facet I do believe has to change.  And that lesson does fall on AF.
Secondly, the comment made by Roberts after the game was that he was not in a position to use Pepiot with Games 4 and 5 still on the horizon.  WHY???  You have to win Game 3.  Worry about Games 4 and 5 after you win Game 3.
Ken Rosenthal wrote – Their (Dodgers) biggest need is starting pitching.
My comment:  Not an incorrect evaluation of the Dodgers current 40 man roster needs.
His solution?
No matter. The Dodgers essentially took last offseason off while waiting for Ohtani to hit the open market. Now, after another crushing October disappointment, they need to change the narrative.

For all their regular-season success, if ever a franchise needs to give their fans a reason to stay engaged, it's this one.
My comment: Does he really believe that it is going to take Shohei Ohtani to get fans to show up at Dodger Stadium?  Stan Kasten certainly does not believe it.  Also, how many playoff games has Ohtani been in?  Does anyone really know what kind of player Ohtani is in October.
Barry Bonds was in 7 post seasons.  He had exactly one Barry Bonds type playoff season.
1990 – .167 BA, .542 OPS
1991 – .148 BA, .392 OPS
1992 – .261 BA, .868 OPS
1997 – .250 BA, .647 OPS
2000 – .176 BA, .653 OPS
2002 – .356 BA, 1.559 OPS
2003 – .222 BA, .889 OPS
How many here would not have welcomed Barry Bonds baseball skills on the Dodgers?
Rosenthal continued:
The free agent who makes the most sense for the Dodgers, and every other club, is Japanese right-hander Yoshinobu Yamamoto, who will hit the market at 25. But Blake Snell, a pitcher the Rays drafted under Friedman, also will be available. Ditto for Aaron Nola and Sonny Gray, among others.
My comment:  That does not take a rocket scientist or a computer algorithm expert to make that assessment.  All 30 teams will have all 4 on their shopping list this winter.
I am all in on Yoshinobu Yamamoto, and have been for a while.  He is 25 and has been dominating the JPPL for 7 seasons.  Risks?  He is 5'10".
I agree with the pursuit of Snell.  However for many of those that believe that the Dodgers do not let their pitchers go long enough, they will have a rather rude awakening reviewing Snell's IP stats:
2019 – 89.0 IP – 19 games started
2017 – 129.1 IP – 24 games started
2018 – 180.2 IP – 31 games started
2019 – 107.0 IP – 23 games started
2020 – 50.0 IP – 11 games started
2021 – 128.2 IP – 27 games started
2022 – 128.0 IP – 24 games started
2023 – 180.0 IP – 32 games started
Of the 8 seasons, only two was he considered a qualified starting pitcher for awards, and exceed 130 IP.  His MLB leading 2.25 ERA came with the most walks in MLB (99).  That ERA may have benefited with a .256 BAbip.  Average MLB BAbip is right at .300, which coincidentally is where he was at prior to 2023.
Snell is also represented by Scott Boras who will just blow off the lack of IP and the low BAbip benefitting his ERA with the MLB leading BB.  Snell will be 31 next season.  Boras got 30 year old Carlos Rodón 6 years and $162MM.  For those who want Blake Snell, are you comfortable with 6 years at $162MM, for a pitcher who exceeded 130 IP two out of eight years.
To the best of my recollection, the only Scott Boras client that AF has ever signed was JDM.  But that was more Mookie and RVS than AF convincing Boras.  Maybe this is an area where AF has to reconsider.  How good would Bryce Harper and Corey Seager look in a Dodger uni.  But one still has to learn and understand what parameters the owners put on AF.  Until that information is brought forward (and it will never be), we will never have a full picture as to what rules and regulations were placed before AF.  If another PBO/GM has the same perceived (by me) restrictions, why will they have better success.
The Dodgers had 4 players compile 100+ RBIs, including the leadoff and #2 hitter in the lineup.  That would also indicate that the bottom of the order got on base enough for 100 RBIs for Mookie and Freddie.  They were #2 in MLB in OBP, SLG, and OPS.  It is not the players.  IT IS THE PLAYERS IN OCTOBER.
How do you change that?  Where is the LAD comp for Carlos Correa, Austin Riley, Travis d'Arnaud, Corey Seager, Yordan Álvarez, José Altuve, Bryce Harper, Nick Castellanos, Trea Turner…4 have previous LAD ties (d'Arnaud, Seager, Álvarez, Turner).  The Dodgers lack a good clutch hitter.  While the team was disciplined during the season with routinely not swinging at pitches out of the zone, they chose to chase in the playoffs.  Why?  Where was RVS on this issue?  As I said on an earlier post, the Dodgers looked to lift the ball (an RVS trait), and the DBacks looked to drive the ball.
Yes AF does need to get answers for this, he was not the one flailing away at pitches out of the zone.  While the starting pitching was putrid in all three NLDS games, with any semblance of an offense they could have pulled those games out.  4 runs should not have been a concern for the LAD offense, especially against pitchers they dominated during the season.
The team obviously could use a player with an edge.  Someone to challenge the other players.  Maybe Tommy Pham should have been considered.  He probably would have been a better RHH choice over Amed Rosario, but NYM was not going to take back Noah Syndergaard like Cleveland did.  How do you identify a player with an edge?  A Kirk Gibson if you will.   Even though we are a long way from 1988, and the game has changed, I feel comfortable in my belief that Gibson would frown on this: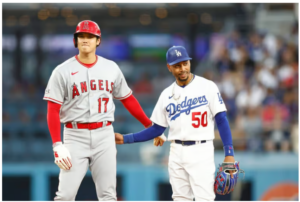 I love Freddie Freeman, but I cringe when Freddie stops and hugs opposing players when they reached 1B.  Luis Arraez was a big time recipient of this treatment.  Mookie and Freddie are not going to change.  That is who they are.  Now the team needs to find a counterbalance to that.
I have many more thoughts on this subject.  I am not absolving AF.  He has plenty to answer for.  He needs to make changes to his roster construction.  But I disagree that he should be fired.  The teams he put together should have been enough to win the WS on multiple occasions.  They didn't.  He is not Captain Kirk.  Dave Roberts makes the decisions that happen on the field (as Kirk would on his ship).
BTW, the statement was made that there will be significant changes in the 2024 roster, and some questioned that statement.  I agree with the statement.  It will be the subject of a future post, but for now, from the 40 man roster there could be as many as 18 not back with LAD in 2024.
Free Agents – 12
Club Options – 6
Dave Roberts on Game 3
There is a lot he had no answers to.  I guess just after Game 3, it just might not be enough time to find answers.  But he is going to need to find them.  While I do not think he truly is, Doc should be under significant scrutiny for potentially being replaced.
While I do think AF should have to hear criticism, he does not deserve to lose his job.  I do not believe Roberts will either, but I would be far less critical if the Dodgers made a change.  BTW, IMO, I love Theo Epstein (some of it very personal), but he will never be a candidate to run LAD baseball operations.  He is happy doing what he is doing now.
With respect to Roberts who has maintained control and camaraderie in the clubhouse, you better be sure that his successor will bring more positive results.  I prefer someone who does not rely on algorithms as much, but can make a decision based on what he sees on the field.  Example, Bruce Bochy.  Bochy does not PH Austin Barnes for David Peralta just because it was a RH batter against LHP.  Peralta hit LHP better than Barnes.
I do not think it is a coincidence that the two last standing teams in the AL are guided by the two least likely managers to make decisions on computer printouts.
Now if you want to ask Stan Kasten to step down, I am all on board.