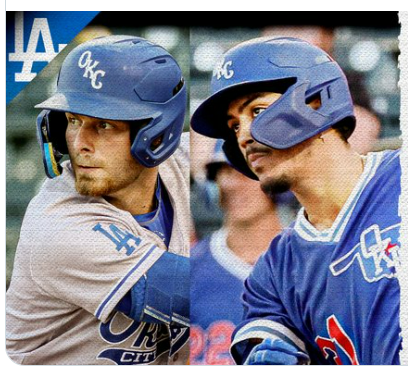 I will get into MLB financing on another day.  This post is dedicated to a Dodger come from behind victory over the best team in the National League.  The Dodgers have now won three in a row for the first time since games April 5, 6, and 7.
Once again we are witnessing how the opposition is going to attack the Dodgers.  Run, run, and run some more.  A single, SB, and soft line drive single scored the Pirates 1st run.  Ji Hwan Bae singled stole 2nd and Austin Hedges was HBP.  With Ke'Bryan Hayes up, both Bae and Hedges took off.  Taylor moved towards third on and Hayes put a double right where Taylor was playing.  Pirates not running on that pitch, and it is a line drive out to CT3.
In the 4th, Bae singles a second time, steals 2nd, and scores on an Austin Hedges single.  He would have scored anyway on Hayes single or Andrew McCutchen's HR.  Syndergaard is going to have to pitch a perfect game to stop teams from running on him.
The Dodgers found themselves down 7-2, with John Oviedo, who has been dominant, on the bump, the Dodgers could have called this one in.  With the top three batters in the LAD lineup going 1-12 with 2 walks, the outlook was not a positive one.  Things looked even more precarious without Max Muncy in the lineup and Brusdar Graterol not in the bullpen.  But as has happened more than a couple of times, the kids took over.  Miguel Vargas hit a 2-out 2-run double in the 1st.
Miguel Vargas starts the scoring with a two-run double absolutely scorched. pic.twitter.com/CMaG8fA8MV

— Chad Moriyama (@ChadMoriyama) April 25, 2023
In the 5th, Chris Taylor had his first hit on a big night for him.  He moved to third on a pair of ground balls, and scored on a Freddie Freeman infield single.  7-3 Pittsburgh.
In the 6th, another of the kids hit a ground rule double to open the inning.  Miggy Vargas drew a BB, putting rookies at 1st and 2nd .  After David Peralta popped out, the third rookie in the lineup, Michael Busch,  stroked a single up the middle for a one-out RBI single…his first MLB hit and his first MLB RBI.  CT3 singled to load the bases and knock Oviedo out of the game.  Robert Stephenson relieved Oviedo and Austin Barnes hit a sac fly to score Vargas.  7-5 Pittsburgh.
Welcome to The Show, Michael Busch! pic.twitter.com/8TIgraiqhM

— Los Angeles Dodgers (@Dodgers) April 26, 2023
In the 8th, Vargas singled, Busch walked, and CT3 capped off his first 3-hit game of the season with a 3-run HR.  8-7 LAD.
I thought this was out of the stadium the way the camera panned up 😂😂😂

But CHRIS TAYLOR!!!!! https://t.co/hcB0mGTcKI

— Blake Harris (@BlakeHHarris) April 26, 2023
Down 7-3 in the 5th, the Dodgers needed their bullpen to come through big time.  Victor González made his 2023 debut, and his first MLB game since August 22, 2021.  Orel said he was electric, and I cannot dispute what he said.  If VGon comes all the way back to how he pitched in 2020, the Dodgers will find themselves with another late inning option.  14 pitches, 11 strikes.  After giving up a lead off double to Jack Suwinski, VGon got a pair of ground outs, with Suwinski moving to 3rd and Ji Hwan Bae coming up.  Victor struck him out on an 0-2 pitch.  Welcome back Victor González.
Evan Phillips fresh off his paternity leaved relieved in the 6th, and this was the Evan we got used to seeing last year.  He was facing 9-1-2, and retired the side in order on 10 pitches (7 strikes).
Yency Almonte has been struggling much of the year.  His sweeper was moving a ton.  When he started the pitch in the zone, he would get the chase he was getting last year.  When he started it outside, it never looked like a strike.  It looks like he is getting closer to the 2022 Yency.
Given the lead, Caleb Ferguson lost his control half way through his inning, but got McCutchen to hit a foul pop with the bases loaded on a 3-1 pitch that Austin Barnes put away for out #3.
The 2023 bullpen star thus far has been Shelby Miller.  Remember after the first two ST games, people wanted him gone?  Miller retired the side in order in the ninth, striking Connor Joe on 4 pitches, all looking to end the game.  Actually his second pitch to Joe was a strike at the top of the zone that was called a ball.  The three strikes were clear strikes that must have fooled Connor.  This was Miller's first MLB save.
With this win, the Dodgers are alone in 1st by ½ a game.  KC beat Arizona, and Justin Steele (Cubs) shut down the Padres 5-0.  Steele is the real deal thus far.  After his 5th start and 30.1 IP, Justin is 4-0, with a 1.12 ERA and 0.89 WHIP.  Mark Washington entered the 9th and pitched another scoreless inning.  The bullpen put runners on base, but none of them scored.
MiLB Summary Report
OKC Dodgers 5 – Sacramento River Cats 4
After the Dodger game, I looked at the MiLB games.  I told my wife that the first thing I look for in the OKC games is what Michael Busch did.  She did not need to remind me that he did not play for OKC on Tuesday, but she did anyway.  Now it is going to be Hunter Feduccia.  He went 1-4.
OKC entered the 9th down 4-2.  Tuesday night's victory was OKC's fourth walk-off win of the season (through 10 home games) and sixth last at-bat win of 2023. OKC won for the fifth time when trailing in the eighth inning or later and won for the third time when trailing in the ninth inning or later.
In the 9th down 4-2, Jahmai Jones singled to open the inning.  Steven Duggar drew a walk, and after a K for out #1, Yonny Hernandez walked to load the basis.  Ben DeLuzio singled home a pair to tie the score.  Bradley Zimmer was IBB to reload the bases for Devin Mann.  Mann singled home Hernandez for the win.
Robbie Erlin gave up 4 runs to Sacramento in the first five innings.  Jimmy Nelson made his first rehab appearance in the 6th, and pitched a scoreless inning.  New addition, James Jones, pitched 2.0 scoreless innings.  Mark Washington pitched a scoreless 9th.  The bullpen pitched with traffic, but none scored.
Drew Avans – 2-4, 1 BB
Jahmai Jones – 2-4, 1 BB, double (4)
Bradley Zimmer – 3-4, 1 BB, double (3)
Tulsa Drillers 4 – Arkansas Travelers  (Seattle) 3
Nick Frasso pitched five outstanding innings.  He allowed a run, 3 hits, 0 walks, and 8 K.  Nick gave up his 3 hits in the third for the run.  He retired the side in order in his other 4.0 IP.  Nick threw 70 pitches, 52 strikes.
Four relievers (Tanner Dodson, Cole Percival, Jordan Leasure, and John Rooney) followed Frasso and completed 4.0 scoreless innings.  Rooney finished the game and got his 3rd save.
The key hits for Tulsa were HRs by Imanol Vargas (4) and José Ramos (3).  Tulsa moved into 1st place in the Texas League, North Division after the win.
Great Lakes Loons 4 – Fort Wayne TinCaps (San Diego) 2
Ronan Kopp started and  struggled in the 1st, loaded the bases, but got out without a run.  He retired the side in order in the 2nd.    After striking out the first two batters in the 3rd, he gave up a walk, triple, and single to the next three batters before being relieved by Aldry Acosta.
For the third game, the bullpen kept the opposition from scoring.  After closing out the third, Acosta pitched a scoreless 4th.  Robbie Peto completed 3.0 scoreless innings.  Antonio Knowles and Jake Pilarski finished the game with 1.0 scoreless innings each, with Pilarski getting his 5th save.
Yunior Garcia hit a 2-run HR (3) in the 7th to tie the score.  With the first two hitters out in the 8th, Alex Freeland singled and Taylor Young walked.  Jake Vogel doubled (2) them both home to complete the come from behind victory.
Kyle Freeland – 2-3, 1 BB
Junior Garcia – 2-4, HR (3), 2 RBI
Jake Vogel – 1-4, double (2), 2 RBI
Rancho Cucamonga Quakes 3 – Inland Empire 66ers (LAA) 1
Maddux Bruns started for the Quakes.  He completed 2.2 innings, but threw 66 pitches/40 strikes.  He allowed 1 H, 2 BB, and 4K.  Chris Campos finished the 3rd, and completed 2.0 additional scoreless innings.
In the 5th, Rayne Doncon hit a HR (4) to open the scoring.  In the 7th, Dayton Dooney doubled (3), followed by a HBP, and Jose Izarra singled home Dooney.
With Lucas Wepf relieving in the 7th, IE got a triple and came home on a ground ball that was booted.  That was the only run scored by Inland Empire, and the only run scored against any of the four affiliate bullpens.
In the 9th, 3 walks and a sac fly scored an insurance run.
Madison Jeffrey pitched a scoreless 9th for his 2nd save.
Rayne Doncon – 2-4, 1 BB, HR (4)
Dayton Dooney – 2-3, 1 BB, double (3)