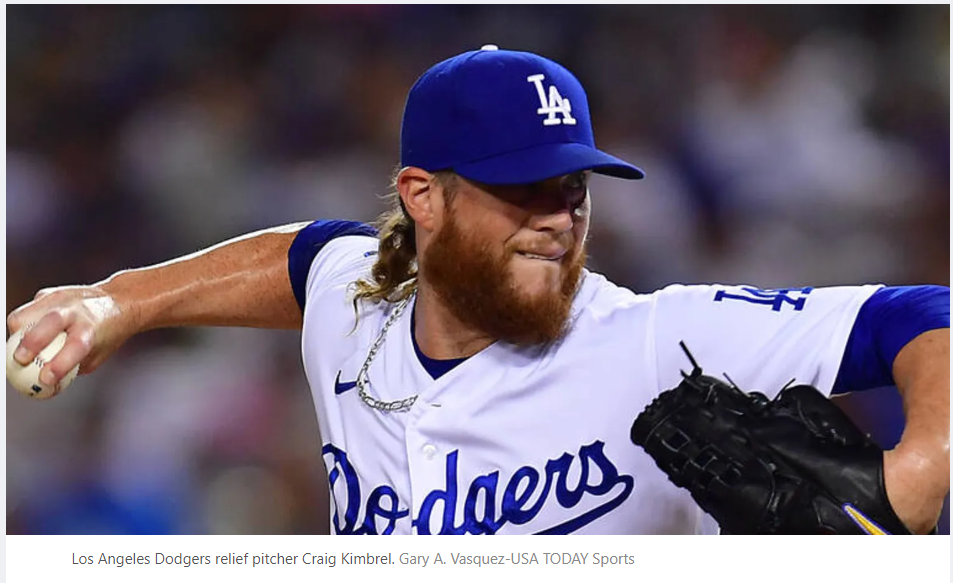 We all have seen the struggles of Craig Kimbrel.  He was dominant for so many years. But except for the beginning of 2021, Kimbrel has not been good since 2018.  He has been hot and cold for most of the 2022.  Admittedly I was very hopeful things would turn around for him.  I really liked his original choice of walkout music,  Guns 'N Roses "Sweet Child O' Mine", but when he switched the music to "Let It Go", something changed for him.  He was exceptional from the night the music changed, August 21, thru September 13.  For those 8 games, 8.1 IP, he did not allow a hit, and only allowed 2 baserunners via walk.  I thought he may have turned the corner.  I even wrote that.
However, for the next 4 games, Kimbrel was scored on in three of them.  In 3.1 IP, he allowed 5 runs, 3 hits, 2 walks, 3 HBP, and 2 HRs.  That is just not acceptable for an ML reliever, much less a closer for a championship aspiring team.  And now, Doc Roberts has made it abundantly clear that Craig will no longer be the Dodgers closer and instead, the team will be going to a closer by committee.
#Dodgers Dave Roberts confirmed the obvious /inevitable — Craig Kimbrel won't be closing games any more. Will look for other roles to use him in for rest of regular season. Wouldn't speak to postseason

— Bill Plunkett (@billplunkettocr) September 23, 2022
We have witnessed this before.  In 2017, while not a closer, Pedro Báez was left off the 2017 playoff roster.
Then we watched in 2019 when Kenley Jansen was put at the back of the bullpen in the NLDS against Washington.  In 2020, after getting hit hard in Games 3 and 4 in the WS, he was not called when the games got late in Games 5 and 6.  In Game 5, Doc went to 2 rookies, Dustin May and Víctor González before bringing in Blake Treinen to close it.  In Game 6, there were 7 pitchers call upon, and none named Kenley Jansen.
As good as Kimbrel has been throughout his career, he has not been good in the playoffs.  In 23 games and 24.0 IP, Craig has allowed 13 runs, 17 hits, 15 BB, 3 HBP, and 3HRs.  He has a post season career ERA of 4.13.  That does not bode well for the use of Kimbrel in the postseason.
I know there are calls for Kimbrel to be left off the playoff roster, and with the potential number of options available, I would not be at all surprised if Craig was left off.  Báez was a Doc favorite and a lifelong Dodger, and AF/FZ/Doc did not hesitate to leave Pedro off the 2017 playoff roster.  Kimbrel does not have that legacy, so it is not implausible that he would be left off if others shine over the next two weeks, regardless as to what the back of his baseball card says.  Interestingly enough, the one pitcher who was effective on an otherwise worthless LAD pitcher's night, was in fact Craig Kimbrel.
Closer by committee?  For me that is a nebulous term.  Right or wrong, I have always preferred that one guy to come in the 9th and shut it down.  The Dodgers will have multiple options who can close, but I do not think it will be just one.  If Blake Treinen or Daniel Hudson were available, they would be logical choices.
Without Hudson and probably without Treinen, who would you trust to get three outs in the 9th.
I would be comfortable with any of those as committee members.  I did not include Yency Almonte only because he is still rehabbing with OKC.  In his 2nd rehab game on Friday night, he pitched a scoreless inning with a strikeout on 7 pitches, all strikes.  He will get another inning on Sunday, and then should be activated for the Padres series.
I do believe that David Price will get a good opportunity to make the roster, but I doubt that he would be asked to close.  Tony Gonsolin and Dustin May will have much to say about making the roster, and their inclusion means others will be left off.  I think Phil Bickford played himself out of a playoff roster spot.
So much still to be determined, but it is getting precariously close to having Craig Kimbrel on the outside looking in.
MiLB Summary
OKC Dodgers 2 vs El Paso Chihuahuas (San Diego ) 6
OKC dropped to 3.0 games behind El Paso with 5 to play.  The magic number for El Paso is 3.
Keegan Curtis and Justin Hagenman were jumped on during the first two innings allowing all 6 runs, with Hagenman allowing a 3-run HR and a 2-run HR.  After the second HR, 5 pitchers pitched 6.1 hitless and scoreless innings, with 3 walks and 5 strikeouts.  But the damage was done, and the Dodgers bats continued to slumber.
The two runs were a result of solo HRs by Jason Martin (32) and Hunter Feduccia (7).  Martin was the only OKC Dodger to get 2 hits.
The Dodgers got that one out of the way.  Now they can concentrate on winning the series.  We witnessed history.  Who cannot be happy for Tio Albert?  If it wasn't going to be in St. Louis, it had to be Dodger Stadium where he got #700.  I don't think that this is how Phil Bickford wanted to be remembered. But just like Al Downing and Henry Aaron, Bickford will always be tied to Albert Pujols. I was only sorry that it was the Apple TV crew that called it.
#699to 
#700