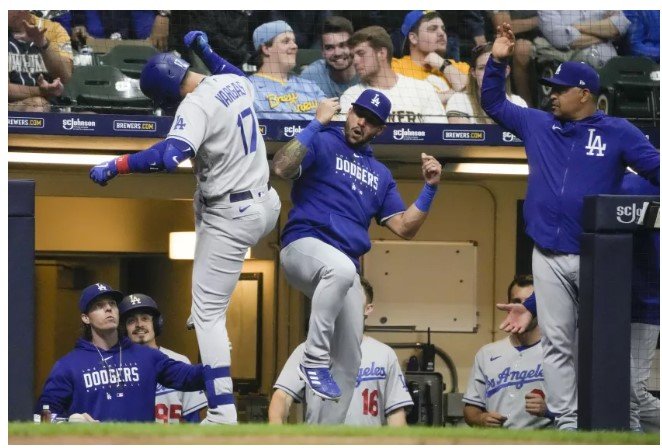 It figured to be a tough night for LAD with LHSP, Eric Lauer, on the bump.  All he has done in his career against the Dodgers is go 7-1 with a 2.37 ERA in 64.2 IP.
Well…Mookie Betts decided to remind all of us that he is a dangerous RH bat against LHP.  On the second pitch he saw from LHP Eric Lauer, he deposited it over the LF wall for yet another leadoff HR (7).  This was his 2nd leadoff HR of the year and 39th of his career; 19 with LAD.  Charlie Blackmon (40) and George Springer (53) are the two active players ahead of Mookie.  He is 10th on the all-time list.
Ricky Henderson (81)
Alfonso Soriano (54)
George Springer (53)
Craig Biggio (53)
Ian Kinsler (48)
Curtis Granderson (47)
Jimmy Rollins (46)
Brady Anderson (44)
Charlie Blackmon (40)
Mookie Betts (39)
The Dodgers were not done in the 1st.  Freddie Freeman drew a walk, stole 2nd, and moved to 3rd on an errant pick off throw at 2nd.  Will Smith hit a long 369 foot sac fly to CF for a sac fly.
In the 2nd, James Outman continues to prove he can hit LHP and doubled down the right field line.  With two out and 2 strikes, Miggy Rojas got on top of a fastball up out of the zone and outside, and banged it into RF for a run scoring single.
Another RH bat, Will Smith, slugged his 5th HR of the season over the LF wall.  It was not hit as hard or as far as the sac fly, but it did leave the yard.
After 3.2 innings, the Dodgers chase Lauer, and have a 4-0 lead against a LHSP.
Miguel Vargas crushed a 2-run HR in the 6th inning for a 6-0 lead.  This insurance would be invaluable later in the game.
The game started ominous enough for LAD starting pitcher, Noah Syndergaard.  He took a 9 day break to work on mechanics.  Okay, so they did not want him to pitch against the Padres.  After his 1st inning warm up pitches, crew chief, Alfonso Marquez, and HP umpire Ramon De Jesus were checking Syndergaard's hand.  He went back into the clubhouse because of blood on the baseball.  They looked at the sealant on his finger and sent him back in the clubhouse for additional treatment. He came back out, and got out of the 1st inning, thanks to a tremendous defensive play by Chris Taylor on a Willy Adames fly ball to the LF wall.  That was followed by a Rowdy Tellez double play.  Syndergaard is calling it a cut finger.  Per Doc, this was his 3rd start with the finger in semi-raw condition.   Syndergaard has had this before.
From there it turned into a bullpen game.  The LAD bullpen dominated the Brewers until Shelby Miller offered up 2 solo HRs.  Rowdy Tellez's could be expected.  Victor Caratini?  Not so much.
Shelby Miller walked Christian Yelich with 2 out in the 8th, and Brusdar Graterol then relieved Miller.  Luke Voit singled before Graterol got Willy Adames on a swinging strike 3.  That was Graterol's lone whiff of the night.
Graterol went back out in the 9th.  With one out, Vargas threw a ball away and the Brewers still had life.  Graterol walked Caratini, but as Dontrelle Willis said, De Jesus' strike zone was floating around like a Ouija board.  Graterol threw three pitches that were called balls, but could have been, and were previously called strikes.  It really isn't fair for the pitchers (or the hitters).  This is the second bad job behind the plate this year by De Jesus.
The Dodgers defense has been taking a hit lately, but the play by Chris Taylor off the bat of Christian Yelich off Justin Bruihl in the 3rd inning was outstanding.
Chris Taylor holy catch pic.twitter.com/9u2yUIoNRY

— Blake Harris (@BlakeHHarris) May 10, 2023
The Dodgers will now be going for another road series win.  For the rubber match, Clayton Kershaw will face off against another LHSP, Wade Miley.  Miley has not been as formidable as other LHP against LAD.  His record is 4-6, with an ERA of 4.03 and WHIP of 1.396 in 91.2 IP.
05-09-2023 MiLB Summary Report
OKC Dodgers 4 – Round Rock Express (Texas) 1
 This was supposed to be a big-time pitching duel between OKC's Gavin Stone and Round Rock's Cody Bradford.  And it did not disappoint.  Gavin Stone allowed a 2 out HR to Justin Foscue in the 1st inning.  IN 5.1 IP, he was a little wild with 4 BB, but he allowed only 2 hits.  After Gavin walked Foscue with 1 out in the 6th he had thrown 91 pitches, and it was his last on the night.
Tyler Cyr relieved Gavin.  Foscue stole 2nd and continued to 3rd on a throwing error by Hunter Feduccia.  But Cyr left him stranded there.
Cody Bradford basically shut down OKC from the start.  He pitched 6.0 scoreless innings on 4 singles and a BB to go with 7 Ks.  The PCL is a BIG TIME hitters league.  After 7 starts and 39.2 innings, Bradford's ERA is lowered to 0.96 with a WHIP of 0.86.  The #2 ERA in the PCL is 3.00. Gavin Stone is 5th at 4.20.
Down 1-0 and Bradford done for the night, OKC put up 4 in the 7th.  With 1 out, Steven Duggar drew a BB, Jahmai Jones doubled (6), and Ben DeLuzio walked to load the bases.  David Freitas was just activated for the game, and on a 3-2 pitch hit a grand slam and a 4-1 lead.
Brayan Hudson and Nick Robertson closed it out for the OKC win.  Robertson, who now looks to be the closer by choice, earned his 4th save.
Yonny Fernandez – 2-5
Jahmai Jones – 2-4, double (6)
Tulsa Drillers 14 – Springfield Cardinals 1
Tulsa brought their big boy bats to play.  14 runs on 15 hits and 6 walks and 2 HBP.  They only struck out 5 times, so the bat was attacking the ball.
Every Tulsa hitter had at least one hit except Jorbit Vivas, but he reached base twice via HBP.
Nick Nastrini started and completed 5.0 innings allowing only run on an L. J. Jones 2nd inning HR (3).
Braydon Fisher continued his mastery of AA batters with a scoreless inning.  John Rooney, Trevor Bettencourt, and Ben Harris followed with a scoreless inning of their own.  Although Harris continues to struggle with his control as he loaded the bases in the 9th on BB.
Offensive highlights:
Jonny DeLuca – 2-3, 2 BB, 1 R, 1 RBI, HR (9)
Andy Pages – 3-4, 1 BB, 1 R, 3 RBI, double (11)
Imanol Vargas – 2-5, 1 R, 1 RBI
José Ramos – 2-5, 1 R, 3 RBI, double (4), HR (8)
Eddys Leonard – 2-4, 1 BB, 2 R, 2 doubles (6)
Brandon Lewis – 2-4, 1 BB, 2 R, 2 RBI, HR (2)
8-18 RISP
DeLuca is now #2 in the Texas League HR battle with 9. Ramos is now #3 in the Texas League HR battle with 8.
Andy Pages #3 in League OBP; Jonny DeLuca #3 in League SLG; DeLuca #4 in League OPS; Jorbit Vivas #6 in League OPS.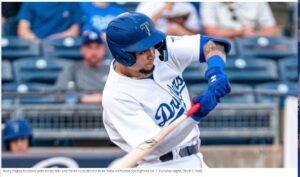 Great Lakes Loons 4 – Lake County Captains (Cleveland) 1
 Justin Wrobleski delivered the longest outing of his minor-league career. The left-hander saw the first two batters reach, and then aptly responded striking out three through five in the Lake County order. In the second, the 22-year-old forced a double play, and in the third, stranded a baserunner. The fourth was Wrobleski's best a 1-2-3 11-pitch frame.  His pitching line was 4.2 IP, 0 runs, 2 hits, 3 BB, 5 K.
In the top of the second, Austin Gauthier, coming off being named the Midwest League Player of the Week, drove in the game's first two runs with a single. Chris Alleyne and Ismael Alcantara were the runners plated, Alleyne reached on a walk, after a ball lifted down the left-field line was ruled a home run and then was overturned.
Dalton Rushing's third at-bat led off the top of the fifth, the Loons catcher launched a no-doubter. to make it 3-0.
The bottom of the fifth, saw two Captains reach. Lake County's catcher Micael Ramirez singled, and second baseman Christian Cairo walked. Loons right fielder Ismael Alcantara recorded the second out for Great Lakes making a great play in foul territory, the last out recorded by Justin Wrobleski.  Christian Suarez inherited two on and two out and got a groundout to end the inning.
Insurance was added in the top of the eighth. Jake Vogel reached on a catcher's interference, after a second out was recorded, the next three batters would not be denied. Alcantara singled, Luis Diaz walked, and set up the bases loaded for Austin Gauthier. The Midwest League leader in on-base percentage, worked a seven-pitch walk, to extend the lead to 4-0.
The bullpen came to play. Christian Suarez struck out two, in 1.1 innings. Mitchell Tyranski pitched the next two frames, striking out three and permitting just one baserunner.
Reinaldo De Paula was tasked with the ninth, Lake County managed to get a multi-hit inning and a run across. Dayan Frias plated a run with a sacrifice fly after the bottom of the ninth started with two singles. Three outs followed, including a strikeout of the potential tying run.
Dalton Rushing – 2-5, 1 R, 1 RBI, HR (5)
Yeiner Fernandez – 2-5
Ismael Alcantara – 2-4
Rancho Cucamonga Quakes 4 – Stockton Ports (A's) 3
Jerming Rosario, the Quakes starting pitcher, completed 4.0 innings, and the only blemish on his card was a 4th inning lead off HR (1) by Tommy Stevenson.
Rancho didn't score their first runs until the eighth, as they rallied with two in the eighth to take a 2-1 lead, thanks in part to an Jorge Puerta RBI double (4) to put them ahead.
After suffering a seven-run ninth on Sunday in a loss at Lake Elsinore, Rancho gave away a one-run advantage in the ninth on Tuesday, as the Ports scored a pair of runs with two outs, taking a 3-2 lead.
Dayton Dooney's two-run double in the last of the ninth, saved the Quakes from their second straight ninth-inning loss, as Rancho came from behind on Tuesday afternoon to defeat Stockton 4-3.
Stockton closer Dallas Woolfolk couldn't hold the lead though, as Rancho's offense, which was held to just six hits over the first eight innings, came out swinging in the ninth.  Jesus Galiz opened the inning with a single, then moved to second on a Kenneth Betancourt single down the left-field line.  That set the stage for Dooney, as he blasted one off the top of the left-field fence.  Galiz easily scored, but the ball bounced away from Stockton left fielder Colby Thomas, giving Betancourt the opportunity to score the game-winner in walkoff fashion.
Jon Edwards (1-0) got the final out in the top of the ninth, as he was credited with the win.
Jose Izarra – 2-4, 1 R
Jorge Puerta – 2-4, 1 RBI, double (4) (walkoff)