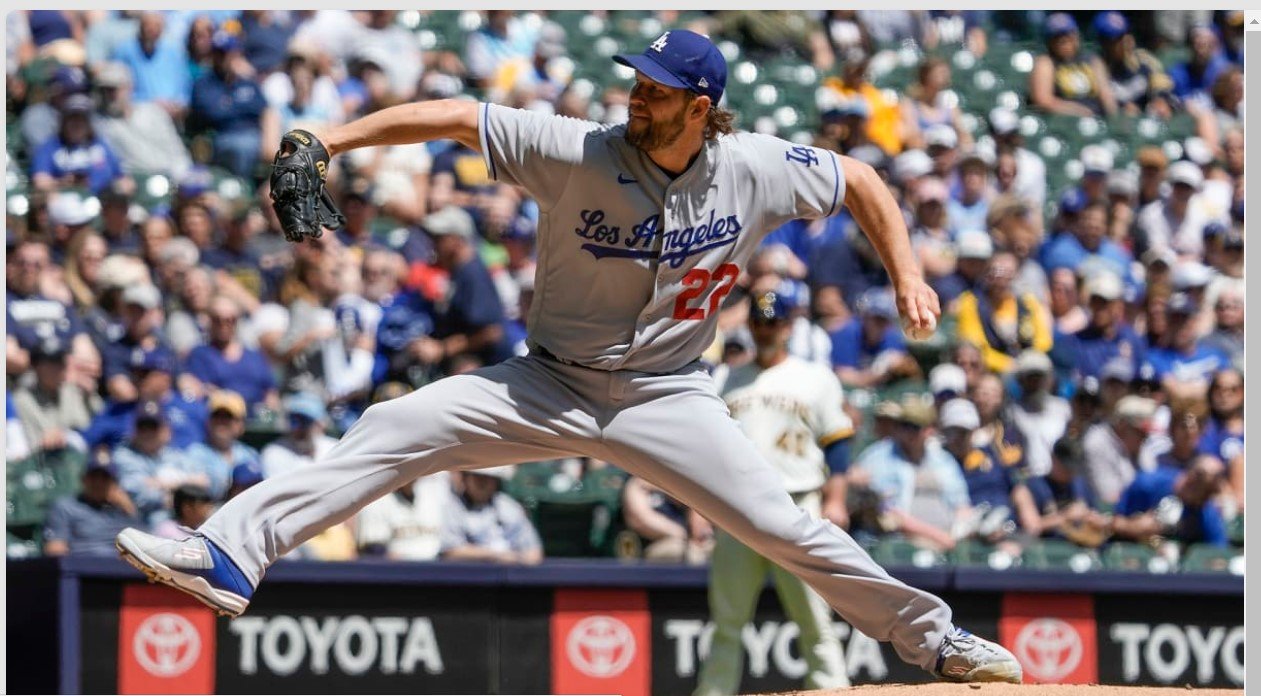 After losing 2 of 3 to the once mighty Pirates, the Dodgers have come roaring back to win the next four series, going 10-2 in those 12 games.  In those 12 games, the team has gone from a .500 team to 8 games over .500, and on a 98 win pace.  The have the 2nd best record in the NL and the 5th best in MLB.
With the victory over the Brewers, with the losses by Arizona, San Diego, and San Francisco, the Dodgers are now 2.5 games ahead of Arizona, 3.5 games ahead of San Diego, and 6.0 games ahead of the Giants.
The Dodgers have won their last two series on the road, losing the first game of each series.  Both series wins were against playoff contending teams.  For the six games, the Dodgers outscored their opponents 26-20.
After am unplanned bullpen game on Tuesday where 7 relievers were used, the Dodgers really needed for Clayton Kershaw to go deep into this game.  And Kershaw complied by going 7.0 innings, allowing a solo HR to William Contreras for the only run of the game.  He allowed 4 other hits, but no walks.  Two of the singles were erased on a pair of double plays.  The only other Brewer runner to reach 2B was Luke Voit who doubled on a ball that James Outman probably misplayed.
Stephen Nelson and Dontrelle Willis semi-blamed the shadows, while after the game Adrian Gonzalez and Jerry Hairston Jr. said that James just misplayed it.  I did not hear from James on the play, but I will hazard a guess that he believes he should have caught it as well.
After 92 pitches and an 8-1 lead, Clayton's day was done.  The only LAD reliever that did not pitch in Tuesday's bullpen game was RHRP Wander Suero.  Suero made up for his two previous outings with 2.0 perfect innings with 3 Ks.
In Clayton's last start, Dodger pitchers tossed 11 BB (Kershaw 5).  On Wednesday's game, Dodger pitchers did not allow a walk.
The Dodgers offense is still not clicking.  For the six game road series, the team batted a combined .181/.282/.392/.674.
They pulled out 4 wins in their last 6 games with their leadoff hitter going 3 for 23.  Mookie had a double, 2 HRs, 3 BB, and a SF.  His batting line for the 6 games was .111/.222/.435/.657.
Mookie was not the only Dodger batter with sketchy offensive numbers over the road series.
Freddie Freeman – 5-26, 2 doubles, 1 HR, 1 BB, 6 K – .192/.222/.385/.607
James Outman – 5-21,1 BB, 2 HBP, 2 doubles, 1 HR, 7 K – .238/.333/.476/.810
Miguel Vargas – 3-21, 2 BB, 1 triple, 2 HR, 4 K – .143/.217/.524/.741
Max Muncy – 1-18, 2BB, 1 HBP, 7 K – .056/.191/.056/.246
CT3 – 3-18, 1 BB, 2 HR, 4 K – .167/.211/.500/.711
Miguel Rojas – 4-16, 1 BB, 1 K – .250/.294/.250/.544
Others – 4-37, 6 BB, 3 doubles, 7 K – .108/.233/.189/.422
Others include Jason Heyward, David Peralta, Austin Barnes, Michael Busch, and Trayce Thompson.
OTOH, Will Smith was 7-16, with 2 doubles and 2 HRs.  He had 5 BB, and ZERO strikeouts.  His batting line for the two series was .438/.545/.938/1.483.  
For the season, Smith has struck out 6 times and walked 14.  Smith returned from his concussion for the St. Louis series, and the Dodgers have been 10-2 since then.  I know players do not like talking contract during the season, but it sure would be nice to see Smith get extended.  I know it is early, but he should be a lock for the All Star game.  Sean Murphy (Atlanta) is having an All Star season as well.
Pitching in this road series was fairly good.  4 of the 6 games, the opponent scored 2 or less runs, 1 game was 5 runs and 1 game was 8 runs.
There were 5 starters with Kershaw starting 2 games.  One was forgettable, and one was outstanding.  Because Noah Syndergaard was only able to pitch 1.0 innings, the starters completed just 30.1 IP.
Clayton Kershaw (2 games) – 11.2 IP, 13 H, 5 ER, 5 BB, 15 K, 3 HR
Dustin May – 6.0 IP, 3 H, 0 ER, 1 BB, 6 K, 0 HR
Julio Urías – 5.2 IP, 8 H, 2 ER, 1 BB, 3 K, 0 HR
Tony Gonsolin – 6.0 IP, 3 H, 3 R (0 ER), 0 BB, 6 K, 1 HR
Noah Syndergaard – 1.0 IP, 1 H, 0 R, 1 BB, 0 K, 0 HR
The one bad start was San Diego Game 1 with Clayton Kershaw.
SP – 2.08 ERA, 1.187 WHIP
The relievers completed the remainder of the 53.0 IP, 22.2 IP.  There were 9 relievers used:
Phil Bickford – 3 games – 3.0 IP – 5 H, 4 ER, 0 BB, 2 K, 0 HR
Shelby Miller – 2 games – 2.2 IP – 2 H, 2 ER, 4 BB, 5 K, 2 HR
Wander Suero – 3 games – 4.2 IP – 1 H, 3 ER, 4 BB, 4 K, 2 HR
Caleb Ferguson – 2 games – 2.0 IP, 0 H, 0 ER, 1 BB, 3 K, 0 HR
Brusdar Graterol – 2 games – 2.0 IP, 3 H, 1 ER, 1 BB, 2 K, 0 HR
Evan Phillips – 3 games – 2.1 IP, 0 H, 0 ER, 1 BB, 4 K, 0 HR
Yency Almonte – 2 games – 2.1 IP, 0 H, 0 ER, 0 BB, 2 K, 0 HR
Victor González – 2 games – 2.1 IP, 0 H, 0 ER , 0 BB, 2 K, 0 HR
Justin Bruihl – 1 game – 1.2 IP, 0 H, 0 ER, 0 BB, 2 K, 0 HR
The only game that got away from the relief corps was Game 1 v Milwaukee.  Bickford and Suero pitched a combined 2.0 innings.  They allowed 6 earned runs, on 5 hits and 1 BB. 
RP – 3.97 ERA, 1.015 WHIP
Overall Pitching – 2.89 ERA, 1.113 WHIP
Of the 4 victories, 3 were off LHSP (Snell, Lauer, and Miley).  The 4th victory was sent into extra innings with a 2-out HR off the LHRP, Josh Hader.
The Dodgers will host Milwaukee in a 3-game series , August 15-17.
Next up – 3 more against San Diego.  The pitching matchups have been set:
Friday – Blake Snell v Dustin May
Saturday – Joe Musgrove v Julio Urías
Sunday – Michael Wacha v Tony Gonsolin
Hopefully LAD fans will be just as raucous as San Diego fans last weekend.
05-10-2023 MiLB Summary Report
OKC Dodgers 6 – Round Rock Express (Texas) 4
OKC drew first blood in the 2nd inning.  After a BB and force out, Steven Duggar was left at 1B.  Duggar stole 2B, and Devin Mann drew a BB.  Patrick Mazeika and Bradley Zimmer hit  run-scoring singles to jump out to a 2-0 lead.
Starting Pitcher Dylan Covey got through the first two innings without allowing a run.  A double, single, SB, and single tied the game after 3 innings.
Josh Sale slugged a 2-run HR (1) and a 4-2 lead for Round Rock.
OKC struck back with 4 in the 7th to re-take the lead.  Devin Mann opened with a single and Patrick Mazeika drew a BB.  Bradley Zimmer doubled to score Mann.  With one out Yonny Hernandez singled to plate both Mazeika and Zimmer.  Hernandez moved up on a WP, and scored on a 2 out single by Luke Williams.
Alex Vesia, Andre Jackson, and Tayler Scott pitched 4.0 scoreless innings.  Vesia may have pitched a scoreless inning, it was not without drama. He gave up a leadoff single before striking out a batter.  He issued 2 walks, and had the bases loaded with one out.  Vesia struck out the next two batters.  He is still too much of a roller coaster ride to bring back up.
Bradley Zimmer – 3-3, 1 run, 2 RBI, 1 HBP, double (4) – Bradley's double was the only OKC XBH
Tulsa Drillers 3 – Springfield Cardinals 0
After pounding out 15 hits in Tuesday's series opener win, the Drillers used the arms of River Ryan and four relievers to shut out the Cardinals on 4 hits.
The Drillers jumped out to a 2-0 lead in the opening frame.  Jonny DeLuca opened the inning with a single, but was erased by a Jorbit Vivas ground ball force out.  With 2 outs, José Ramos singled Vivas to 2nd.  Vivas stole 3rd and came home on an errant throw to 3B.  Ramos moved up to 2nd on the play.  Ramos later scored on an Imanol Vargas single.
River Ryan was sailing along into the 5th without having an opposing baserunner reach 2B. In the 5th, Ryan got the first two outs before a single and walk brought out Manager Scott Hennessey with the hook.  Tanner Dodson was summoned, and he retired the only batter he faced by striking him out to preserve the 2-0 lead through 5.0 innings.
With 2 out in the 6th, José Ramos, Eddys Leonard, and Imanol Vargas each singled to bring home another run for the Drillers.
Lael Lockhart came in to relieve in the 6th.  He pitched in some traffic (single and walk), but got out of it without any runs scored.  Ryan Sublette and Jordan Leasure pitched 3.0 perfect innings with 5 strikeouts.
José Ramos – 2-4, 2 runs
Imanol Vargas – 2-2, 1 BB, 2 RBI
There were no XBH.
Great Lakes Loons 8 – Lake County Captains (Cleveland) 1
The Great Lakes Loons (19-10) are 13-2 in their last 15 games and winners of four straight after downing the Lake County Captains 8-1.  Great Lakes now has the best overall record in the Midwest League.
The Loons scored 8 runs on 3 hits.  All three hits were solo HRs; 2 by Dalton Rushing and 1 by Yunior Garcia.
The Loons started the game with two walks, from Austin Gauthier and Dalton Rushing. With one out, Alex Freeland pushed in the game's first run with a groundout to first base. Freeland has 18 RBI, ranking second on the team.
Dalton Rushing got the first of his 2 solo HRs in the 3rd.  In the 4th, a Taylor Young walk, stolen base and throwing error scored the 3rd Loons run.  Yimi Garcia followed with his solo shot, and a 4-0 lead.
Dalton Rushing hit his 2nd HR in the 5th.  In the bottom of the 5th, the Captains got a pair of doubles off starting pitcher Yon Castro for their only run of the game.  The run ended a 14 inning scoreless streak for Castro.
Franklin De La Paz threw a scoreless sixth, but the Loons needed two pitchers for the seventh. Carlos De Los Santos collected the first two outs, but an error at first base kept the inning alive. Two BB later, with the bases loaded, Antonio Knowles was brought in to get the final out of the inning.  Knowles has been lights out this season, allowing just one run in his 12.0 IP (9 games).  He has 19 K and 6 BB.
The Loons scored three runs on the 8th without the benefit of a hit.  3rd strike WP, HBP, a pair of errors and a sac fly produced the 3 runs (2 unearned).
Knowles and Aldry Acosta pitched a scoreless 8th and 9th innings to complete the victory.
Dalton Rushing 2-3, 2 runs, 2 RBI, 2 HR (7).
Yimi Garcia – 1-3 1 run, 1 RBI, HR (5)
Great Lakes are dominating the offensive leader boards in the Midwest League.
Dalton Rushing – #1 HR (7)
Austin Gauthier – #1 BA (.402) – 2nd at .368
Austin Gauthier – #1 OBP (.513), Dalton Rushing #3 (.462)
Dalton Rushing – #2 SLG (.602), #1 at .656
Austin Gauthier – #1 OPS (1.078), Dalton Rushing #2 (1.064)
Dalton Rushing – #2 RBI (20), #1 25
Austin Gauthier – #1 Runs (24), Dalton Rushing #4 (20)
Maddux Bruns makes his Great Lakes debut on Thursday.
Stockton Ports (A's) 2 – Rancho Cucamonga Quakes 1
RC got a good pitching effort by five Quakes pitchers who combined on a 3-hitter.  However, they did issue 9 walks while striking out 15 Ports batters.  Unfortunately, Stockton pitchers were a bit better.
The Stockton Ports enjoyed their best pitching performance of the season, holding the Quakes to just one hit in a 2-1 victory over Rancho on Wednesday night.
Dayton Dooney's third-inning single was the lone hit for a struggling Rancho offense, as three Ports' pitchers combined on the one-hit effort.
Rancho starter Luis Valdez worked 2.1 innings of scoreless baseball. Darlin Pinales threw a season-high 4.2 innings, but got hit with the loss.
Payton Martin draws the start for Thursday against Stockton.