It is time to take a look at the first month of the Dodger affiliates in MiLB.  After the conclusion of Sunday's games:
AAA – OKC was tied with Round Rock (Texas) for the best record in the PCL East with 15-9 records.
AA – Tulsa is tied with Wichita (Minnesota) for the best record in the Texas League North with 13-8 records.  The Drillers play Wichita in a 6-game series starting tonight.
High A – Great Lakes is tied for third in the Midwest League East with Lake County (Cleveland) with 10-11 records.  They are 6 games behind Daytona (Cincinnati) and 1 game behind Fort Wayne (San Diego).
Low A – Rancho Cucamonga is in 2nd place in the California League South, 2 games behind Lake Elsinore (San Diego).  The Quakes are playing Lake Elsinore in a 6-game series this week.
First Affiliate – OKC Dodgers:
OKC has three prospects in the LAD Top 30 (per MLB Pipeline).  Miguel Vargas (5), Ryan Pepiot (6) and Andre Jackson (11).  All three are having positive seasons.  All three are proving worthy of their prospect status.
Miguel Vargas (22) – 3B – Coming into this season, Vargas has moved quickly through the organization, almost exclusively due to his ability to hit.  He moved from High A to AA in 2021, and directly to AAA in 2022.  He is a veritable hitting machine.
In 2022, Miguel is slashing .273/.383/.455/.838.  Those are not his normal lofty numbers, but he is progressing.  He has been somewhat streaky this year.  His power numbers are down.  He is in a very hitter friendly League. Will it improve?
Vargas is currently on a 5-game hitting streak.  After Sunday's games, he led OKC in hits with 24.  His 20 runs scored are second on the team.
One area of noticeable improvement is his plate discipline.  Last year in 542 PA, 45 BB and 89 K.  His K rate was 16.4%, and his walk rate was 8.3%.  This year while his K rate is very slightly increased to 17.8%, his BB rate has significantly increased to 15%.
Where Miguel needs considerable improvement is in his defense.  Last year in 202 chances, Miguel had 13 errors (93.6%), while this year in 50 chances he has 4 errors (92%). For comparison, JT has a .964 fielding % (2022) and a career fielding % of .958 at 3B.
This only takes into consideration the plays Miguel gets to.  The knock on Miguel is that his feet are slow, and he has difficulty in making plays where he needs to move.  I have observed this as well.  Will Vargas have to move to 1B?  Will his lack of power hurt his chances at being a regular at 1B?  At least FanGraphs believes so as they do not believe he can play ML 3B, and that he only warrants a Future Value of 45 at 1B.  Miguel is RH (most prefer LH 1B), and he has never projected into a 30+ HR player.  The Dodgers have 2 LHH 1B with consistent 30+ HR power.
One other piece of information…While it seems that most blog sites have Vargas as the starting 3B in 2023 (some had him as the 3B at the All-Star Break), those same sites have been overly negative towards Gavin Lux.  Comparatively speaking, while Gavin's defense leaves some scratching their head, he is Ozzie Smith compared to Vargas.  At AAA in 2019, Lux had 3 errors at SS in 129 chances (.977 fielding %), and 1 error in 54 chances at 2B (.981 fielding %).  Gavin gets to more balls than does Miguel.
While those same blog sites post that it is Vargas' bat that will determine when he makes it to ML, they also forget how great Lux was in 2019, and some have opined that Gavin should be sent back to MiLB.  Lux at 21 was a year younger in AAA than Vargas (22).  In 232 PA, he batted .392/.478/.719/1.197. He was the MiLB Player of the Year in 2019.  Not just LAD, but for all MiLB. How can we promote the offensive tools that Vargas has in MiLB and yet at the same time ignore what Lux did at a younger age?  It is HARD to compete at the MLB level straight out of MiLB.  Ask Spencer Torkelson?
Right now, a more pertinent question is…Is Miguel Vargas a better option at 3B than Edwin Rios?
Please do not read into this that I think that Vargas is trade fodder, or should not be highly thought of.  I just want to temper expectations, so they do not lead to how Gavin Lux has been dismissed because he is not an All Star at 24.  I still consider Vargas a legit ML prospect and potential All Star, but he is going to need to put the work in at 3B.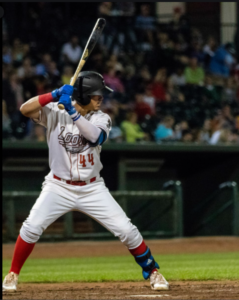 Ryan Pepiot (24) – RHP – Coming into the season, Pepiot was needing a third plus pitch to be considered a ML mid rotation starter for a contending team.  IMO, that is Ryan's ceiling, while his floor is as a high leverage late inning reliever.  His out pitch is a devastating change that is considered the best in MiLB (75). His fastball is also considered plus/plus (70).  This offseason, Pepiot began to improve his average slider (50).  Consider that a success.  His slider is vastly improved from where he has been at.
The other area of concern was Ryan's command and control.  His command seems to be on the upswing, as his BA against is considerably better this year than last (.222 vs .182). His GO/AO has gone from 0.69 to 1.127.  He appears to be able to pitch to spots better this season.  I have not seen enough of him to see if his delivery stays consistent. But the results are very encouraging.
His control has also improved.  His K/BB rate has increased from 2.7 to 1 (2021) compared to 3.22 to 1.
Pepiot has also been outstanding compared to other PCL pitchers.
ERA – 1.66 is #1 in PCL.  #2 is 1.96.
WHIP – 1.06 is #2 in PCL.  #1 is 0.96.
BAA – .182 is #2 in PCL. #1 is .150.
K – 29 is #3 in PCL.  #1 is 34 and #2 is 32.
Is his new and improved slider the impetus to drive him up the PCL leaders charts?  I would not project him to be part of the rotation in 2022.  However, with his lethal change, he can make the ML team as a member of the bullpen this season.  I think that happens by September, if not sooner.
As a reward for his outstanding month of April, Ryan was named PCL Pitcher of the Month.  Well deserved.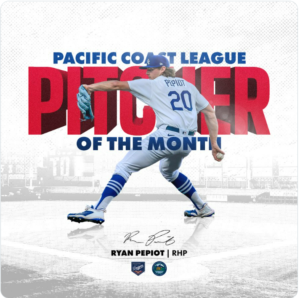 Andre Jackson (26) – RHP – Andre has been up and down with the MLB team.  He was on the ML roster, but never got into MLB game this season.  He has toiled 10.2 IP at OKC.  His ERA is 0.84, BAA is .094, and WHIP is 1.13.  Where he has suffered is with control.  In 10.2 IP he has 9 BB and 7 K.  Is this an anomaly?  Up until 2022, the K/BB ratio has been better than 3 to 1.
Jackson is a late bloomer when it comes to pitching.  He was primarily an OF at the University of Utah, when he received TJ surgery following the 2016 season. He had all of 11 relief appearances at the University of Utah, with a 6.41 ERA. The Dodgers still drafted him in the 12th round, and in 2019, Andre led the entire LAD organization with 11.1 K/9.  In 2021, Andre moved from RC, to Tulsa, to OKC, to LAD.  That is the exact path that Brock Stewart took in 2016.  Caleb Ferguson took a 3-level path (Tulsa, OKC, and LAD) in 2018.
Jackson has already been to the Show, now he has to prove that he can stay there.  He reminds me of a slightly less talented JoJo Gray.  Maybe he can join a rotation with a team not in contention, or become a multi-inning reliever / #6 starter with a contender (such as LAD).  At 26, he is 2 years younger than a more advanced Tony Gonsolin.  Can he make a rapid improvement over the next year?  I would not count him out.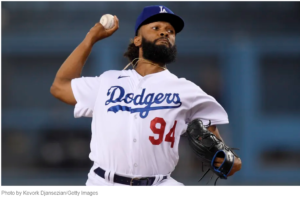 Knocking on the Door of ML Reserve Status:
Ryan Noda – 1B and Corner OF – Ryan can prove to be a potential LHH DH/1B.  He has improved his metrics from .250/.383/.531/.904 in AA to .284/.430/.500/.930 in AAA.  He usually bats in the cleanup spot.  Last year he had more HR power 29 vs a projected 20 HR over the same number of PA in 2022.  But his K rate is down, and his K/BB ratio is improved from 1.71 (2021) to 1.26 (2022).  I do not see him as a ML regular as a Dodger, but could he be a Jesus Aguilar?
AAAA and ML Reserves (offense):
After having missed badly in 2021 with ML reserves, AF decided to upgrade his organizational depth with better quality reserves.
Kevin Pillar – .288/.407/.575/.982
Jason Martin – .311/.407/.514/.921
Eddy Alvarez – .257/.409/.446/.855
Tomás Telis – .359/.419/.385/.804
Jake Lamb – .256/.341/.462/.803
Stefen Romero (limited PA due to IL) – .357/.412/.571/.983
To put these performances in perspective, Zach McKinstry is on the ML roster as a platoon LH PH and defensive utility player with a MiLB line of .361/.423/.590/1.013.  Any of the above (including Noda) can fill in when needed.
AAA and ML Reserves (Pitching):
Outside of Andre Jackson and Ryan Pepiot, there are no AAA pitchers capable of joining the rotation.
Of the relievers, Justin Hagenman, has shown that he should garner consideration for a possible bullpen spot.  Maybe not this year, but if he continues his development, he will be considered for 2023.
Jon Duplantier (27) has shown enough improvement to at least continue with the AAA staff and see where it goes.
There are a number of AAA pitchers that maybe should be replaced by AA pitching prospects.  Three that should be considered are RHRP Mark Washington (26), RHRP Michael Grove (25), RHP Clayton Beeter (23), RHRP Aaron Ochsenbein (26), LHP John Rooney (25).  IMO, it might be time to push any of these over Daniel Zamora, Jose Adames, Shane Greene.
One final pitcher that seems to be a conundrum…27-year-old RHRP Marshall Kasowski.  At one time, Kasowski dominated A Leagues with his fastball.  He became a LAD blogosphere favorite with 111 Ks in 64.2 IP in A Leagues.  As he started his climb, the strikeouts began decreasing.  Thus is the problem with prospects with one pitch.  He is now 27 and behind multiple relief prospects.
Next April Review – Tulsa Drillers