It was 66 degrees and sunny in Colorado, and there was a baseball game.  That is not always the case for Colorado April's, but for one afternoon, everything was perfect, including a Dodger victory. There were six doubles (4 by Colorado), but no HRs in this game.  So the pitchers did a good job keeping the ball in the yard.
The game featured Walker Buehler vs. Kyle Freeland; a changing of the Aces.  The torch has been passed from Clayton Kershaw to Walker, and Jon Gray has moved down to Arlington, Texas, where he was the Rangers opening night pitcher.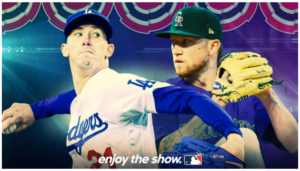 Last year, Freeland started four games against LAD, and had four quality starts.  He ended up 1-2 and a no decision (LAD win).  Freeland had that experience to go at least 6 quality innings against the Dodgers, and it appeared after three innings on Opening Day that he might do so again.  Through three, the Dodgers had a Max Muncy single, a Gavin Lux walk, Freddie HBP, and a Mookie K/WP for four baserunners.
The in the 4th, the Dodgers scored 5.  It started out innocently enough with a Max Muncy 6-3 ground out.  Will Smith singled for his first hit in 2022, and that was followed by a CT3 double, setting up Cody Bellinger to get healthy with one controlled swing.  Not this time.  On the first pitch, Belli hit a foul pop out for the second out.  Up to bat was the player so many have given up on…Gavin Lux.  We are consistently reminded that Gavin cannot hit LHP.  Thus on an 0-2 pitch, Gavin promptly shoots the ball up the middle for a two run single.  Mookie Betts follow the 2-run single with a double, that Lux scored from 1st on.  Freddie Freeman walked, and Freeland's night was done.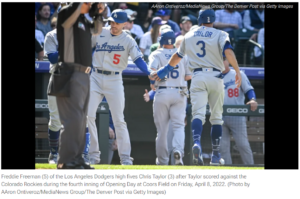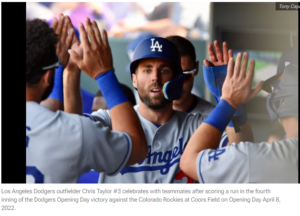 There would be no quality start against the Dodgers on this night.  Tyler Kinney relieved Freeland, and Trea Turner stroked his first hit of 2022 scoring Mookie and sending Freddie to 3rd.  Freddie then scored run number 5 on a Kinney WP.
The Dodgers will no doubt hit a lot of HRs and also strike out a lot.  That is who they are. They did strike out 11 times in the Opener. Only Bellinger and Lux went without a K.  But with their lineup, they are more than capable of putting an inning together like they did in the 4th.  They can stretch together multiple hits to get a big inning.  With Freddie and Trea Turner leading the team, those two will work to put the ball in play rather than swing from their heels. They are both excellent 2 strike hitters.  I suspect that Gavin Lux will learn more from those two and what makes them a success.
Pitching was also positive for LAD.  Buehler started and walked Kris Bryant in the first.  In the second, the Rockies put together a Ryan McMahon double, a Connor Joe single, two ground outs, and a Jose Iglesias for 2 runs.  Over the next three innings, Walker allowed a 4th inning walk and a Kris Bryant double (in the 5th) before calling it a day.
It was a good but not dominating game for Buehler.  He went five innings for the win.  He threw 78 pitches, 53 for strikes.  He allowed 2 runs (both earned), 4 hits, 2 walks, and punched out 5 Rockie batters.
Walker was followed by Brusdar Graterol, Blake Treinen, Daniel Hudson, and Craig Kimbrel to close.  Bazooka allowed no hits, but issued one walk to go with one K.  Blake Treinen threw five pitches to get three outs, including a K.  Hudson allowed a one out single to CJ Cron, but struck out the side.  Kimbrel allowed a pair of doubles to Elias Diaz and old nemesis Charlie Blackmon, but preserved the win, for his first save as a LAD.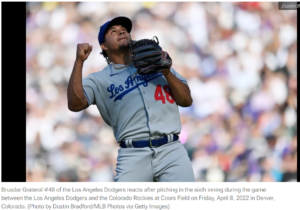 There were a lot of positives for the Dodgers on Opening Day. 7 of 9 Dodger batters got a hit.  Chris Taylor had two hits including a double.  Gavin Lux had a two-run single against a good LHP, and reached base 3 times.  Mookie hit the ball hard for his run scoring double.  Freddie and Will Smith both reached base twice. Three of the four relievers were dominant.  LAD pitchers struck out 12 Rockies, and THE DODGERS WON ON OPENING DAY 2022.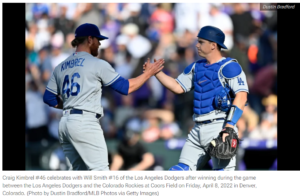 Still on pace for a 162-0 season, later this evening, Tony Gonsolin takes the bump for LAD while German Márquez does so for the Rocks.