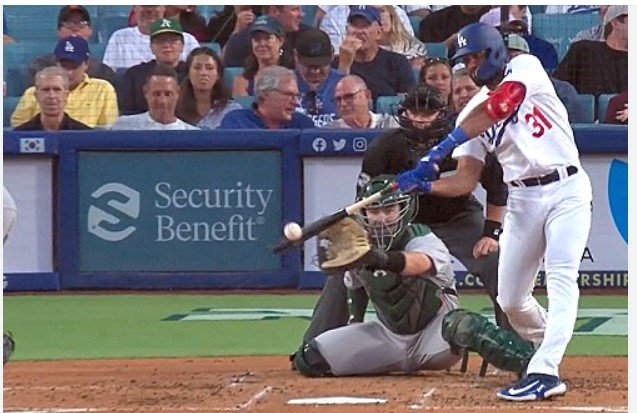 Both teams were coming into the first game of a 4 game series playing outstanding baseball.  The Pads swept Texas in 3 the won 2 out of 3 against Colorado.  The Dodgers were coming off a 3 game sweep of Oakland.  This game had the look and feel of a playoff game.  It had clutch pitching, clutch hitting, base running, and clutch clutch defense.
This one looked like a leaner to SD with Yu Darvish against rookie Bobby Miller.
It did not take long for the defense to take center stage.  With a runner on and Fernando Tatis Jr. at the plate, Fernando hit a 100.1 MPH 4-seamer up in the zone but on the outside edge to deep CF.  James Outman made a HR saving catch.
JAMES OUTMAN ROBS FERNANDO TATIS WITH AN INSANE CATCH pic.twitter.com/SBXw2GBubq

— Blake Harris (@BlakeHHarris) August 5, 2023
Outman put a slug on an 0-2  95.7 MPH fastball, and hit it 385 feet over the right-center wall for a 1-0 lead.
JAMES OUTMAN. pic.twitter.com/yNflPe78Ti

— Los Angeles Dodgers (@Dodgers) August 5, 2023
Miller took the mound in the 2nd with the lead, but it did not take long for the Padres to threaten.  They put runners on 2nd and 3rd with nobody out and got out of the inning without allowing a run.
The Padres finally broke through in the 4th.  With the score tied at 1-1,  2 out and runners on 1st and 3rd, Ha-Seong Kim was coming up against Miller for the 3rd time.  Miller had not fooled Kim, and Doc came out to get Miller in favor of Joe Kelly.  Kelly threw a high fastball that seemed to go through Smith's glove to the backstop, and the Padres scored the go ahead run.
The Padres scored an insurance run off Alex Vesia thanks to a HBP and walk and a 2 out single.
In the 7th, David Peralta doubled and moved to 3B on a Jason Heyward ground out.  With 2 outs, James Outman got an infield single to score Peralta and brought the Dodgers within 1. Had
Darvish was removed after 7.0 innings in favor of Robert Suarez.  Kiké Hernández led off the 8th with a single, and Mookie followed with a BB.  Freddie and Will Smith were not able to move up the runners.  With 2 outs and 2 strikes to David Peralta, he hit a game tying double.
David Peralta is hitting .350 with runners in scoring position late in games (innings 7-9)!pic.twitter.com/YEPk93yTJN

— Dodgers Tailgate (@DodgersTailgate) August 5, 2023
Suarez IBB Jason Heyward to get to Chris Taylor.  CT3 came all the way back from a 1-2 count to draw a bases loaded walk and the lead.
LHRP Tom Cosgrove was summoned to face James Outman.  Outman hits LHP better than RHP, and Cosgrove pitches better against RH batters than LH batters.  Doc sends up JD Martinez to PH for Outman.  JDM also drew a walk to force in the 5th run.
Next up lefty killer Amed Rosario came to the plate with the bases loaded.  Amed was 0-3 with a K against Yu Darvish.  Against LHRP Cosgrove, Amed singled down the first base line to plate 2.  The Dodgers got off the ground to score 5, all with 2 out.
THE DODGERS ACQUIRED AMED ROSARIO FOR NOAH SYNDERGAARD

— Blake Harris (@BlakeHHarris) August 5, 2023
Like with Vesia, Caleb Ferguson entered and hit the 1st batter he faced.  PH Garrett Cooper hit a ground ball headed to RF.  The much maligned defensive play of Amed Rosario was all but dashed with what will turn out to be one of the top defensive plays of the season.  He dove and got the ball at the top of his glove like a snow cone, and from the seat of his pants, he threw a two hopper to Freddie for the out.
What a play by Amed Rosario at second base his secondary position

Who did we give up?
Noah Syndergaard 😂#HereToPlay #Dodgers #MLB #LADodgers pic.twitter.com/i03EtlawkR

— Dodgers Transactions (@Tehahdget) August 5, 2023
Ferguson walked another and gave up a 2 out single for a run.  With 2 outs and 2 runners on and Fernando Tatis, Jr. coming to the plate, Doc called on Evan Phillips.  Tatis hit a relatively long fly to RF, but Mookie was able to haul it in for the 3rd out.
The Dodgers scored 3 more against new Padres reliever, Scott Barlow.
With Phillips coming out for the 9th with a 6 run lead, the first batter was Juan Soto.  Phillips' job is to throw strikes, and Soto's job is to hit them. Soto won this AB with an opposite field HR, but Phillips retired the next three and got the save.
Bobby Miller was not efficient at all.  He would get 2 strikes against batters, but could not get the out.  Too many 3 ball counts, and after 3.2 innings, he had 82 pitches (49 strikes).
As Nomar said about Miller's interview, he knows what he has to do.  "I have to do better when I get the batter 1-2."  He is continuing his education against what should be (may not be) a playoff team.  To get out of his 2nd inning with runners on 2nd and 3rd and nobody out, without surrendering a run, was clutch.  Too many stressful pitches early in the game.  He will continue to grow.  While he was not happy about coming out of the game, he did not overreact.
The AB that will get a lot of attention over the weekend, was the Joe Kelly v Tatis in the 5th.  Kelly threw 2 fastballs very high and tight, with his 7th pitch coming so far inside, that it ended up hitting the knob of his bat.  Tatis was a little ticked off, but he had to be thinking of the close call because he was frozen on a ball right down the middle for strike 3.
Badger's 8 runs would have been enough, but 10 runs was nice.  8 of the 10 runs came with 2 outs.
Thus far, 4 of the 5  deadline trade acquisitions have been stellar since their trades.  On Saturday, the 5th acquisition will get his chance as Ryan Yarbrough will be pitching at some point, either as a starter, or as a bulk inning relieve, against Blake Snell and the San Diego Padres.
While Outman's HR saving catch was not as dramatic as Cody Bellinger's against Tatis, Jr. in the 2020 NLDS, it was clutch.  As a reminder, here is Cody's grab in the NLDS game.
08-04-2023 – MiLB Game Summary Report
OKC Dodgers 7 – Round Rock Express (Texas) 1
Gavin Stone was back to his 2022 pitching.  6.0 scoreless and hitless innings. 2 walks and 10 strikeouts.  Jimmy Nelson completed the 7th with the no-no intact.  With 2 outs in the 8th Round Rock finally got a hit off Victor Gonzalez to break up the no-hitter.  Gus Varland gave up a run in the 9th on 2 hits to lose the shutout.
OKC was up 7-0 after 5.  OKC had 12 hits, 6 were XBH.
Key Performers:
Michael Busch – Leadoff hitter – 3-5, 1 RBI, double (21)
Miguel Vargas – 2-5, 2 runs, 2 doubles (6)
Ryan Ward – 2-4, 1 run, 2 RBI, double (23), triple (4)
David Dahl – 2-4, 1 BB, 1 run, 1 RBI
Steven Duggar – 1-2, 2 BB, 1 run, double (8)
Gavin Stone was on point tonight for AAA OKC going 6 scoreless with 10 Ks & no hits. He topped at 95.8 on the 4 seam, but he threw his cutter the most that hit 91.8 with 31 inches of vert & was in zone 71%. He featured 5 pitches, none thrown more than 33%. Great Outing!#dodgers pic.twitter.com/1Wx0JK8dGf

— Dodgers Daily (@dodger_daily) August 5, 2023
Tulsa Drillers 14 – Wichita Wind Surge (Minnesota) 5
Tulsa jumped out to a 9-0 lead after the top of the 1st inning.  Wichita scored 3 in the bottom of the first, only to have Tulas get the 3 runs back in the top of the 2nd.  Wichita scored 2 in the bottom of the 2nd. After 2 innings the scored was 12-5.
Tulsa scored two over the next 7 innings, while Wichita also scored a pair in the 8th and 9th.
Key Performances:
Austin Gauthier – 2-2, 3 BB, 2 runs, 1 RBI
José Ramos – 2-5, 1 BB, 1 R, 4 RBI
Yusniel Diaz – 3-5, 1 BB, 3 runs, 3 RBI, 2 HR (9)
Josh Stowers – 3-6, 2 runs, 2 RBI, double (6), HR (3)
Great Lakes Loons 8 – Fort Wayne TinCaps (San Diego) 4
Great Lakes scored 8 runs over the first 6 innings.  Fort Wayne scored their 4 over the last 4 innings, with 1 in the 8th and 2 in the 9th.  Hyun Il-Choi pitched a scoreless 4.2 innings with 5 hits, 1 BB, and 3 K.
Great outing for the Dodgers 2021 Minor League Pitcher of the year, Hyun Il Choi. Choi went 5 scoreless, had 3 Ks, just 1 walk & gave up 5 hits. Choi's ERA is down to 2.08 & tonight was the most pitches he had thrown in an outing this year. #dodgers pic.twitter.com/FnjTgQESxs

— Dodgers Daily (@dodger_daily) August 5, 2023
The Loons had 13 hits, all singles.
Key Performances:
Yeiner Fernandez – 2-6, 1 run
Luis Yanel Diaz – 2-6, 4 runs, 1 RBI
Alex Freeland – 3-4, 1 BB, 1 run, 1 RBI
Max Hewitt – 2-5
Nick Biddison and Chris Alleyne – 2 RBIs each
Fresno Grizzlies 2 – Rancho Cucamonga Quakes 1
20 year old RHP, Christian Romero continued his outstanding season in the hitter friendly California League.  He went the first 5.2 scoreless innings (75 pitches), allowing 3 hits, with 6 K.  The Quakes bullpen surrendered 2 runs.
Wilman Diaz homered in the 6th to give RC the 1-0 lead.
Key Performers:
Wilman Diaz – 3-4, 1 run, 1 RBI, HR (2)