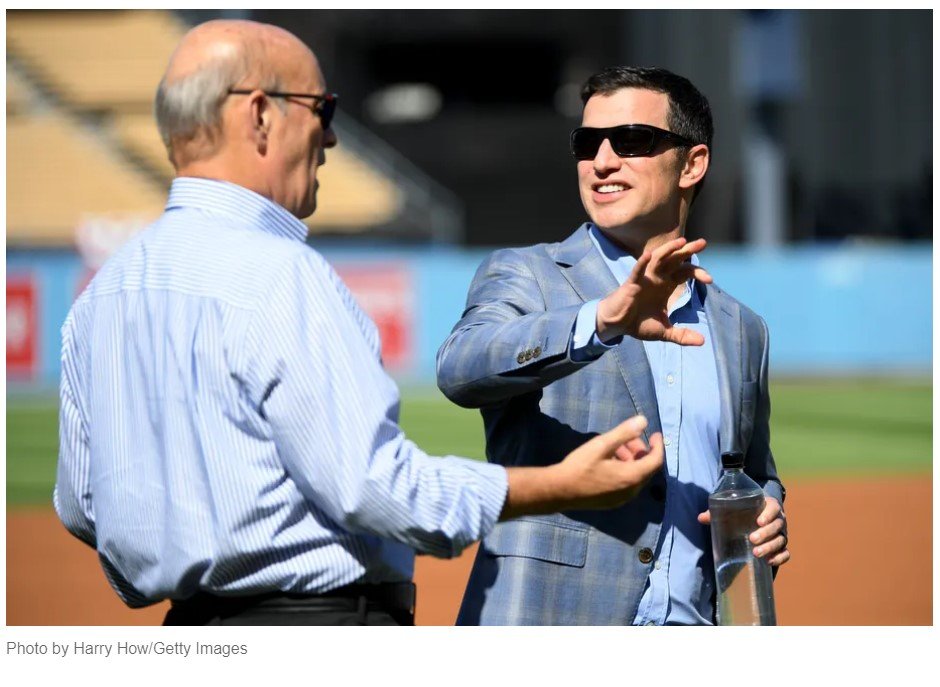 Look, I get it.  There are those of you out there that flat out do not like Andrew Friedman.  Never have liked him.  I am not going to change your mind so I am not going to try.
Yes he has made mistakes.  Trevor Bauer being the biggest.  Noah Syndergaard also comes up snake eyes.  Yes, he more than most will scour the waiver wire and try to find that gem.  He has found more than most.  But it does give the visual that he is more interested in finding the gems than getting proven players. I get that, it frustrates me as well.
I am not one who thinks AF can do no wrong.  I have criticized his moves in the past, but IMO he has proven himself.  But we can debate him at a later time.
But this commentary/editorial is on the coming and going of the 2023 trade deadline and the disappointment and frustration we all must feel, and I am sure that includes AF.   I am generally writing this in response to the Bill Plaschke and Dylan Hernández columns on the outcome.  I read both articles after comments by Badger and Hondo.  As I previously said, I am not a Bill Plaschke fan primarily because of his disdain for USC.  I cannot remember the last time Dylan Hernández had anything positive to say about the Dodgers.  But I do heartily acknowledge that they are gifted columnists.  Just not my favorites.
Plaschke criticized AF for not getting a front line starter, but also acknowledges…
Granted, both Verlander and Rodriguez utilized no-trade clauses and Scherzer once quit on the Dodgers and there are surely a million reasons why these deals didn't work out but still…
He then goes on to say what Texas did and what Houston did to improve.
The Rangers shipped their No. 2 prospect to the New York Mets for Scherzer. 

The Astros traded their best prospect to the Mets for Verlander.
 But he already acknowledged that Scherzer was not a fit and JV invoked his no-trade so he could go back to Houston.  So how do you criticize a PBO for not trading for someone who once quit on them in the playoffs, and one who had no intention of playing for LAD, and had the leverage to make sure he didn't.
This is what Fabian Ardaya said about the JV negotiations:
Things progressed enough for the two sides to exchange names and for the Dodgers to be involved. But Verlander's history and relationship with Astros owner Jim Crane (along with a no-trade clause to help him direct his new landing spot) threw a wrench into any real chance of a pursuit.
 Based on the comment, I would think that the LAD offer was more than fair, but JV had the leverage and used it.  Even if NYM was inclined to accept the LAD offer, Houston was probably the only team that NYM was allowed to consider.  Yes, NYM probably used the Dodgers to exact the max they could get out of Houston. Why shouldn't they?  AF does it.
Plaschke went on to say:
The Angels traded two of their top three prospects to the Chicago White Sox for Giolito and Reynaldo López.
IMO, a complete overpay that screwed up the market for the week.  Also, how did that work out?
Final line from Lucas Giolito in his 2nd start with the Angels

3.2 innings
9 ER
2 K
8 H
3 BB
3 HR
87 pitches
21 CSW%
16.09 FIP

Yikes pic.twitter.com/Ciwnph541u

— sky (@GonsolinRBW) August 2, 2023
In his first start as a LAA against Toronto, Giolito really did not pitch better against them than did Grove or Urías.
Plaschke concluded:
The Dodgers needed some standout starting pitching, yet Andrew Friedman couldn't acquire any, and so a team that has so often been lifted by the trade deadline has once again been crushed by it.
I would heartily agree if a front line pitcher was actually available to the Dodgers, and he was not acquired.  Perhaps my definition of front line and Plaschke's definition are different.   The Dodgers have a roster full of mid rotation to back end rotation starters.
That is why Michael Lorenzen and Jordan Montgomery were not considered, again IMO.
Dylan Hernández
Maybe owner Mark Walter decided to cut back on spending.
Just like E-Rod invoking his no trade, Walter has an absolute right to cut back on spending.    I do not know if he did, but Hernández is free to conjecture anything he wants.
He went on to say:
Prioritizing the future over the present, Friedman refused to deal the necessary prospects to acquire the likes of Justin Verlander or Dylan Cease, who were available for the right price.
How does Hernández know this?   Was he party to the negotiations?  Even his LA Times buddy, Plaschke, knew that Verlander was not going to waive his no-trade clause to pitch for LAD.  The Dodgers did not lose JV because they were not willing to pay the price.  This was all on JV who had all the leverage.
Hernández says that Cease was available at the right price, but does not say what that price was.  I agree he was available at the right price FOR THE WHITE SOX. I say that the right price was Bobby Miller, Michael Busch, Miguel Vargas, Diego Cartaya, and Gavin Stone.  I bet CWS would have made that trade.  Should AF/BG do it just to satisfy Dylan Hernández and all of their critics?
I know these writers are editorializing, but they have no more basis in what they say vs what I say when it comes to "the right price".  It is their opinion, nothing more.  Neither Plaschke nor Hernández were told of any trade details that did not materialize.
Eduardo Rodriguez is another issue, and I am doing a lot of reading on that one.  More on this later as well.  STB hit on most of the salient points.
I do agree that good intentions are not always acceptable.  But in this case, I have no idea where this front line starter was going to come from.  Pittsburgh thinks they are close and were not about to make the same mistake with Mitch Keller that they did with Gerrit Cole, Tyler Glasnow, and Joe Musgrove.  They were going to listen and probably not act in desperation.
CWS said they were not going to trade Cease, and then saw what stupid returns teams were getting for mediocre rentals, including what they got for Lucas Giolito.  If they could get an overwhelming offer for Cease, why wouldn't they?  Apparently what the Dodgers were discussing and what CWS GM Rick Hahn was willing to accept was not close.  Maybe it will get closer in the winter.  Maybe not.
None of Blake Snell, Gerrit Cole, Justin Steele, Zac Gallen, Shane McClanahan, Framber Valdez…were available.  I could add any number of names to that list that would also not be considered available.
So what front line starting pitcher were they supposed to get?  Other than JV, none were traded.
I do believe that AF/BG realized that unless Kershaw is healthy, and unless Urías and Gonsolin can turn it around, the Dodgers will find it very difficult to win the WS in 2023 anyway.  They needed an innings eater, and Lance Lynn fills that void.  He is not an Ace, but he does fulfill a purpose at the back end of the rotation.
The team has invested so much in their rookies.  It would have been preferable if Dustin May did not get hurt, Noah Syndergaard would have been a Tyler Anderson type acquisition, Clayton Kershaw did not get hurt, Ryan Pepiot did not get hurt, and Julio Urías and Tony Gonsolin would have pitched as expected.  Didn't happen.  In fact none of it did.  And yet because of the kids,  and their on-the-job training, they are in 1st place in a very competitive NL West.
If Kershaw is fully healthy, Urías and Gonsolin turn it around, Bobby Miller continues to perform, and Lance Lynn pitches as a back of the rotation pitcher should (eats innings and gives the bullpen a rest), they should be just fine.  That would allow Emmet Sheehan and Michael Grove to go back down to OKC to further percolate without the pressure of being a rookie in a pennant race.  Although Sheehan did have a 4 inning save on Thursday.  He allowed 2 hits (both HR), 1 BB, 3 K in his 4.0 IP.  56 pitches in those 4.0 innings.
BTW, I am not as much down on Michael Grove as many of you are.  Yes, he got roasted by the Reds (and others).  But he also struck out 10 Reds' batters in 6 innings.  That would indicate that his "stuff" is good.  But the 8 runs would also indicate that his command is not.  His strikeout percentage is at MLB average, while his walk percentage is better than MLB average.  His K/BB is 3.50.  But his HR percentage is much higher than MLB average.  What that says (to me) is that he has the pitches to get ML hitters out, but he has not mastered his command to do it consistently enough to be a ML starter for a contender.  Will he ever?  A lot of talented pitchers have overcome command issues, and a lot have not.  He needs to play it out, and the Dodgers need to let him.  We have been advised that the Dodgers are experts at this.
There was no front line starter available for trade after Justin Verlander. The closest was Eduardo Rodriguez, and both pitchers invoked their no-trade clauses to do what they wanted.  No other front line starter was traded to anybody before the deadline came and went, so stop with the nonsense that AF/BG missed out.  If Gerrit Cole, Shane McClanahan, or Framber Valdez were traded, then I would lead the bitching.
There was no 2015 Johnny Cueto, no 2017 Yu Darvish, no 2021 Max Scherzer, no 2022 Luis Castillo that were headline moves.  Lucas Giolito, Jordan Montgomery, Jack Flaherty, and Michael Lorenzen are not difference makers for a contender.
Aaron Civale?  He is a mid-rotation starter at best. He would be a #3 even with Cleveland if Shane Bieber and Triston McKenzie were not hurt.  He has probably been passed by Tanner Bibee.  He does not have much swing and miss. He does not strike out a lot of people.  He just may not be the type of pitcher that the Dodgers are looking for.  Three different types of fastballs – Cutter, sinker, 4-seamer – Cutter in the high 80's, and the other two in the low 90's.  He pitches to soft contact, but soft contact has been killing the Dodgers this year.  Thus the desire for Lance Lynn who does strike batters out.  Here is his Statcast Percentile Rankings.
That is also why Joe Kelly was reacquired.  He strikes batters out well above MLB average.  He also walks batters at a well above MLB average.  Always has.  Joe Kelly does not change.  He also gets hurt.
I admit, I was all in on Arenado.  But that was not going to happen.  Instead, AF/BG veered to Amed Rosario and Kiké Hernández.  That should help with hitting against LHP, and it probably was the best they could do with a RH bat (again that was available).  Both have already had a positive starts for the Dodgers.  I still look forward to what Kiké will do in the playoffs.
For those that do not like AF, I know I will never change your mind.  I am not trying to.  What I am writing is a response as to why I think Plaschke and Hernández were critical without offering a solution other than "they should have".  Give me the name of the front line starter that they missed on.  They did not miss on Cease, because he was not available.  They did not miss on Keller, because he was not available.  They did miss out on Rodriguez and were willing to incur the overpayment, but the player pulled the plug.  They were in on Verlander, and the player balked. So who?
OBSERVATION – Here is hoping that the Dodgers 2nd round pick, Jake Gelof, will hit as well as Zach Gelof seems to hit for the A's.  Zach seems ready to rise to become a star in the League.
08-02-2023 – MiLB Game Summary
OKC Dodgers 7 – Round Rock Express (Texas) 6
The Express scored 6 off the first two OKC pitchers, and took a 6-3 lead after 5.  OKC had not scored after the 2nd inning going into the 9th.  In the bottom of the 9th, David Dahl hit a 2-run HR to get within 1.  The next two OKC batters were retired.  Patrick Mazeika singled with two outs and moved to 2nd on a WP.  Hunter Feduccia reached on a scoring error, and Mazeika scored the tying run in the 9th.
Bryan Hudson left the inherited runner on base in the 10th.  With Michael Busch starting the inning at 2nd.  He went to 3rd on a ground out.  The next two batters were IBB, and David Dahl singled home Busch for the walk off win.
Key Performers:
David Dahl – 3-4, 2 runs, 3 RBI, HR (5)
Ryan Ward – HR (15)
Tulsa Drillers 10 – Wichita Wind Surge (Twins) 0
Nick Frasso was brilliant for 5.0 scoreless IP.  3 hits, 1BB, 8 K.  He threw 77 pitches while facing 18 batters.  Ben Harris and Aldry Acosta each pitched 2.0 scoreless and hitless innings to complete the shutout.
#Dodgers No. 7 prospect Nick Frasso was EXCELLENT tonight for Double-A Tulsa

5.0 IP
3 H
0 R
1 BB
8 K
19 whiffs (!!!)
77 P / 53 S

That whiff total is a season-high for MLB Pipeline's No. 84 overall prospect pic.twitter.com/IsmPlHw6IJ

— Bruce Kuntz (@Bnicklaus7) August 4, 2023
8 of the 9 Tulsa batters had a hit.  6 of the 12 hits were XBH.
Key Performers:
Austin Gauthier – 2-3, 1 BB, 1 run, 1 RBI, 2 doubles (12)
Jorbit Vivas – 2-4, 2 runs, 3 RBI, HR (12)
Josh Stowers – 2-5, 1 run, 5 RBI, HR (2)
Hamlet Marte – 2-4, 1 run
Yusniel Diaz – 1-3, 2 BB, 2 runs, 1 RBI, HR (7)
Imanol Vargas – double (20)
Fort Wayne TinCaps (San Diego) 10 – Great Lakes Loons 0
Maddux Bruns had a very rough outing.  Maddux Bruns struck out seven TinCaps but was responsible for half of Fort Wayne's runs. Graham Pauley smacked a two-run home run with two outs in the first.
Bruns retired 10 of the next 12, striking out six. Bruns entered the fifth inning but only recorded one out. The TinCaps scored six runs off five hits.
The Loons were shut out on 5 hits.
Key Performers:
Taylor Young – 2-4
Yeiner Fernandez – 2-3
Fresno Grizzlies (Colorado) 4 – Rancho Cucamonga Quakes 2
The Grizzlies scored a pair of runs each in the 4th and 6th for a 4-0 lead.  RC got 2 back in the 8th, on a pair of solo HRs by Thayron Liranzo (17) and Jesus Galiz (5), but that was as close as they could get.
Key Performers:
Thayron Liranzo – 2-4, 1 BB, 1 run, 1 RBI, HR (17)
Jesus Galiz – 2-4, 1 run, 1 RBI, HR (5)