As I was beginning the process of developing LA Dodger Chronicles, my first developer ran into some time constraints, and I needed to switch gears.  However, that switch created a five-week delay, and most (if not all) of what I had written during the lockout is therefore no longer newsworthy.  But it did allow me to vent, if even to myself.  There were additional delays with my new developer, but we are now live, and I get to publish my opinions, even if a bit delayed.
The hot-stove league has come and gone.  So any player speculation posts I may have written have also been deemed out of date.  In retrospect, I know I would have speculated correctly on all that transpired.  Oh well, to steal a phrase from my blog mentor, I missed an opportunity to show that "I have vision while others simply have sight."  😂👍
To be honest, I did not believe that Freddie Freeman would be a Dodger.  And I thought that Brandon Gomes and Andrew Friedman would trade some of their RHP depth prospects and a couple of MLB ready players who will only play marginal or utility roles for the Dodgers, for an established mid to late rotation starting pitcher to bridge the gap before Pepiot, Miller, Knack, Beeter, Stone, or Jackson are ready.
I may be late to the dance, but the party is just about ready to begin, and I do want to comment on a couple of transactions that just transpired.  On April 1, LAD traded LF AJ Pollock for closer Craig Kimbrel.  And yet another overreaction to a perceived LAD weakness.  For me, this transaction stems from the overreaction to NYM and SDP winter transactions a year ago when AF signed Trevor Bauer.   Was AF worried that either NYM or SDP were going to sign Bauer?  Both teams were building a roster to contend, and both teams seemed very interested in Bauer.  For a while, NYM was the apparent favorite to land him.  Then AF came in and overpaid for a pitcher with one outstanding 60 game season and a career ERA north of 4.00.
We will never know for sure, but it will never stop me from speculating that Kenley Jansen is not a Dodger because AF was not going to go past $300MM before the season started.  While I am certain some will disagree, there is no doubt in my mind that KJ would have re-signed had the Dodgers not been obligated to Bauer's misguided FA signing and contract.
It was clear that LAD did not have a closer on their projected roster.  Blake Treinen was the closest, but even he acknowledged that he would be best used in specific situations depending on the upcoming lineup.  Brusdar Graterol may in fact become a dominant closer, but it was doubtful AF and Doc were going to put that onus on Bazooka this year.  Daniel Hudson??  Alex Vesia is getting rocked this Spring.  Most dominant teams have that guy who can come into the 9th and shut the door.  The Dodgers did not for 2022.
Enter Craig Kimbrel.  In 2021, he dominated with the Cubs, but was abysmal with the cross-town ChiSox.  The cost?  AJ Pollock.  As curious as it might sound, AJ was the most dependable LAD OF in 2021, and could again have been for 2022. Pollock's .892 OPS last year in his age 33 season was the best mark of his 10-year career. Who knows how Cody Bellinger will play this year?  After his 2021 season, his 2022 ST does not inspire confidence.  In addition, Mookie started late this Spring, and has not shown signs of that 2020 Mookie we came to really enjoy.  For the Spring, Mookie is 1-17 (a single), .118 OPS, 5 Ks and no BBs.  Is his hip REALLY okay? The LAD OF just got murkier.
Now the Dodgers have lost a 3.1 WAR LF for a 2.5 WAR closer.  Which Craig Kimbrel will pitch for LAD in 2022?
2019 – Cubs – 6.53 ERA – 20.2 IP
2020 – Cubs – 5.28 ERA – 15.1 IP
2021 – Cubs – 0.49 ERA – 36.2 IP
2021 – ChiSox – 5.09 ERA – 23.0 IP
I know it is only Spring, but in a total of 1.0 IP this Spring, Kimbrel has allowed 6 hits, 2 walks, 1 HBP, and 9 runs (8 earned).  He seems to fit quite well with the current LAD bullpen results.
They also have the added pleasure of incurring an additional $1MM total contractual obligation, as well as a $4MM additional AAV for CBT calculations for 2022.  I thought the idea was to decrease the AAV to get under $290MM.  They are now less than $3MM under $300MM.  If Chicago agreed to assume both Pollock's and Kimbrel's contracts, that would at least make some semblance of sense.  With their current AAV, that $4MM just became $7.6MM in actual $$$.  Can the Dodgers afford it?  Undoubtedly, but should they have to?  Now what are the options?  No team is going to take Trevor Bauer or David Price and their contractual obligations.  And they weakened their team in the process.
I do not pretend to being worthy to dust AF's keyboard, much less make decisions such as this trade.  But for an outsider like me, I cannot see that this was anything other than an overreach because they could not afford KJ, all because they are strapped with the Bauer contract.
And then on April 3, IMO, the Dodgers whiffed on a potential acquisition of Sean Manaea that the Padres pounced on.  The Padres acquired Sean Manaea and RHRP Aaron Holiday (a lower level prospect) for a pair of lottery picks; 20-year-old infielder Eurbiel Angeles and 25 year old RHP Adrian Martinez.  Angeles was the Padres #12 prospect and Martinez was #26.  For me a very comparable trade scenario would be 21-year-old 2B/3B Jorbit Vivas (LAD #9) and 25-year-old RHP Michael Grove (LAD #23).  Below is a MLB Pipeline comparison:
| | | |
| --- | --- | --- |
| | | |
| | Eurbiel Angeles | Jorbit Vivas |
| Position | INF | 2B/3B |
| Hit Grade | 55 | 60 |
| Power Grade | 40 | 45 |
| Run Grade | 50 | 45 |
| Arm Grade | 50 | 50 |
| Fielding Grade | 50 | 50 |
| Overall Grade | 50 | 50 |
| | | |
| | Adrian Martinez | Michael Grove |
| Position | RHP | RHP |
| Fastball Grade | 55 | 65 |
| Curve Grade | – | 55 |
| Slider Grade | 45 | 60 |
| Changeup Grade | 50 | 45 |
| Control Grade | 50 | 45 |
| Overall Grade | 45 | 45 |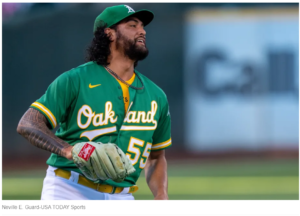 FanGraphs was not any more complimentary on any of the four.  Based on Future Value, FanGraphs rated Grove as the better of the four prospects with a 40+.  Vivas and Angeles are both 40 FV and Martinez was not rated.  Vivas and Grove are better prospects than what Oakland received in my very biased opinion.
Did the Dodgers not want Manaea?  Could they not have made a better offer than what San Diego offered? (YES!!)  Is the Dodgers salary limit $300MM?  Manaea would have taken the Dodgers to approximately $306MM.  There are a lot of questions as to why Manaea is now part of a very deep San Diego Padre starting rotation, and the Dodgers have Andrew Heaney.