IMHO (such as it is), the Dodger holes are SS, 3B, LF, CF, SP.  If SS is filled by Gavin Lux, then there will be a hole at 2B.  Even for those out there that believe that every LAD MiLB player is headed for the HOF, they cannot believe that Jacob Amaya is ready for prime time.  Can they?  He could become a ML SS, but more likely a valuable utility defensive infielder.  However, he should start the season at AAA, and if he does show the offense that is needed, he could make it up to MLB during the season.  Perhaps the Dodgers can give him some time in the OF to make him an even more valuable utility player.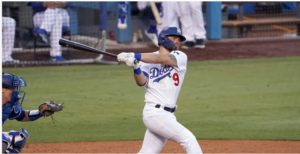 If we believe Stan Kasten and Andrew Friedman, I would project the Dodgers will have three prospects who will have significant playing time with LAD in 2023: Miguel Vargas, Michael Busch, and James Outman.  Then again, all three could be traded before ST.  But for this exercise, let's assume that the Dodgers will have all three on their opening day roster.
I continue to read the Dodgers need to play the kids and everything will be fine.  Those are the exact words that we have read from Keith Law.  The problem is, Keith Law never defined "fine".  Apparently fine means to compete, contend, and hopefully make the playoffs.
For those that make excuses for not advancing past the NLDS, I am sure that definition is acceptable.  For me it is not.  I want excellence.  But I am also a realist and readily acknowledge that there is a business component to MLB, including the Dodgers.  This is as reasonable of a season to reset the CBT threshold as there is.  And who knows what might happen?
Right now, Gavin Lux is the SS.  The Dodgers top execs have said that they have zero problem with Lux as the everyday SS.  Is that just bluster?  Trying to drive down the expectations of Dodger fans from wanting (expecting) a top tiered SS for the long term?
IMO, Lux is an All Star 2B and needs to stay there.  If not Lux at SS, and if not any of the top 4, then who?  If the Dodgers are convinced that Jacob Amaya could be the future SS, then they only need to have a stop gap SS.  I have mentioned José Iglesias who could sign for 1 year.  He signed a one year contract with Colorado for $5MM and generated a 1.0 fWAR, which totally justifies the contract.  Would he be willing to sign another 1 year deal with LAD?  Is he the missing piece?  Hardly, but to be able to keep Lux at 2B until the Dodgers can find their long-term SS can be found, that would help.
There have been reports that Elvis Andrus is an option for 1 year.  Andrus had a good 2nd half with ChiSox, and let's face it, who hits well with Oakland. He also played better defense with Chicago. But then again, he is a Scott Boras client.  Never mind.
I still like the idea of Amed Rosario in a trade with Cleveland (final year of contract).  The Dodgers could still play CT3 there for a year.  There are options if the Dodgers do not want to commit $250MM + for a SS.  And I do not believe that they want to.
Or  perhaps a trade for a former LAD defense first SS, Miguel Rojas.  In other words there is a plethora or options that AF/BG can run thru, including 50 or so more than I wrote here.
CF – The Dodgers are not going to sign Kevin Kiermaier, no matter how fond AF is of him.  The Dodgers do not need a LH hitting CF.  They already have one with James Outman.  I have zero doubt that Outman will put up better numbers than Cody did in 2022.  Will he better than Belli in 2023?  I think the Dodgers have moved on and are eager to see what they have in Outman.  Trayce Thompson and CT3 can relieve Outman against a tough lefty.
Miguel Vargas – 3B or LF???  Vargas is better suited for DH, but the Dodgers need their DH to also play a position.  The Dodgers seem committed to giving Vargas a regular job for 2023.  I do not like the idea of taking a defensive challenged player and having him move to different positions.  Decide where he belongs and leave him there.  LH hitting Muncy can share 3B with him, or if he is in LF, Trayce Thompson and CT3 can take over if he is faltering.
The Dodgers need to be patient with him.  After a slow start at AAA when he had an OPS of .787, the next four months' OPS were .953, .892, .870, 1.112.  He punishes LHP to the tune of .351/.465/.613/1.082, but also hits RHP, .291/.387/.483/.870.
2B – If Lux is moved to SS, they are going to need a 2B.  AF specifically mentioned potentially wanting to see LHH Michael Busch when they non-tendered LHH Edwin Ríos.  Do the Dodgers dare put three rookies in the everyday lineup?  I do not think so, but I have no vote.  I also doubt that Clayton Kershaw wants to take the mound with an infield of Busch (2B), Lux (SS) and Vargas (3B).
I think Muncy is pretty much penciled in as the 3B/DH with Vargas.  He can and would fill in at 2B.  CT3 can be the 2B, but I still believe his value is as utility INF and OF.  Obviously 2B is still a question if Lux is moved to SS.
I know there are those of you out there that believe the Dodgers are going to sign one of the big 4 SS.  Unless the price for Turner, Correa, or Bogaerts drops to the Trevor Story and Javy Báez contract levels, I think the Dodgers will be outbid.  Turner is the only one that I can see coming to LAD because he has spent 1.5 years with them, and he is comfortable with LAD.  But Dave Dombrowski loves the veterans, and I do not believe he will be outbid.  And I do not believe anyone can say that the Phillies are not primed to contend. East coast and a team that will contend?  Philadelphia has to be the favorite to sign Turner, right?
Now IMHO, if the Dodgers do spend, it could be on a SP.  AF shocked everyone two winters ago with the signing of Trevor Bauer…3 years $102MM.  I said it then…BIG MISTAKE.  Could AF do it again with Justin Verlander? Justin does not have the baggage that Bauer had when he was signed.
I know I know, logically signing a 40 year old pitcher to a 3 year contract does not make a lot of sense.  But then again, at 39, and one year removed from TJ surgery, JV threw 175 innings.  That is as many as Julio Urías and 3.2 innings short of Tyler Anderson.  In other words, JV pitched as many innings as the top returning LAD starting pitcher.  Verlander says he wants to pitch until he is 45.  Who am I (or anyone else) to say he can't?
at 40 – 211.2 IP
at 41 – 220.0 IP
at 42 – 239.1 IP
at 43 – 204.0 IP
at 44 – 173.0 IP
at 45 – 157.0 IP
at 40 – 211.2 IP
at 41 – 214.1 IP
at 42 – 211.1 IP
at 43 – 113.1 IP
at 44 – 99.0 IP
at 40 – 210.0 IP
at 41 – 198.0 IP
at 42 – 194.0 IP
at 40 – 245.2 IP
at 41 – 225.2 IP
at 42 – 225.0 IP
at 41 – 152.0 IP
at 42 – 176.1 IP
Other pitchers have pitched well into their 40's.  Verlander says he can as well.  The Dodgers do not expect JV to pitch 200+ innings.  If he repeats 2022, he would be just fine (right Keith?).  And yes he can get hurt.  But so can Clayton Kershaw, Tony Gonsolin, and Dustin May.  Oh yeah, they did last year.
The one game changer for playoff baseball would be Justin Verlander.  He is the one I can see AF/BG step up to sign.  Some say that Verlander cannot pitch 3 more years.  I think there is a better chance that JV can pitch to 42 more than AF/BG signing any Scott Boras client.  There have been pitchers that have successfully pitched into their 40's, but AF has never signed a Scott Boras client to a FA contract.