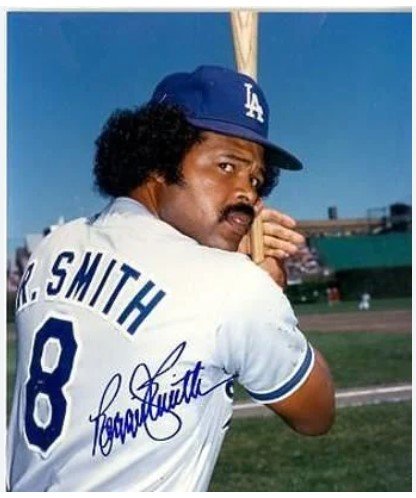 I enjoyed watching Smith when he was a Dodger, when he was playing against them, not so much. He was one of those players who could beat you from both sides of the ball.
Reggie was born on April 2, 1945, in Shreveport, Louisiana. His father, Lonnie, had been a catcher for a single season in the Negro American League. Both his father and his mother, Nellie, were accomplished musicians. When Reggie was still a child, the family relocated to Los Angeles.
Their new neighborhood, then known by it's residents as "Zone 61" , but now South Central, had lots of intensely  competitive baseball teams. None more so than Chet Brewers Pirates.
The Pirates were the mission of a man who had been one of the Negro Leagues greatest pitchers. Brewer had dedicated his post playing career to working with children. He used the game as a magnet to get them involved in the community while also kicking some serious butt on the ballfield.
He got Smith involved when he was just 15. He would only play for the team on Sundays. The rest of the time he was helping with his family's egg delivery business.
Some of Brewers old teammates would drop by and talk with the kids, and relate their experiences. Smith was not with them long, but long enough to absorb useful information on the professional baseball way of life.
Reggie played sports at Centennial High School. He was All-California in baseball as a shortstop and earned the same honors in football.
After high school he was signed as a free agent by the Minnesota Twins. His father at the time was very sick. He wanted his son to pursue his dream and go to college, but Reggie wanted to help the family with the money he could make playing baseball.
He went to Wytheville in the Appalachian League. He hit .257 with 8 homers and 37 RBI's. That winter he was left unprotected in the draft and was taken by the Red Sox.
He then went to A ball at Waterloo in the Midwestern League. He hit .318 there in 87 games earning a promotion to AA Reading in the Eastern League. He only played in 17 games there and did not do well.
Still in 1965. After playing rookie ball that winter, he went back to AA, this time with Pittsfield. He hit .259 with 8 homers and 64 RBI's. Remember, at this time he was still considered a SS.
Boston promoted him to their top AAA team, Toronto for the 1966 season. There his skipper was Dick Williams. The kid responded with a .320/.377/.522 slash line with an OPS of .899. He slugged 18 homers and drove in 80 runs. That earned him a call-up to the Sox in September.
He only appeared in 6 games, hitting below the Mendoza line. Smith had cemented himself in the team's youth movement. He was playing center field for Williams.
Williams was hired as manager for the 1967 season. He planned to use Reggie as the centerfielder. The kid had a cannon for an arm, but a spring injury to Sox second baseman, Mike Andrews, had an injured back. So Reggie played second base the first six games of the year.
1967 was special in Boston, the team rebounded from an awful 9th place finish to win the pennant. Reggie started cold as did the team, but he had a better second half hitting 13 homers and aiding the cause as the team finished with a 79-55 streak.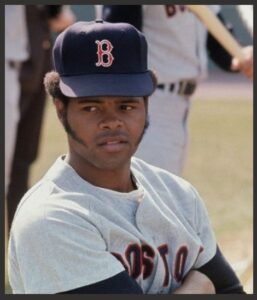 He was still just learning how to switch hit. On August 20th against the Angels, he hit a homer from each side of the plate. He hit a three-run shot from the right side in the 1st inning and then a 2-run shot from the left side in the 6th. It would be the first of six such times in his career.
Reggie would hit 2 homers in the World Series which Boston lost to the Reds in 7 games. He finished second to Rod Carew of the Twins in the Rookie of the Year voting.
In 68, he would lead the league in doubles with 37. He also earned a gold-glove for his outfield work. And Dick Williams said he made one of the most amazing game saving catches he had ever seen.
In a game in May at DC's Griffith Stadium. he ran down a Pail Casanova shot that was headed over the wall. He leaped at the wall and with his waist hanging on the fence, caught the ball without going over the wall.
In 1969, the 24 year old Smith had his breakout season. He slashed .309/.368/.527. His OPS+ was 142. He slugged 25 homers and drove in 93. He was chosen for his first All-Star team and was 22nd in the MVP voting.
But all was not peaches and cream in Boston. The Red Sox had been one of the last teams to integrate. And none of the players of color brought up before him really had star potential.
There was a lot of pressure on black athletes, and athletes in common to perform above and beyond. The Celtics were the only Championship level team that Boston had. But even they faced bigotry and racism.
For the young Red Sox star, this was something he had to deal with that was not as prevalent out in California where he was raised.
The problem in Boston started at the top. Ownership.  Jackie Robinson, who had played with Williams, knew he was not racist. But he said he had to root against the Red Sox because Yawkey was known to be one of the most bigoted guys in baseball.
The Boston Globe op-ed page editor referred to the Red Sox front office as " The Klavern." A term the Ku Klux Klan used for their local chapters.
The clubhouse, though cliquish, but not so by ethnicity, was actually pretty tight. Smith's closest friend on the team was Carl Yastrzemski. John Curtis could not remember any Red Sox player making a racist remark about Smith while he was with the team.
But according to pitcher Bill "Spaceman" Lee, Reggie received hate mail starting with a racial epithet and then getting worse. In the outfield, he had to wear a batting helmet to protect himself from objects thrown by his own fans.
He was pelted with all sorts of objects including batteries, heated coins, and other things. Also one night some people drove by his house and emptied the garbage cans he had put out all over his front lawn. That is when Curtis really realized how much of a different place Boston was to live for Reggie than himself.
Smith did not just sit it out. He was expected to perform in front of fans who wanted to deny him his rights. So he waged a war with the fans of sorts. The shame of it all is that those fans were in his home park.
Finally, in late October of 1973, the Red Sox sent Smith to the Cardinals in a multi-player deal. They sent him and Ken Tatum to the Birds for Bernie Carbo and Rick Wise.
St Louis was a much easier place for him to play. First off he had two great and talented players to look up to there, Bob Gibson and Lou Brock.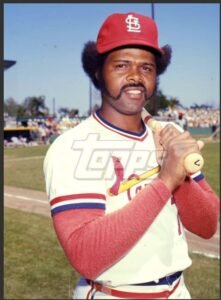 Gibson was perhaps the most intense player in baseball and he was able to help unlock the same type of drive in Smith. He used to call Reggie, "Spike", after the guard dog in the Bugs Bunny cartoons.
His first year in St. Louis, he had his best season to date, .309/.389/.528. His OPS was .917. His OPS+ was 155. He hit 23 homers and knocked in 100 runs. He made the NL All-Star team and finished 11th in the MVP voting.
With Bake McBride manning center field, Reggie moved to right because of his superior throwing arm and he would stay there for most of the rest of his career. The Cards finished second, 1 1/2 game behind the Pirates.
His teammates appreciated his skills and commented on his drive, his professionalism and desire to win. He was always in great shape and ready to play ball.
75-76 were frustrating years for the Cardinals. They tumbled to third in 75, Reggie's stats went down a little, and he played about half of his games at first base. In 76, they fell a little further. Reggie was off to a terrible start and after 47 games, he was hitting .218.
On June 15th, 1976 they sent Reggie home, trading him to the Dodgers for Joe Ferguson, Fred Tisdale and Bobbie Detherage. The Birds had been worried they would not be able to sign him at the end of the year when he became a free agent.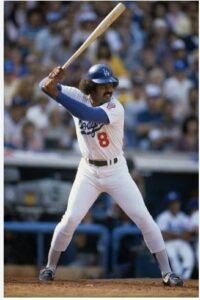 In 65 games with the Dodgers he hit .280 with 10 homers and 26 RBIs.
The best was yet to come in LA. For the next two years, he would be LA's primary right fielder. He was one of four players, the first in MLB history, to hit 30 or more homers in a season, Smith, Baker, Garvey and Cey. Reggie had 32. He was 4th in the MVP voting, and led the league in OPS with a .427 mark. He also led the league in OPS+ with 167.He hit .273 with 3 homers and 5 RBI's against the Yankees in the series.
In 78 he had another very good year hitting.295 with 29 homers and 93 RBI's. The Dodgers won the pennant again, but once more lost the series to the Yankees. Smith hit only .200 for the series.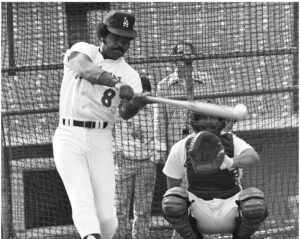 In 1979, Reggie was injured and he only appeared in 68 games. The Dodgers as a team sank to third place. In 1980, he played in 92 games, hit .322 with 15 homers and 55 RBI's. But by July, his injuries limited him the rest of the year as the Dodgers battled Houston down to the last day before they lost in a playoff game.
In 1981, Reggie was limited to 44 plate appearances in 41 games. He did go 1-2 in the World Series win over the Yankees and got his ring.
After the season, he signed with the Giants as a free agent. Frank Robinson was his manager there. He would play in 106 games for the Giants, he had a decent line of .284/.364/.470. He hit 18 homers and drove in 65. His MLB career as a player was over.
He played with the Yomiuri Giants for the next two seasons. He had a good first season there, but injuries limited his production in the second. He also had a problem with the racism directed at him and his son, who had actually been attacked.
Japanese umpires also seemed to use a larger strike zone for African-American players. After 1984, he retired as an active player. His career stats are pretty decent .287/.366/.489. His career OPS is .855. He had 314 homers, 2020 hits, and drove in 1092 runs, He hit .297 over his six years with the Dodgers. 97 of his homers came as a Dodger.
In 1993 he became the field coordinator for the Dodgers. He was made batting coach in 1994 and held that position until 1999. He was a coach on the USA's 2000 Olympic gold medal team.
He also was the batting coach for the USA's team in the 2006 World Baseball Classic. According to an article by the Boston Globe, when Smith is not working, he is doing charity work. He visits hospitals, youth centers, cancer centers and helps raise funds through golf tournaments and other activities.
He has turned down numerous offers to coach in the majors and instead has mirrored his mentor, Chad Brewer by working with youths and the community. He helped launch the Urban Youth Baseball Academy in 2006, and opened the Reggie Smith Baseball Center in Encino. Which as of 2016 was still going strong.
Reggie has been seen a couple of times at Dodger Stadium for reunions of his former Dodger teams. But his charity's and his work with youths takes up most of his time.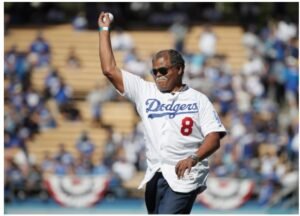 He was a very good player who had unfair expectations put on him. But he never wavered in his desire to win.
David Vassegh Interview of Reggie Smith, April 15, 2019
https://reggiesmith.com/news/reggie-smith-interviewed-on-dodger-talk