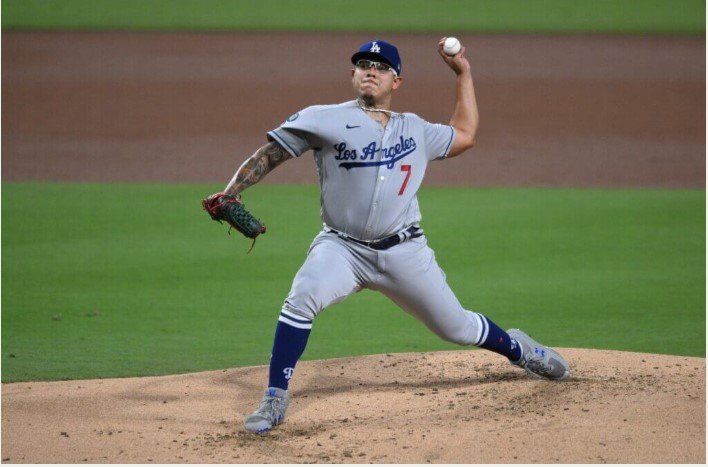 The first pitching summation will be with the starters.  In 2022, 10 Dodgers pitchers started games, with two bullpen games.
Julio Urias – 31 Starts – 175 IP
Tyler Anderson – 28 Starts – 178.2 IP (170.2 as a starter)
Tony Gonsolin – 24 Starts – 130.1 IP
Clayton Kershaw – 22 Starts – 126.1 IP
Andrew Heaney – 14 Starts – 72.2 IP (64.2 as a starter)
Walker Buehler – 12 Starts – 65.0 IP
Mitch White – 10 Starts – 56.0 IP (46.2 IP as a starter)
Ryan Pepiot – 7 Starts – 36.1 IP (31.1 IP as a starter)
Michael Grove – 6 Starts – 29.1 IP (28.1 IP as a starter)
Dustin May – 6 Starts – 30.0 IP
The Dodgers were already without Dustin May.  Shortly after the start of the season, they lost Clayton Kershaw and Andrew Heaney to the IL for extended periods.  Tyler Anderson went from being a piggyback pitcher paired with Tony Gonsolin where both pitchers were needed to be starters.
Walker Buehler – 12 GS, 665.0 IP, 4.02 ERA, 1.292 WHIP, 58/17 (K/BB), 8 HRs, 105 ERA+
Buehler has not been the dominant pitcher since last August. He threw more than 200 innings in 2021, and after August and into the playoffs, there was a different Walker Buehler toeing the rubber.  It was clear to some of us that there was something wrong.  After 3 games and 17 IP, he had a 4.02 ERA and a 4.52 FIP.  Then on April 25 (4th start) he pitched a complete game shutout against Arizona.  He pitched two more solid games against Detroit and the Cubs but there was still something wrong.  After the Cubs' game, everything started to unravel.
In his next 6 games, 28.1 IP, he had a 6.67 ERA, allowing 6 HRs, with 26 K and 8 BB.  He only allowed 2 HRs in his previous 6 starts.  His 3.25 K/BB ratio in those 6 games was the worst of his ML career.  He lost velo and that great command of his fastball.  His 4 seamer was one of the worst pitches in ML.
After a June 10 start against SF, he was pulled and placed on the IL with a "forearm strain".  The thought was that he would rest and come back later in the year.  Unfortunately for both him and the Dodgers, he did not heal as he thought he would and underwent TJ surgery.  This is his 2nd TJ surgery, and the number of starting pitchers who have successfully returned after two TJ surgeries are few and far between.  I think the best one is Nathan Eovaldi.  But to expect Buehler to bounce back in 2024 (his FA walk year) as a potential CY winner is a pipe dream.  AF/BG cannot count on it.  They have to plan as if Buehler will be a back end rotation pitcher, and if he outperforms those expectations, GREAT.
Chris Capuano was perhaps the first starter to come back after two TJs but he was not an elite starter like Buehler.
Drew Rasmussen missed all of 2018 with his 2nd TJ, and it took him to this year before he could pitch well again.  28 starts for Tampa Bay, 146.0 IP and a 2.84 ERA.
Mike Clevinger is still struggling trying to come back from his second TJ surgery.
Daniel Hudson has had 2 TJ surgeries, but it is easier for a reliever to come back.  Caleb Ferguson did not look nearly as sharp as he did in 2020 when he returned this year after his second TJ surgery.
The Dodgers are going to need to plan on a different Ace in 2024.  Julio Urías will be a free agent.  Clayton Kershaw will probably not be around.  Gonsolin?  May?  Miller?  It is time to spend some prospect capital and get an Ace and extend him.
Julio Urías – 31 Starts, 175 IP, 2.16 ERA (#1 NL), 0.960 WHIP, 166/41 (K/BB), 23 HRs, 194 ERA+ (#1 NL)
Urías came into the season as the #2 pitcher in the rotation (behind Buehler), and came out as the clear Ace.  If the opposition could not get to Julio in the 1st inning, you could pretty much forget about getting to him.  He got better as the season went on as well.  Over the last three months, Urías had 12 starts and 93.1 IP.  He was 11-1 with a 1.74 ERA.
He did not get an All Star nod this season, even though he deserved it.  His Ace credentials continued to crescendo through the end of the season.  He will probably fall to Miami's Sandy Alcantara for the NL CY winner, but that does not diminish his domination this season.
Julio will be playing next year as a 26 year old, and will be in his 3rd year arbitration.  He is projected to earn $13.7MM in arbitration.  He will hit free agency as a 27 year old.  For those expecting a possible extension, two words…Scott Boras.  Boras will not let Urías extend this close to FA.
Clayton Kershaw – 22 Starts, 126.1 IP, 2.28 ERA, 0.942 WHIP, 137/23 (K/BB), 10 HRs, 184 ERA+
Clayton ended his 2021 season on the IL with a forearm strain injury.  Was he going to retire, sign with his hometown Texas, or re-sign with LAD.  The season started on a high note for Clayton.  On April 13 in Minnesota, in his first 2022 start, he went 7.0 perfect innings.  But on a cold day in Minnesota and after 80 pitches, the decision was to pull Clayton.  The fans went into an uproar, but IMO it was the right decision.  This was game 5 on the season, and LAD needed Kershaw.
After his 5th start (May 7), another solid start where he shut out the Cubs on 5 hits in 7.0 innings, he was placed on the IL with a SI Joint Inflammation.  He did not return to the rotation until June 11 in San Francisco.  He made 10 starts before he went back on the IL with a back injury.  X-rays and MRI showed that he did not have any serious injury. He got an epidural and everything was on pace for him to return quickly.
He returned on September 1, and started 7 games to end the season.  He threw 41.0 innings with a 1.54 ERA.  He had a fantastic 49/8 (K/BB ratio) and allowed only 3 HRs.
Except for the two IL stints, this was Clayton's best season in several years. He is a free agent, and will undoubtedly decide again whether to retire, sign with Texas, or re-sign with LAD.  He says he is leaning to playing again.  There is no way that AF/BG should let Kershaw sign with Texas.  Clayton needs to finish his career with the Los Angeles Dodgers.
Tyler Anderson – 30 Games (28 Starts), 178.2 IP, 2.57 ERA (5th in NL), 1.002 WHIP (7th in NL), 138/34 (K/BB), 163 ERA+
This was Tyler Anderson's coming out party as a 32 year old.  He signed a 1 year deal for $8MM.  He started the year as the piggyback reliever for Tony Gonsolin, and became a starter in his third game, later to become an All Star pitcher.  Anderson was a prolific pitcher with a tremendous change that generally produced a lot of swing and miss, but also a lot of soft contact.
He had more IP than any other LAD pitcher.  His 4.06 K to BB ratio was the best of his career. His ERA was the best of his career.
Anderson pitched a brilliant 5.0 innings in the NLDS Game 4 and was in a position for the win.  We all know how that turned out.  I made a point that many others have also made that Anderson should not have come out after 80 pitches.  He might have had 2 more innings in that game, but we will never know because the algorithm says that starting pitchers cannot face the lineup three times.  Or maybe that is just LAD pitchers.
TA is a free agent.  I said it early on that I thought that he should get a QO and then try to work out a 2-3 year deal.  I would like to see Anderson finish his career with the Dodgers.  Once his starting days are over, he could become a very reliable reliever.
Tony Gonsolin – 24 Starts, 130.1 IP, 2.14 ERA, 0.815 WHIP, 119/35 (K/BB), 11 HRs, 196 ERA+
 Tony Gonsolin started out the year as a starter with a Tyler Anderson piggyback before Andrew Heaney got hurt.  Once Gonsolin was on his own, he dominated the opposition.  In 16 games, he was leading ML with an 11-0 record and a 1.62 ERA.  He was named to the NL All Star squad, and in his final game before the ASG, he gave up 5 runs in 5.0 IP.  He did not pitch well in the ASG or in the two subsequent in July.  He was at 104.1 IP on the season, far and away the most of his career.  Was he tiring?  Was his arm getting sore?
But in August , things began to return to his production in the beginning of the season.  In four games, he threw 23.2 innings with a 0.76 ERA and 20/7 (K/BB).  Then after the game on August 23, Gonsolin went on the IL with a forearm strain.  He returned for 1 game and 2.0 innings and was deemed ready to start a playoff game, which did not go well.
For 3 ½ months, Tony Gonsolin was the best pitcher in MLB.  After that?  What will he be like in 2023?
The Catman is in his 1st year arbitration where he is projected to earn $3.5MM.
Andrew Heaney – 16 Games (14 Starts), 72.2 IP, 3.10 ERA, 1.087 WHIP, 110/19(K/BB), 14 HRs, ERA+ 136
I have to admit that I was less than pleased with the addition of Andrew Heaney.  He was an injury risk, who also offered up a lot of HRs.  After two starts, Heaney was put on the shelf with a shoulder injury.  He returned on June 19 for one start and was out for another 6 weeks.
From the positive side, in his 7 starts and 31.0 IP, he allowed a single HR.  However, in his next 9 games, he pitched 41.2 IP, he offered up 13 HRs.  He was still a great strikeout pitcher.  He had 68 Ks in those 41.2 IP, and only 9 walks.  But those HRs cannot be ignored.
Heaney is a free agent this year.  I grew to like the Heaney signing, but I am not certain the Dodgers should or will re-sign him for 2023.  If he is re-signed, perhaps he should be looked at as a potential high leverage reliever.  He is a genuine strikeout pitcher, which makes that move a realistic possibility.
Other Starters:
Mitch White – Traded to the Blue Jays with 3B Alex De Jesus for Nick Frasso and lottery pick LHP Moises Brito.
15 Games (10 Starts), 56.0 IP, 3.70 ERA, 1.250 WHIP, 47/19 (K/BB), 114 ERA+
Mitch played a very pivotal role while with LAD.  When he was jettisoned off to Toronto, he seemed to regress.  I am a Mitch White fan, so I hope he turns it around next year.
The kids who started a year earlier than anticipated.
Ryan Pepiot – 9 Games (7 Starts), 36.1 IP, 3.47 ERA, 1.459 WHIP, 42/27 (K/BB), 122 ERA +
Pepiot was my favorite MiLB pitcher before the season.  I was ecstatic when he got his ticket punched to MLB.  At times he pitched scared.  Instead of challenging the hitters, he tried to beat them with finesse.  His mighty change that got a lot of swing and miss in MiLB, never started out as a strike to fool MLB hitters.  He needs to trust his stuff and pitch like he knows and others know he can.  I think next year he is a different pitcher.
Now I also believed he could be a knock down reliever.  He has two plus pitches, and if he cannot fully develop that slider, those two plus pitchers (4-seamer and change) are ML quality.
Michael Grove – 7 Games (6 Starts), 29.1 IP, 4.60 ERA, 1.432 WHIP, 24/10 (K/BB), 92 ERA +
Grove is another pitcher that I was never enamored with.  I was very pleasantly surprised how he pitched when called upon.  Like Pepiot, he needs to challenge hitters rather than try to pitch around.  I do not know if he is a legit starting pitcher for a title contender team.  But I sure think he deserves the chance to prove he is or isn't.
Finally there is Dustin May – 6 Games, 30.0 IP, 4.50 ERA, 1.167 WHIP, 29/14 (K/BB), 94 ERA+
Dustin came back in late August after a year plus out due to TJ surgery.  His first game back was against the punchless Marlins.  I am fairly certain he was operating a lot on adrenaline.  His subsequent games did not go as well.  He  came down with a bad back late in the season.  He was activated for the playoffs.  Why?  I have no idea since he did not pitch in the game.
The movement on his pitches due to his spin is second to none in the game.  I look forward to seeing what he can do when healthy.
The problem will be next season.  As it stands right now, the Dodgers rotation is Urias, Gonsolin, May, Pepiot, and Grove.  Nobody in their right mind believes that the Dodgers will go into the season with that rotation.  Who gets added?  Probably Kershaw.  Maybe Anderson.  Maybe Shane Bieber?  ☺
Changes to the pitching will be made this winter.  For that I am certain.